The Best Auto Polish
See what the Expert uses

Asking what the best auto polish is will get you as many answers as there are people! This represents both the good and the bad news.
Driven by the need of the manufacturers to sell you more and more "stuff", the cosmetic car care industry has done much to bury you with endless choices in car polish and every other area of car care. Ask anybody the difference between waxing their car and polishing their car and you will have only begun to witness how much confusion exists in this industry.

Welcome to the World of Information Overload!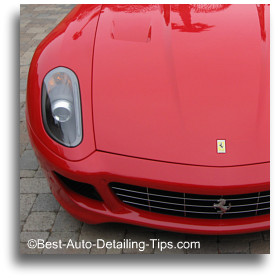 Back when I started as a professional detailer, information was hard to come by and usually meant a face to face conversation...as well as some immediate ability to verify the source from which you were seeking information.

Today's world is a world of endless information all at a touch of a screen or a computer mouse. And with the Internet also comes the ability of virtually anyone with the most basic of skills to create a platform by which to speak and spread their endless opinions.
But as consumers and the seekers of reliable information, how to you verify the source? Visit any car or detailing forum and see if after spending any length of time in search of the best car polish, if you don't come away being more confused and frustrated than ever before!
"So Darren... it sounds like you understand my frustration, but what can you do to help?"
Glad you finally asked....
First Things First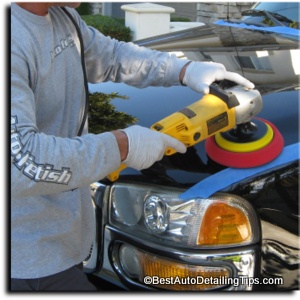 I believe that informed people make better decisions. With that said, I know there are many that don't want to become informed, but merely find a trustworthy source and follow their lead. If this is the case for you, simply jump down to the next heading and you can see what I professionally use and recommend.
If you are the type that wants to become part of a select group of society called the informed, then you need to open up this link on auto polish where I break down this complex and confusing subject into understandable and bite sized pieces so that you not only become more informed, but more self-reliant. You will now be able to see through the endless B.S., hype, and misinformation saturating the industry through marketing, advertising, and the endless chatter found within the endless forums.
Darren's Top Pick of Auto Polish

Whether I am in search of the best auto polish or the best car wax, it is always going to be about finding the winning combination of benefits, along with the least amount of drawbacks. So my top pick as the best rated car polish is based on the following:
The car polishes I actually use professionally.
Can they actually produce the results I need.
Are they easy to use.
Can I adapt them to any type of car.
Can I adapt them to any type of weather circumstances.
And based on that checklist, I have my top pick in auto polishes listed below:
Menzerna Car Polishes:
Top Rated Auto Polishes





Menzerna Power Finish & Super Finish Bundle
The actual polishes I use professionally.
This kit comes with two levels of polishes along with a synthetic sealant to use as the final step after polishing.
Can be used by hand, but you will have far better results using it by machine.
Use any of the above secure links to get a money saving bundle of car polishes put out by an industry leader in auto motive polishes specifically called Menzerna.
I chose these kits so as to meet the demands of anyone from a true beginner to advanced paint correction specialist.
Darren's Professional Tips:
I used to use Meguair's 105 and 205 from their professional line of products. In fact I used those two polishes for years....until I was introduced to the Menzerna polishes and have never looked back.
Technology has improved every industry and every product; car polishes are no exception and by no means are these the only quality, professional grade car polishes out there. And if you enjoy the endless search for the best auto polish then you are welcome to continue your quest.
I just know that these Menzerna polishes are superior in every way to those of the Meguiar's I had used for years.
Auto Polishing Kits




TORQ BUF501X 10FX Random Orbital Polisher Kit (Polisher + 9 Items)
I love kits and I think many people as a rule do. Kits are a great way to save time and money:
Get everything to start polishing and achieving show car results right out of the box.
A true "plug and play" strategy.
Save money buying multiple products and tools you are going to buy anyways.
Top rated car polishing kit by both professionals and Amazon users.

Darren's Final Words on Best Auto Polish

Like most areas of auto detailing, you can spin out of control trying to read every review and opinion regarding the best auto polish. The problem is you will get a different answer every time you ask. If you enjoy research and working yourself into a frenzy being overwhelmed by a sea of opinions, most of which suck, then by all means have at it. But if you are simply looking to cut to the chase and find something that works, then follow my suggestions.
With that said, by no means does this represent the only choice as the best auto polish, as we are surrounded by many quality choices these days.
"Perhaps the question comes down to whether you want to spend more time on research or more time polishing your car."
And don't forget to check out my YouTube channel and help spread the word to any of your favorite social media sites!
Thank you in advance-


---
Home

›
Car Polish
›
Best Auto Polish