Best Degreaser
The Professional Helps You Pick the Best


Just what makes anything the best? Finding the best degreaser will ultimately be the winning combination of benefits; but only you can decide what that winning combination is going to look like.
As a professional detailer I will have as many requirements if not more, than most of you. And just like every other area of life...not all degreasers can hold the title of best engine degreaser or best all purpose degreaser. Each formulation is going to be a combination of benifits and compromises....
Best Degreaser and the Winning Combination

Since my strategy in every area of life is all about working smart not hard, my list of requirements will ultimately have to be reduced down to basic requirements:
Can the product produce the results.




Is the product cost effective.

Is the user experience acceptable.

Is the product safe for all parties involved.
Everything I do in my profesional world of auto detailing will be about delivering superior results with the least amount of effort, in the least amount of time; a true win/win for both sides.

Best Degreaser: Engines, upholstery, etc.

Since this product from Meguiar's is labeled as a super-degreaser, it would be natural to limit this product to engine degreasing only.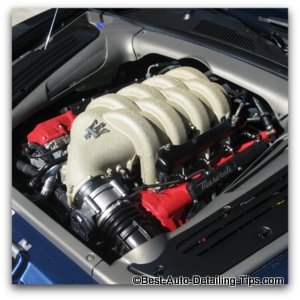 But the fact is I use this product as an all purpose degreaser and cleaner. If my APC (all-purpose-cleaner) from Meguiar's is insufficient for the cleaning job on hand, I will be reaching for this next level of strength with this degreaser detergent product.
In my opinion this product would be more appropriately labeled as an all purpose degreaser due to the fact that it is safe for so many other cleaning tasks associated with detailing. Aside from using it as my best engine degreaser, I use it when detailing most car interiors at some point.

---
Meguiar's Super-Degreaser


The degreaser I use professionally.

Is not caustic like many of the "hot" degreasers you can get professionally.

Doesn't leave a white residue like other degreasers.



Despite what the labeling implies, I use this product as an all purpose degreaser and cleaner. Since it is a concentrate, I simply dilute it down to my desired strength and use it on both interior, exterior, and as a car engine degreaser.
As a rule, I use this product diluted 5:1 (1 part concentrate to 5 parts water)

This is the dilution I use whether I am using it as an engine degreaser, or as an interior all purpose degreaser.
Engine Degreasing: While I do use this product to clean and detail engines, this page is not specific to the actual techniques of cleaning and degreasing your car engine, you can see car engine cleaning for that.
Interior Cleaning: As  rule, I only use (2) products to clean every car interior. Both products are made by Meguiar's:
Meguiar's Super-Degreaser which is the purpose of this page.
I can clean any car interior and clean any fabric or material with these two products. 99% of the time these two products will be all that I ever need to do the job. (These products along with the right tools)

Forget about bulky carpet extractors, forget about high-pressure water, forget about many of the traditional methods of carpet shampooing and cleaning that you have been lead to believe.
If I am unable to get acceptable results with the APC cleaner linked above, or if the dirt is extra heavy, I then reach for this Super-Degreaser which can be used on all the same materials:
Carpet, fabric, cloth, velour.

Vinyl, plastic, rubber.

Leather.
Darren's Caution:
---
Chemical Resistant Sprayers




28mm Gray Chemical Resistant Spray Head 9-1/4" Dip Tube (6-pack)
The actual sprayers I use professionally.

The most ergonomically friendly sprayers I have found.

The sprayers you may have seen in my videos are grey, but these are the same; only a different color.



There are not a shortage of sprayers you can pick and choose from. With that said, I use these exact sprayers professionally and find them the most user friendly. With that said, you will never find a sprayer that lasts forever regardless of what claims are made.
But for the money, I have chosen these year after year in my professional world and continue t use them to this day. I also use and recommend using a pump garden sprayer when using any product you have decided is the best degreaser for you. It will save your hand with repeated pumps from a traditional hand-held sprayer.

Watch Darren Explain Meguiar's APC and Super-Degreaser

---
Home

>
Auto Detailing Supplies
>> Best Degreaser