How to Clean Car Windows
Cleaning the windows in your car without streaks!


How to clean car windows without streaking remains a mystery to most people. Most people find themselves chasing their tales in search of the perfect window cleaner that will finally give them streak free windows in their car.
Cleaning windows with out streaks and smudges is one of the top complaints when it comes to car washing and auto detailing. Ask any professional and they will tell you how frustrating and time consuming it is just to deliver a finished product with windows that are spotless and streak free. I have spent almost as much time perfecting my car window cleaning methods as I have with paint polishing and waxing techniques. The good news is that techniques and products exist that will actually deliver professional streak free windows.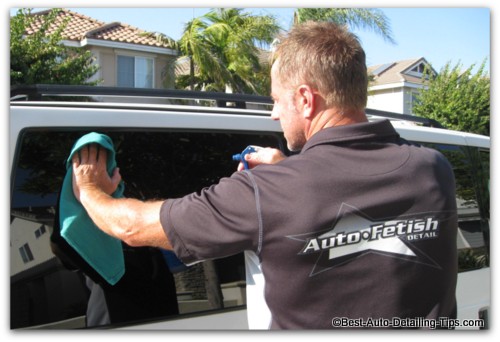 Cleaning Car Windows: so many myths, so many bad opinions!

I have an opinion...and that is that most opinions should be thrown out the window. When it comes to cleaning the windows in your car there is an endless sea of opinions as to the perfect window cleaner, or the best window cleaning method. The good news is that when it comes to streak free and smudge free windows in your car, it is more about technique than it is about finding "the best" window cleaner.
The Inside and the Outside

The windows of your car represent to specific sides; the in and the out. While the steps could be identical, the reality is that they represent different sets of problems and thus require specific strategies for truly streak free and smudge free clean car windows.
Outside Window Problems:
Exposed to the weather and elements.
Excessive dirt, water spots, fall-out.
Inside Window Problems:
Film build-up from out-gassing of interior parts such as plastics, rubber, vinyl, etc. (Out-gassing is a term used to describe the natural process of chemicals used in the manufacturing process of car interiors that emit chemical gasses when exposed to air, heat, and UV lighting.

Window tint film.
Does the Best Window Cleaner Really Exist?

Just like every other area of life; not all things are created equal. And while I said that the biggest tip for successfully cleaning the windows in your car is technique, rather than finding the perfect window cleaner, this part of the equation shouldn't be overlooked. I offer a couple recommendations if you are a car owner and then if you are a professional looking for an economical solution for glass cleaners.

Car Owner- Driveway Detailer-Enthusiast
Many professionals would consider it an industry sin to actually recommend a product like Armor All in any situation. But having received as much positive feedback on the product, along with my own professional testing, it is hard not to recommend this product from a well established cosmetic car care company.
But I also add the retail version from another well established car care company for those who trust Meguiar's over Armor-All.

Economical Choice for Professionals

As a professional detailer we will go through much more product than any typical car owner or driveway detailer will ever go through. So shopping smart requires to find that winning balance:
Performance

Cost
User experience
For this reason I use Meguiar's glass cleaner to clean car windows whether they are tinted or un-tinted.



Meguiar's D12001 Glass Cleaner Concentrate - 1 Gallon
Concentrate

Extremely economical
Mix as per directions; or custom dilute based on your liking

I use distilled water for that extra step of precision formulation for truly streak free windows
Darren's Tip: I use distilled water for purity reasons. Distilled water is free from all contaminates and minerals and makes for a more refined or pure window cleaner. When it comes to product concentrates, as a rule I always use distilled water when mixing. This would be the equivalent of having soft water in your house and the fact that you can use much less soap and detergents when compared to hard water.

Tools for Streak-Free Car Windows

It might seem strange to refer to specialized window cloths as tools, but in fact that is exactly what they are. And having the right tools is critical to getting perfectly clean car windows with no streaks and no smudges. The (2) different window cloths below are my top picks for window cloths. I carry and use both and simply allow the situation to dictate which cloth I am going to use.  Since weather conditions can greatly affect the results and the process, I like having choices. If you are a driveway detailer, either one of these window cloths promise to perform.



(5-Pack) **SPECIAL SALE** THE RAG COMPANY 16" x 16" Premium Korean 70/30 Blend 400gsm Waffle-Weave Microfiber Detailing and Drying Towels
One of many varieties of micro-fiber cloths.

Virtually lint free.
Can be washed with traditional methods; easy care. ( I wash mine with my other micro-fiber cloths in hot water, reguklar laundry detergent, and then dry on medium heat with no dryer sheets or fabric softeners. )

The perfect size to fold based on personal preference.
A must have for streak free windows.


Griot's Garage PFM Dual Weave Glass Towel, Set of 4
One of my only two choices I considered the best window cleaning cloths.
Ideal size for your hand. No folding required.

Two sided with two different materials (ideally suited for my way a cleaning using a first side to apply, and the second side to buff to perfection)
My wife used these the first time and instantly fell in love. All her window cleaning efforts before were horrid. Her first time with these and she nailed it!
 Can be washed with traditional methods; easy care. ( I wash mine with my other micro-fiber cloths in hot water, reguklar laundry detergent, and then dry on medium heat with no dryer sheets or fabric softeners. )

Additional Tools of Success

Use the additional tools below based on my professional tips to take your car window cleaning to the next level.

Magic Eraser



Mr. Clean Magic Eraser Cleaning Pads, 8-Count Box
Use on the inside of the windows first when heavy build up of haze and film is present
Use either with window cleaner, straight water, or using a mixture of 50% rubbing alcohol (any variations of rubbing alcohol is fine; 70% or 90% are common) and 50% distilled water
Can be used on after market window tint with extreme caution. Use to simply wipe; do not scrub with pressure as the Magic Eraser will eventual abrade the tint.
Clay Magic Detailing Clay



Clay Magic Blue, Fine Grade (200 g)
The original and the best in many opinions.
You should have one on hand regardless for use on your car paint; might as well have one for use on your outside windows also. (will not provide any benefits if you are considering using on the inside of the windows)

Use to remove any airborne contaminates stuck to your car windows (exterior)to create that ultra smooth glass prior to cleaning and as part of ongoing maintenance

Will only have to be used occasionally whenever you feel any texture to your car windows.
Will make your window cleaning efforts easier when the windows are smooth and free of pollutants.

Tips for Smudge Free and Streak Free Windows

Inside of Your Car Windows: For the inside, use the following steps to obtain truly streak free windows without that greasy look that can become so frustrating when viewing at certain angles and lighting.
Clean inside of all windows first with mixture of rubbing alcohol/distilled water using Miracle Eraser pads. Simply spray mixture directly onto window and wipe/scrub vigorously with eraser pad. (unless you have after market window tint, then gently wipe; don't rub aggressively)

Follow up by wiping with micro fiber cloth that is damp with regular tap water or distilled water if you like. (Water type at this point will not make a huge difference)

Last step is to take your choice in a window cloth from above; one side will become your "wet" side, the other side will remain as your "dry" side. Spritz anywhere from 4-6 sprays of window cleaner on the one side of the towel only. Wipe each window with damp side of towel, then flip over and buff to perfection with dry side. It is not uncommon for repeat applications of these steps if the windows have not been cleaned in months/years.

Outside of Your Car Windows: For the outside, it is recommended that you use detailing clay to remove any contaminates from your windows that would diminish your end results. Use the Clay Magic detailing clay just as you would on your car paint.
After you have clayed the windows, use the same steps for the outside windows as explained for the inside of the windows.

Special Instructions and Tips for Smudge-free and Streak-free Car Windows

Tinted Windows: There is this perpetual fear put into all of us regarding tinted windows. And by tinted, I mean the after-market window film that is applied to stock windows that make them darker and protect against UV rays. The good news is that cleaning tinted car windows are actually easier to clean and maintain! Due to the fact that the haze build-up normally found on the inside of car windows is not as visible with tinted windows, the extra steps necessary to remove the common hazy build-up on the inside of your windows will not be as important to most people with tinted windows.
With that said, you can still use the same additional steps of the Magic Eraser and rubbing alcohol/distilled water mixture to remove excessive haze build-up if required. Just be more gentle with the Magic Eraser as if you rub hard enough and long enough, it will eventually mar the window film. If you are overly worried, simply use a micro-fiber cloth along with the rubbing alcohol/distilled water mixture in place of the Magic Eraser to remove the excessive haze build-up as you clean car windows from the inside of your car first.

Window Rubber: Whether we are talking about the inside or outside of your car windows, there will always be some form of weather stripping or window rubber gasket material along side the windows that will hold your car windows in place. This will be a case by case problem as each car manufacturer, along with differing materials will be used year to year. What happens is that as you are cleaning your windows, you can rub your window cloth along these rubber window gaskets and then transfer this rubberized materiel onto your car windows as you clean them. Knowing how to clean car windows also means knowing what not to do.
This can both be a problem on the outside of the window as well as the inside. Car manufacturers use not only different materials between manufacturers, but also different materials that are different on the inside than that of the outside. This problem can be compounded during hot summer months as rubberized window gaskets will become softened, and transfer of this material from your window cleaning cloth onto your clean car window can become more problematic.
Window Rubber Gasket Sealants: Another common problem in getting clean car windows is due to the sealants used when assembly of car windows into your car. Both on the inside and out, the sealant underneath the rubberized gasket will begin to seep out as the car ages and is exposed to hotter temperatures. Once you tag this gooey, sticky adhesive/sealant, you will have to switch window cleaning cloths as you will end up streaking your car windows with adhesive; it becomes a nightmare very quickly!
Pay "Clean Car Windows" Forward!

Thank you for visiting clean car windows. I bet you know of at least one other person who is also frustrated with cleaning their car windows; friend, family, or anyone part of your circle. Help me spread the word by sharing or posting this page to your favorite social network.
Thank you in advance!


---
Home | About | About This Site | Privacy Policy | Contact Me
Best Detailing Tips Home

›
How to Detail a Car
›
Clean Car Windows