Clearcoat Solutions
Q-7 Spray Wax

Rare is the moment when a detailer that has been in the industry for as long as I have comes across a product that delights and amazes! Such is the case with this amazing product put out by Clear Coat Solutions. I was first introduced to the science of non-staining car wax with my introduction to System One; a company that no longer exists. Coincidentally, the founder and formulator of System One is also the founder and formulator to this new company that has taken the original concept of car waxes and car polish to a whole new level with what is called water encapsulation technology. This is a technology that requires incredibly expensive equipment, formulating knowledge, as well as industry experience. All these resources culminate to bring us the best in this modern day era of surface car care; we are talking truly superior products!
CSI Clearcoat Solutions
Q-7 Spray Wax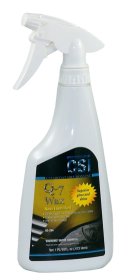 I am still amazed to this day when using this product! This product is positioned at the very top of my list of favorites and a product I use regularly on 90% of the cars I do professionally. Not only is it ideal for the finished layer after extensive polishing, but also ideal for all the many maintenance detailing I do where I see and detail a car every month. Just check out the long list of benefits this product brings to the table:
Easy to use
Won't stain black trim
No white residue
No dusting
Natural and synthetic ingredients
Can be used in direct sunlight
Can be used on all exterior materials
Superior wet look
Anti-static (yes, this actually works for all the cynics out there, I being the leader of cynicism)
Darren's Remarks:
I love this product so much, I have converted to using this in my professional auto detailing business at Auto Fetish Detail. Simply put, this product fits perfectly with my business model of "Maximum results with minimal effort". As detailers buried with literally hundreds of choices in car care products, we find that often it is easy to use products that simply deliver acceptable results without delivering anything else of value. Using this CSI Q-7 spray wax means not only the ability to deliver a superior end product to my customers, by using a product that is formulated using quality ingredient.
From my experience professionally, this product seems to be the winning combination of ingredients, ease of use, and lasting protection. In addition to amazing wet-look and glossing qualities, I prefer this product over the competition due to its superior abilities to enhance and restore the black vinyl trim on many of the cars I do.
Jeep Wranglers... a detailing nightmare!
For anyone unfamiliar with what is called non-staining formulations of car waxes, this means the wax will not stain black vinyl trim pieces, and represents the amazing advances of chemical engineering! The ability to wax every type of material on the car is not only a novelty, but more importantly a huge time saver! It is also counter-intuitive to guys like myself who have grown-up forever concerned with keeping car wax away from these black trim pieces. The days of exercising extreme care to avoid black trim pieces with conventional car waxes are gone!
Ever since I was introduced to System One years ago, I have been on a personal quest to test all the non-staining formulations out there. I have come across many products that are not only wonderful to use, but deliver exceptional results. I find that CSI Q-7 remains at the very top due to its slightly thicker consistency, and the winning ability to enhance black trim pieces far better than the competition. This is an even added bonus as now black vinyl trim does not have to be treated as separate step.
Anyone who is in the car detailing business knows just how problematic extra black vinyl trim can be on certain cars and SUV's that have so much of it; e.g. Hummer H2's, Jeep Wranglers, Range Rover's, Mini Coopers, etc., etc. Now instead at looking at these type of vehicles as the red-headed step children of the industry, now I welcome the moments. The ability to enhance and protect both the paint surfaces and all black trim pieces is nothing short of delightful!
Car Paint Care Simplified
If you are new to the whole car wax arena and have just recently began your search for the best auto wax, or the best rated car wax, or the last car wax you will ever need wax, then take note as you are in for a journey that turns from delight into head spinning frustration very quickly! One trip on the Internet is all it takes to find yourself chasing your tail as you read one hyped-up car wax review after another! All the brightly colored labels and slick marketing leaves most people more confused than ever when looking for a quality car wax that is easy to use, won't break the bank, and actually offers some level of protection in the process. So if you are looking to keep things simple, try these (2) recommendations first before your car care tasks work you into a frenzy of frustration, and you give up and do nothing.
Step 1: Detailing Clay

Using detailing clay on any car for the first time is a must; at least if you are looking to have silky smooth paint. Whether you have a brand new car a car a few years old, do not under estimate how important this pre-cleaning step is to superior finished results! The many pollutants in the air attach to the paint surface and gradually embed themselves into the paint to create that texture you feel on your car paint. Washing and waxing will never remove these embedded pollutants, and only through use of a quality clay bar will you enjoy the silky smooth finish that is possible. Anyone who has never experienced this for the fist time is in for a real treat!
If you would like to get some for yourself, follow the link below:
Step 2: Q-7 Detailer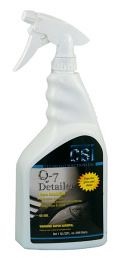 This Q-7 spray detailer serves (2) purposes. In this case, we will use the detailer as a clay bar lubricant while performing the fall-out (pollution) removal from your car paint. Spray liberal amounts on your clean car doing one section at a time, and rub the clay bar across the paint until all contaminates have been removed from the paint surface. There will be noise at first until the clay bar shears away paint contaminates which then creates an ultra smooth paint finish to prepare the paint surface for wax.
Step 3: Q-7 Spray Wax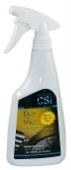 After you have prepared the paint surface with use of the detailing clay and detailer, you are now ready for the final step and that is application of the spray wax.
Darren's Professional Tips
Use of the clay bar will be part of your ongoing maintenance. There is no hard rule as to how often you will be using the detailing clay; I simply tell people to use as often as they feel their paint has any form of texture to it and they are motivated enough to do so. Past the initial use of the detailing clay, it will only take minutes to remove any additional fall-out that accumulates on the paint surface of your car. Since air quality in every area is different, this might mean once a month, or once a year. Only you will know yourself as time goes on.
The wax should be applied every (2) months for optimum protection of your cars clear coat. Personally, I prefer to do it more like once a month since I own black cars and love the appearance only fresh wax provides. If you did also order the Q-7 detailer, you can use this after washing for a quicker way to enhance the paint that will also help to extend the life of the wax.
Home | About Darren| About This Site | Privacy Policy | Contact Me
Home >> Auto Wax Reviews > Clearcoat Solutions