High Speed Buffers
Helping you ask the right questions!


High speed buffers are considered the red-headed step children of the car polishing and detailing world. Unfortunately the wrong people seem to carry the loudest voice when it comes to popular opinions. The online forums are filled with wannabe detailers and so called experts spreading opinions based on limited experience. And if that wasn't enough, you add further confusion by many other people simply regurgitating bad and unverified information. Anyone looking to take their polishing skills and performance to the next level must seriously consider what the industry has to offer in the way of high-speed polishers.
The Right Questions Mean the Right Answers
Often we find ourselves having made decisions based on partial information; doing due diligence today seems harder in an era of too much information, rather than not enough information. Finding the top pick of high speed buffers can be helped by asking the right questions:
What is a high-speed buffer?

Why a high-speed versus an orbital?
What if I am simply a hobbyist looking to polish my own cars?
What if I want to take it from my own cars and start doing professional detailing?
Will these high-speed car buffers work on boats and RV's?
What is a High Speed Polisher
First things first; high-speed and rotary polishers are the same thing. The term polishers and buffers will be forever interchanged and co-mingled whenever the subject comes up. With that said, as a general rule when talking with experienced car polishers, the term rotary polisher is usually used instead of high-speed buffer.
Rotary, or High Speed:

They are called rotary polishers since they spin on a single axis point.They range in speeds from 600-3500 RPM's generally.

Orbital Buffers:

Also called DA (Dual Action) buffers due to the (2) rotating points of the head. Orbitals are designed to replicate the movement of your hand when applying wax or polish. An easy comparison would be to think of the earth spinning while at the same time it is rotating around the sun.
With orbitals, you have (2) different kinds: forced rotation and random rotation. Forced rotation means that both the spinning and the rotation are constant or forced through gear action. Random means that only one of the movements is constant and the secondary movement will be stopped when enough pressure is applied during polishing. Random orbitals that are considered by many as the ultimate safe polishing tool since they will not continue to spin when enough pressure is applied, thus keeping the paint safe from overheating during the polishing process.
The very thing that keeps orbital polishers so safe is the very thing that limits their abilities when it comes to heavier levels of polishing. They are mainly suited for light levels of polishing and finish polishing.

High Speed vs. Orbital Buffers
Due to all the fear that is circulated with regards to high speed buffers, many people shy away from these necessary tools. Asking a driveway detailer their opinion on high-speed polishers is very different from asking a seasoned high-end car polisher. I know many high-end car polishers that use strictly rotary buffers to perform all steps of the polishing process. Before the introduction to the reduced speed high-speed buffers, most professionals performed the first stages of polishing with a rotatory polisher, then switched to an orbital for the last finishing step for complete swirl removal; this is no longer the case for many with these new, lower speed polishers.

High Speed Polishers


Offer the fullest range of speeds and uses.
Considered by the inexperienced to be dangerous.
Many professional detailers use nothing but rotary polishers for all polish work.
If I had to live with a single polishing tool, it would be a quality high-speed polisher.
New, lower start speeds make these high speed buffers even more versatile.




Orbital Buffers


Considered to be the perfect buffer for beginners.
Generally used for light polishing or finish polishing due to (2) rotating points.
Also used for wax applications.
Due to the dual rotating points, many people consider these buffers the answer to swirl marks.

Deciding Between the Rotary and the Orbital
Now that you understand the difference, you are most likely still scratching your head trying to figure out which one of the high speed buffers is the perfect fit for you. If you had the money and are looking to go as far as possible, then I would recommend both a rotary and an orbital. But most of us live on a tighter budget than we would like and want to find a car buffer that will take us the furthest without having to buy (2) buffers. With that said, I do have an opinion based on decades of professional experience:
Rotary Buffer: The Winning Combination!
I think the new rotary polishers represent the greater value due to a broader range of abilities and speed.
Low start speeds mean complete safety.
Any true beginner can now begin with a rotary.
Accepts both foam and wool polishing pads.
From finish polishing to heavy duty gel coat polishing.
Cars, boats, RV's
Car paint, gel coat, fiberglass.
Beginners to advanced pros.
Just can't beat the overall versatility of a quality high-speed polisher!
Top Rated High Speed Buffers
Use the following reviews and links to get your own car buffer from among the industry's top picks of car polishers.

DeWalt DWP849X Variable Speed Rotary Polisher 8.5 inch Pad Kit
One of my personal favorites.
If I had to live with a single buffer, this would make the list.
Can handle any job you throw at it.
Excellent overall user experience.
Reasonably priced
Kit above comes with wide range of polishing pads.
Makita 9227C Rotary Polisher 8.5 inch Pad Kit
Another one of my personal favorites.
If I had to live with a single polisher, this would also make my list.
Can handle any job you throw its way.
Excellent overall user experience.
Reasonably priced.
Kit comes with wide range of polishing pads.
FLEX PE14-2-150 Rotary Polisher Starter Kit FREE FLEX BAG
Considered the Mercedes of rotary polishers.
German engineering, German quality.
Can handle any job you throw its way.
Higher grade equipment, higher price.
Kit comes with wide range of polishing pads.
Would also make my list of having to live with a single buffer, this would make me happy.
Darren's Professional Tips: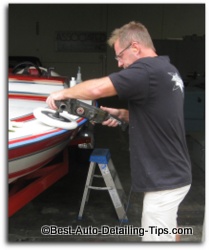 Let's do a review of what we have learned:
The bad name high speed buffers have had are mostly due to inexperience people, and the older models with high starting and operating speeds.
The newer models start at a very low 600 RPM speed and are as safe as any orbital buffer.
Now a greater range of jobs and users can enjoy these quality built machines.
Any of the buffers from above would make my list of top picks for car polishers.
Rotary polishers represent the overall winners as far as benefits and would be my first choice if forced to live with a single type of car buffer.
Home | About | About This Site | Privacy Policy | Contact Me
Best Detailing Tips Home

›
Car Polish
›
High Speed Buffers