Leather Car Seat Cover:
Learn and think first!
Leather car seat covers seem like a nice idea, but perhaps you might be trading off one problem for another. Read what this expert has to say that comes straight from the word of professional auto detailing based on over twenty years of firsthand experience.
To Cover or Not to Cover
We all want to protect our seats; especially our leather car seats. So we naturally think of car seat covers, and specifically, sheepskin seat covers: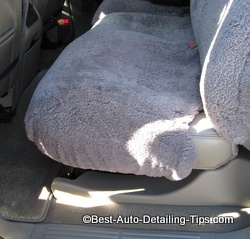 They will protect our car leather interior.
They look good.
They feel good.
Is there really a decision here?
It seems like a straight forward decision doesn't it?
Sure, if you want to oversimplify the moment. This same rationale is the same process people went through back when car bras were so popular. We add some form of protection like seat covers, to protect our cars leather seating, only to create another problem for ourselves.
The Hidden Problem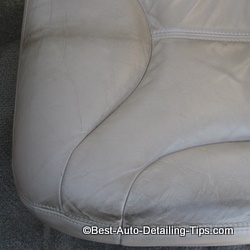 The picture to the left shows what is hiding underneath your car seat covers most people are unaware of.
By covering your car seats with some form of cover, you create the perfect hiding place for dirt; this is the same problem with car bras. The dirt is then trapped underneath to wear further and further, into the car leather seating.
But before you panic and change your mind about buying some form of seat covers, read on.
The Pros and Cons
It would seem in life, we are forever weighing the trade-off's of every moment. Choosing to use leather car seat covers is of no exception. Let me shine some light on this subject to help you become a more informed consumer.
Did you really pay extra for leather only to cover?
Leather is a temperamental material; cold in winter, sticky in summer.
Covering them, especially with sheepskins may be good a alternative.
While seat covers will certainly protect them from wearing, they will aid in keeping them dirty.
The Good News
The good news is that the dirt trapped underneath, if not allowed to remain indefinitely, can be cleaned.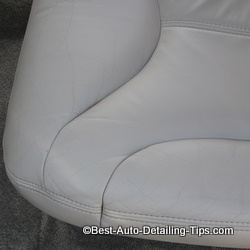 The picture to the left is the same seat from above; after it had been professionally cleaned using proper car leather cleaning. So the good news is this:
Save your leather from permanent damages by covering.
Sheepskins can be a good choice.
Cleaning the leather car seating underneath is possible.
The irony is that many people like the opulence of leather car seating, as well as the appearance of it. But to live with leather in certain extreme climates is not as user friendly as other car interior choices like cloth. So if you need to cover your cars leather interior to make them more livable, then do so. But know the trade-off's going into it.
Home | About | About This Site | Privacy Policy | Contact Me
Back to Leather Car Seats from Leather Car Seat Cover
Back to Best Auto Detailing Tips Home