Turtle Car Wax
Easy on, not so easy off!

Turtle Car Wax has been around forever and if you have an excess of time and are looking for the "old school" days of waxing your car then look no further than Turtle Wax car wax, as this is as good as it gets when it comes to rubbing! All the nostalgia of spending the entire afternoon waxing your ride can be had with this product; including the sore shoulder the following day! But with advances in modern day chemical engineering, as car enthusiasts and car owners, surface car care is much easier than ever with products that also promise to produce superior results than what was possible before. Follow my Turtle wax review of this very popular product that continues to take up valuable shelf space in retailers worldwide.
Turtle Car Wax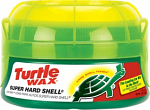 Easy to apply
Very difficult to remove...despite what the packaging says
Very dusty
Perfect for anyone sold on name only.
Darren's Remarks
While application of Turtle wax remains very easy, it is an entirely different matter when it comes to removal. The consistency of this product is much different than traditional paste waxes as it remains rather soupy. I don't mind this as it makes application very easy; actually easier than most of the true paste waxes. But this would be expected from a liquid car wax rather than a product labeled as a paste.
Turtle wax has very good hiding and filling capabilities just like the other name brand waxes, but any benefits of this product are immediately lost during the laborious removal process; prepare yourself for much rubbing, accompanied with much pressure.
Admittedly, this was my first experience with this brand as I have shied away from it for years due to the stigmatized perception I had of Turtle wax products as a whole. I was pleased with the final result; I just wasn't pleased with the amount of time and effort to get to the final result.
Turtle Wax Ratings Review
If you are stuck on the brand recognition of Turtle car wax than by all means this is the product for you. If you are looking for an easier way of producing even better results, I recommend following this link to best car waxes where I dissect the various problems faced with surface car care and help you find the best car wax to use based on you and your needs.
Pay It Forward
Thank you for visiting this Turtle Car Wax review. I bet you know of at least one other person who would benefit from the information I have taken so much time to produce, so please post this to your FB or Twitter account and help me spread the word! Or just send them the link and pay it forward in that manner. I have made it super easy to spread the word with my "Socialize It" button box at the very bottom of this page.
Home | About Darren| About This Site | Privacy Policy | Contact Me
Home >> Auto Wax Reviews > Turtle Car Wax