Turtle Wax Black Chrome
A long time favorite is no more!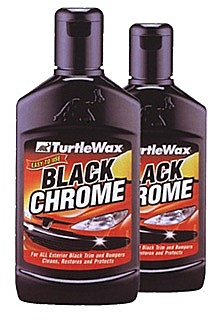 Turtle Wax black chrome remains at the top of search lists for many die-hard fans of this popular black trim enhancer and restorer. Turtle Wax is synonymous with car care and remains popular among car enthusiasts and car owners in general. My research has suggested that many people go in search of this product from Turtle Wax with the attempt to find the latest in specially formulated car waxes. Not only is Black Chrome not a car wax product at all, but it is no longer available here in the United States. If you are looking for a long time favorite of yours by way of this product, you will forced to a frustrating search via the Internet in attempts to track this product down. But with that said, not only do alternatives exist to Turtle Wax Black Chrome, but alternatives that are formulated using superior advances in chemical engineering!

Out With the Old; In With the New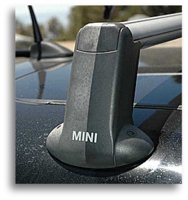 As a professional auto detailer, I can tell you I have never come across any other professional detailer using Turtle Wax products within their business. As consumers, we are often left choosing among inferior products. Many people think that professional grade detail products are only for the professionals to be had. The good news is that as a car owner or enthusiast, you can enjoy true professional grade products. When it comes to enhancing and restoring all your exterior black trim pieces on your car, alternatives do exist that promise to deliver superior results to your retail products of past!
| | |
| --- | --- |
| Before Black Wow | After Black Wow |
As can be seen in these dramatic pictures, Black Wow represents latest technology with chemical engineering in restoring and enhancing black vinyl trim pieces on your car or truck.

Black Wow!
Black Vinyl Trim Restorer

If you are looking to cut to the chase you can buy this version of Black Wow by itself and makes a great alternative to anyone still clinging to the idea of Turtle Wax black chrome.

Black WOW Trim Restorer 2 oz.
Concentrate; small amount goes a long way
Contains some cleaning abilities when using. (cleaning area first is desirable)
Long lasting; withstands repeated washings and rain.
Not a messy dye.
Black Wow!
Clean and Restore Kit

For truly dramatic results, I recommend the Black Wow cleaner and restorer kit. Save money by purchasing together.

Black WOW Prepare to be WOWed Kit - 4 oz.
The age old adage of "Old habits die hard" applies to car care products just as much as any other area of life. But just like every other area of life, technology has also made car care much easier. Now you can not only get better end results, but doing so is also easier than ever!

Home | About Darren| About This Site | Privacy Policy | Contact Me
Home>> Auto Wax Reviews> Turtle Wax Black Chrome