The Best Automotive Polisher

The Simplified Approach and Why You are Your Biggest Obstacle
Choosing the best automotive polisher will be a frustrating and difficult task for most of you; and the reality is that you are your biggest obstacle and you don't know it!
Searching for the top rated auto buffer on the market will produce almost as many opinions as there are people you are willing to ask. As a professional detailer I find that in answering people's questions, very few so-called experts actually apply context to the question so you can actually make an informed decision. The fact that you came here looking for an automotive polisher tells me that likely you are a beginner and therefore lack even enough experience to ask the right questions!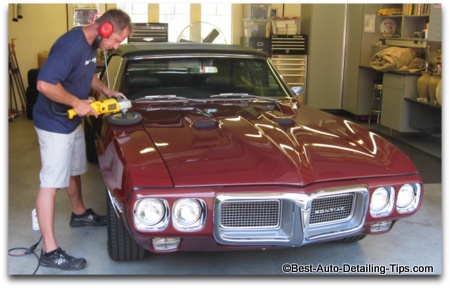 "Darren, I have wanted to learn how to use a car buffer for the longest time. I am so confused by all the opinions and don't know how or where to begin!"
You Will Be Your worst Enemy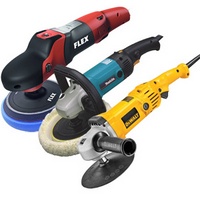 Just like many of us and a common problem within any industry, when you have decided you want to learn how to polish a car and go searching for a top rated automotive polisher, you instantly want "the best".
But looking for the best car polisher is what will trip you up to begin with, and prevent you from getting what you really want. So ask yourself the following questions:
Why exactly have you come looking for in an automotive polisher?

Do you really want to learn how to polish your car or do you really want to consume hours of your time reading one review after another?

Perhaps what you really want is a highly polished car, done by yourself, and you would like it sooner rather than later!
Auto Buffer Quick Review

There are (2) basic car polishers:
Orbital buffer; also called a DA (which stands for dual action). Orbitals also come in (2) versions: random orbital and forced rotation.

Rotary buffer; also called a high-speed buffer
For the purpose of getting you what you want sooner than later, we are going to discuss random orbital car buffers.
Why Choose a D/A Polisher?


DA (dual-action) Orbital, Random Orbital:
It doesn't matter what you call them, they are unique in that the polishing head spins, while oscillating. This is why they are also called DA for dual action. The best way to imagine this concept is to think of the rotation of the earth and sun:
The earth spins on an axis (spinning. It gives us the 24 hour day

The earth rotates around the sun at the same time. (oscillation. It's was gives us the calendar year. 365 days to rotate around the sun)

The idea is to replicate the hand application of polishing or waxing. When applying wax or polish by hand, generally people have been taught to rub in circular motions, while at the same time your arm is also moving your hand around. The idea is to eliminate swirl marks that can be a result from improper use of a rotary polisher that spins on only one axis point.
Random orbital polishers were developed for some very specific reasons:
Safe as safe can be.
Allows a beginner to use a machine polisher to achieve professional results safely.

Duplicates hand polishing.
Eliminates swirl marks generally caused by inexperienced users of high-speed car polishers.

Car Paint Correction for the Beginner

The good news is that the industry has responded by making every part of the equation easier then ever. From the polisher, to the pads, to the polishes.
Now a true beginner can polish their own car and produce professional level results right out of the box!



Meguiar's DMCKIT6 DA Microfiber Correction System Kit
Complete paint correction kit to restore your dull, faded, oxidized car paint.
Restore depth and shine to your car paint.
As easy and straight forward as you will ever get.

Automotive Polisher for the Beginner

Even though that headline clearly states that this paint correction system is for the beginner, the truth is that many professional detailers never graduate from this actual car polisher.
This car buffer is truly professional grade.
Due to superior car polishers and polishing pads, this will be all that most people will ever require to produce show car results on their own car.


Meguiar's MT300 Pro Power DA Polisher
As safe as safe can get.
Anyone who says you can't operate a car polisher without experience, is either ignorant or misinformed.
The last polisher most of you will ever want or need.
All-in-One Paint Polishing Kit

"Darren, I like to keep things as simple as possible. Is there a kit that will come with everything I need in a single kit. I really don't want to over-think this."
Glad you asked.....
The Torq kit just below is the winning combination for many people:
A true all-in-one kit.
Professional grade car polishing without breaking the bank.
Will likely be the last polisher most of you will ever need. (just be warned; once you go down this road, you will find yourself wanting to try more and more "stuff". It's OK; just accept it. Women have their shoes. Men have our tools.)
Top rated automotive polisher among professionals and Amazon reviews.
TORQ BUF501X 10FX Random Orbital Polisher Kit (Polisher + 9 Items)
Darren's Professional Tips: Between this paint correction kit and car polisher, you are ready to polish depth and gloss into your car paint that will produce results that would be impossible by hand, or with outdated and unsafe car polishers of the past!These are not your arm rattling random orbital wax applicator polishers you grew up with. This are true professional grade automotive polishers and you will be amazed at the results you are able to achieve right out of the box!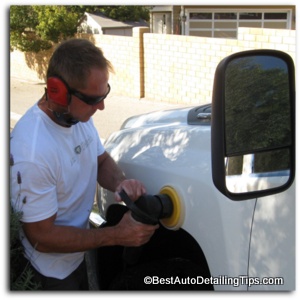 I will also add that shopping for an automotive polisher from one of those cheap supply stores whether it be online or not, will be hugely disappointing. Just like any other area of life "you get what you pay for." So if you think you can get a quality car polisher for $35-$65 you are sorely mistaken and I promise you will be disappointed when compared to the quality of these automotive polisher and paint correction kits.

So what are you waiting for?
Get your automotive polisher now!


Home | About | About This Site | Privacy Policy | Contact Me
Best Detailing Tips Home

›
Auto Detailing Tips
›
Automotive Polisher