Hire Darren Priest to Help Deliver Results!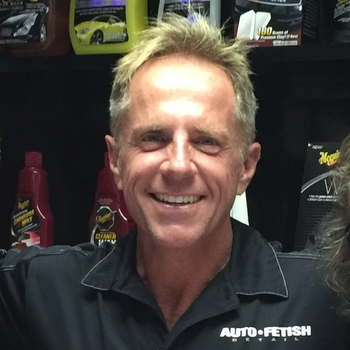 Product reviews
Industry events
Custom articles/blog posts

Social media campaigns
Influencer
Business development
Guest appearances
Event moderator
SEO/SEM
Website design
Growing your market share and building your  brand influence is a moving target with many moving parts. regardless of your budget, your specific business strategy, Darren has the skills backed by the experience, verified with results to help you and your business.
"Darren Priest has become one of the leading influencers in the world of professional auto detailing with his direct, candid, and often irreverent approach"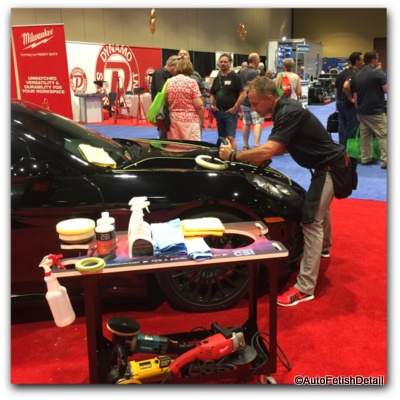 Darren hired by Milwaukee Tool Co. to be the guest professional at the TDE (Tool Dealer Expo) show in Kissimmee, Florida for the introduction of the industry's first cordless rotary car polisher.

In an industry filled with endless opinions from endless so-called experts, Darren has grown a massive following who appreciate his fresh, honest, and often irreverent perspective that comes from over 30 years of professional auto detailing business.
Darren is and has always been willing to deliver engaging, informative, and actionable tips to his followers from all over the globe.
Just as Darren is not your traditional media personality, neither are his followers who embrace Darren's unique delivery style and become committed followers with a fervor that is hard to match!
---
"This digital age has literally transformed the way consumers behave. Social media and technology as a whole has completely transformed all traditional rules of marketing, engagement, and the sales cycle of consumers.  Very few companies understand it, very few actually use it with any effectiveness, and even more are standing on the side-lines as they become more and more irrelevant.
Only the companies that have the ability to embrace and leverage this technology to its fullest will be the very companies that not only thrive, but dominate their industry. Which side of the equation will your company be on?"

---
The vast majority of businesses today are losing market share. And most businesses don't know it, understand it, or have the ability to do something about it.  While businesses continue to see a shrinking bottom-line, they are looking at the wrong part of the equation. 
Simply put; too man businesses continue to operate under the "business as usual" mentality. Turning a blind eye towards the technology revolution and how the emerging market is becoming addicted to all things digital, and social media.

Very few companies understand the ability to leverage the massive influence potential of the many social media platforms. traditional forms of advertising and marketing simply no longer work in this age of social media.

Darren: Industry Influencer

Through the various social media platforms, Darren has leveraged his 30+ years of professional detailing business into one of the leading industry influencers in the world of cosmetic car care and auto detailing.

---
Competition Ready: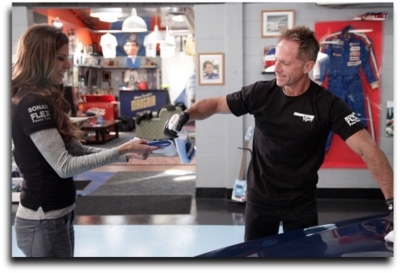 Darren on the set with "AJ" Janic for the shooting of season 2 of "Competition Ready" aired on Velocity Channel.
As an industry expert, Darren was invited to shoot an episode of Competition Ready that airs on the Velocity Chanel with Mike Phillips, Director of training at AutoGeek.net and Co-host, Aj Janic.
The episode was shot at a hidden location of Hollywood celebrity, Adam Carolla as our team of detailers prepared his two vintage Lamborghini's: 1965 black Lamborghini 350GT and a dark blue 1967 Lamborghini Islero.
Competition ready: Season 2, Episode 14
---
Mothers: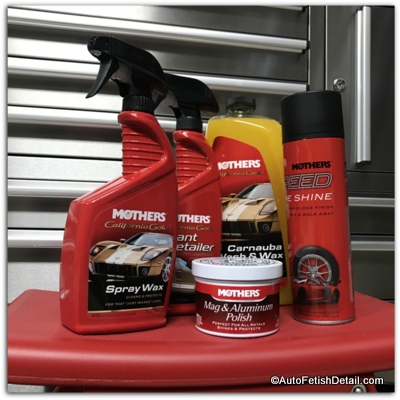 This picture was part of the marketing campaign put together by Darren that aired on YouTube, Instagram, and Facebook.
Darren was hired to do a campaign for the well known Mothers car care company that included Facebook, Instagram, and shooting a dedicated video for his YouTube channel.

---
Turtle Wax:
This is a picture showing some of the items sent out by Turtle Wax for testing that were part of the new 2020 product line
In preparation to release the 2020 line-up of new products, Turtle Wax held a big, invitation only event to bring all the leading industry professionals and influencers to test the latest product line-up.
The Turtle Wax group treated all of their professional guests to a VIP treatment at the Mountain Shadows Resort in Scottsdale, AZ, as well as holding many of the actual events at the OTTO Car Club in Scottsdale, AZ

---
MobileTechRX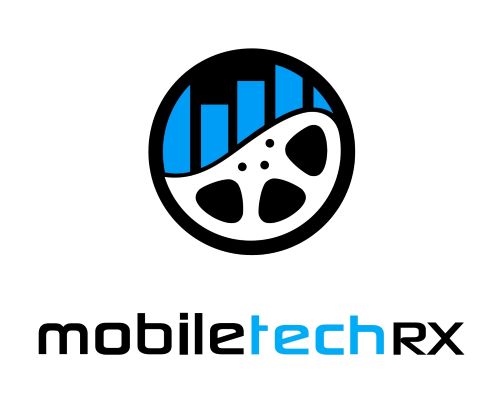 MobileTechRX is an industry leader utilizing a digital app geared specifically at all areas of the auto reconditioning world.
Initially started as an app geared directly at the Paintless Ding Repair industry, MobileTechRX wanted to develop their app designed for the professional detailing world.
Once again Darren was called upon due to his extensive experience in the real-world of professional detailing.
---
Westinghouse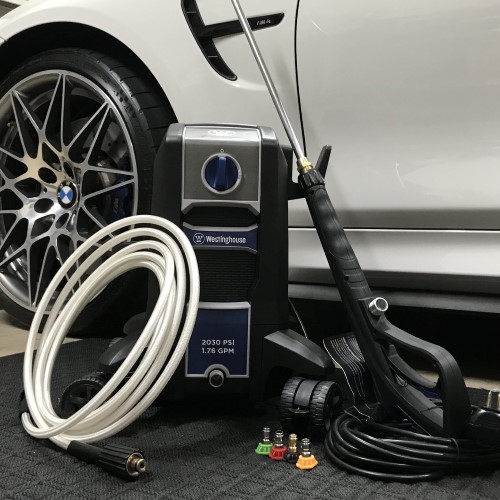 Picture showing one of the promotional pictures used as part of the marketing campaign
Westinghouse was releasing one of its latest versions of pressure washers. With the ability to reach a large part of the detailing community, Darren put together a campaign that included (2) video reviews on YouTube along with posts on his other social media accounts.

---
Maxshine USA
Darren met the Maxshine group at the SEMA 2019 event and was immediately impressed with not only their detailing power tools, but the companies founding members.
Maxshine wanted to do a special promotion for the infamous Black Friday that starts off the holiday shopping here in the U.S.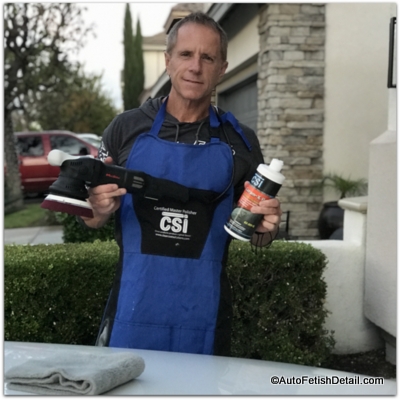 Darren poses with a Maxshine buffer and Ceram-X car polish as part of one of the marketing campaigns.
Darren put together a marketing campaign to augment the campaign Maxshine was about to push with. Darren used both his brand credibility and Internet marketing skills to enhance the efforts of this marketing campaign.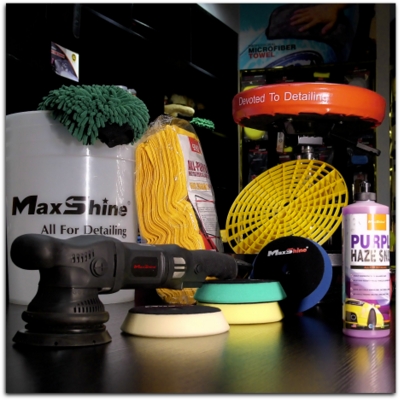 Maxshine had put together a robust and appealing bundle of various Maxshine products and tools. Darren worked with Maxshine in consulting with them to make a good campaign into a better campaign!
Leveraging the power of the Internet and social media is a topic filled with endless opinions and endless so-called experts. This makes an already difficult proposition even more difficult, so Darren offered his years of results driven experience to help Maxshine leverage their campaign into a more effective campaign.
---
ClearCoat Solutions (CSi)
ClearCoat Solutions was developed specifically for the paint and body world and had gained significant traction into that specialized industry. It wasn't until Darren approached the founder of the company and suggested he push into the world of professional detailing and cosmetic car care at a retail level. This not only opened up an entirely different market, but with it came its own unique audience and market share.

Tom Horvath, the original founder and formulator of ClearCoat Solutions, was blown away at the results Darren was able to deliver in opening up this entirely different market that was untapped by ClearCoat Solutions.
No only was Darren able to increase the selling point of the various products from 32%-51% higher, but now overwhelmed the current supply chain to the point of trying to meet the new demands of an entirely new audience. A stressful problem, but a problem most business owners would welcome. 

Despite being a seasoned veteran of the high-end restoration business as both a craftsman and a business owner, Tom Horvath did not understand the emerging technology and power of social media and the Internet.
While the CSi (ClearCoat Solutions, Inc) brand had gained significant traction in the PB&E (paint, body and equipment) industry, CSi was invisible to the world of professional detailing and the retail world of cosmetic car care as a whole.

Filming a frame-off restoration of a 1964 Corvette for CSi to air on YouTube at the Coast Corvette facility headquarters.
Due to the massive gains resulting in these many efforts, Darren was able to negotiate his way into the company as an investor. As a byproduct of the results Darren was able to produce, he now consults on an ongoing basis as the marketing director for CSi.

---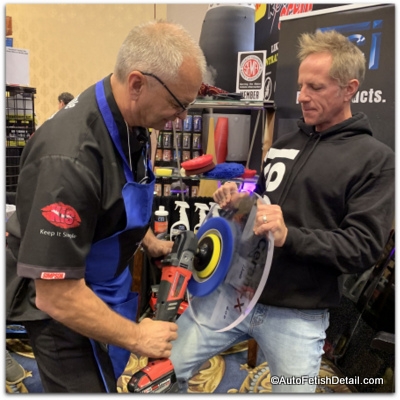 Working with ClearCoat Solutions (CSi) at the 2019 SEMA show held in Las Vegas every year. Helping with product demonstrations and branding of the company.
The dramatic results Darren was able to produce for CSi specifically , allowed Darren to invest into the company. Darren had been a user of the CSi product line for over 15 years and was already an enthusiastic fan.
Now Darren is an investor and consults as head of marketing for the company, leveraging all Darren's various Internet based platforms to continue to grow the company.

---
Article/Blog Posts

As web developer for his own websites, all of Darren's content is personally written by himself, and each page is designed by himself.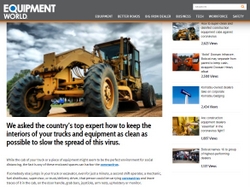 If you are interested in collaborated or having an article written for your blog or website, Darren can customize any subject to fit the needs of your audience with regards to your "Most wanted response" (MWR) of a particle page or article you have in mind.
You can see an example of an article not traditionally associated with cosmetic car care or auto detailing in general at:
Darren combines his creative writing and industry experience for endless possibilities based on your specific needs and objectives.
---
Web Developer

There is pretty famous saying many people use from a movie called Field of Dreams.
"Build it and they will come"
There are many area's of life where people are willing to adopt this very poor strategy. The Internet and developing a website is one such industry.
Many people think that building a slick, professional website is all that is needed. Thinking that if they simply build a website that Google can do the rest and drive massive amounts of traffic to their glossy website.
This problem is a common problem with people who do not understand the many "moving parts" of building and developing a website.
From key word optimization, search engine optimization, meta-tagging, link strategy, to the myriad other moving parts that are needed to develop a website that can be the difference of night and day.
Most websites are completely invisible to the search engines due to poor development, which translates into being completely invisible to people looking for what you have to offer.

Due to the success of Darren's two websites, the Solo Build It (SBI) taught Darren everything he knows to develop his websites (one of which is among the top 0.5% with his niche) into top performing websites within his niche. 
Best-auto-detailing-tips.com
Expert-mobile-car-detailing.com (AutoFetishDetail.com)

"Solo Build It" wanted to capture Darren's story in video format to serve as a testimonial to the capabilities of choosing the right platform that has the right tools for success.
It is the the comprehensive instruction, along with the many tools developed and offered by Solo Build It that allowed Darren to create the level of success that he now has for himself.
Darren now has the skill sets and experience to help other companies in many ways:
Web design/development
Sales copy writing
Branding
Social media marketing
Social media influencing

Business development


Above is a screen shot displaying Best-Auto-Detailing-Tips.com within the Solo Build It platform as part of their 500 examples of websites that are ranked in the top 0.5% of websites within a given niche.
You can view this under the niche heading of "Hobbies" as well as clicking the "Show more examples" at the following link: Solo Build It Results
NOTE: As might be expected, the number of websites that exist in the world is an impossible feat to assess as new websites by the thousands are created every day, while other websites simultaneously disappear or are taken down from the Internet. But according to Netcraft.com, there are over 1 billion sites in existence in 2019. The exact number as quoted by Netcraft.com is estimated at 1,518,207,412 in 2019 as compared to 1,805,260,010 in 2018. The point is that while every niche has varying amounts of competition, so regardless of niche, being ranked in the top 0.5% of any niche is a phenomenal undertaking.

---
YouTube Channel
Darren took the many skills learned through Solo Build It that allowed him to build his successful websites, and then leveraged those same skills to develop his successful YouTube channel.(Google, the number one search engine in the world also owns YouTube, so much of the same SEO techniques that work for search queries also work for search queries on YouTube)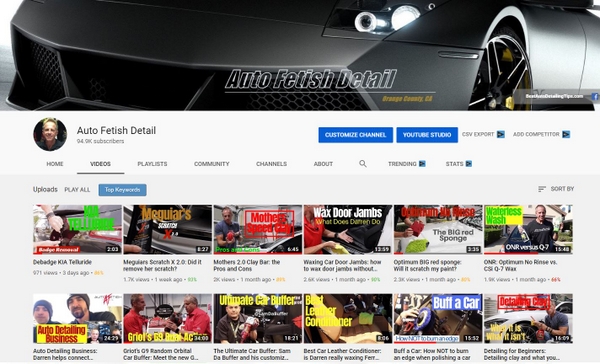 Darren now uses his YouTube channel to continue to develop his own brand as well as other brands within the auto detailing and cosmetic car care niches.
View his Auto Fetish Detail YouTube channel.

---
Promises vs. Results

Not only does Darren have the ability to connect to people turned off by the "business as usual" mentality of most industries, but understands the age of technology, social media, and the new era of marketing to a new and emerging generation of consumers.
People that consume information differently, are influenced differently, and make purchasing decisions differently.
Like every industry, there are countless charlatans and very convincing so-called experts. Darren's first-hand experience with auto detailing and cosmetic car care is no different.
But results don't lie!
It is one thing to over-deliver with empty promises, but entirely different to back up your efforts with results! Darren has the results to back up the claims. Does your marketing "expert" have the ability to produce the results you are looking for, or is it time to seek help elsewhere or simply seek help from an experienced individual at the beginning?

Darren approaches all areas of business and life with an "Anything but Ordinary" approach. Always thinking outside the proverbial box and the societal constructs that big business clings to; even to their own peril and demise. Darren's ability to "influence" people is not based on deception, misrepresentation, or fabrication that many companies will use to achieve temporary gains.
Darren shooting one of the many detail tutorial videos for social media
Darren uses the same principles in all areas of life that has made his own business one of the most profitable detailing businesses in an area of the country literally saturated with competition. Darren uses principles of business that are what he calls the "long game". Developing trust at every level with his customers and followers in a manner that does not sacrifice long term gains, for the often seductive short term and temporary gains that can be had through embellishment, misrepresentation, and fabrication.
Not only do most companies not fully understand their customer base, but do not understand the lifetime worth of a customer.  (Through the use of technology and social media, Darren has personally grown his business on average between 21%-27% over the previous 5 years. He also has a net profit margin that hovers around 3-5X the industry standard for California)
Darren,
Karl here in Denver. Just wanted to say how much I appreciate your efforts. Your video/story regarding the 'No' client was simply fabulous. Your insights and knowledge is so extensive. The fact you would share this lesson is priceless. There is no one in your league, not even close. I
know how to much effort goes into these 'little' pieces. I'm a producer I know. Thank you so  much. Best, Karl
Karl A.

"Darren-
Thanks so much for all you do.
I literally learn so much from you.
Every time I step up my detailing knowledge it often ends up being a YouTube search or Google search that leads me back to you.
Larry Kosilla from Ammo NYC started off my interest in detailing.
Greg formerly of Chemical Guys got the ball rolling.
And you sir kicked everything into overdrive!
Thanks for all you do....please just don't ever go "Hollywood" on us.
I'm gonna stop this comment and go back to reading this page on your site....SO MUCH TO READ & LEARN."
Hanns G.
Dear Darren,
Thank you for the time and effort you put into your videos, it really shows and makes your videos a true joy to watch.  I'm 45 and have never cleaned an engine on any car or truck I've ever owned -- but you inspired me to clean mine.  I'll purchase what I need through your site.  Thanks for the inspiration.
Tyler D.
Hi Darren love you videos you smart and very practical and common sense
Thank you.
John O.
Outstanding! for lack of even better words.
A. Rivera
Hi Darren,
My name is Dan Roberts. I'm going to be starting an auto detailing business early next year. In Pittsburgh, so by no means will I be using your trade secrets against you!! HA!
But I wanted to let you know how valuable, helpful, time-saving and incredibly unselfish and generous you are to post your online videos and your information here.
Thank you so much!  I will be constantly checking in for tips, product knowledge, "how to" info and updates.
Thank you,
Kind regards
Dan R.

Absolutely wonderful information  on your site Darren and your videos are exceptional ( including no, especially your digressing lol) very very informative ,cant thank you enough for a great couple of days watching most of your material.
Peter W.
Hello Darren,
bear with me but I just wanted to say thanks. You and your videos have been a huge inspiration to me to go out and begin my own business, and I have. I have learned so much from your lengthy videos that many others would claim too long and unnecessary, I strongly disagree. You make your videos as long as you do for a reason and I am probably one of the few who appreciates it more than anybody. You are truly an expert at what you do and you have all the experience to back it up. As for me I am just starting out my business out of the back of my truck and it's a dream come true for me to be able to do that, I look forward to any future videos you publish and I welcome with open arms any advice you'd be able to throw my way. Again thank you Darren and good luck!
Michael P.
Hi Darren,
Just been looking on YouTube and came across your videos on detailing and must say I am truly hooked!
I love your work and how you break down things. I have learned so much so a big Thankyou!
I have been in the paint side of things for around 12 years now doing airbrushing so can relate to most things
 ( ie customers) so would just like to say Thankyou for sharing your gift and talent.
 Rob from across the pond (uk aka dred fx)
Robert D.
I just wanted to say thank you for your no bullshit approach in your videos and website. I have learned a lot from your instruction.
THANK YOU!
Bob D.
Hi, Darren!
 My name is Jordan and I'm contacting you from TX. Howdy.
 I know you get a ton of messages to respond to and that you can't respond to all,
 but I just wanted to say that I love what you're doing and you have been a huge help.
 I commend your efforts. I was born in Anaheim and grew up along side my Dad and his 69 Fairland Street Rod show car,
 which sparked my love for cars. I now own a show bike of my own (can't afford the car yet haha)
 and have been "detailing" my whole life. Long story short I am in my first month of the business
 of mobile detailing and as much as I thought I knew,
 I couldn't be thankful enough that I stumbled upon your websites & YouTube Channel.
 You have been a great help and I think the quick success of my first month can be greatly attributed
 to the things I learned off of you. Keep on keeping on Darren.
 Thank you!
Jordan K.
Hello Darren.
I went on the net in search of boat detailers and came across your videos.
I have to say that I was blown away to say the least. Your knowledge and wisdom are second to none.
I live up here in the great state of Maine. I have been searching for some one like you, for the past ten years
to keep my boat in top shape. In my area their is no one that seems to have the knowledge when it comes to boats,
many posers but no real McCoy's if you know what I mean.
I have had my boat detailed several times but never completely satisfied with the results.
I just can't seem to find anyone in my area that has the knowledge that you seem too have.
I do not have the patient's or skill level to tackle myself.
Thank you!
JT McGovern
Hi Darren!
Adam here, down south in Enterprise, Alabama.
I am ABSOLUTELY BLOWN AWAY at your DIY section. You truly have no idea how incredible that is
for you to share your thoughts on cleaning products, to include the Links to purchase those items on Amazon.
But then to give a breakdown and step by step instruction to literally do the exact same thing you do.
I am very thankful I stumbled across your videos, and this website, and I wanted to personally take the time
to write you and thank you for putting together such a wonderful website,
with SO many useful tips, tools, and tricks. This is absolutely fantastic.
If I am EVER in California for whatever reason, I will make the trip down to where you are located to get
my car detailed by you, and if I meet anyone from your area I will be CERTAIN to tell them about
your services! Again, thank you so much for what appears to be hundreds of hours worth of dedication,
to providing everyone with all of this information. I am blows away by the fact that it's free and you don't
charge some sort of fee to be able to view all of this stuff. You're awesome man.
Thanks again!!
A. Marrero
Darren,
Thank you for all of the videos and advice! Since watching and learning from you,
I have seen a huge difference in my work, customer base, and an increased profit.
Thank you thank you thank you!
N. Syron
---
"One Darren... Endless Possibilities!"

---
Whether you are looking to hire Darren to leverage his vast social media influence or as an industry expert with decades of public speaking experience, Darren doesn't just show up to be your next over-paid prop, but is fully committed to engaging your audience, collaborating with your team, and helping your organization meet their particular goals and objectives.

Classroom education
Specialty groups
Product demonstrations
Guest appearances
Product endorsements
Live events
Industry conventions
Keynote speaker

Whether you are looking to have Darren for simple quest appearances, to hands-on training and demonstration, or a keynote speaker, he can bring value to any situation or organization:
Industry expert as a professional detailer since 1988.
Successful business owner within an industry notorious for high failure rates.
YouTube personality with 94,000+ subscribers. autofetishdetail

Owner of two detailing websites: AutoFetishDetail.com and BestAutoDetailingTips.com
Instagram page with 24,000+ followers. @auto_fetish_detail

Facebook page with 4800+ followers. AutoFetishDetail

Levels of Engagement
There are no set rules when it comes to the limitless possibilities when leveraging Darren. From his vast industry experience as a professional detailer to business owner, Darren has also grown a social media following that is among the highest in the industry.
Guest appearances:  hourly, half day, full day, to multiple days.

Product demonstrations: showcase as many products as you would like.
Product endorsements: This is a case by case based on the actual product you want Darren to endorse. Darren has a reputation of honesty and directness his followers have come to respect.
Hire Darren to be exclusive to your company, or hire for segments of time.

Combine Darren's services with the implementation of pictures, videos, etc. to any or all of his social media outlets.

If you are interested in hiring Darren for your next event, use the contact form of this website for any inquiries.
We look forward to hearing from you!
---