A Car Detailing Business Made Simple!

It is hard to believe it has been over 30 years since I started my car detailing business! 
Starting a auto detailing business today is vastly different back then and one of the major problems I faced back then is the exact opposite problem you will be faced today:
Information Overload!
Yes, information is not only good but critical to your success. But with today's Internet you will be dealing with an entirely different problem than I had when I started business in the mid eighties.
With today's forums of every kind, now the Internet is a free platform for anyone who can use a keyboard to express their opinions as to "how things should be done".
These keyboard jockey's often do more harm than good by spreading unverified information or speaking from limited experience.
"Today more than ever, most guys will find themselves buried in endless opinions, countless choices, and a thousand different paths to follow!"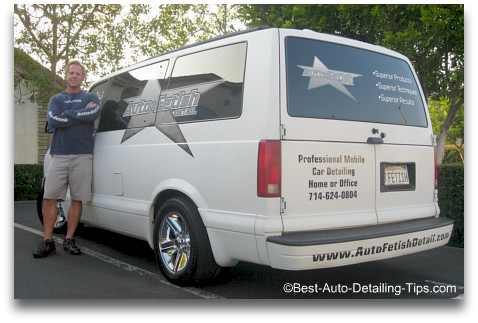 With so many voices all screaming with a different opinion, it will be hard for you to know which way to start.
From do-it-yourself videos online to expensive multi-day training seminars, you may find yourself sitting on the fence trying to decide whether to pull the trigger or not.
Let me add these (2) biggest points to take into consideration before you do anything:
You will never truly feel ready!

There is no "single" way; only different or better ways!
Start Before You Are Ready

Many guys make the mistake of trying to over-think the decision to start a car detailing business. I have seen this over and over again; they are part of the group of people that are forever preparing!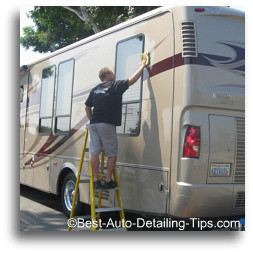 The problem is that they never end up pulling the trigger and the next thing they realize is that another year has passed, and they are in the exact same position they were a year earlier-
no closer to their goal or dreams of owning their own mobile car wash business, or mobile detailing business!
This is why one of my biggest pieces of advice is to accept the fact that you will never feel completely prepared or completely ready.

One thing I can promise you is this:
"Doing the same thing today will guarantee you get the same results tomorrow"
My guess is that you are tired of getting the same results and this is one of the reasons you are here. Tell me if you haven't thought these same things in your head a hundred times:
I love working on cars, therefore I could or should start a business.

I love washing and detailing my own car, therefore I should start a business.

I hate my job, I hate my boss, I hate working for someone else; therefore I should start a business.

I see others guys detailing cars; if they can do it, why can't I?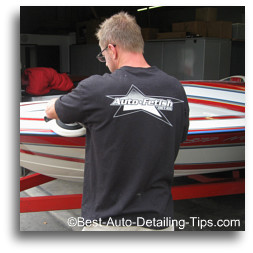 Well I can tell you that you are not alone! I thought these very things all day long as I drove around and saw one mobile detailer after another; all working for themselves to build their own car detailing business!
The good news is that you have come to the right place! This website itself is filled with decades of first hand experience.
Whether you are looking to make a break into the exciting world of professional detailing or simply want to learn the tricks of the trade to use on your own cars, this website is for you.
"Darren, I already know and am committed to starting my own home based auto detailing business; where do I go from here?"
You have options...
---
Hire Darren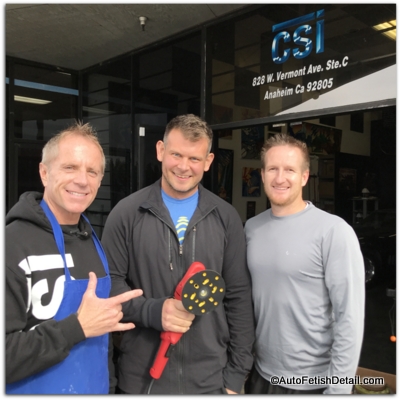 Darren standing with a couple of graduates who wanted to learn high-end car polishing and paint correction techniques. This was taken in front of the CSi training headquarters in Anaheim, CA. Directly across the freeway from the Disneyland theme park and resort.
Since my time is so limited, it it simply impossible to answer every question or request that is thrown my way. For this reason I have consulting options available for people that are in need of very specific problems and looking for a person with 30+ years of professional experience for advice and direction.
If you feel you are in need of immediate and specific advise you can go to my consulting page at this link here. This provides people who find themselves with a very specific problem they need immediate help with or in formulating a very specific strategy if questioning as to the next step to take in starting your car detailing business.

First Things First

Between my websites and my YouTube channel, one of the most commonly asked question is where do I begin.
While there are endless ways in which to start out, I have laid out (3) of the very basic and essential steps to get you going.
I have also laid out my list of books that will both help you in starting your mobile auto detailing business, but skills that will continue to pay you lifelong dividends regardless of where you life path takes you. You can see these at auto car detailing business.

Step 1): "How to Start a Home-Based Auto Detailing Business" and "The Art of Detailing"

I wish I had access to these 2 books when I first started out. I have bought other books about a home based detailing business before and have been disappointed as I could tell they were written by some writer who was clearly not from the business itself.
Most "How-To" books are simply customized with info about detailing, but far from what was actually necessary to guide and direct me like these two books can.

While I do not agree with everything in these two books, they are excellent starting points.
I have had many people within my websites and YouTube channel suggest that I write a book, but I am not at that stage yet as I have much to do in order to help guys/gals just like yourself step into the wonderful world of detailing (yes, wonderful in so many ways and at so many levels!)

So....
In the meantime, you can get both essentials to starting your home based auto detailing business with these very informative manuals written by two industry experts!


How to Start a Home-based Car Detailing Business (Home-Based Business Series)
A great place to start when first starting out
While I know I could write a book 10 times this thick to cover all the endless variables of a car detailing business, this is a great starting point
Will answer many of your questions as a beginner
Will help walk you through the steps to follow regarding legal, financial, and organization


Mike Phillips' The Complete Guide to a Show Car Shine Paperback Book
This book is not about actually starting a car detailing business, but the fine art of performing car polishing and paint correction which may become part of your car detailing business
An industry expert that has an amazing ability to take the physical requirements and skills, and put them into a book form that is very useful and educational
Step 2): "Choose Your Really Cool Auto Detailing Business Name!"
That's right; you really get to decide upon a name for your new business! And don't act like you haven't had about 100 different ideas floating through your head already!
Now you need to make that critical decision and figure out what you are going to call your new path to freedom!
Step 3): "Get Your Auto Detailing Business Cards"
Once you have figured out what your car detailing business is going to be  called, and once you have the "Home-Based Auto Detailing" book, you are going to need to get some professional looking business cards as one of your very first things of business.
(You can see my dedicated page on Detail Business Cards)

Step 4):  Dressing Like a Professional
I know at the beginning money is in short supply. It certainly was for me!
While I preach endlessly about "presentation" and the importance of it within many of my YouTube videos, having professional business uniforms may simply be unrealistic.
I will provide a couple options for you that make it more realistic when you are first starting out since any local shop you might go to and have custom branded shirts made typically require you to purchase more shirts than you would want or need at the beginning.
Rush Order Tees:
This website allows you to upload your company logo and have single shirts made. They made me a custom Auto Fetish t-shirt and it came out fabulous!
You can check them out at this link to their short sleeve tees

Spring Tees:
With that said, I have produce some T-shirts that can be purchased by anyone looking to make a professional appearance but lacks the budget of the mass imprint runs associated with producing your own custom auto detailing business uniforms.
Now you can pick and choose from a number of detailing T-shirts I have designed that are industry specific to a car detailing business, but not custom printed with my own logo on them and can be purchased as single or multiple units. You check them out at this link: Detail Uniform order page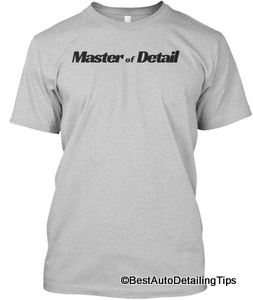 Front side of one of the numerous car detailing T-shirts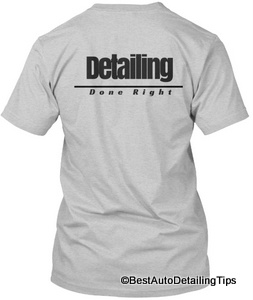 Back side of one of the numerous auto detailing T-shirts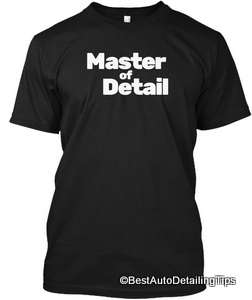 Front side of one of the numerous detailing uniforms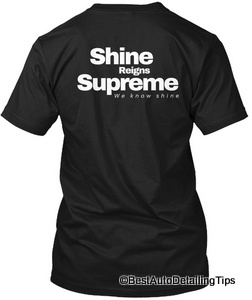 Back side of one of numerous detail uniforms
Is a Website Right for You

Just as most of your detail customers are pretty ignorant as to how much work and effort goes into getting the details right, most business owners are pretty ignorant when it comes to the endless variables of creating a website and having it useful in getting them business.
See this link to become an informed person before you make that critical decision on whether an auto detailing website is right for you.
Car Detailing Business:
Darren's Professional Advice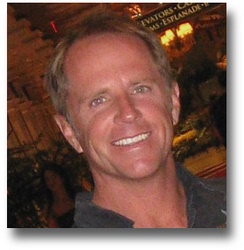 Back when I first started out, I had no mentor or any manual or blueprint worth a darn like you have access today. Between the Internet, this book, and a place to get your business cards designed and printed up, you can easily fast forward a learning curve that took me at least 10 years, down to 1-2 years.
And on top of all that, now I have my YouTube channel so you can see the exact processes, techniques, tools, and products I use to run and operate my professional mobile detailing business that has provided me with a very nice living, and most importantly, allowed me to create the life I wanted for myself!
So stay tuned into this website as I am constantly updating it with more and more information, but don't forget to subscribe to my YouTube channel and see me in action within the real world of my professional car detailing business. (see bottom or top of each page to subscribe now)

Sincerely,
Darren Priest

---