Auto Detailing Business Cards
A Simplified Approach!

First Off...

Starting an auto detailing business is both exciting and stressful; all at the same time. And let's not forget a healthy dose of fear added to that equation!
Getting your auto detailing business cards is not an option and literally the very first thing I did when I started out in the business over 25 years ago.
If you would like to see most of my actual car detailing business cards I have gone through during my career, you can see those here at my professional detail services site called Auto Fetish Detail.
Auto Fetish Detail

This is the current detail logo and business card that I am presently using. With that said, I have recently changed logos yet again and am in the process of updating all my stationary including new business cards.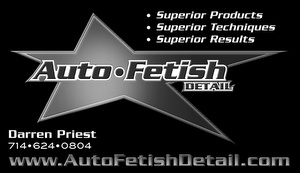 Despite what popular opinion suggests about branding and keeping things consistent, I am also a fan of keeping things fresh and up-to-date. So I change my detail business logo and business cards every few years. (it is possible to do both; branding and keeping things current. Remember the old Bank of America logo? For decades they stuck to the old one, only to abandon it for a newer logo that looks current based on trends)
A Mobile Auto Detailing Business:
25+ Years of Service!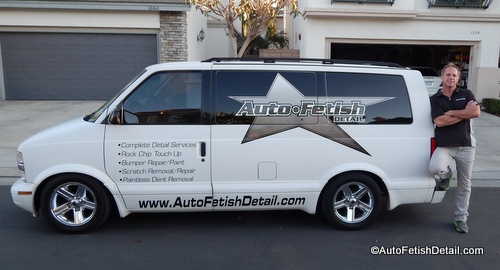 First Things First:
Designing Your Detail Business Logo

Here we are talking about auto detailing business cards and suddenly I confuse the moment by talking about designing a logo for your business first....you didn't really think you could do this in the reverse order did you?
YES....you will be required to take a few steps first prior to getting cards printed up for your new business:
What are you going to call your detail business?
Now that you have a name picked out, what is the logo going to look like?
Can you design a logo or will you need one designed for you?
"WOW! Just when I thought I was off to a good start, you go and complicate things Darren!"
Sorry to burst your fleeting bubble of excitement, but I want to prepare you for what lays ahead so you can avoid most of the mistakes I had to make along the way. (see what a giver I am...)
Starting Your Auto Detailing Business:
The natural order of things

While this page is not meant to be a comprehensive tutorial on starting an auto detailing business, getting business cards printed up is a significant step in the right direction! And certainly a key factor that needs to be in place prior to making that first dollar!
This page is simply one of many pages to help you go about setting up an auto detailing business.

Choosing a Name for Your Auto Detailing Business

Pick Something Memorable...or not.



Sure, you could go with something as completely unoriginal as using your first name and calling it a business; Joe's Detailing. And doing so is not entirely wrong and certainly would naturally fall under the guidelines of "branding".
After all, you are your own brand right? Why not call it after your own name? And if that is what makes you happy, then I say go with it.
Appropriate and Instantly Understandable.
What do I mean by this? Through my YouTube station I get many guys/gals looking to start an auto detailing business. And naturally they throw their ideas my way. "Hey Darren, what do you think about this name or that name?" 
Most of the time it is a no-brainer. Meaning if you like that, then go with it. But occasionally I get someone who tosses out a name that I have to sit and think about...like what does this name possibly have to do with detailing cars. If it is an obvious name like Joe's Detailing, or Darren's Detailing, then great!
But when I hear a business name that gives no suggestion, or has nothing to do with detailing, and your business name is the only thing I hear and I find myself wondering what the heck you do for a living, then perhaps there is a problem there.
Your Business Name Will Appear in Many Places.
What many people also don't take into account when taking steps to get auto detailing business cards is that your newly chosen business name is not only going to exist in the form of a business card.
If you look back up to the picture of myself next to my detailing van, you can see another (2) examples of where your business name and logo are likely going to appear. Maybe not at first, but eventually. (my company shirts which are screen printed, and my company van which are vinyl graphics)

So you need to consider how the name will appear in many forms and fashions...literally!
Will it fit on a traditional size business card?
Will it look good reduced or enlarged?

Will it look silly or inappropriate as a web address?



Here are just a few examples I found at Bad Domain Names:
Who Represents: www.whorepresents.com
Experts Exchange: www.expertsexchange.com
Pen Island: www.penisland.com
Get the point yet?
Can it be Printed, Embroidered, Screen Printed.
Another thing to consider is the many different types of "printing" that you may want moving forward as you grow; auto detailing business cards are only the beginning.
I have seen many business names and/or logos that cannot be duplicated due to size or intricate details in the many different applications that exist today when it comes to marketing and advertising. From digital printing to the stitching of embroidered company shirts.
Sometimes a logo or business name is so long, or contains too many details that it cannot be duplicated on shirts, or other marketing materials.
"Now that you have completely overwhelmed me with "details" of my new business name and logo Darren, what am I supposed to do?"
Glad you asked! 
Auto Detailing Business Cards:
Professional grade design and printing


"Hey Darren, where can I get auto detailing business cards printed up?"
Having the ability to be both logical and creative, I have always done my own design work for all my auto detailing business cards along with marketing and advertising. From design to copy-writing, I can do it both.
But that may not be part of your current skill-set. And when I realize I am limited in my capabilities, I seek the advice of an expert.
Just as you want people to seek you out when you have mastered the skill and art of professional detailing, you may need to seek out the professionals of design and layout after you have chosen a business name.
Now it's time to create that award winning and memorable, knock-your-socks-off logo design!
A design that makes you tingle inside every time you see your new business name transformed into magic by professionals that do this for a living, all day, every day!
Auto Detailing Business Cards
Darren's Note: If you would like to see my own evolution of logo designs and business card design, you can go to my Auto Fetish Logo History link.

Picking out your new business name is exciting in and of itself, but seeing that name crafted into a cool looking design is nothing short of magic!
I personally have had much success with Fiverr.com in having my ideas transformed into digital format.

I wish you much success, and hope that your auto detailing business cards add one more layer of success as you move forward!


---