Leather Car Seats
Facts from the real world of car care


As a professional auto detailer, the topic of leather car seats comes up very frequently from people concerned with proper care and maintenance of their leather car upholstery. From this page you will be able to educate yourself on all things relating to this natural material and its different uses within cars, trucks, and even RV's. Much bad information and misleading advertising has left many people with unanswered questions and inappropriate strategies of leather care. Considering the rise in leather appointed interiors, it is no wonder it is the number one question I am asked with regards to the care of car interiors.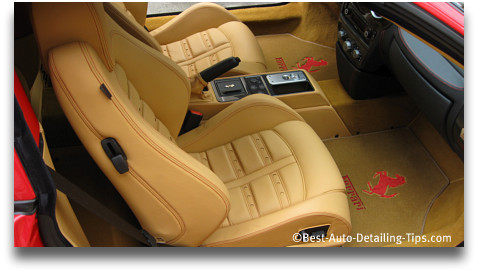 What can I use to clean my car leather?




What is the proper way to clean car leather?




Does my car leather need conditioning?
Car Leather Basics

Leather seat covers
Read some tips before you decide to buy those leather sheepskins or other seat covers.
Cleaning Car Leather

As consumers, we have been lead to believe that leather is this delicate and sensitive natural material that requires specialized attention. The problem is that this has been over-exaggerated to the point were we have been disabled as consumers. Add to this the over-saturation of car leather cleaners, treatments, and conditioners.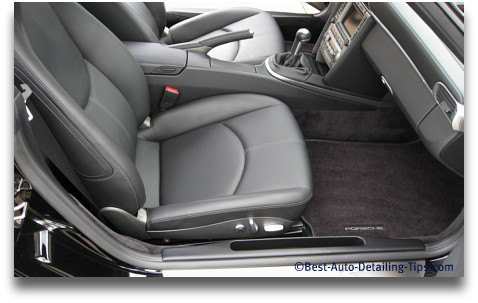 What leather cleaners are recommended for car leather?




How often do I need to clean my car leather?




What professional car leather cleaners are there?
Clean auto leather seats
Learn some insider tips of cleaning car leather, along with my other useful professional tips.
Conditioning Car Leather

The topic of leather conditioners and dressings is full of bad information and misrepresentation.
Do I need to condition my car leather?




How do I condition my car leather?




What is the best car leather conditioner?
Condition car leather
An area of much confusion and bad information, learn what "works" when using a leather conditioner.
Car leather care
Learn some important tips of car leather care you won't hear anywhere else.
Home | About | About This Site | Privacy Policy | Contact Me
Home >> Leather Car Seats