Auto Leather Conditioner:

Thee truth about car leather and conditioners
When it comes to the subject of auto leather conditioner, it is a subject full of bad information repeated by many misinformed people. Just like every other topic of cosmetic car care, we as consumers have been kept in the dark.
Advances in leather tanning processes and manufacturing have changed dramatically over the years.
But the industry is far more dedicated to selling you more products based on outdated information about the leather in your car, than it is in educating you about the advances of automotive leather.
"Darren, I want to condition my car leather but I have questions!"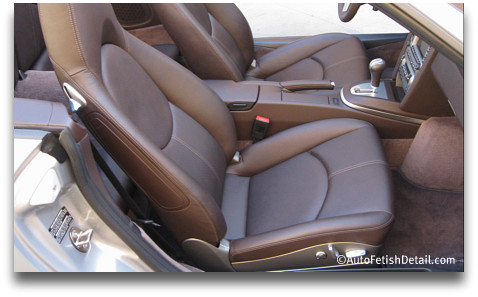 Modern day car leather within a Porsche cabriolet
Does my car leather really need special leather conditioners
What car leather conditioners are best (if these truly exist)
What about cleaning my auto leather
Starting With the Basics

As society, we are on information overload; the Internet has only complicated this fact. You could spend hours consuming and trying to digest all the information regarding car leather from the various sites on the Internet, only to walk away more confused than ever.
This is why I am going to tell you that my opinion is based on actual real life experience straight from the world of 30+ years of professional auto detailing, plus my own personal research. So become an informed consumer and car owner first by learning the basics regarding the leather in your car at car leather care.

Or you can visit the truth about the best leather conditioner for cars and see how this guy also confirms the conclusions I present on this page.
Opinion Based in Experience

My research has only confirmed what I have experienced first hand in the auto detailing industry; leathers of today are not the leathers of yesterday. And hopefully you are coming to the same conclusion that I have as a professional and that is that car leather of today is much more user friendly than ever.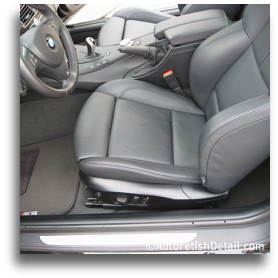 With modern day dyes, pigments, and finishing processes, we now have car leather that is very resistant to the wear and tear that car leather must endure within our cars, trucks, vans, etc. It also means that the days of searching for the best auto leather conditioner are mostly a thing of the past; I say mostly as I know that old rules die a slow death. Many of you will dismiss this updated info and continue your quest for the best auto leather conditioner regardless of what my years of experience has taught me.
Conclusion to Auto Leather Conditioner

Let me summarize my opinions and experience into this bullet-point list in order to simplify it for you:
Virtually all car leathers used today are finished with a clear protective coating that is applied for protection and durability of the leather. (maybe you have a pair of leather shoes, a leather jacket etc. And maybe you have noticed that on some of your leather goods that water will have an effect on some of the leather (the leather discolors temporarily) while your other leather goods remain unaffected. This is because the unaffected leather goods have also been clear coated just like your car leather has)

This means you will actually be cleaning, treating, or conditioning a clear protective layer that is made up of different types of resins, polymers, synthetic this and synthetic that, call it whatever works for you....point is that you are not dealing with the actual leather, but the clear protective layer; just like the clear coat on your car paint.

Keeping your car leather clean is the most important and critical part to the health and beauty of your car leather. I have customer's cars (as well as my own) that I have never used any form of conditioner on the leather. What I have done is kept the leather clean consistently over the life of the car, and the leather looks virtually new after over 10 years of daily use.
With all that said, I still believe that auto leather conditioners can still play a role in the health and beauty of your car's leather interiors.It mostly depends on you and how you like the appearance of your car leather to look, as well as how you like it to feel.

Stop Conditioning Dirty Car Leather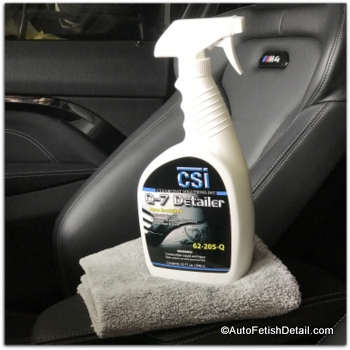 Experience has taught me how often people much like yourself race to find he best car leather conditioner, and then proceed to apply a car leather conditioner directly over a dirty seat at worst, or a partially clean leather seat at best.
Far too many people underestimate how important it is to clean your leather car seats before you apply your choice as the best leather car seat conditioner.
"What Would Darren Do"
Often I am asked by my long-term followers what I would do. They don't want to filter through the endless hype and opinions found on the Internet and simply jut want to know what I do, or what I would do.
Cleaning Your Car leather

So with that asked ( I know; you didn't really ask that but now your curious and you really do want to know what I would do) I will tell you...
Pre-vacuum your leather seats to remove any dry/loose debris from the cracks (once you introduce liquid to the equation, this dry debris becomes a bigger mess, so pre-vacuum)
Use the Simple Green All-Purpose cleaner below diluted down 10:1 for a great car leather cleaner that is perfectly safe (I love this all-purpose cleaner as it has so many uses and can be custom blended to suit your needs. This also means if you have especially dirty car leather you can increase the strength of your mixture)
Spray directly onto leather seat, agitate with your choice in cleaning brush/pad,  mop up with micro-fiber cloth. Repeat as necessary.
Apply either the CSI Detailer, CSI Spray Wax, or CSI Nu Tyre Lotion as your alternative to a dedicated auto leather conditioner.
Simple Green All-Purpose Cleaner


Simple Green 13005CT Industrial Cleaner and Degreaser, Concentrated, 127.8 Fl Oz, Pack of 1
For interior cleaning (leather, cloth, vinyl, velour) I dilute 10:1 (a part concentrate mixed with 10 parts of water)
Safe for virtually any material within car interiors (I never spray or use on navigation/infotainment screens as a rule)
Very economical being a concentrate as well as being so versatile)


Bar5F Empty Plastic Spray Bottles 32 oz, Chemical Resistant, Professional, Heavy Duty, Fully Adjustable Head Sprayer, Pack of 3 (Grey)
The actual spray bottles and sprayers I use professionally
Perfect for custom blending and dispensing if you use the Simple Green concentrate
Car Leather Cleaning Brush


TAKAVU Leather & Textile Cleaning Brush, Durable Soft Nylon Bristles, Free Detailing Brush, Unique Concave Design Wood Handle for Car Interior Seat Carpet Upholstery Couch Furniture Boots Shoes
This leather brush above is for all of you that are overly cautious and have little to no experience when it comes to cleaning your car leather before you apply your favorite auto leather conditioner.
I totally get it!
We have all been taught that leather is a very sensitive material that requires special products, cleaning brushes, and cleaners. This brush will be ideal for a person like yourself if you fit into that category. Just know that if your car leather is significantly dirty, you may be disappointed with the results this very soft brush will be able to produce.



Rubbermaid Professional Plus Scrub Brush, Scrubbing Brush (FGG23712)
My go-to brush for cleaning/detailing the bigger surfaces of any car; any material including car leather

Most people would never think to use this on their car leather as most people assume it is too aggressive
The reality is that car leather (even the most expensive car leather) is far more durable than you think and in order to get it clean, you will need a brush that is worth a darn (the traditional boars hair leather scrub brushes shed bristles whenever you use them and are only strong enough for car leather that is basically already clean (this means if you are worried and are willing to never let you car leather truly dirty then you could default to a more traditional leather cleaning brush like the one above)
Remember that you remain in control which means you only apply enough pressure when scrubbing to appropriately clean while being safe


Commercial-Grade Non-Abrasive White Cleaning Pad 5 Pack By Mop Mob. Large, Multi-Purpose 10 in x 4 1/2 in Scouring Pad Fits Universal Holders. Great For Scrubbing Sinks, Tile, Windows and Fine China
These are the exact scrub pads on use when detailing the interior of any car
I use with my all-purpose cleaner to scrub any non-porous material with no fear of scratch or abrading the material I am cleaning
Despite your natural fear and hesitation; these work wonders on car leather when cleaning
While the brush just above is a necessary tool, the brush is better at cleaning fibrous materials in your car like carpeting, velour, or heavily textured materials like plastic/vinyl found in some cars.

For cleaning car leather prior to any attempt at using an auto leather conditioner, I always default to these non-abrasive scrub pads. 


Kirkland Signature Ultra High Pile Premium Microfiber Towels (36-Pack)
My "go-to" detailing cloths
Excellent and economical choice for 80% of your auto detailing tasks
Softer, more absorbent, and lint free than other types of cloths
ClearCoat Solutions (CSI) Q-7 Detailer


One of the products I use on my own car leather rather than a dedicated auto leather conditioner
Remember; we are dealing with leather that has a clear coating (this means you are not actually touching true leather, but leather with a synthetic, clear layer)
Perfect to treat your car leather after you have cleaned it to create a natural and consistent appearance to your auto leather
Can be used on the entire car interior on any non-porous materials as a maintenance cleaner/detailer for light cleaning/dusting (emphasis on light cleaning. Not intended to remove heavy layers of dirt)
Does not create any greasy or shiny appearance to your cars leather or other materials)
I use this by spraying onto a clean micro-fiber cloth and wiping down the interior of my car on a weekly basis to keep it looking new and fresh just like I use it on the car paint to keep it looking its best.

ClearCoat Solutions (CSI) Q-7 Wax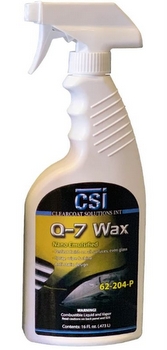 No one would ever think to wax their auto lather seats never mind use car wax as a replacement for an auto leather conditioner
Once again, we are dealing with coated car leather. This wax that is great for the clear coat on your cars paint is also great on the clear coat of your car leather
Spray onto a clean micro-fiber cloth and wipe down your car leather as well as any other non-porous material to create a subtle sheen/shine while literally adding some wax protection to your cars interior.
You are gonna have to really trust me on this as it is so counter to what the industry would have you believe (use this over the Q-7 detailer if you prefer a silkier feeling to your leather and want a subtle shine)

ClearCoat Solutions (CSI) Nu Tyre Lotion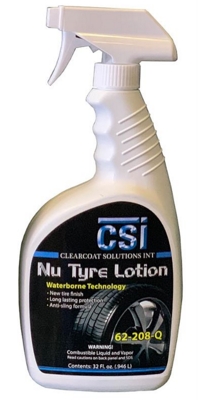 For anyone looking for that shiny appearance to your car leather
I am not a fan of shiny car leather, but I accept that many people simply equate a decent gloss to the car leather as car leather that has truly been conditioned
I much prefer this on my car leather if given a choice between this and a traditional auto leather conditioner
This dries to the touch (My choice in a tire dressing as it dries completely to the touch and will not sling. This also means no greasy residue or feeling to your car leather if you decide to use this.)
Always clean your car leather first before you apply any new layer of the Nu Tyre Lotion

Auto leather Conditioners:
If you insist on the mass-mentality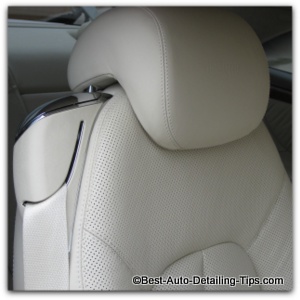 Key Points You Need to Know: 
Don't think you can apply auto leather conditioner without cleaning your leather first. The only exception is if your car is literally brand new. There will always be some form of dirt regardless of how clean your leather looks...so make sure you clean it first. You can get the Lexol  leather kit below that includes a very mild cleaner if you have a brand new car. For anything past a few months old, go to my clean leather car seating page to find out the tips I suggest that I use professionally.
Cleaning your car leather only will leave it with a satin, or matte appearance. If you like a little shine then a dressing or conditioner below is your ticket.
Black or very dark leather interiors will be more difficult as far as visual appearance goes as an inconsistent appearance will usually be created during the cleaning process. For this reason I will use a conditioner/dressing in most cases to create a perfectly even appearance after the cleaning process. (see aerosol dressing below)
As a species (commonly called mankind) we are naturally lazy. The tendency will be for you to skip the cleaning part next time around and simply be seduced into applying a fresh coat of dressing. Be warned as this will create a worse problem over time as you will be rubbing a fresh coat of dressing along with any dirt deeper and deeper into ever crevice or texture of your cars leather upholstery. Over time you will create a nice build-up of dirt and conditioners which will actually begin to deteriorate your cars protective top coat.
If you decide on another auto leather conditioner other than the ones I recommend here, beware of the brands labeled as "long-lasting" or "water-resistant" as these silicone based dressings/conditioners will be difficult to clean completely off each time you do clean your car leather. Yes, as society we have all been ever-so obediently trained to accept the "more is always better" mentality that marketing and advertising has been so effective at producing. But when it comes to dressings/conditioners, you actually want a product that will clean off easily each time and therefore allow for complete cleaning of your leather each time prior to a new application of conditioners.

---


Lexol Leather Care Kit


Lexol 907 Leather Care Kit, 8-oz.
Industry leader in car leather care.

Kit comes complete with both cleaners and conditioners.




Kit for all your leather and vinyl care.




Meguiar's Leather Cleaner/Conditioner


Meguiar's G10916 Gold Class Rich Leather Cleaner & Conditioner - 15.2 oz.
Another well known industry leader in car care.

Suitable for any new car leather if you stay on-top of your leather cleaning and conditioning.

All-in-one cleaner and conditioner.




Darren's Trick for Black Car Leather Cleaning and Conditioning

As I stated above, cleaning black car leather is actually easier in a sense as the dirt is harder to see. The problem arises as the cleaning process will usually produce an uneven appearance to the newly cleaned area's of your car; this includes all black leather and vinyl pieces of your car's interior. For this reason I strongly recommend this amazing aerosol product just below. A light spray to the area will not only produce a nice sheen and luster, but will allow you to create a very uniformed appearance. Simply shoot and spray; if you want less shine, a simple quick wipe of a micro fiber will knock down the shine to your desired taste.

Stoner Trim Shine Aerosol Interior Dressing


Stoner Car Care Trim Shine Protectant - 12 oz, 91034
Use as a superficial car leather enhancer or auto leather conditioner.




Easy to use aerosol.

One of my all-time favorite products.

Ideal for use on black car leather after cleaning to restore sheen and to create a consistent appearance to the car leather.

Can be sprayed and left alone, or wiped down to reduce shine.
Darren's Professional Tips of Auto Leather Conditioners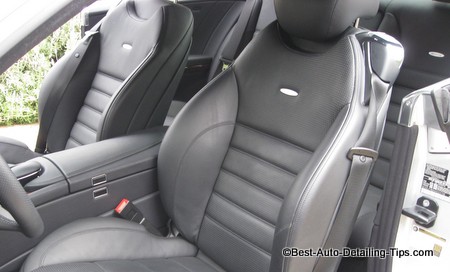 Now that you know the insider tips based on real world experience, use these recommendations to find what works for you and your situation. I use the following schedule professionally with my customers cars, as well as my own cars that have leather upholstery.
Clean car leather once a month. This can take literally minutes to do if done regularly. A micro-fiber dampened with cleaner and aggressive rubbing is all your particular car leather may require if done so regularly.




Use Lexol leather conditioner if it makes you and your car leather feel better.

Use the canned aerosol dressing after cleaning any color car leather to create a subtle sheen and consistent appearance after cleaning your car leather. This auto leather conditioner/dressing is especially useful for the black/dark colored leather/vinyl interiors.