How to Clean Leather Car Seat

What you need to know that you haven't been told
Who among us doesn't prefer a clean leather car seat as opposed to a dirty leather car seat?
I know...you wouldn't be here if you already had clean leather in your car.The bigger question is how to get your dirty car leather clean again.

The problem is that you are faced with the (2) biggest problems of the internet:
Marginal advice from a non-professional

Articles with plenty of sales hype and very little helpful advice

Most cars owners simply do not know what they are up against when it comes to cleaning car leather in particular.
Car leather and all the accompanying advice is an area of cosmetic car care and detailing that has more than its share of hyped-up information.
Virtually every company that sells car care products has their "unique" version of the best car leather cleaners and conditioners.
And if I could reduce this down to a single problem, it would be this:
"The industry continues to sell you more and more products based on outdated technology"
I am telling you that there is something you don't even know that you should know. Something the industry is not going to tell you because it would hurt their bottom line.
Clean Leather Car Seat:

Outdated advice to push outdated products
The leather in your car is not the leather that used to be in cars from decades ago. Today's modern day car leather in 99% of ALL cars will be what is called coated car leather.
Very few people know this and even fewer people will tell you this. The word has only begun to get out despite the efforts of the industry to keep this under wraps.

"Your car leather is coated with a clear, synthetic coating."

This means that all these special car leather cleaners and conditioners you think you are using on a natural material called leather, is actually being used on a natural material (leather) that has a synthetic coating on it.
All those nostalgic ideas you have swirling in your head about dealing with leather that resembles the good 'ol days of baseball mitts and leather shoes need to be tossed aside.
Outdated fantasies about rubbing some exotic oil into leather to soften it or break it in.
Perhaps I am simply dating myself. Maybe I am overly just cynical. Or maybe I actually know what I am talking about. (I will go with the last one)

Because we have all been kept in the dark with outdated information, the industry can continue to sell us all this specialized "stuff" just to clean leather car seats or car leather upholstery.
Coated Car Leather:

This changes everything
Hearing that car leather is actually coated with a synthetic coating may be a bit disappointing to you at first, but actually represents the good news.
Now to clean leather car seat is simpler, easier than before, and maintaining your car leather upholstery is simpler and easier than ever before.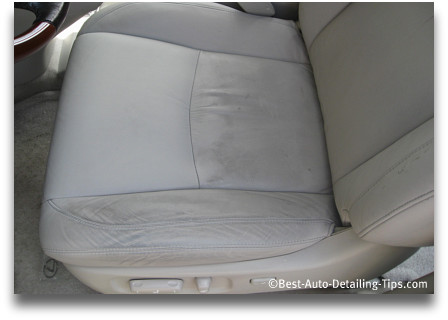 The above picture is a typical example of car leather that has not been maintained and has become excessively dirty. You can clearly see the difference in the area where I cleaned the leather seat and the area still needing to be cleaned.

Car Leather of Today is Not the Car Leather of Yesterday

Most people like yourself are stuck in the past and the industry wants you to remain in your ignorance so they can retain the ability to continue to have you chase your tail shopping for dedicated car leather cleaners and car leather conditioners.

Before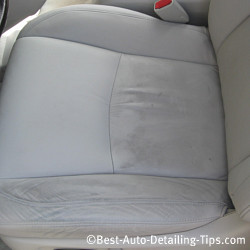 After

Pictured Above: As you can see by the before and after pictures above that drastic results are indeed possible. But the typical retail car leather cleaners are not going to produce these type of professional results.
Clean Leather Car Seat:

Car Leather Isn't Other Leather
What do I even mean by that?
This is to remind you that we are filled with many leather items in our world: leather shoes, belts, gloves, hand bags, etc. etc.
And the point is that "car leather is car leather". Leather car upholstery is different than the other types of leathers in your world.
Leather car seats exist in many of the cars and trucks today, and no longer is it just a material reserved for the elite among us. Leather can be found in everything from sports cars, sedans, trucks, SUV's, vans, and even higher end RV's.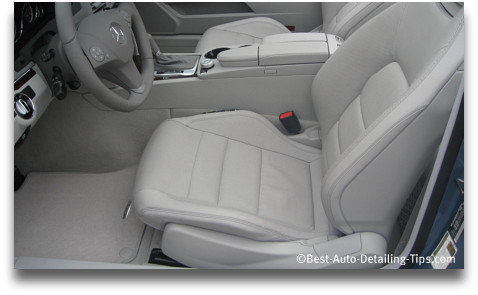 "Darren, can you just show me what you would do"

Clean Leather Car Seat:

What Would Darren Do (WWWDD)
Glad you asked!
No hat you have new understanding about cleaning car leather, now you can move forward in a way that is based on new understanding that will be easier and simpler.

Most of you visiting this page will likely be dealing with a healthy amount of dirty leather car seat cleaning. But fear not as I show you what I use professionally that you can also use at home to get the kind of results that will put a smile on your face.
But with that said, there are also those of you who have just recently purchased that brand new car with leather upholstery looking to maintain your cars' leather in show room condition. I also have answers for you if that is your situation.
Clean Leather Car Seat:
All-purpose Cleaner



Simple Green All-Purpose Cleaner - Stain Remover for Clothing, Fabric & Carpet, Cleans Floors & Toilets, Degreases Ovens & Pans (Original, 32 oz Spray and 2-67.6 oz Refill)
Well known industry leader providing safe AND effective cleaners

Perfectly formulated to clean virtually any material within your cars interior

Concentrate allows you the ability to be economical and custom blend to your liking
Biodegradable and non-caustic; safe for your skin, your lungs, and to clean leather car seats
This kit comes with a sprayer bottle so you are ready to go immediately to clean leather car seat, your other car leather upholstery, or virtually any other material in your cars interior

Darren's Tips: Likely many of you reading this will having a bad mental reaction at the thought of using a cleaner to clean leather car seat with a cleaner not packaged specifically for use as a car leather cleaner.
This means there will naturally be a level of fear and anxiety on your part. I get that. So with that said, you can dilute this down as lean as you want with water which will allow you to "test the waters" using a different cleaner for your car leather until you see how safe it really is.
You can even spray your cleaning cloth with the cleaner first, then slowly or gently wipe your car leather clean until you build up that confidence. next thing you know you will be spraying this cleaner directly onto your car leather, scrubbing, mopping up and standing back with a big smile on your face because of the great results you are now getting.

Clean Leather Car Seat:
Scrub Brushes


Chemical Guys ACCS96 fl. oz Premium Select Horse Hair Interior Cleaning Brush for Leather, Vinyl, Fabric and More
The perfect brush for cleaning car leather seats
Made from natural horse hair that is super gentle
The bristles actually become even more gentle as they get wet when using with t cleaner
Ideal for anyone looking to clean car leather so long as your car leather is not excessively dirty
Darren's Tips: If you have car leather that is brand new or does not have excessive amounts of dirt, then this car leather cleaning brush will be perfect for you especially if you are already fearful about cleaning your car leather.
But if your car leather is older and has a heavy build-up of dirt, then you may want to get the cleaning brush set just below.



Upholstery Cleaner Scrub Brush Set Cleaning Brush and Horsehair Detailing Brush for Car Interior, Seats, Boat, Couch, Sofa and Carpet
My current favorite brush cleaning set
Perfect for interior car detailing
One brush is made for super gentle cleaning with the horse hair scrub brush
The other brush is perfect for deep cleaning with stiffer synthetic bristles
Darren's Tips: You can star with the super gentle horse hair scrub brush to clean leather car seat. Use it and check your results. Many of you will find that the gentle horse hair bristles are not stiff enough to do a thorough cleaning on your car leather.
At that point you can switch to the stiffer synthetic scrub brush and go in gentle at first to verify your results, and then apply more pressure as needed based on the results you are getting.
The stiffer brush will also prove ideal in cleaning and scrubbing more durable materials in your car when cleaning and shampooing.
If you are trying to compare this natural horse hair brush with the Chemical Guy's brush from above, they are virtually identical. With that said, I know most of you will still need a stiffer brush to go along with the soft, natural brush, so my choice and recommendation would be to simply get this two brush set as it will serve all your "large area" car scrubbing and cleaning needs.

Clean Leather Car Seat:
Scrub pads


Commercial-Grade Non-Abrasive White Cleaning Pad 5 Pack By Mop Mob. Large, Multi-Purpose 10 in x 4 1/2 in Scouring Pad Fits Universal Holders. Great For Scrubbing Sinks, Tile, Windows and Fine China
These non-abrasive scrub pads are my "go-to" scrub pads for any interior cleaning of larger areas of the car interior: seating, door panels, dashboards, etc.

These non-abrasive pads are ideal at cleaning car leather both very quickly and very safely
Once again you remain in control. If you are fearful then proceed with caution and work from there
These brushes come extra long which means that you are getting a lot of scrub pad for your money, and you can simply cut them to the exact size that works best for you

Darren's Note: When it comes to cleaning leather car seating you will be faced with a few variables: how much dirt you are trying to clean away, and how significant is the texture you will be working with to clean leather car seat. Not all leather is created equally as some is particularly smooth, while other car leather upholstery has a very heavy texture to it.
Based on the type of car leather you have, will determine the type of cleaning sponge or brush you will be required to use to clean leather car seat and other materials in your cars interior. Remember, these brushes are not just to clean your car leather, but any material within your car.
Clean Leather Car Seat:
Car leather cleaning cloths


Kirkland Signature Ultra High Pile Premium Microfiber Towels, 36 Count (Pack of 1), Yellow - 713160
Every task of the detailing process is done with the use of micro-fiber cloths
The softest, safest, most absorbent, and lint free detailing and cleaning you can do
Throw away your baby diapers or terry cloth towels (micro-fiber cloths are what I consider the 9th wonder of the world!)
You can spend much more on higher-grade of micro-fiber, but when it comes to car interior detailing and cleaning I don't think you have to over-think the cloth as long as you use a micro-fiber cloth (this goes for cleaning leather car seat to cleaning floor mats)
What Would Darren Do...next.

If you really did come here to find out how to clean leather car seats, consider yourself the exception to the rule.
The rule is that most people race to find the best car leather conditioner without giving much thought into cleaning leather car seats first.
For this reason I am adding what I do professionally to treat, condition, protect car leather once you have cleaned it.



CSI Q-7 Detailer Quart 62-205-Q
A dedicated quick detailer that is perfect for use to clean, condition, protect all your interior materials within your car that are non-porous: vinyl, plastic, rubber, and any coated car leather
Formulated using true waterborne technology
Is one of the most versatile products I have ever used: paint gloss enhancer, window cleaner, interior detailer, car leather detailer, etc.

I have used professionally for over 15 years (it has only recently become available thanks to Amazon)
My "go-to" wax for all paint finishes and colors
Can actually be used on your cars interior materials (non-porous materials)
Use to wax your car leather after any cleaning of your leather car seats
True waterborne technology


CSI Nu Tyre Lotion Quart 62-208-Q
My favorite tire dressing that can also be used as a dressing for any material you would use a traditional dressing on; including coated car leather like we are discussing.
For anyone looking for a shine to their car leather and is accustomed to using traditional leather conditioners.

Will create a shine, but will not produce a hyper-shine like other interior/exterior dressings.
Dries to the touch so you will not have to endure any residual greasy/oily feel to your car leather.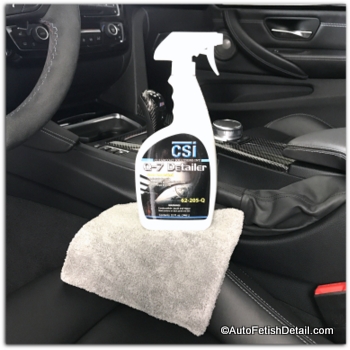 Darren's Note: For most of you, the thought of using either a quick detailer or a spray wax goes completely counter to what you have been taught or believe when it comes to cleaning and maintaining your car leather.
Once you understand how much of your car is made of some form of a "plastic-type"  material, you can begin to wrap your mind around using any of the above products from CSI to treat your car leather as part of ongoing maintenance.
Car leather: clear coated with a form of "plastic-type" coating
Vinyl door panels: another "plastic-type" material
Dashboards: another "plastic-type" material
Rubber gaskets/door seals: not a plastic material but a rubber-type of material that is perfectly suited to be cleaned/dressed/conditioned like "plastic-type" materials
Car paint: any modern day car is going to have a clear coat as the top layer (officially this is referred to as 2-stage paint. The color coat is the first stage and the clear coat is the second stage) I also only add your car paint as one of the bullet points since all the above products from CSI are labeled for traditional exterior use.

My personal preference is to simply use the Q-7 Detailer to clean/condition light dirt, oils, smudges and dust from the interior of cars. It does a great job while adding and creating a completely uniform appearance to your cars interior; especially after you clean leather car seating that is either black or dark colored.
If you are looking for a greater level of protection, enhancement, and conditioning, then I would go with the Q-7 wax. It is also especially useful after cleaning black car leather to create a nice, uniform appearance.
The Nu Tyre Lotion is for anyone looking for enhanced gloss/shine along with a more "silky" feel to their car leather.
Clean Leather Car Seat:

The traditional approach.....
Old habits die slowly if they die at all. Many of you reading this will resist change of any kind and for this reason I default to what most of you are likely used to in the form of cleaning and conditioning car leather.
The following car leather cleaners and conditioners are packaged and labeled for the retail/hobbyist car owner, but they will still deliver professional results (so long as you don't have unrealistic expectations and with the understanding that I have personally laid out what I use and do professionally at the top of this page).
The following products are well known, have excellent reviews and will perform for you and your car if you are n fact looking for more "traditional" approaches to car leather cleaning and conditioning.

Chemical Guy's Leather Cleaner & Conditioner



Chemical Guys Leather Cleaner and Conditioner Complete Leather Care Kit (16 oz) (2 Items)
For the car enthusiast or driveway detailer looking for the convenience of a ready-to-use car interior cleaner.
Safe for use on all interior materials.
Carpeting, velour, leather, vinyl, rubber.
No sticky residue; no rinsing necessary.
Aero Cosmetics Car leather Cleaner



Leather Cleaner Leather Soap Aircraft Quality for Your Car RV and Furniture 16oz Kit Better Than Automotive Products Meets Boeing Aircraft Specifications
Another quality ready-to-use car leather cleaner that is suitable for use on car leather

Perfect size for the enthusiast or driveway detailer
Professional level results
No sticky residue; no rinsing necessary
Comes with it's own leather scrub pad

Aero Cosmetics Car leather Conditioner


Leather Care, Conditioner, UV Protectant, Aircraft Grade Leather Care, Better Than Automotive Products. Excellent for Furniture, Car Seats, RV 's, Does not Leave Dirt attracting Residue. 16oz
Excellent car leather conditioner to use after your clean car leather seat cleaning
Not just for car leather, but any leather: Automotive, aircraft, marine, RV
Clean Leather Car Seat:

Darren's professional tips
Follow dilution recommendations on product labeling.
Always, always, test in a hidden area first for color-fastness and results.
In my professional business, all I use is the Simple Green APC (All-purpose-cleaner) for all cleaning needs. I simply dilute as needed based on cleaning duties.

Comes in a gallon size only (which may seem over-kill for some of you) but these products can be used in so many ways you will not be disappointed!
If your car leather is exceptionally dirty like the photos above, it is better to do a small section at a time, and do repeated steps until desired results are achieved.
I had to scrub each section of the leather seating from the pictures above 3-4 times before I got acceptable results.
If you have allowed your leather to go so long before you have decided to clean your leather car seats, you may have some permanently worn areas of your leather seating. Once you have cleaned them, these areas will be more visible once the dirt has been cleaned away.

If you are not the original owner of your car I would proceed with extra caution at first to verify that your seats have not been re-dyed in the past and therefore affect the ability to clean them with these types of methods.
How to Clean Leather Car Seat Summary
In closing I will add that when it comes to car leather cleaning, there is lots of bad information that is outdated and simply gets repeated from one website/blog to another.
Here are a few links to sites that discuss how to clean leather car seat, but not a single one of them talk about your car leather being coated and simply push the traditional car leather cleaning and conditioning products onto you.
DIY Network: This link will teach you how to make your own leather cleaner, but doesn't really teach you what you should know.
CarBibles: This site will teach you car leather cleaning based on all the outdated, traditional rules of car leather cleaning, but does nothing to update you with new information based on new technology

If you have made it to the end of this page, you now have more information than most professional detailers who are just starting out. You also could now likely clean leather car seats better than most of these "newbie detailers" I see springing up all over the place.
I hope the information on this page will help you in your car leather care moving forward.

If you have car leather upholstery that you know is excessively dirty, and you want to see what I use for excessively dirty car upholstery regardless of material, you can go to: heavy duty car leather cleaning
Thank you for visiting clean leather car seat!

Sincerely,

---