Leather Car Seat Cleaner

Are you even asking the right questions
If you have leather in your car, eventually you're gonna need some leather car seat cleaner. Car leather is nice and you likely paid extra for it, but it's certainly gonna get dirty and it's not gonna clean itself!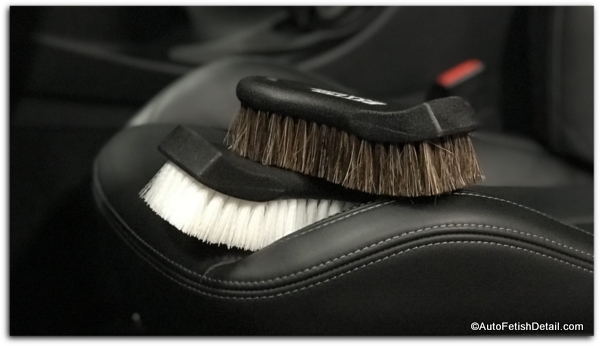 As a car owner you want to not only maintain the value of your car, but keep it looking its best while you own it. Otherwise you wouldn't be here trying to figure out what the best leather car seat cleaner is, and exactly how does a person like yourself go about cleaning and protecting the leather in your car.


Leather Car Seat Cleaner:

What You Will Learn Here
What the industry doesn't want you to know
Asking and answering questions you don't know to ask

Alternatives to car leather care to simplify your world
Exact products and tools I use professionally
Leather Car Upholstery:

What the industry doesn't tell you
As much as I love the world of cars and detailing, what I don't like is the endless hype and misrepresentation that companies of every kind use to sell you more "stuff". And just when you think you have enough stuff, the industry comes out with more stuff to separate you from your money.
Cleaning and conditioning your car leather is one of those topics the car care industry loves to hype up using sexy terms and tantalizing packaging. Which in many ways works perfectly well with car leather since we have all been taught how special and delicate car leather is.
From special cleaners to special conditioners to maintain this natural material called leather! But the reality is that modern technology has improved the manufacturing and tanning of leather to the point that the leather in your car is not the same leather in cars of the past.
"Modern day car leather is finished with a clear protective coating. No longer are you dealing with a natural material, but a natural material that has been coated with a synthetic coating"
What Is Coated Car Leather
While you might be in shock to learn that the leather you paid extra for is literally encased in a clear protective coating, this represents the good news.
Because of this clear protective coating, cleaning and conditioning your car leather is easier than ever. This clear coating also helps protect against normal wear and tear of your car leather.
The critical thing to note is that when you use any leather car seat cleaner and conditioner, you are not actually touching a natural material any longer. You are cleaning car leather with a synthetic coating on it.
Does Coated Car Leather Need To Be Cleaned
Yes. Just like everything else in this world, your coated car leather will get dirty and will need cleaning. The good news is that this clear protective coating makes cleaning car leather easier than it used to be.
If you have a brand new car and you have the diligence to apply consistent and regular maintenance, your car leather is one of the easiest materials to maintain with very little effort.

Does Coated Car Leather Need To Be Conditioned
Yes and no. This largely depends on who you ask. If you are a manufacturer of car leather conditioners, then the answer would be yes. If you are a professional detailer like me, the answer might be no.
Car leather conditioners in most cases are sold through a healthy amount of misrepresentation. Most car leather conditioners still label their leather conditioners like you are working on old-school car leather that has not been coated and the leather conditioners are actually making it into your car leather.
But the reality is that these car leather conditioners are simply being applied to a coating that is basically water tight. So these conditioners are "conditioning" a synthetic coating not a natural material.


What Is The Best Leather Car Seat Cleaner
Now that we have learned that the leather in your car is coated with a synthetic coating, the more appropriate question then becomes what is the best cleaner to clean a clear synthetic coating.
Which delivers my answer of this:
"In so many ways you don't have to over-think a leather car seat cleaner. There are many types of basic cleaners that work effectively and efficiently"
This literally means you don't have to shop a dedicated leather car seat cleaner. Yes these dedicated cleaner can work, but no longer are they a requirement.

And once again, in case you are still in freak out mode, this represents the good news. Because now your life with your car leather is easier than ever.
Cleaning Leather Car Seats:

Keeping it simple
Many of you reading this page will be on the "least amount of effort" plan when it comes to taking care of your car leather. For this reason you can set yourself up with a car leather care kit like the one below.
While these products remain labeled for exclusive use on car leather, and still use the hyped up marketing for leather based on outdated thinking, these products are still effective at cleaning and conditioning your car leather even though your car leather is coated.
Chemical Guy's Car leather Cleaning and Conditioning



Chemical Guys Leather Cleaner and Conditioner Complete Leather Care Kit (16 Oz) (2 Items)
Massively popular brand for car enthusiasts

Dedicated leather car seat cleaner and dedicated conditioner
Simple solution for anyone wanting an simple answer

Darren's Tips: This product kit is ideal for anyone who wants to keep things very simple. Perfect for the new car owner that wants to maintain their car leather from the start. This cleaner works perfectly well for light dusting and mild levels of dirt. This leather car seat cleaner when used with any of the scrub brushes or pads on this page will produce excellent results so long as you haven't allowed the dirt to become anything other than mild.
This is not the product I use professionally, but if you have a brand new car and remain sold on the idea of a separate leather car seat cleaner and conditioner, then you can stop with this product and end your search.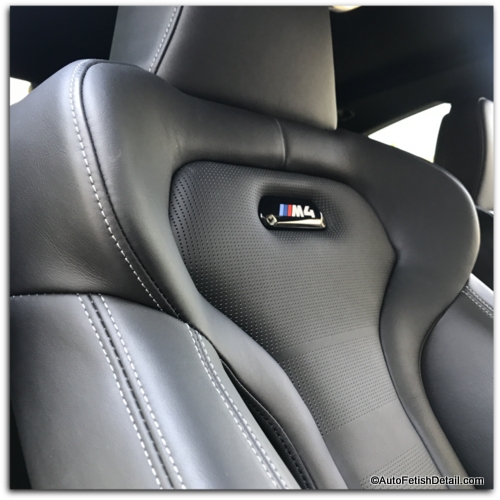 Use the leather conditioner if you decide you want some visual enhancement. It will make your car leather feel different, and most of you will like this difference, but you won't know for sure until you try it.
The most important thing to maintaining car leather is keeping it clean. And conditioning you do past cleaning is more about the appearance and the feel of your car leather. A person like myself simply love the look and feel of car leather that looks perfectly clean and straight off the production line. This means no high gloss shine to the interior of my cars.
Simple Green All-purpose Cleaner


Simple Green All-Purpose Cleaner - Stain Remover for Clothing, Fabric & Carpet, Cleans Floors & Toilets, Degreases Ovens & Pans (Original, 32 oz Spray and 2-67.6 oz Refill)
When you are ready to keep things truly simple
The actual clean I use to clean car leather professionally
I dilute my blend down 10:1 ( one part concentrate mixed with 10 equal parts water)
The perfect leather car seat cleaner as well as an all-purpose cleaner for endless cleaning jobs
Darren's Tips: I love the Simple Green all purpose cleaner for so many reasons! With the ability to custom blend the strength of this product, and its incredibly safe formulation you will find endless uses for this cleaner.
It seems the more I use it, the more uses I fond for it. If you are working with brand new car leather, I would recommend a solution of 10:1 for basic cleaning maintenance of your car leather. The dirtier your car leather is, the stronger you can make this product and use with one of the scrub brushes below.

Horse Hair Scrub Brush


Chemical Guys ACCS96 fl. oz Premium Select Horse Hair Interior Cleaning Brush for Leather, Vinyl, Fabric and More
The perfect scrub brush for leather car seat cleaning
For anyone overly concerned with being as delicate as possible to clean car leather
Darren's Tips: I have found that most beginners are especially nervous about cleaning the leather in their car. This scrub brush is super gentle and perfect for a beginner and a beginner working on brand new leather or leather that is not overly dirty.
Because this brush is so soft, it is difficult to get it to be aggressive enough for leather car seat cleaning when it is anything but the most mild levels of dirt. This simple answer then becomes to start easy as a beginner, and work your way from there as you gain more and more confidence.
Any of the natural hair leather cleaning brushes tend to shed a certain amount of fibers when cleaning. You can expect this with any natural hair brush you chose. This is one of the trade off's for using one of these super soft leather cleaning brushes.
Leather Car Seat Upholstery Brushes


Upholstery Cleaner Scrub Brush Set Cleaning Brush and Horsehair Detailing Brush for Car Interior, Seats, Boat, Couch, Sofa and Carpet
This is a perfect cleaning brush set that has a very soft brush for cleaning car leather, as well as a stiffer brush to use for more aggressive cleaning
I use both brushes to clean car leather based on the amount of dirt I am trying to clean away
Darren's Tips: I realize this scrub brush set is specifically labeled for boats, but these brushes work perfectly for any type of material withing any type of vehicle, boat, or RV you are attempting to clean the interior with.
You get a synthetic nylon scrub brush for more aggressive scrubbing and a super soft natural hair brush for more delicate jobs. As a beginner, you will automatically default to the gentle scrub brush until you gain some confidence and you realize many cleaning jobs require the use of the stiffer scrub brush.
Car Leather Scrub Pads


Commercial-Grade Non-Abrasive White Cleaning Pad 5 Pack By Mop Mob. Large, Multi-Purpose 10 in x 4 1/2 in Scouring Pad Fits Universal Holders. Great For Scrubbing Sinks, Tile, Windows and Fine China
The exact scrub pads I also use to clean car leather
Ideal for car leather that is particularly smooth, with little to no texture
Works perfectly with any leather car seat cleaner you chose
Darren's Tips: This pads are perfect as another tool for all your interior cleaning needs. I love these pads as they are very friendly in the way they mold to your hand and the surface you are scrubbing.
These scrub pads can also be easily cut to the perfect size to fit your hand and represent the winning balance between gentle and stiff. I use these along with my choice in a leather car seat cleaner to scrub car leather as an additional tool to be used with one of the scrub brushes above.
These scrub pads will feel particularly stiff when brand new. You can break them in by scrubbing a material you are not worried about to break them in until you feel confident enough to use on cleaning your car leather.
Car Leather Cleaning Cloths


Kirkland Signature Ultra High Pile Premium Microfiber Towels, 36 Count (Pack of 1), Yellow - 713160
The exact micro-fiber cloths I use for 80% of my detail tasks
The best type of cloth for cleaning car leather
Super soft, super absorbent
No annoying lint left behind
Darren's Tips: If you have never used micro fiber cloths you are really missing out. Admittedly it took me awhile to get used to using these cloths on the interior cleaning duties as they tend to "grab" the surface of the material you are cleaning much more than when using a terry cloth cleaning towel.
Once you adapt, you realize how superior these cloths are at everything you do with them. They are much safer than terry cloth towels, much more absorbent, and lint free. They simply are superior in virtually every way over any other type of cloth.
I love these particularly when cleaning car leather since they are as safe as safe can get, and they leave no lint behind. Since these cloths have a subtle difference in texture from side to side, you can assign the different sides to different steps in your car cleaning process.
Leather Car Seat Cleaner

Maintaining and conditioning
Now that I have shown you the exact leather car seat cleaner I use professionally (Simple Green), it is time I let you in on my own secrets for maintenance and conditioning that will also show you how to keep your life as simple as possible.

CSi Q-7 Detailer


CSI Q-7 Detailer Quart 62-205-Q
Spray detailer and gloss enhancer
Body shop safe
safely remove light dist, finger prints, and smudges
Ideal for use on exterior and interior
Also my secret window cleaner product
Perfect for use on car leather to clean away light dust, body oils, and very light dirt
Safe for virtually any material within your cars interior (as a rule this is intended for any hard or non-porous material including car leather, but I have actually used this on synthetic suede materials like my own car that has an Alcantara steering wheel)
Darren's Tips: Since I already use this detailer to touch up the exterior as well as a window cleaner, it is even more versatile since it works so wonderfully on maintaining the inside of my car.
Instead of the 5-10 dedicated products the industry would have you buy, now my life is super simple with a product like this that can serve so many purposes. Even though this product is very effective at cleaning light layers of dirt, it is not intended to replace a more effective leather car seat cleaner like the Simple Green I use.
This is my "go-to" product for basic maintenance requirements for both the interior and exterior of my car.
CSi Q-7 Spray Wax
My "go-to" car wax for over 15 years
Can be used to "wax" your car leather since you are really waxing a clear protective coating (coated car leather)
Use after any dedicated car leather cleaning job to wax the clear coating of your car leather, just like you would wax the clear coat on your car paint
Darren's Tips: Since I already use this as my dedicated car wax, I can keep my life super simple by using it on all the non-porous materials within my cars interior to maintain and preserve the health and beauty of the many materials found within your car.
Dashboards, coated car leather, plastic door panels, vinyl seating, etc.
CSi Nu Tyre Lotion


CSI Nu Tyre Lotion Quart 62-208-Q
Water based formulation
Dries to the touch
My dedicated tire dressing
Body shop safe
My dedicated car leather conditioner
Darren's Tips: If you are a person that likes a little "shine" to your cars interior, then I recommend this product. And once again I already use this for all the exterior materials of rubber and vinyl.
I use as my dedicated tire dressing and for any porous black trim pieces on the exterior. I also bring it to the interior of the car if I want to add some conditioning to the many materials of the inside while adding some shine.
This product is not oily or greasy like other interior dressings. There is no hyper shine with this product as it leaves as subtle shine instead. As a rule I prefer using the Q-7 Detailer and the Q-7 wax for my maintenance duties, but if you want some added shine and conditioning, then I recommend the Nu Tyre Lotion despite it being labeled as a tire dressing.
Leather Car Seat Cleaner Summary
If you have made it this far you deserve a badge of honor!
Not too many people are willing to put in the effort to become more informed and default to being misinformed by much of the hyped-up marketing that is very willing to lead you by the nose based on their agenda.
I wish you much success with your car leather in cleaning and maintaining it. Now you know what I do professionally and I hope you follow some of my recommendations that will get you better results in your world.
Sincerely,
Darren Priest
---