How to Clean Leather Car Seat
Your stuck in the past, time to move forward!


Welcome to clean leather car seats where this professional detailer is going to show you what works as opposed to the bad results you are most likely used to getting with traditional car leather cleaners. We have been mislead as car owners and consumers by an industry simply wanting to sell us more and more products; convincing us that leather is a delicate and exotic material that requires specialized cleaners and conditioners. What they have failed to communicate is that the car leather of today's automobiles, is very different than the car leathers used in the cars of the past. Car leather care and cleaning is much easier and simpler than most people realize due to the advances in car leather manufacturing. With an industry bent on selling us more and more products, it is no wonder why the vast majority of people remain in stuck in the past!

Cleaning Leather Car Seating Like a Pro

Getting professional results with cleaning your car leather is easier and simpler than most people think. With the right products and tools, applied with some strategic techniques, you too can enjoy the same results normally reserved to veteran detailers.
"Darren, I am tired of the frustrating results I get with every car leather cleaner I seem to use! I've got questions and need answers!"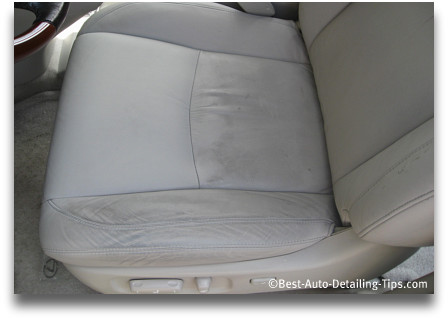 How come these over the counter leather cleaners don't clean worth a darn?

Is there any leather cleaners that actually work?

What are the proper techniques for cleaning the leather in my car?
Car Leather of Today is Not the Car Leather of Yesterday

Most people like yourself are stuck in the past and the industry wants you to stay there so they can continue to sell you more and more products. But the car leathers of yesterday are not the same as the car leathers of present day cars.

| | |
| --- | --- |
| Before | After |
Pictured Above: As you can see by the before and after pictures above that drastic results are indeed possible. But your every-day car leather cleaners are not going to produce these type of professional results.

Do You Feel Like Your Chasing Your Tail?

As consumers, we are forever at the mercy of advertising and marketing; all designed to sell you more and more products. So many voices, with so many opinions and all you want is clean leather car seats; but you're unsure as to where to start and how to do it. I will share with you some of what twenty years in the world of professional auto detailing has taught me regarding actual leather cleaning methods and leather cleaning products.
Car Leather is Car leather!

What do I mean by that? This is to remind you that we are filled with many leather items in our world: leather shoes, belts, gloves, equestrian tack, etc. And the point is this, "car leather is car leather", it is not any of these other forms of leathers. Leather car seats exist in many of the cars and trucks today, and no longer is it just a material reserved for the elite amongst us. Leather can be found in everything from sports cars, sedans, trucks, SUV's, vans, and even higher end RV's.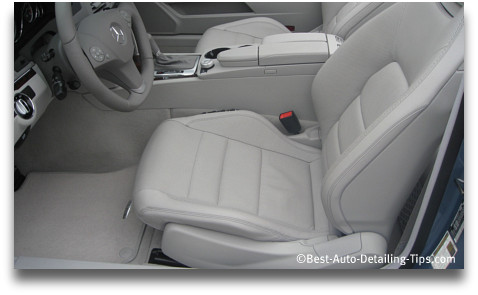 Darren, Can You Just Show Me What Works!

Glad you asked! Follow along as I break down the subject of your cars leather interior into the different levels of dirt including specific strategies of cleaning.
General Leather Cleaning and Maintenance

Car leather will last a life time if you are willing to simply keep it clean from the beginning. Most people race to see what the best car leather conditioners are and bypass the more critical factor of just keeping the leather in your car clean in the first place. Common dirt and skin oils combine to create damaging effects to your cars leather. The longer it is allowed to remain, the more damaging it becomes. For general leather cleaning including regular maintenance, use the following products and tips below:

Vinyl & Leather Scrub Brush
Use scrub brush to get better results regardless of your choice in cleaners.
Use scrub brush to aggressively scrub and clean leather car seat after you have sprayed area with All-purpose cleaner.
Meguiars D103 All Purpose Cleaner Plus
One of my favorite products!
The only product most of you will ever need to do 98% of all your car interior cleaning.
A far more effective product to clean leather car seats!
Concentrate formulation so you can custom blend to suit your cleaning requirements.
Suitable cleaner for virtually any material you will find within your car: upholstery, carpeting, vinyl seating, leather seating, etc., etc.
Darren's Professional Tips to Clean Leather Car Seats

Follow dilution recommendations on product labeling.
Always, always, test in a hidden area first for color-fastness and results.
The actual car leather cleaner I use professionally.
Comes in a gallon size only which may seem over-kill for you, but this product can be used in so many ways, you will not be disappointed!
If your car leather is exceptionally dirty like the photos above, it is better to do a small section at a time, and do repeated steps until desired results are achieved.
I had to scrub each section of the leather seating from the pictures above 3-4 times before I got acceptable results.
If you have allowed your leather to go so long before you have decided to clean your leather car seats, you may have some permanently worn areas of your leather seating. Once you have cleaned them, these areas will be more visible.
If you are not the original owner of your car I would proceed with extra caution at first to verify that your seats have not been re-dyed in the past and therefore affect the ability to clean them with these types of methods.
Darren's Video Demo: Clean Leather Car Seat in the $315K Rolls Royce Ghost

Don't Forget: Just wanted to let you know I spend a lot of time putting together my videos on my You Tube channel to bring the information to life so you can learn the actual techniques. Please make sure to subscribe to my channel as I will be constantly updated it with more and more instructional videos. Also, feel free to leave any comments or questions as this also helps me in producing the videos in a way where I deliver the exact information and tips you are looking for.
Sincerely,


Home | About | About This Site | Privacy Policy | Contact Me
Home

>
Leather Car Seats
>>
Clean Leather Car Seat