How to Clean Leather Car Seat
Tips for maximum results!

Welcome to
clean leather car seat
where this professional detailer is going to show you what works, as opposed to the bad results you are most likely used to getting with traditional retail car leather cleaners. We have been mislead as car owners and consumers by an industry simply wanting to sell us more and more products. Convincing us that leather is a delicate and exotic material that requires specialized cleaners and conditioners. What they have failed to communicate is that car leather of today's automobiles, is very different than the car leathers used in days gone by. Car leather care and cleaning is much easier and simpler than most realize. But with an industry bent on selling us more and more products, it is no wonder why the vast majority of people remain in the dark!
Clean Leather Car Seat Like a Pro
Getting professional results with cleaning your car leather is easier and simpler than most people think. With select products and tools, applied with some strategic techniques, you too can enjoy the same results normally reserved to veteran detailers.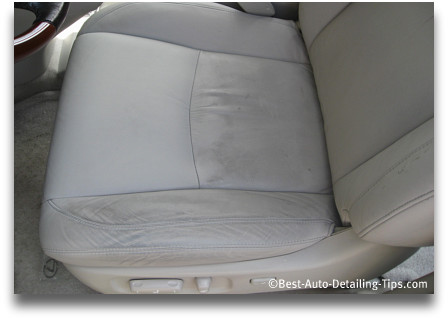 Which car leather cleaner is safe?
How often do I need to clean my car leather?
Is there specific steps to cleaning car leather?
You Have Questions, I have Answers
As you can see in the dramatic picture above what is possible when the correct products are used, in conjunction with the correct techniques. The dirty leather seat from this Lexus RX is a perfect example of how dirty leather can become, and the type of results that are possible with the right information.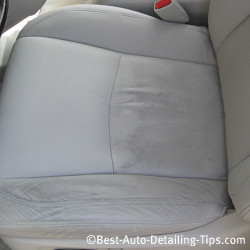 Clean Leather Car Seat: Before and After
Another shot highlighting what is possible when the right techniques and products are used to clean your car leather. The shot on the left is when I had already began the process as you can see by the partial cleaned area. The shot on the right speaks for itself!
As consumers, we are forever at the mercy of advertising and marketing, all designed to sell more and more product. So many voices, with so many opinions. And you just want a clean leather car seat, but you are unsure as to where to start and how to do it. I will share with you some of what twenty years in the world of professional auto detailing has taught me regarding actual leather cleaning methods, and leather cleaning products.
Car Leather is Car Leather
What do I mean by that? This is to remind that we are filled with many leather items in our world: leather shoes, belts, gloves, equestrian tack, etc. And the point is this, "car leather is car leather", it is not any of these other forms of leathers. Leather car seats exist in many of the cars and trucks today, and no longer is just a material reserved for the elite amongst us. Leather can be found in everything from sports cars, sedans, trucks, SUV's, vans, and even higher end RV's.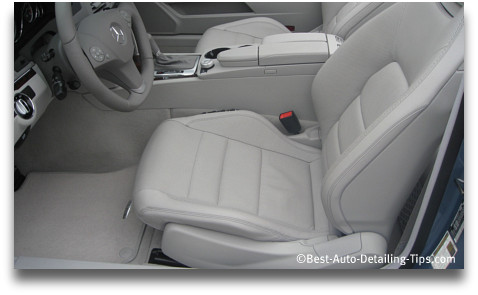 Darren, Just Show Us What Works!
Glad you asked! Follow along as I break down the subject of your cars leather interior into the different levels of dirt including specific strategies of cleaning.
General Leather Cleaning and Maintenance
Car leather will last a life time if you are willing to simply keep it clean. Dirt and skin oils combine to create damaging effects to your cars leather. The longer it is allowed to remain, the more damaging it becomes. For general leather cleaning including regular maintenance, any of the leather/vinyl cleaning products in the right hand column will suffice. Use the secure links to purchase your own from Autogeek.net
Any of the leather cleaning kits or products at right will work for general cleaning and maintenance.
Simply wiping your cars leather down with a terry cloth rag, dampened with your choice of leather cleaner will work wonders if done regularly; as in every 1-3 moths depending on use.
Heavy Duty Car Leather Cleaning
When dealing with neglected car leather that is heavily soiled with dirt and oils, traditional cleaning products and techniques will prove very ineffective. Tackling these heavy levels of dirt require additional levels of products and techniques of performance.
Vinyl & Leather Scrub Brush
Scrub Daddy
Meguiars D103 All Purpose Cleaner Plus
The All-purpose cleaner from Meguiar's above, along with both the scrub brush and scrub sponge will allow you to clean leather car seat to professional standards. Use the following checklist to get the kind of results normally reserved for professionals:
Mix All-purpose cleaner 10:1 to start with. This means 10 parts distilled water, to 1 part cleaner.
Break down each leather seat into smaller sections working on one section at a time until desired results have been achieved.
For heavily soiled car leather, you may have to repeat cleaning steps using both the scrub brush and sponge 4 and 5 times. Each time you will be removing more and more layers of built up dirt.
Some leathers change color as they are wet from cleaner; this is normal on some older leathers. Simply determine in an inconspicuous area that you are pulling up dirt and not color.
If you are not original owner of car, the leather may have been re-dyed at one time. Re-dyed leather will often be removed during cleaning process, and you will have to make judgement call as to the lesser of evils: clean leather with uneven color variations due to de-dyed leather, or dirty leather. These cases are very rare and only when you are not the original owner.
For excessive levels of dirt, you can raise dilution ratio to 4:1 for increased strength of cleaner.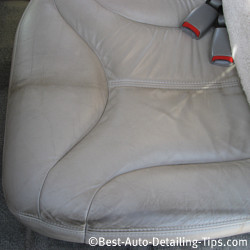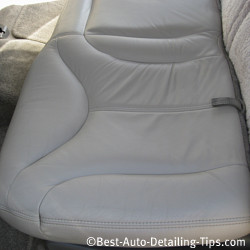 Clean Leather Car Seat: Before and After
Another dramatic before and after photo taken from a GMC Denali. The owner of this Denali had kept sheepskin covers in place for many years. Dirt gets trapped beneath and the resulting staining takes place. Another example as to the level of results that are possible with the right techniques and products.
Pay "Clean Leather Car Seat" Forward
Thank you for visiting my page on cleaning leather car seats. I bet you know of at least one other person who would benefit from the information here, so please post this to your FB or Twitter account. Or just send them the link and pay it forward. I have made it super easy with my Socialize It button box below.
Home | About | About This Site | Privacy Policy | Contact Me
Back to Leather Car Seats from Clean Leather Car Seat
Back to Best Auto Detailing Tips Home