Cleaning Leather Car Seats
Fact versus Fiction

Cleaning leather car seats
is one of the most commonly asked questions as a professional auto detailer. Due to misleading advertising and an over-abundance of bad information, most people are frozen with anxiety when it comes to what proper care and cleaning of car leather really includes. Professional experience has also shown that most people want to skip the basics of proper car leather cleaning, and jump straight into leather conditioning and protecting. Many people also maintain the false opinion that they can magically transform bad leather into good leather, if they simply apply enough of the "right" car leather conditioner.
Does car leather really have to be cleaned?


What leather cleaner is safe to use?


How often do I need to clean my cars leather?


Is there any special techniques to car cleaning?


Question and Answers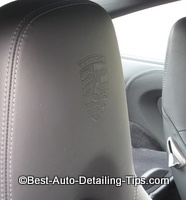 Q -Do I really need to clean my leather car seats?
A -Yes. Cleaning leather car seats is critical for two things: appearance and preservation. Regular and consistent cleaning is the most critical part of car leather preservation. Experience has shown me over and over that people generally are fixated on conditioning their cars leather, before they even consider cleaning it; this is a big mistake. Often what happens is people get so concerned with conditioning the leather that they apply layer after layer of leather conditioner, directly over the dirt layers already present. So what people create for themselves is actually the direct opposite of their original goal, and now they have a greasy build-up of dirt and leather conditioners that actually deteriorate the leather beneath.
Q -What cleaners are safe when cleaning leather car seats?
A -This depends. What are you really asking here? Do you want to know what is safe, or do you really want to know what actually works. Any of the name brand car leather cleaners you would find at the retail outlets will be safe. And most will be effective for general, light duty cleaning and maintenance. When it comes to heavy dirt, or when you have neglected your cars leather for years, most traditional leather cleaners will be ineffective at best.
Q -How often do I need to clean my cars leather?
A -Car leather interior needs consistent and regular cleanings. Like most materials in this world, keeping them clean is the biggest part of the battle. I think the industry has done much to confuse us consumers, and many of us stand overwhelmed by all the many variables of leather care to the point we end up doing nothing. Monthly cleaning of your leather is both ideal and appropriate. But before you get spun-out and dismiss he idea of monthly leather cleaning, simply wiping your cars leather down with a cloth dampened with cleaner will suffice.
Q -Is car leather like other leathers?
A -No. Cleaning leather car seats should really start by stating that "Car leather is car leather, not your other leathers." Within today's world, leather exists in many forms; wallets, boots, shoes, bags, equipment, etc. Because of modern advances in tanning processes and protective processes of leathers used within auto construction, things like ph levels, leather conditioners, leather oils, etc. are not an area of concern like days of past. Most car leather is made with clear protective coatings that make care and cleaning much more simple and easier than ever. What this also means is that traditional leather conditioners and dressings are ineffective for anything other than visual enhancement.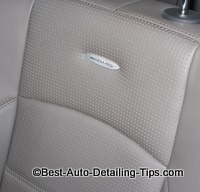 Q -Is there any special techniques of cleaning?
A -Yes. When it comes to cleaning leather car seats, one thing we need to learn which is counter to what we have been taught, is that leather is much more durable and resilient than most think. The industry with its misleading marketing and advertising has lead us to believe that car leather is this ultra delicate, and requires exotic blends of cleaners and conditioners. The byproduct of this is a consumer base frozen with fear to the point where most people do nothing.
Darren, Can You Just Show Us How to Clean Car Leather and Just What Car Leather Cleaners Work
Follow along as I lay out some really good leather cleaner for car seats, along with techniques of cleaning the leather in your car that are taken straight from the world of professional auto detailing.
The dirty seat from above is from a 2006 Chevy Corvette that had never been detailed in the 6 years of use. As you can see from the dramatic photo, cleaning the leather in your car can produce dramatic results with the right products and techniques.
I have broken down car leather cleaning into the different levels of dirt you will be facing. Simply go to the appropriate section below and follow my professional car leather cleaning tips that promise a level of results you have not experienced before!
General Leather Cleaning Maintenance
Use a terry cloth towel dampened with your favorite leather cleaner from below, and aggressively wipe down all your leather upholstery. You will most likely be amazed at how much dirt can be seen on your cleaning rag when cleaning leather car seats simply using this method.
Lexol Spray Leather Cleaner
Meguiars Gold Class Leather & Vinyl Cleaner Spray
Light Duty Leather Cleaning
For any of your car leather cleaning duties past general maintenance, you will have to employ some additional help in the form of scrub brushes. Just as you would scrub your hands clean with a scrub brush, the same technique is a must if you plan on getting acceptable results when cleaning car leather that has been allowed to accumulate dirt past the very basic.
Vinyl & Leather Scrub Brush
Experience has shown that most people are fearful of using any type of scrub brush on their car leather, and this is where a big part of the problem starts. Car leather is much more durable than we have been lead to believe as consumers and car owners. Not only is this scrub brush safe, but will take any leather cleaner you may use to the next level of performance. Getting professional results with your car leather cleaning will be 30% product choice, and 70% technique. So give your efforts an added boost by using an effective vinyl and leather brush.
Heavy Duty Car Leather Cleaning
When cleaning leather car seats and the job before you is thick and dirty, your leather cleaning technique will need additional techniques to deal with these additional levels of dirt!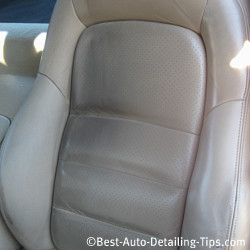 Cleaning Leather Car Seats Before and After
As you can see from the before and after of the car leather from this '06 Corvette, results can be dramatic and if you have been using traditional methods of cleaning the leather in your car, you most likely have been unable to get this level of results. But keep reading as I show you how you can get these professional level of results.
What You Need:
Vinyl & Leather Scrub Brush
Scrub Daddy
Meguiars D103 All Purpose Cleaner Plus
For heavy duty cleaning leather seats in cars, the combination of the above tools and product will be your ticket for success. The problem with most retail car leather cleaners is they have too much of that "idiot factor" built into them; companies have to dumb their products down to the lowest common demoninator of society. What this means is that we end up with products that are completely mild and ineffective for any level of "real" dirt! This All-purpose cleaner (APC)from Meguiar's is an ideal product to have around as it can be used to clean anything from car leather, to degreasing engines; all you do is customize the dilution to fit your specific needs.
Cleaning Leather Car Seats Summary
Let's summarize what we have learned before I take you into my specific steps I use professionally to clean leather car seats from foreign exotics, to kiddy haulin' family vans.
Retail car leather cleaners are ineffective on anything but superficial levels of dirt.
Retail car leather cleaners are acceptable for general car leather cleaning and maintenance if used from the beginning when your car is brand new.
You can get better results when cleaning car leather by using the scrub brush and scrub pad from above regardless of the leather cleaner you have chosen.
For anything but the lightest levels of dirt on your car leather, you will have to use more aggressive cleaners like the Meguiar's APC cleaner above that can be custom mixed depending on your cleaning needs.
Darren's Tips
Follow this tips I use professionally to get maximum results when cleaning the leather in your cars interior:
Mix Meguiar's All-purpose cleaner with a starting mix ratio of 10 parts distilled water, to 1 part All-purpose cleaner.
Break the areas to be cleaned into smaller areas, cleaning one section at a time and then joining the areas together until an entire seat has been cleaned.
For heavily soiled car leather, you may have to clean each section 4 and 5 times before you have completely removed built up soil; yes, I have to do the same thing professionally on some of the more heavily soiled car leather like the example from above.
Wipe up with a basic white terry cloth rag or micro-fiber towel; I like using white so I am sure to see exactly how much dirt I am removing.
It is best to clean heavily soiled car leather in multiple steps rather than trying to get it all at once with over saturating the area with cleaner.
If you feel the results are unsatisfactory, increase the strength of the All-purpose cleaning solution to 4:1.
Darren's Cautions for Cleaning Leather Car Seats
These tips are effective on all forms of car leather.
Some leather will turn different color when getting wet with cleaner; this is normal. If you are at all concerned, simply test an area and allow to dry for a few minutes. I have never damaged leather using these methods in 20+ years of detailing.
As a rule for any area of auto detailing, you should always test new products in inconspicuous areas first.
Unless you own a car that costs over $100K, your car leather seating will be made using both vinyl and leather. Leather usually consists of the surfaces that touch your body only. Every where else will usually be vinyl made to look like the rest of the leather. These cleaning techniques are suitable for all your vinyl cleaning as well.
If you are not the original owner of your car, the car leather seating may have been re-dyed. The techniques used to re-dye car leather are not all created equal. Once leather has been re-dyed, it will wear differently and clean differently; non of which are particularly good. In these cases, often the leather dye color will break down and begin to show up on your clean rag. If this is the case, proceed with extreme caution.
In extreme cases of dirty leather, often the oils form your body can actually break down the leather finish. You may find as you clean your car leather that the color and finish of your leather is also being removed along with the dirt. This is rare but I have seen it happen.
Once your leather is extremely clean, it may expose areas of your leather that have been worn off from the abrasive effects of sliding your body in and out of the car hundreds of times. The cleaning leather car seats before and after picture from the Corvette above, shows signs of this very thing if you look closely.
I do not mean to scare you away from enjoying the benefits of cleaning leather car seats yourself, as 99% of you will not be faced with any of these cautionary tips.
Cleaning Leather Car Seats and Leather Conditioners
Many of you at this point will be now questioning the use of leather conditioners and/or leather dressings. What most people do not realize is that most car leather is made with a clear protective coating that helps prevent the absorption of dirt and spills. This is mostly a good thing, but also means that traditional leather conditioners become ineffective and strictly a superficial treatment. If you feel better about using some form of leather conditioner, by all means use them. But if you want my opinion based on professionally experience, I never use actual leather conditioners. I may choose to use a superficial dressing for visual purposes after cleaning leather car seats, but this is strictly for visual enhancement only. I have found that your car leather can last a lifetime by simply keeping the car leather clean from the beginning.
Stoner More Shine Less Time Spray
The product by Stoner above is what I use professionally to create a light sheen to car leather or other vinyl interior pieces. You can control the amount of shine by either spraying directly onto surfaces and let alone, or wipe with a micro-fiber afterwards to break down level of gloss.
Thank you for visiting cleaning leather car seats. I bet you know of at least one other person who has leather car seats and would benefit form the information I have laid out here. So please post this to your FB or Twitter account, or just send them the link and pay it forward. I have made it super easy with my Socialize It button box below.
Home | About | About This Site | Privacy Policy | Contact Me
Home >> Car Upholstery Cleaning Tips > Cleaning Leather Car Seats