How to Wash a Jeep
A Jeep that is dirty and nice!


Despite popular opinion, it is possible to have a Jeep that is both pretty and nice! Learning how to wash a Jeep is your first step towards a Jeep that not only looks nice in between off-roading excursions, but is a critical part of the cosmetic care and maintenance of your Jeep.
While many Jeep owners consider a healthy layer of dirt and mud a standard accessory, there remain a select group of Jeep enthusiasts who still appreciate a clean and shiny Jeep under normal conditions of daily use. Washing a Jeep presents unique challenges most car owners do not face. From heavy layers of mud to excessive dust, washing your Jeep can be a doable task with the right information. From specific techniques to specific products, having a Jeep that is both dirty and nice is a realistic possibility!
Dirty and Nice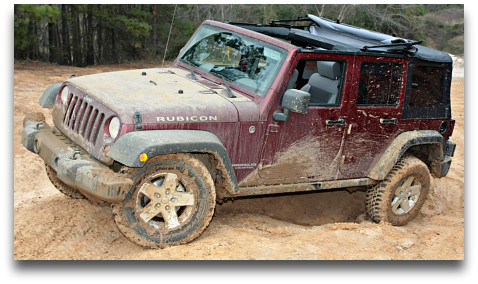 While you may not be overly concerned with the appearance of your Jeep, you may be very concerned with retaining the value of your Jeep. Despite the novelty and attention heavy layers of mud and dirt might represent to you as a Jeep owner, many Jeep owners do not consider nor understand the damaging effects of prolonged exposure to dirt and mud represent to the value of their Jeeps. Learning how to wash a Jeep with the right tools and products will allow you to enjoy both worlds when it comes to the dirty and nice of Jeep ownership.
What you will learn:

Basic steps to washing your Jeep.
Unique tips for those problem areas of Jeeps.
How to Wash a Jeep Basics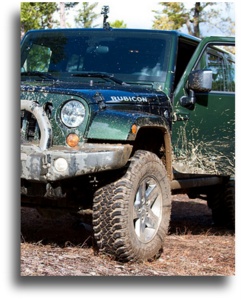 Whether you are washing a Jeep or a car, there are certain basic steps and requirements to the car washing process. Car washing is easily dismissed by many car owners as not only being a mundane duty of car ownership, but also of less importance. When it comes to Jeeps owners, this is usually only compounded by the fact that many Jeeps will venture off-road and Jeep owners often consider a healthy layer of dirt and mud as a badge of honor of their off-road prowess. But regardless, dirt and mud are harmful to both car paint and any wax protection you may have on your Jeep.

Car Wash Shampoo

Car wash soap or shampoo does not need to be over-thought; there are many quality car shampoos on the market and it is hard to go wrong and for that reason I am simplifying the choice down to this one from Meguiar's.

Meguiars Ultimate Wash & Wax
Can't go wrong with Meguiar's products.
Wash and apply a small layer of wax protection at the same time.

Car Washing Tools

Sheepskin Wash Mitt
Helps keep dirt off paint during washing process
Thick enough to be effective, small enough to actually use.
Thicker, over-sized chenille or micro-fiber mitts become incredibly heavy to use when fully wet.
5 Gallon Professional Wash Bucket with Grit Guard - RED
Separates dirt particles during the washing process.
For those committed to better results and safer washing.
The Guzzler Waffle Weave by Cobra 16 x 24
Bath towels are no longer an option for drying; you will be delighted with a waffle weave drying cloth.
I prefer the smaller version as they are easier to work with then the over-sized versions.
Specialty Tips of How to Wash a Jeep

Jeeps represent unique problems mostly as a by-product of off-road use; dirt, dust, and mud cars don't normally face. Use the following tools of the trade to tackle more difficult tasks when washing your Jeep due to off-road use.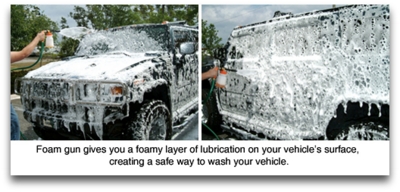 Autogeek Quart Foamaster Foam Gun FREE BONUS
Adds an element of fun into the washing experience
Creates a layer of foam that covers your Jeep to begin breaking down excess dirt and grime.
Helps lubricate dirt particles during washing process.
Solid Brass Water Jet Nozzle
Poor-mans version of a pressure washer.
Use to remove mounds of dirt from under fender wells and undercarriage.
Tire/Wheel Brush Kit
A must have for all those dirty and muddy areas of your Jeep
Under carriage, under fender wheels, tires, wheels, etc.
Home | About | About This Site | Privacy Policy | Contact Me
Best Detailing Tips Home

›
Car Wash Soap
›
How to Wash a Jeep