Best Car Wax Review
Darren's Top Picks


This Best Car Wax Review is designed to help you cut through the endless maze of advertising and marketing in choosing a quality car wax.
The reality is that the car care industry has most of us chasing our tails endlessly in search of the next "shiny object" that will separate you from your money!
While many of you out there may look for excuses to wax your car, most of us just want an easy to use car wax product that will deliver exceptional results without breaking the bank! But finding the best car wax in today's world of endless choices will often come down to your own personal tastes and the nuances of the specific brand of car wax you ultimately choose.

"Darren, I am tired of this endless search for the best car wax! Everyone has a different opinion and the detail forums are filled with one so-called exert after another! Does it really have to be this complicated!"
---
Let's Start With the Basics...


Like every other area of life, advances in technology, chemistry, and manufacturing have made all our lives better; such is the case with surface car care. Now waxing your car is easier than ever due to so many quality products being available; it is hard to go wrong!
Unfortunately we are also buried in an endless amount of choices all screaming at us with slick marketing and advertising!

Many of you feel like you are chasing your tail....and the car care industry is all too willing to keep the chase going!
Unrealistic Expectations

Many of you in search for the best car wax will simply have unrealistic expectations. The best car wax review is not going to help if you do not understand a few very basic and simple facts when it comes to the appearance and protection of your car's paint:
Car wax and sealants are for protection and visual enhancement.
The durability of car wax (protection) will be forever debated and argued from one manufacturer to the next; I don't over think this part as it is hard to confirm any manufacturers claims. (Numbers never lie, but liar's always use numbers)

Car wax can only enhance what is already there; meaning this: if your car paint is full of scratches, blemishes, and other flaws, the best auto wax in the world is only going to be able to do so much in enhancing your cars less-then-perfect appearance.

Basic and Essential Requirements of Car Paint

Wash car first.
Use detailing clay to remove air-born contaminants from car paint to prepare the surface for the next step(s).

Polish car with a car polishing system designed for true beginners, and one that can produce truly professional grade results even from a beginner.
Choose one of the car wax combination packs from below.
Best Car Wax Review Simplified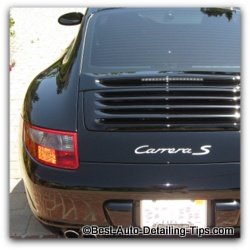 I could bury you with endless amount of choices. Due to advances in chemical engineering and manufacturing, finding a quality car wax is easier than ever...
unless of course you enjoy reading endless reviews, spending endless hours, reading and researching yourself into a frenzied froth of frustration and confusion!
If that is you , then clearly you have come to the wrong place!

Car Wax Combo's Designed for Any Person, Any Color, Any situation....

The following car wax combinations are based on the following rules or guidelines:
Car wax suggestions for every level of demands; from entry level to premium, from absolute beginner to hard-core enthusiast.

Every product has been tried and tested to produce excellent results with a user friendly experience.
Each product is from a trusted and recognizable source.
Each product represents the last car wax 95% of any of you out there would ever need if you kept you selection to one of my suggestions.
Darren's Note: If you are a committed fan of synthetic sealants and want my professional review on these man-made products, please see my car paint sealant review.

Any of these products from my best car wax review promise to produce excellent results. If you have not experienced the latest in what the advances in chemical engineering has brought to the world of car waxes, all I can say is you are in for a real treat! My list of car wax ratings starts with what I call entry level to enthusiasts grade car waxes. Premium grade products are not for everyone, but once you try premium it is hard to ever go back. But with that said, there is something here for everyone and they all promise to perform!
Your Winning Combinations of Paste and Spray Waxes

The following paste and spray wax combinations are your ticket to simplicity in paint protection and enhancement.
Use the paste wax to lay the foundational layer of protection and visual enhancement.
Use the spray wax/detailers as wax extenders or wax toppers to refresh the base coat wax applications.

Use any of the spray wax/detailers after each car washing for that just waxed look in a fraction of the time and to extend the life of your base coat.
---
Meguiar's Ultimate
Entry level product...if you want to call it that. One of my personal favorites and if I had to, could live with these (2) products from Meguiar's as they offer a winning combination of benefits.
It is hard to go wrong from a quality manufacturer like Meguiar's.
Will not be as user friendly as the ultimate enthusiasts' grade from Wolfgang at the bottom, but for anyone on a budget, this product still remains one of my favorites when dealing with a budget and worthy of making the best car wax review list.
Darren's Note: These two Meguiar's products must be purchased separately and do not come as combination pack unlike the other brands below.

---
Pinnacle Signature Series II

Professional grade car wax.
Non-staining formulation; won't stain black trim.
Wax on, wax off; does not need to haze up.
---
Wolfgang Fuzion Estate Wax

Premium blend of natural carnauba and synthetic polymers.
Non-staining formulation; won't stain black trim pieces.
Can be used in any conditions; even hot and humid conditions.
Will not dry to a white chalky haze; wipe on, wipe off.
Darren's Professional Tips:

I am a big fan of the combinations above for numerous reasons:
A paste wax is still the ultimate in visual enhancement and protection; whether you are working on black or light colored car paint.

All the products above are hybrid blends using both natural and synthetic ingredients; the best of both worlds.
Spray wax/detailers that work in harmony with your choice in manufacturer and can be used as stand alone waxes or more appropriately as wax extenders.

Each wax is time-tested and proven performers that promise not to disappoint!
Apply the paste wax as a solid foundation first (after washing and using a clay bar). Reapply every 3-4 months.
Use spray detailer/wax after ever wash to maintain and to extend the life of your base wax applications.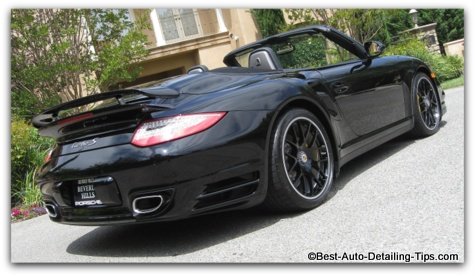 Best Car Wax Review Video:
Meguiar's, Pinnacle, Wolfgang



Pay "Best Car Wax Review" Forward

Thank you for visiting Best Car Wax Review. I bet you know of at least one other person who would benefit from the information I have taken so much time to produce, so please post this to your FB or Twitter account and help me spread the word! Or just send them the link and pay it forward in that manner. I have made it super easy to spread the word with my "Socialize It" button box at the very bottom of this page.
Sincerely,


---
Home

›
Detail Tips
› Best Car Wax Review