Clay Bar Kits

Tips for silky smooth paint

Once people hear of detailing clay, the next step naturally becomes shopping for the best clay bar kit. I am a big fan of the many kits offered up by car care manufacturers. It is a convenient and economical way to get more for your money and sample additional products you might otherwise be unwilling to purchase separately. (Most kits come with their version of a speed detailer or quick detailer)
Despite the fact that detailing clay has been around for decades, there are still many people who remain ignorant to this amazing tool of detailing. Keep reading to find what I recommend professionally.


What is Detailing Clay and What is a Clay Bar Kit?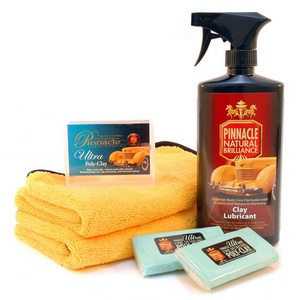 In the event you have found this page and you have just found out about this strange "stuff" called the clay bar or detailing clay, I will lay out a brief introduction to what detailing clay is, and what are the many uses of this critical tool of surface car care.
The air you breathe contains pollutants; mostly which cannot be seen.
These pollutants settle onto your car paint and begin to embed into the clear-coat of your paints surface.
These forms of contaminants are often called industrial fall-out (simply a glorified name for airborne pollution)
Normal washing and waxing will not remove these contaminants from your car's paint; you will need detailing clay to remove them through a separate process. 
Since your car is constantly exposed to the outdoor air, these pollutants will continue to build-up on the surface of your car.
After you have your car washed, check for yourself and drag your hand across the surface of your paint and glass; I bet you feel a surface that feels like it has tiny specs of dirt stuck to it.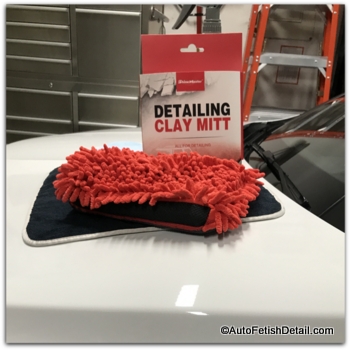 The paint and windows of your car should feel silky smooth if treated properly with use of detailing clay.
Claying your car requires you to rub this palm sized clay bar back and forth across the surface of the paint and glass until the pollution particles are completely removed.
This is done on a freshly washed car in which you have cleaned away what we refer to as superficial dirt.
Depending on how thick the "fall-out" is on your car, will determine how much effort and the amount of time required to remove all forms of paint contaminants from your car. I have spent as long as 2 hours of a heavily contaminated car to as little as 5 minutes.
Why Choose a Clay Bar Kit?

As I stated earlier, I am a big fan of the many car care kits offered by the many manufacturers. Most car care companies have their versions of detailing clay. The problem is that if you were to go in search of detailing clay alone, you would still need to shop for some form of clay lubricant in order to clay bar your car.
So a quality clay bar kit makes sense as you get everything to treat your paint to create that silky smooth surface prior to waxing or polishing your car.
Darren's Professional Note: If you think you are going to be able to polish these forms of paint contaminants away with some form of car polish, you are not only mistaken, but you will be disappointed with the results. I cannot stress enough the amazing ability of a quality clay bar, surface prep sponge, or surface prep cloth in preparing the paint surface that will deliver that ultra-smooth and silky surface.
Picking a Quality Clay Bar Kit:

Darren's Professional Tips
The necessary task of decontaminating your car paint through the use of a clay bar kit or one of the newest type of decontamination towels is just that: NECESSARY!
Don't underestimate the importance of this step in maintaining the health and beauty of your car paint. It is easy to rush directly into waxing or polishing your car after you have just washed it, but if your paint is covered in surface bonded contaminants, your results will be less than they could be.

Meguiar's Clay Kit
Trusted name of Meguiar's.
Complete kit for decontaminating your paint that you will always need to start with before you polish or wax your car. (yes, even your brand new car will need it)

Use on any freshly washed car.
Top rated clay bar kit in Amazon.
Mother's Clay Kit
Well known name in cosmetic car care.
Use on freshly washed car.
Complete decontamination kit you will need to use before any polishing or waxing.
Top rated clay bar kit in Amazon.

Enthusiast/Professional Grade Clay Kits

Entry level products are not for everyone. As the saying goes, "You get what you pay for". If you are looking for a higher level of user experience, then one of the following enthusiasts grade clay bar kits will be more appealing to you.
Griot's Garage Clay Kit
Enthusiasts grade clay kit.
Trusted name with plenty of name recognition.
You will not be disappointed. ( I have had much success and find Griot's to produce exceptional products overall )
Pinnacle Clay Kit
Enthusiast grade clay bar kit.
For those who demand better than "retail" level performance.
A trusted name among detail professionals and enthusiasts.
Nanoskin Clay Bar Towel
The byproduct of advances in the detail industry.
A very user-friendly way of decontaminating your paint.
The preferred method by many detailers.
I love the convenience, but like everything else in life, there are always drawbacks.

Darren's Note: I really only add the Clay Bar Cloth since it is becoming increasingly popular and represents many non-traditional forms of the clay bar. Now we have cloths, sponges, and clay discs. All of them are made using this what would best be described as a rubbery type material attached to some form of pad, cloth, or sponge. I have tried all versions of this rubbery material that is an alternative to the traditional clay bars above. See the following bullet points that come from my professional use that you will not find in most of the reviews.
They are very friendly and easy to use (so long as you only use them on cool, shaded paint.)
Once you try and use them on warm/hot paint, they will grab and leave skid marks much more often than the traditional clay bars.
They are also difficult to deal with overall in hot weather. The rubberized material becomes very gooey and sticky. If the material is allowed to stick to itself or any other surrounding surface, it becomes very difficult to remove. (Since I live and work in Southern California, hot weather conditions is a definite problem)
With all that said, I find many people certainly do prefer the decontaminating cloths and sponges like the Nanoskin cloth. Often choosing the perfect product or tool for you will literally just be a individual preference on your part.


Tips for Using Your Clay Bar Kits

You will now be a well informed as a car owner or car enthusiast if you have taken the time to read through this entire page and in many cases, will know more than any of your "know-it-all" buddies who act as the resident professionals!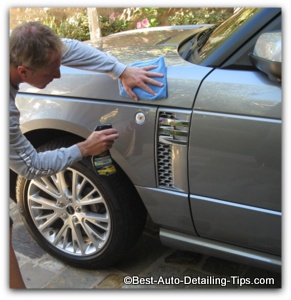 With that said, I want to add some of my own professional tips I have taken from the real world of professional detailing:
When using the clay bar on your car, it is common to leave what I refer to as skid marks on your paint left there by the clay bar itself. This is normal and can be removed in the moment with a separate rag, or during the polishing or waxing process.
You can save time with one of these clay bar kits if you plan on washing your car right before using the detailing clay on your car. After doing the final rinse of the washing process, leave your car wet and proceed to use clay bar or "clay cloth" as normal. Spray some lubricant onto the wet surface of your car section by section as you go. You will use less lubricant as it will mix with the water, and you will also find you are able to complete the task in less time. This would be a time you will need to be working in shaded conditions to prevent the water from drying as you work.

After you have used up the entire bottle of spray lubricant, (this may be months or years later) you can simply use a wet, synthetic chamois in place of a separate lubricant. Simply place the clay bar underneath the damp chamois and proceed to rub. (See link below for Water Sprite Chamois) The wet chamois will be enough to keep the clay bar gliding across the paint.
Most clay bar manufacturers will imply and strongly suggest that if you ever drop the clay bar on the ground you will need to discard and start with a fresh bar. (The "clay cloth" can simply be washed off) This is really just an attempt to force you to buy a new clay bar. Clay bars are particularly firm and do not pick up much in the way of dirt if ever dropped. Simply examine the bar for any obvious dirt or rock particles, and remove them. I have never had to discard a clay bar by dropping on the ground after 25 years of doing this stuff.
Remember to clay your windows; airborne pollution will attach to the car windows also.

Don't forget to apply some quality car wax following your clay bar car efforts.
If you want to take your detailing efforts to the next level, use this polish system for beginners after claying your car and prior to applying wax.
And yes, if you ever want to clay your car, you can consider your paint clean and ready for polishing or waxing. It will remove any existing car wax that may be present on your car (along with contaminants), so plan on applying new wax after any use of the clay bar or clay cloth.

Darren's Professional Time Saver Tip

As I mentioned above, one of my professional time saving tips when using detailing clay is to place the clay bar under a wet synthetic chamois and use as normal:
The wet chamois lubricates the area automatically as you are rubbing back and forth. (simply get chamois wet as normal and allow the chamois to have enough water in it to keep the clay bar lubricated as it rests underneath the chamois. You will adjust the amount of water you wring out of it based on the weather conditions regarding direct sunlight, temperature, etc. of car paint)

Prevents you from having to use a dedicated clay lubricant section by section.
Free's up your other hand from holding the separate lubricant bottle.
One of my all-time favorite "tools". ( I have been using this brand of drying chamois for over 25 years. I no longer use it to dry cars as I prefer some form of micro-fiber, but I love this chamois for any time I am using a clay bar kit to save time.)
I typically cut this chamois in half so I get two for the price of one. The smaller size is easier to manage when you are suing it. Like always, you will decide for yourself what the wining size is. Just know it is easy to cut into smaller sizes.

Darren's Tip: If you decide to go with the Nanoskin clay towel from above, then this strategy is not going to work. But with that said, the Nanoskin clay towel actually does this strategy naturally since the clay towel has one side made of micro-fiber cloth that remains wet and you can flip the clay towel over to wet the section as you go.
But most people still prefer to use a dedicated clay lube whether they are using one of the dedicated clay bar kits or the Nanoskin clay towel. Only you can decide what you think is the best tool in your world.


Pay "Clay Bar Kit" Forward

Now that you have educated yourself far beyond what any local "expert" will have taught you about clay bars as well as the benefits of shopping for a clay bar kit versus just a separate clay bar. Help me spread the word and pay this page forward by posting to your favorite blog, forum, or social media page.
Thank you in advance,
Darren Priest