Best Boat Polisher Review
questions you didn't even know to ask


Finding the best boat polisher might seem like a simple task at first glance, but in an era of information overload many of you will find yourselves sifting through mounds of opinions and reviews.
Likely you will come away feeling more informed than ever, and yet, find that you are frozen with anxiety as to which is really the best boat buffer. Asking the right questions seems like an obvious solution until you quickly realize you lack even the experience or knowledge to ask the right questions. So if you find yourself quickly becoming frustrating during the elimination process, follow along as I lay out the dots for you to connect, and see what the perfect boat polisher for you and your world is!
Asking the Right Questions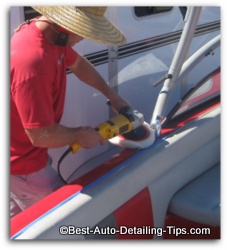 Finding the best buffer to polish a boat with will be more than finding a quality buffer. Cars are not boats and boats are not cars, but while most people realize boats are different than cars, they think that they are close enough to follow the same lines of logic as they would in choosing a quality car buffer.

Gel Coat is Not Car Paint:
While this is an obvious to most, the fact remains that despite the fact that you are probably a boat owner, my experience has shown that very few people understand the nature of the beast when it comes to gel coat or fiberglass; even most boat owners understand gel coat. Let's lay out some facts regarding gel coat:
Gel coat is not just a material, but also a process used to make boats by.
Fiberglass is not the final material in making boats, but more specifically refers to the fiberglass cloth that is used prior to the gel coat process to make boats with.
When people refer to fiberglass waxing, polishing, or oxidation, it is more correct to say gel coat as this is the material on the outside that you are dealing with.
Gel coat is very porous, has no final protective coating like clear coat on a car, and is a very tough and durable material.
When we talk about gel coat being tough and durable, this is not to be confused with its ability to not oxidize, as gel coat does oxidize very quickly as it is exposed to weather and the elements.
Anyone who has tried to wax a boat or RV with any level of oxidation will know how difficult it is as the oxidized and porous gel coat will literally soak-up any of the wax and make more of a mess than anything else.

Why a Traditional Car Buffer Will Not Work:
Because gel coat is very tough while being also very porous, this material will oxidize while at the same time soak-up dirt and pollution. For this reason a traditional car polisher will prove mostly ineffective. Unless your boat is in pristine condition, you will require a specialized type of buffer known as the dreaded high-speed polisher. High-speed polishers are required for results. And when I say results, I mean the ability to remove levels of oxidation and as well as the ability to remove scratches from the gel coat. High-speed polishers are the only animals with the ability to produce the necessary heat and friction these higher levels of polishing require.

Choosing the Best Boat Polisher

Now that we understand that for true boat polishing performance a high-speed (also most commonly called a rotary polisher) is needed, let me add some good news to the moment; a quality boat buffer will be about deciding between just (3) different polishers.
Flex PE14-2-150
Makita 9227C
DeWalt DWP849X
Don't ask me what all the additional numbers and letters mean, but just know that these buffers represent virtually the only buffers you need concern yourself with as these are the industry standards and each one represents true professional grade equipment. We are not talking cheap Harbor Freight (Horror Freight) tools here, but professional tools built to last decades of use. Like the adage says, "You get what you pay for" and if you think you are going to get a quailty high-speed polisher for $40-$60, you are either very naive, delusional, or a little of both!

(added note: polishers and buffers are forever interchanged within the industry and are just a generalization; just like talking about a "car" or "boat".)
Flex PE14-2-150

FLEX PE14-2-150 Rotary Polisher FREE BONUS!
Variable speed, rotary, or high-speed buffer.

The true Mercedes of the bunch!
German engineering, German quality.
If you have the money, this is a must.
The quietest and lightest of the bunch.
The best balanced of the bunch; feels friendlier just holding it.
Can handle everything from fine polishing to the toughest jobs.
Low, 600 RPM operating speed.
600 RPM - 2100 RPM operational speeds.
Slow start trigger control as well as speed set dial.
Makita 9227C

Makita 9227C Rotary Polisher
Variable speed, rotary, high-speed polisher.
Professional boat polisher.
Van handle anything you throw at it.
You can't go wrong with this Makita either.
Low 600 RPM operating speed.
600 - 3000 RPM speed settings.
Slow start trigger control as well as speed set dial.
Comes with wool cutting and finishing pad necessary for true boat polishing.
Bale handle is excellent for polishing sides of boats.
DeWalt DWP849X

DeWalt DWP849X 7?/9? Variable Speed Rotary Polisher
Variable speed, rotary, high-speed polisher.
True professional grade boat polisher.
You can't go wrong with the DeWalt either.
Low 600 RPM operating speed.
600- 3500 RPM speed settings.
Slow start trigger control as well as speed set dial.

Bale handle is excellent for polishing sides of boats.
Darren's Professional Tips:

Since all these buffers I have laid out above represent true professional grade equipment, I can say that you can't go wrong with any choice you were to make. Not only can they be set at very low 600 RPM speeds for finish polishing, but they all can handle any heavy duty boat polishing you can throw at them. For these reasons, these car buffers are really your first choice for a quality boat polisher.
Sincerely,


---
Home | About | About This Site | Privacy Policy | Contact Me
Best Detailing Tips Home

›
Auto Polishers
›
Boat Polisher Review