Car Paint Scratch Repair
Tips for better results!

Sooner or later, any car owner will be faced with some form of car paint scratch repair. Whether you choose to take on the challenge or not is a different question. My experience in the world of professional auto detailing has taught me that most people do not realize the options available today; many of which were unavailable just a short time ago.
Even the most basic of car paint care can be an overwhelming and scary task to many inexperienced people. With so many choices and conflicting opinions, often people choose to simply do nothing. Even a starting point can be difficult, never mind a viable solution to the many forms of paint damage that we can be faced with as car owners.
Not All Scratches Created Equal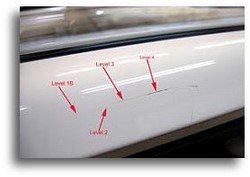 As the saying goes, "Not all scratches are created equal". When it comes to the many insults your cars paint can face, scratches can represent various problem solving as not only are not all scratches and paint chips created equal, but you may have a single scratch represent more than one variable.
This single scratch to the right represents a common problem to many car owners, and represents a scratch with different levels of depth. This means that one single solution may not be the remedy for this particular car paint scratch repair. Most people automatically assume that reaching for some car touch up paint is always the solution to paint scratches in your car. We will examine the options available for the "Do-it-Yourself" strategy.
Car Touch-up Paint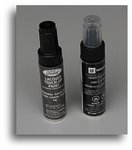 I will start here since this is the most obvious to people and represents one of the easiest forms of car paint scratch repair. These types of touch-up car paint applications can be purchased at the dealership of the make of your car. Generic forms of this paint can also be purchased at retail car care outlets, like Pepe Boys for example.
A rather quick and easy solution to paint scratches of substantial damage.
Use for the deep scratches where there is actual room for the paint to lay into.
Also a solution for rock chips normally frequently found on the leading edges of car.
This form of car paint touch-up can be problematic due to inconsistency of the paint in the applicators; often the paint will either be too thin and runny, or too thick and sticky.
Finger nail polish does work...in a pinch.
Permanent markers can also work in a greater pinch.
Car Paint Scratch Repair Removers
These types of products can be as simple as finding a polish with abrasives, to kits designed to do what is called wet sanding. The wet sanding kits are the most aggressive form of car paint scratch repair. Kits come complete with the necessary items for the sanding and polishing away scratches, or the diminishing of scratches. Shop from the products to the right for the exact kit that matches your needs.

The graph to the right illustrates the cut-away of the different layers to your cars body panels in regards to car paint. Most cars are finished with a clear coat layer, and when scratches are contained within this layer, the area can be sanded down until the scratch has been completely removed. Once the scratch is completely gone, an aggressive form of car polish is then used to polish away the sanding marks left by the sanding paper. Usually the sanding is done with what is called wet sanding paper since it is resistant to water, and used along with water. The area is then finished with a layer of what you would consider to be your choice as the best car wax review. Most experts follow what is called the fingernail test; if you can catch the edge of the car paint scratch with your fingernail, then most likely it is too deep for removal and should be left up to a trained professional. If you were to sand through the layer of clear coat, it will change the color of the base coat.
Darren's Recommendations
For a truly comprehensive approach to the many types of car paint scratches and chips, you will need to keep most of these forms of tools on hand. Some will be more superficial in nature as you may need immediate and temporary results. Some of these kits and products will be a more professional and lasting fix to your car paint scratch repair. I will break down the different tools and list their different uses for you. Once again, you can shop for many of them from the column at the right.
Nail Polish
Yes, it will work in a pinch.
Permanent Markers
Yes, these will also work in a pinch.
Since Sharpie has come out with even more permanent marker colors, you now have even more options for this temporary fix.
Rubbing Alcohol
A very common household product.
The first and easiest possible solution for surface marks of many kinds.
This will usually determine if you have a scratch, or a surface mark.
Often, additional scratches will remain below these surface marks once removed.
Car Polish
Your second step towards a possible solution to scratches or surface marks.
When using, start with soft pressure and rub back and forth until you start to determine aggressiveness needed.
Make sure the polish has some form of abrasives to it; like the example in the right column.
Both 3M products in the right column would fall under this category.
Dr. Colorchip
One of my favorites that can remedy much in the way of deep scratches and the various road chips.
LANGKA Wet-sand Kit
For use when you have a scratch that is too thin for touch-up paint, or for complete car paint scratch removal.
Use fingernail test to determine of it a possibility for wet sanding away.
Perfect for scratches with no edge to them and for complete removal.
Your head is probably spinning with information. Most people don't realize all the many variables when it comes to car paint scratch repair; I hope I have helped, not confused!
Home | About | About This Site | Privacy Policy | Contact Me
Home >> Car Wax > Car Detailing Prices