Cleaning Restoring Black Car Trim
Restoring, Preventing, Preservation


What is shiny paint if you have faded and dull black trim on your car? Cleaning restoring black car trim is easier than ever due to new products on the market.
Not only do products exist that allow you to protect black car trim at the same time you wax your car, but if your black trim pieces have become dull and faded, there are amazing products that are guaranteed to restore the black trim on your car to look better than new, and do so with little follow-up maintenance.
Follow along as I lay out the specific techniques and products I use professionally to not only maintain that newness to any of your cars black trim, but restore it to better than original if it has gone bad over time.
What You are Going to Learn:
How to clean and restore black trim.
How to maintain and preserve black car trim to begin with.

Cleaning and restoring stained black trim.

---

Cleaning Restoring Black Car Trim:
Starting with the Basics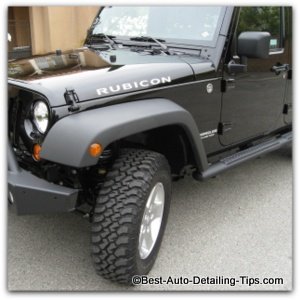 Not all cars are created equal when it comes to cleaning, waxing, and detailing. Due to excessive use of black vinyl trim and moldings on certain car's, these can become a nightmare for car owners and detailers alike. Just to name a few: Jeep's, Hummer's, Range Rover's, Mini Cooper's, etc., are a few of the red-headed step children of the industry when it comes to waxing and polishing around these troublesome black trim pieces.
"Darren, not only is my black trim stained with old wax, but it is faded and dull. There are so many products out there to choose from, what products do you recommend?"
---
Restoring Faded and Stained Black Car Trim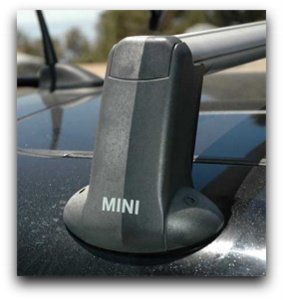 While it is possible to prevent the black trim on your car from ever aging or getting stained, I will address how to restore faded and stained black trim first as that is when most people go looking for black trim restoration products.
Darren's Professional Tips:
When it comes to black car trim restoration, you have a choice. The first choice is what I call the "Band-Aid" solution which is a semi-permanent "enhancement" versus a permanent restoration solution. The Black Wow is a great product, but officially, it is more of a band-aid solution as it is more about covering up the faded black trim versus truly restoring it like the Finish Solution product.
So based on your budget and desired results, you can choose which product fits best. The reality is that there are professional detailers that actually use the Solution Finish to restore the black trim, then use the Black Wow to add a higher level of shine as an on-going basis.
Darren's Top Pick for Black Trim Restorer
Since I know both the creators of "Solution Finish" and "Black Wow", I have had the privilege of discussing both products at length with both of the creators. Now depending on who you ask, will determine the answer you get.
I am convinced that Solutions Finish, which is a silicone free product, is your answer for true black trim restoration which is different than what I call a black trim enhancement product.
Darren's Professional Assessment:
Solution Finish


True restoration product
Silicone free
For a more original like appearance; not overly-glossy

Consider it like you would a permanent dye for your cars black trim
Formulated with chemistry with the ability to actually penetrate into the black porous material of black trim pieces on your car
Good for 6-12 months depending on conditions


Black Wow


What I would label as a semi-permanent enhancement product
Silicone based
For a more glossy finish
Good for 4-6 months depending on conditions
Can be used over Solutions Finish for a higher gloss appearance and for on-going maintenance if you prefer


Solution Finish Trim Restorer


Will return black trim to a more original state of "black" versus a high gloss effect created by the Black Wow.
A product I recommend and use professionally.

Black Wow Trim Restorer


Not a superficial dressing that washes off after the first wash. (Considered semi-permanent)
Will last months with one application.
Truly an amazing product and one I use professionally.
---

Prevention and Preservation of Black Vinyl Car Trim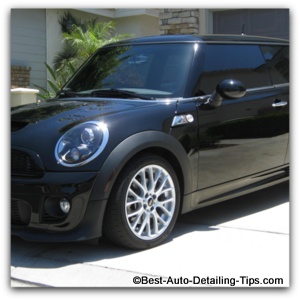 If you are a person with the misfortune of owning a car with any form of black trim pieces, you actually have a couple options when it comes to any and all of the many forms of black trim you can find on any given car; as all black trim pieces are not created equal:
Hard, smooth trim pieces.
Hard, textured trim pieces.
Softer, rubberized trim pieces.
Pure rubber trim pieces.
---

Preventative Maintenance of Black Car Trim
Problem: You except that your car's paint needs waxing and maybe occasional polishing. Most car waxes and polishes will stain black trim and moldings. What is the solution to this problem?
Like most areas of life, preventing a problem is easier and cheaper than fixing a problem. Despite some amazing products on the market that will restore any of your black trim pieces on your car to better than new, prevention still remains at the top of my list as to the best alternative. For this reason I added this section:

Let's pretend for a moment that you have a new car with ample amounts of black trim. And for the sake of this page, black trim can be any black material that is subject to fading from exposure to the elements, or staining from traditional wax products. These can include but are not limited to the following:
Fender flairs.
Mud flaps
Lower rocker panel trim pieces.
Door handles.
Sun-roof trim molding.
Window rubber gaskets.
Roof racks.

Etc., etc.
Solution: Modern day car waxes come in formulations that are non-staining. This means these car waxes can literally be used directly on any of your car's black trim pieces; regardless of the actual material the black trim is made of. This could be hard plastic to full rubber, to a combination plastic-rubberized material. 
---

The Benefits of Maintaining Black Car Trim

Pictured Above: Taken from a 5 year old Range Rover, these shots show first hand the benefits of modern day spray waxes can have on black trim (in their many forms) if maintained from day one. I have taken care of this Range Rover since day one, have never used any dressings or treatments of any kind, but have maintained with spray wax to keep the body trim looking like brand new.
---

Modern Day Wax Formulations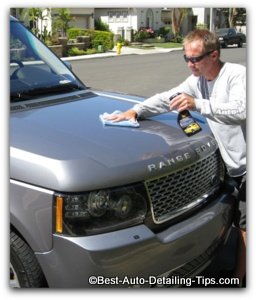 I have to admit, when I was first introduced to these marvels of the car care world, I was completely blown away; it was such a contradiction!
I had been taught initially, confirmed through first hand experience as time went on, that once you got wax on your cars black trim it was going to be stained forever.(This was before restoration products like "Solution Finish" and "Black Wow" existed.

The thought of applying a wax directly onto any black trim pieces regardless of whether it was 100% plastic or rubber, or some hybrid of both, was completely counter to what I had been taught.
But the reality is that through chemical engineering, we now have spray waxes along with a few paste waxes that are not only non-staining formulations, but can actually be used directly on black trim to keep it healthy and add some visual enhancement at the same time.
---

Enter the Next Generation of Car Waxes

Since there are numerous "next generation" car waxes that are what is referred to as non-staining formulations, I am reserving spray waxes only in the context of this page since it is the non-staining spray waxes that are not only non-staining, can be used directly over any and all of your car's black trim pieces, but will actually enhance and protect these black trim pieces just like a separate and dedicated dressing will; but now you can kill (2) birds with one stone.
The (2) spray waxes below are my favorites that can be used if you have a new car where the black trim has not faded or been stained, and cleaning restoring black car trim is not one of your problems, but would like to keep it from becoming a problem.


Meguiar's Ultimate Quik Wax


As easy as easy can get.
Ultra fine and light formulation.
Safe for any black trim.
Creates a slight sheen when used on trim pieces.
Excellent covering and hiding capabilities on black and dark colored paint.
Can be used in direct sunlight on hot paint.
One of my all-time favorites I still use professionally.
Can also be used to complete your project by using as a window cleaner/finisher.


Optimum Spray Wax


Same basic benefits as the Meguiar's from above.
Slightly thicker/heavier formulation...slightly.
Packaging directions say avoid use on surface temperatures above 90F. (but have used professionally on hotter temps than that)

---

Pay it Forward:
Cleaning and Restoring Black Car Trim
I bet you know of at least one or two people in your world that can benefit from the information I have spent much time putting together. You can help me by passing this along or by posting to your favorite social media or forum.
I thank you in advance and good luck with your car's black trim!

---
Home | About | About This Site | Privacy Policy | Contact Me
Home

>
How to Detail a Car
>>
Cleaning Restoring Black Car Trim