Cleaning Restoring Black Car Trim
Expert tips for success!

Cleaning restoring black car trim is usually a (2) step process. Black trim pieces will naturally fade and discolor over time from sun exposure and lack of proper care and maintenance. Black car trim pieces can also be discolored and stained due to improper application of traditional car wax products. While many non-staining car wax products exist today, it becomes a rude awakening as many unsuspecting people realize their hasty wax applications has resulted in stained black trim! Not only are most consumers unaware of this potential problem, but some cars are constructed using much more black plastic trim pieces than other cars; Jeep Wranglers, Mini-Coopers, Range Rovers, and Hummers are a few examples. If you find yourself trying to restore black plastic trim, or how to remove wax from plastic trim, then follow along as we dissect this common problem.
Cleaning Restoring Black Car Trim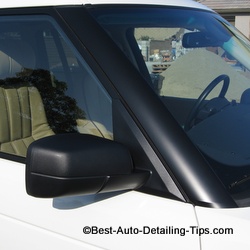 Some cars have much in the way of black trim pieces while others have no form of this material at all. And then there are certain cars, trucks, or SUV's that are notorious for an over-abundance of this difficult material that many people are uncertain as to how care for. To make matters even more difficult, there is no no shortage of conflicting opinions at to what proper care and maintenance of this material requires. I will break this topic down into the (3) areas of concern when it comes to caring for black car trim.
How to remove car wax from plastic trim.


Cleaning restoring black car trim and molding.


How to prevent black car trim from ever becoming stained or faded.
How To Remove Car Wax from Black Trim:
Sloppy applications of car wax can result in black plastic trim pieces becoming stained. Removing car wax from plastic car trim will be something many will face due to either their own mistakes, or as a result of a previous owner. The good news is solutions exist to remove wax stains from black plastic trim if you find yourself in this predicament.
What You Need for Cleaning Restoring Black Car Trim
3M General Purpose Adhesive Cleaner 12 oz. - 38983
Cobra Detailing Brush Kit
Meguiars Ultimate Quik Wax
Darren's Professional Tips
The process of removing car wax stains from your black trim pieces will require multiple steps.
Use the 3M cleaner to clean excess wax from around black vinyl trim and trim itself. Follow directions on can and use along with appropriate brush and rag.
Use Meguiar's Ultimate Quik Wax to apply wax to treated area to enhance and protect car paint, as well as vinyl trim piece. This is not a mistake; use this spray wax directly on car paint and trim piece itself. Due to modern advances in chemical engineering, there are now wax products that are trim safe and do not stain black trim. Not only will this product not stain the trim pieces, but will actually help to create a natural sheen that is not excessive as with other heavy dressings.
How To Restore Black Car Trim
Black trim stained with car wax is not the only problem people face when it comes to black vinyl trim pieces on their car, truck, or SUV's. Without proper maintenance from the beginning, your black vinyl trim will become dull and faded over time. Today we have more choices than ever with car care products, and great products like Black Wow exist. The kit from Black Wow is a complete cleaning restoring black car trim kit that includes everything needed to clean and restore that healthy shine and beauty to all your black trim pieces.
Black WOW Prepare to be WOWed Kit - 2 oz.
Darren's Professional Tips
Whether you are working on your Jeep that has been stained with excessive off-roading, to staining due to sloppy car wax applications, use the Black Wow to take your black trim to new levels of appearance and protection. Just follow manufacturers directions to achieve a higher level of clean and enhancement for any of your black trim pieces.
How To Wax and Maintain Black Vinyl Trim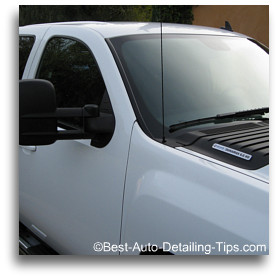 Believe it or not, it is now possible to wax your black vinyl trim pieces the very same time as you wax the paint on your car, truck or SUV. Jeep owners can rejoice as the days are gone of meticulously trying to stay within the lines and avoid the black trim pieces during wax applications. Imagine the time saving abilities of a wax product that is completely safe for black car trim and molding. If you are looking for that subtle, healthy look to all your black vinyl trim pieces then look no further than the Meguiar's Ultimate Quik Wax. If you like a glossier look to any of your black trim pieces, then go with the Black Wow from above.
Meguiars Ultimate Quik Wax
Darren's Professional Tips
This amazing product is one of my all time favorites! An absolute must for any dark colored car, truck, or SUV. The list of benefits is long:
Non-staining formula; will not stain black trim.
Actually recommended as a vinyl trim protector.
Wax everything all at once.
Can be used in direct sunlight on hot paint.
As easy of a product you will ever use.
Thank you for visiting "cleaning restoring black car trim". I bet you know of at least one other person who would benefit from the information here, so please post this to your FB or Twitter account. Or just send them the link and pay it forward. I have made it super easy with my Socialize It button box below.
Home | About | About This Site | Privacy Policy | Contact Me
Back to How to Detail a Car from Cleaning Restoring Black Car Trim
Back to Best Auto Detailing Tips Home