Mothers Clay Bar Review
Mothers is good, but there is better!


Mothers clay bar review is going to show you why Mothers car care products continue to be a popular favorite amongst car owners and car enthusiasts alike. While I do not see Mothers detailing clay in use at a professional level, it remains a quality product for any driveway detailer and car owner alike. Detailing clay continues to remain mostly obscure from the masses despite detailing clay having been around at the professional level for a very long time. This is unfortunate as so many people remain ignorant to the amazing tool! Follow along as I review Mothers clay bar to see how it stacks up in the real world.
What We are Going to Learn:

The Mothers Clay Bar Review
Does Mothers stack up?

Professional alternatives to Mothers clay bar
Darren's professional tips
Mothers Clay Bar Review
Mothers car care products have been around since what I call the beginning. They remain popular and have a following that remains both loyal and zealous! I am a big fan of Mothers products and can recommend them to any driveway detailer or committed car owner alike. While I do not use any of their products at a professional level, they do provide excellent results. The following highlight the pros and cons of the Mothers clay bar:
Generally come in Clay Bar Kit only; this is a good thing as you get multiple products in order to complete the task.
Mothers provides (2) smaller clay bars instead of a single and larger piece of detailing clay.
Yellow clay bars are mild in aggressiveness and will suffice for most levels of fall-out except for excessively heavy cases.
Will last longer than product label recommends. (generally the case with all the clay bars)
Does Mothers Clay Bar Stack Up?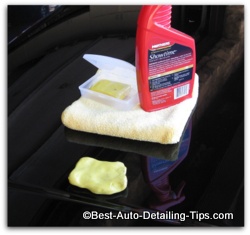 If you are a committed Mothers fan, then you will nt be disappointed in their version of detailing clay. As I said above, it will perform for any driveway detailer and car owner. It would be hard to tell the difference in the many clay bars available on the market today if you were blind folded and asked to use. One of the big differences is simply the size of the bars. Since I have never used one of these long term professionally, my only concern would be their ability to hold up to day to day use in the professional world.
Mothers Clay Bar Alternatives
For many people, good enough is just that; good enough. And for all those people who operate under this philosophy then you needn't look any further than this Mothers clay bar review to see that the Mothers detailing clay will be just fine. But for those looking to take it to the next level of performance and think good enough rarely is, then let me offer an upgrade in performance with the following recommendation:

Meguiars Professional Detailing Clay - C2000
Meguiar's Professional Clay Bar:
Truly professional grade
Full sized clay bar
Mild grit that will suffice for 99% of any fall-out removal tasks
Comes separately, without any clay bar lubricant
Darren's Professional Tips
Just like most areas of life we have what we are taught based on certain agenda's, and then we have what I call the real world. My recommendations and tips are always based on the real world, so despite what you have heard or read, I am going to lay out my professional tips that I know personally work in the real world:
Mothers clay bar will perform for virtually any person working on their own cars.
Meguiar's professional clay bar raises the bar in overall user experience.
Every car that spends any amount fo time expossed to the out-doors will eventually need to be clayed.
Most new cars will benefit from initial clay bar use.
Many people will cling to the notion that clay bars must be used with the recommended lubricant; I actually use the clay bar positioned underneath a wet/damp chamois during use.
Detailing Tips Home

›
Clay Bar Reviews
› Mothers Clay Bar Review
Home | About Darren| About This Site | Privacy Policy | Contact Me