How to Polish Cars
A System Guaranteed to Deliver a Swirl Free Finish!



When it comes to detailing, very few things rise to the top of the list than does the desire to polish cars! Very few things stir the soul like a freshly polished and waxed car.

Unfortunately in this digital age in which we live, many of you will likely be experiencing what I refer to as information overload; endless opinions as to what to do and what to use. 
And when it comes to car buffers and car polishing, the endless horror stories from misinformed people only make matters worse and will likely leave many of you feeling like you are chasing your tail from one car polisher review to the next. In the meantime you are not any closer to realizing your dreams of the satisfaction that comes from the ability to polish a car to professional grade results in a safe and timely manner.
"I want to learn to polish cars but I am so confused! How do I know which car polisher to buy or which car polish to use. I am tired of the endless opinions!"
You are not alone!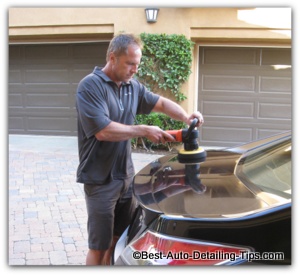 Car polishing is a topic full of endless opinions and endless choices when it comes to what kind of car polisher to use and which car polishes are best.
Like every other area of life though, polishing your car has become easier than ever due to technology and engineering. The industry has finally responded with a system of tools and polishes that bring professional grade results to the true new beginner.
---

As Simple as Simple Gets!

(Warning: if you do not see any pictures or links to the recommended products, you need to disable your ad-blocker that is installed into your browser window)
What if I was to tell you that polishing your car with an actual buffer is so safe and easy that a true beginner that has never even touched a power tool in their life, is now completely doable and a true reality!
Thanks to the overwhelming response of the industry to take what was reserved for experienced professional detailers, the industry has produced equipment and products that a true novice can use right out of the box and achieve a level of results that were impossible until very recently.

The Car Polisher:

Meguiar's MT300 Pro Power DA Polisher
(Clicking on the picture or text link below will open a separate window into Amazon to get yours now)


Meguiar's MT300 Pro Power DA Polisher
From true beginner to experienced professional.
As safe as safe can get to polish cars and take your car from ordinary to extraordinary.

Get professional results straight out of the box.
Likely the last and only polisher most of you will ever need or get.
Countless positive reviews.

Sure you can spend more on a car buffer and perhaps feel more like a "professional", but I can promise you that you really can keep it simple and this car polisher will take you farther than most of you will ever expect or require.
Complete Car Polishing Kit:
Meguiar's DA Micro-Fiber Correction System
(Clicking on the picture or text link below will open a separate window into Amazon to get yours now)





Meguiar's DMCKIT6 DA Microfiber Correction System Kit
Comes with everything need to use with your Meguiar's MT300 DA polisher from above.
2 Micro-fiber cutting pads/discs
2 Micro-fiber finishing pads/discs
6 inch backing plate.
Correction compound.
Finishing wax.
Meguiar's black apron.
"The industry would have you believe you need at least 3 levels of compounds and polishes. Most companies would have you buy even more than that. The reality is that not only can you get by with two basic levels of polish, but I have done so most of my professional career and continue to do so today."
---

Darren's Professional Tips:
Polish Cars like the Pros

"Do you really want to spend hours upon hours reading the endless reviews, or would you really like to get your hands on a proven system and start getting the results you are looking for?"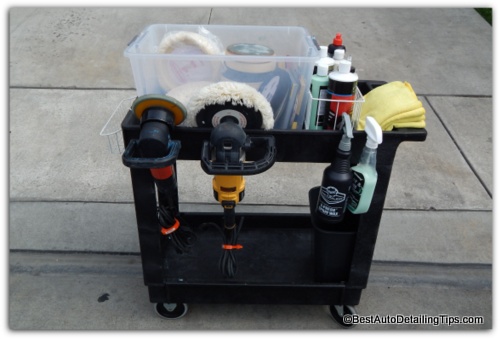 Part of my kit I use professionally to polish cars. There are endless choices in car buffers, compounds, and polishes. Trust me on this; you really don't need to overthink it from the beginning. I really have dedicated this page to helping you keep it super simple while teaching you how to get true professional level results!

I told you it can get confusing quickly!
because most people are looking to simplify their life not complicate it, I suggest the list of tools and products above:

The buffer is one of the top performing DA buffers available.
The polishes will be all that any of you will ever require.
Some of the actual polishes I use professionally. (not the only polishes I use as I am continuously testing more and more products as they enter the market)
The list of tools and products here are perfectly suited for a true beginner to a seasoned veteran like myself.

Don't forget to prepare the paint surface by removing embedded contaminants by using detailing clay first. This is a critical step and will greatly affect your finished results.

Pay "Polish Cars" Forward

Yes, you can help me by paying it forward! I bet you know of at least one other person in your world that might benefit from this page of information. Whether you want to share the link on your favorite social network, forum, or simply though an e-mail.
I thank you in advance!


---
Home | About | About This Site | Privacy Policy | Contact Me
Home Page

>>
How To Section
> Polish Cars