Porter Cable Polisher
Why this buffer could be your top pick!


The Porter Cable Polisher is a top rated car buffer that continues to receive great reviews as well as a dedicated following of enthusiasts and professionals alike. In search for the perfect car buffer many people will oversimplify the process and fail to ask the right questions in order to come to the best conclusion. Asking a hobbyist their opinion of a select car polisher will get you a very different answer then a seasoned veteran; or would it? Experience has shown me that many people lack the experience to even ask the right questions in the first place, and therefore come to limited conclusions.
Asking the Right Questions
What is the Porter Cable polisher?
Is the Porter Cable really the safest car buffer?

Why choose an orbital polisher over a rotary buffer?
Is the Porter Cable buffer a good choice for my needs?
What is Darren's personal opinion and tips?

Follow along as I help you ask the right questions in order to come to the right conclusions in your search for the best car buffer for you!
Porter Cable Polisher Review
The Porter Cable buffer (buffer and polisher is an interchangeable term) is what is called a DA (dual action) or random orbital buffer. It has two circulating points to the head which is why it is referred to as dual action. Think of the earth as it spins while simultaneously rotating around the sun. It was designed as a safe alternative to the infamous high-speed, or rotary car buffers, as well as designed to replicate the motion of your hand in the form of a power tool.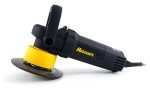 Random Orbital: Means the orbiting is random and not forced through gear operation. When too much pressure is applied, the rotation stops while the spinning continues. This is why these random orbitals are so safe; it is virtually impossible to generate too much friction or heat when polishing. The Porter Cable is a random orbital.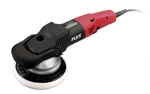 Forced Rotation Orbital: The second type of orbital buffer is the forced rotation which means that both the spinning and rotation are gear operated and cannot be stopped with pressure. These types of orbitals offer greater polishing abilities as they can produce additional levels of friction and heat as compared to random orbitals, but still lack the ability to create the heat and friction that can be produced through use of high-speed rotary polishers. The Porter Cable is a random orbital as explained above.
The Safest Car Buffer Available
Indeed the Porter Cable is often referred to as the safest car buffer and therefore ideal for the true beginner, but the reason this polisher is so safe has nothing to do with it being a Porter Cable, and everything to do with the fact that it is a random orbital buffer. The many car forums are filled with limitless people willing to echo the fact that this buffer not only has a big following, but represents a viable answer to beginners and car polishing. Long has been the cry of beginners and car enthusiasts for a safe alternative to rotary polishers, and numerous manufacturers have risen to perform.
Orbital vs. Rotary Car Buffers
Orbitals do represent a safe and effective means of car polishing. But the very reasons these buffers are so safe is the very reasons their abilities are limited. The Porter Cable is reserved for fine or light polishing such as swirl removal. While high-speed car buffers are consider dangerous by many, this is an unfair label as any tool can be deemed unsafe when used improperly by the inexperienced. The fact is that the latest generation of rotary polishers represent the widest range of uses, along with reduced speed settings that allow these polishers to be as safe as any orbital buffer. You can see my in-depth review of automotive polishers to see if you come to the same conclusion.

Choosing the Porter Cable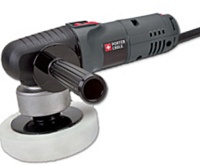 Despite the newly designed rotary polishers, many people will still choose the safety and popularity of the Porter Cable polisher. This quality polisher does have plenty of benefits and there is little wonder as to why it remains so popular:
User friendly design.
Reasonably priced.
As safe as safe gets.
Many professionals and enthusiasts alike ever move past this polisher.
Ideal choice for any beginner and someone looking to perform light duty polishing to their cars.
Also a quality finishing tool for swirl removal.
Huge fan base due to customer reviews.
Darren's Professional Tips: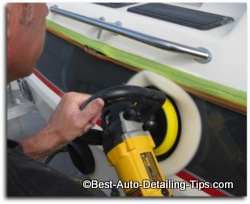 In a perfect world non of us would be limited by our pocket books and we would all have each buffer type in our tool box to pick and choose from.With that said, most people will not be able to buy multiple buffer types and therefore are looking to find the one buffer that represents the greatest amount of uses and benefits. Use this list to ask yourself the following questions:
Do you have any experience with a buffer?
Do you know you are strictly going to be polishing your own car and want to keep it simple?
Are you an enthusiast and enjoy learning new skills and plan on learning more and more with polishing?
Are you an enthusiast looking to possibly enter the world of professional detailing?
Are you currently a part time detailer looking to take your polishing to the next level?
Which Group Are You?
Review the categories below to see which conclusion best matches your situation:
Category 1: Safe and Easy-
You only want to do minimal polishing on your own car for simple paint enhancement and minimal surface scratch removal.
You don't want to over-think things.
You want really safe; this is as safe as you could possibly get.

You want a reasonably priced and quality tool.
You have very little, to no desire to move past this level of polishing.

Porter Cable polisher only accepts foam polish pads.

Answer: Porter Cable Polisher
Porter Cable 7424XP Intro Pad Kit - Choose Your CCS Pads! FREE BONUS
Category 2: Enthusiast, Hobbyist, Professional:
You want safe; virtually as safe as any orbital.
Slightly heavier and bulkier than the orbital from above.
Widest range in speeds; 600 - 3500 RPM's.
Widest range of uses; car to boats to RV's; fine to heavy duty polishing.
Widest range of polish pad choice; wool to foam.
My personal favorite and the choice I would make for the majority of people due to the widest range of abilities.
Answer: Makita Rotary Buffer:
Makita 9227C Rotary Polisher 8.5 inch Pad Kit
Still makes my top pick of car buffers.
New lower speeds mean ultimate in safe.
Widest range of uses and abilities.
You just can't go wrong with the Makita.
Have used professionally for years.
Yes, I would personally recommend over the Porter Cable Polisher for most people.
Home | About | About This Site | Privacy Policy | Contact Me
Best Detailing Tips Home

›
Auto Polisher Reviews
›
Porter Cable Polisher