Best Car Polish
The Expert is here to help!

"Darren, I just want shiny paint! I feel like I am chasing my tail from one opinion to the next. I just want products that are simple to use and deliver great results but; everyone has a different opinion!"
Your quest for the best car polish will likely drive most of you mad!
You don't have to be a car fanatic to want clean, shiny, and polished paint. Some of us simply want to maintain the value of our cars and understand that polishing and waxing are a requirement.
There is also many of us looking to enhance the look and beauty of our car paint which leads us to the frustrating search for the best auto polish!
Chances are you already have a garage shelf full of different car polishes; most of which probably claimed to be "the best car polish" when you bought them. Yet there they sit, collecting dust on your garage shelf and here you are looking for something that will actually work!
The Best Car Polish:
The Good News and the Bad News
Yep, I said it...
The very fact that in today's world of advanced engineering and chemical formulation there are almost endless choices when it comes to finding "the best car polish". Personally I am not a huge fan whenever anyone labels something as the "best". Ultimately only you can decide the best for you. I am simply tying to simplify an overly opinionated and complex subject.

But this also happens to be the biggest problem and you will be part of that problem. It usually plays out something like this:
You want your car paint to look better than it does now.

You go looking for some car polish.

You are buried with endless choices and countless car polish reviews.

You finally pick one and it works.....

But then you hear of another one; so you try it.


Then you read about a new one and you try that.
"Most of you will become your own worst enemy; seduced by one car polish after another, dressed up in slick packaging and marketing. As guys obsessed with shine, we can't help ourselves."
Do You Really Want to Shop...
or do you really just want a shiny car?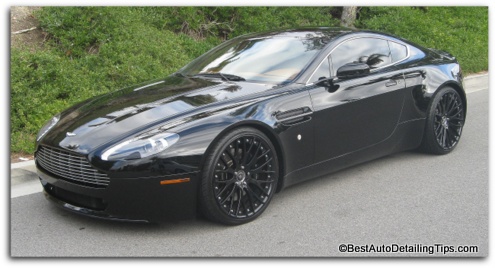 "Let me help you find the best car polish based on a simplified approach and taken from my 25+ years of professional experience"
(Don't believe me? See my professional detail site here)
---

Polishing Your Car By Hand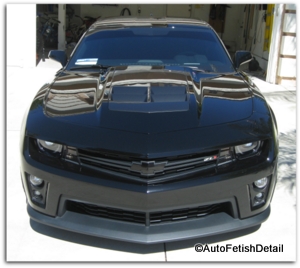 While there are many people who advise against ever touching your car with a buffer of any kind, these people simply don't know what they are talking about.
As a rule, due to the amazing new products and polishers on the market today, the only reason I recommend polishing a car by hand is for the following:
You're just not that committed to the time and energy to use a car buffer.
You only have small sections or areas of your car that need just a little "help".
You don't have the money to invest in a quality car buffer and need an alternative.
Since any cleaning and polishing of your paint will need to be finished by laying a coat of wax or sealant, all these kits contain a finish wax or sealant.

If you answer yes to any of the following, then let me recommend the following kit:
---
Wolfgang Deep Gloss Concours Kit



Wolfgang Deep Gloss Paint Sealant Total Concours Kit
Complete kit that can be used by hand.
From car washing, paint decontamination, polishing, and sealing.
---

Professional Grade Car Polishes: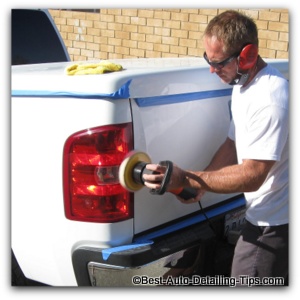 Here I am using one of the exact Griot's Garage car polishers on the back end of this Chevy truck.
There really is a difference between what is often referred to as enthusiast grade, and professional grade. The kinds of car polishes you are going to find off the shelves at the big, national auto parts stores are not going to be true professional grade. In fact most any of the "best auto polish" you will find in these stores will not be a true polish. (a true car polish will need some form of abrasives to actually remove paint blemishes and restore the shine permanently, rather than simply covering up using fillers, silcones, and waxes)

But don't let the word professional scare you away if you are a beginner. The irony is that professional grade car polish not only delivers better performance, but delivers a much better and easier user experience than what you will find with retail products.

See the reviews below to help determine what you will consider the winning balance for you and your world. Let me bullet point the starting point rules for any of the polishes below:
They can all be used by hand or machine regardless of what the labeling says.

You will not go wrong with any set of polishes you decide.

Both brands will deliver superior performance.

Best Car Polish:
Welcome to the world of 1-step and All-in-One
Amazing how a simple search for the best car polish suddenly turns into an overwhelming list of different types of car polishes, as well as different grades of car polishes.
So as much as I try to reduce your choices down to a simplified moment; everyone is different and every person like yourself comes to this page with different understanding, needs, and experience. So with that said, I have categorized this page based on those facts. Hopefully I have limited to to the basics that you can then make a selection from.
1-Step Compounds and All-in-One Compounds: This is a bit of a confusing area of car polishes for any beginner. They are closely related, but have one main difference. The All-in-One (AIO) have compound/polish/and a sealant all in a single product.
The 1-Step is simply a compound/polish combination, but does not have any form of wax or sealant in it so you must follow up with a 1-Step with your choice in a car wax or car paint sealant.

See the reviews below.

Scholl Concepts 1-Step Compound
The actual 1-step compound I use int he video at the bottom of this page.
A truly amazing compound that finishes as a polish.
One of my top favorite lines of polishes and compounds.
True professional grade polish.
I could definitely label this as the best car polish due to its versatility, performance, and user experience.
The ability to eliminate so many other compounds and polishes that most of you will find redundant, or lack the skill set to know how to decide between endless polish choices.
This literally can be used as you only compound and polish from start to finish.

HD Speed All-in-One (AIO)


HD Speed All In One Polish/Wax - 32 oz. | Clear Coat Car Polish and Wax in One | Paint Protection, Swirl Correction | Perfect for Auto Detailing & Restoration | Gel Coat Friendly
One of my favorite AIO (all-in-one) car polishes.
Simplified approach to getting everything in a single product.
Top rated product among professionals and on Amazon.
Menzerna AIO (all-in-one)


Menzerna CGW One-Step Polish 3in1, 32 oz.
Menzerna's version of an all-in-one.
A top rated car polish among professionals and on Amazon.
Another one of my favorite all-in-one car polishes.
Car Polish Bundles
And here we are at another layer to finding the best car polish. What many would call car polish kits. But unlike to complete car polishing kits below that also comes with car polishers, these are simply the actual car polishes only. And each kit has their own variety of compounds and polishes.
The rule is simple:
The worse your paint is, the more aggressive you will have to start with to remove heavy paint defects.
The more aggressive you are required to start, the more steps you will need to finish to a swirl free finish. (if you are a true beginner, you will likely be too afraid to start with the most aggressive compounds despite the fact that you still remain in complete control based on buffer speed, amount of pressure, and duration of polishing time per section)
Ultimately, any of the polishes and kits on this page promise to produce great results.

If you are a true beginner; simply pick one and get yur feet wet. Then you can move forward with additional products and polishes.





Chemical Guys GAP_VKIT_101 V36 Optical Grade Cutting Polish and V38 Final Polish (16 oz) (2 Items)
This combo is the kit I would recommend to 95%
It represents what I consider the winning balance for most of you: cost, size, quality, and allows you to get your feet wet before sinking a bunch of money into a more comprehensive line of compounds and polishes.
Most beginners will not the know the difference between flawless paint, and really, really shiny paint so you don't need to over-think this at the beginning.
If you actually catch the bug of car polishing, I promise you will be forever testing out more and more polishes in the future. But right now, you just need to get your feet wet.
These two polishes are an ideal place to start.
Chemical Guys



Chemical Guys GAP_VKIT_16 V Line Polish and Compound Kit (16 fl. oz) (4 Items)
This is a more comprehensive line-up of polishes that include more aggressive compounds for serious defect removal.

Some people like have a more comprehensive line of compounds and polishes to pick and choose from, while others are overwhelmed by it.

Chemical Guys products are a serious favorite for many enthusiasts and professionals alike.
The kit starts out with an aggressive compound and finishes with a very fine polish.
Better price point for beginners who are just entering the area of car polishing.
Menzerna


Menzerna Super 3500, Medium 2500, and Heavy 1000 Polishing Compound Kit
Menzerna is true professional grade polish as you can tell by the size and the price point of these polishes.
The actual polishes I use the majority of the time when I am detailing professionally. (I am forever testing products as they come out, so I always have many different types of polishes with me)
Perfect for anyone regardless of experience, but due to the larger size and cost, unless you know you are in this for the long haul, you will likely want one of the less expensive Chemical Guys polishes from above.
"You can sit and read endless reviews and still not be any closer to polishing your car than you are now. Accept that as you progress in technique and experience you will not be able to resist the temptation to buy and test more and more car polishes. And one day in the future you will walk out in your garage and realize you have enough products to fill a small store!"
Polishing your paint is about starting with the most aggressive compound to do the heavy lifting in paint correction, followed by progressively finer and finer polishes until you have perfection.

Now your car is ready for a top rated car wax.
Before you use any of the polishes/compound, it is critical to start by decontaminating your car paint first, and I mean FIRST!
---

All-in-One Car Polishing System
For those still stricken with fear, non-commitment, or simply looking to keep things ultra simple!


There's not an area of life these days that has not been dramatically improved through the advances of technology, manufacturing, and chemical engineering...
The world of surface car care is no exception!
The first kit below is the only car polishing kit that many of you will ever need, and many of you would label as the best car polish as the kits contain everything needed to actually do want you want to do, and that is polish your car, not just read another review on the top rated car polish.
Between this quality, entry-level DA car polisher and the rest of the quality polishes, pads, and supplies, it is a perfect fit for many beginners who are still "testing the waters" before they commit to more expensive tools and products.
(Trust me; I totally get it! You want a really great system, but you're just not quite sure how committed you are.)
Griot's Garage All in One Paint Correction



Griot's Garage 11620Z Orbital Correcting and Wax Kit
Since I don't know each persons experience or skill set who comes to this page, I like to lay out options for as many people as possible. If you are here truly looking for just the best car polish, then the car polishes above will deliver for you. But if you are here thinking you want the best car polish to polish your car by hand but have always wanted to learn how to use a buffer, then the two kits below are an ideal staring point for some specific reasons:
These modern day dual action (DA) random orbital buffers are as safe as safe will ever get.
Dismiss all the bad stories you have heard about car polishing gone bad. (these almost always are associated with high-speed, rotary car polishers)
I don't care how strong or dedicated you are, you will never be able to polish a car by hand only, and achieve the same level of results that can be produced by a quality car polisher like the ones below.
Either of these kits contain everything needed for amazing results even if you have never even held a car buffer before.
You also will not be over-paying for one of the glorified, name brand car polishers that much of the detailing world has been lead to believe you need.
Torq


TORQ BUF501X 10FX Random Orbital Polisher Kit (Polisher + 9 Items)
So easy, any beginner can produce professional looking results with your very first time.

Everything you need to restore shine and luster to your car paint while removing surface imperfections.
You will seriously amaze yourself at the results YOU are able to produce!
A true game changer for the driveway detailer or complete beginner!
Either polishing kit will likely be the last car polishing system you will likely ever need....until you can't stand it any longer and you have to go shopping for the next shiny new toy.
Unlike the Griot's car polishing kit above, this kit does not contain any detailing clay which is a critical step for truly professional results.

Griot's Garage



Griots Garage BOSS G21 Long-Throw Orbital Polisher Deluxe Kit
When you know you are committed and you want to go high-performance.
For those truly committed and have the budget for it.
Once again, this particular kit does not contain detailing clay despite its higher price and more comprehensive line-up.

Best Car Polishing video

Watch the video below where I demonstrate the Scholl Concepts 1-step compound on a black Mercedes E63 AMG. One of my favorite products that eliminates the need for the vast assortment of compounds and polishes that many people think they need.Not the only great product out there, but definitely what I could label as the best car polish.

Watch below as I use some of these exact car polishes in direct sunlight, on hot paint, to bring this black Mercedes to a level 9.5 in shine and perfection. One of the things I look for when choosing the best car polish is the ability to use that best car polish in direct sunlight, on hot paint. Virtually ever car polish or compound on the market will say to use on cool paint out of direct sunlight. But with a little experience, you will be able to finesse any of these best car polishes in any situation you are required to work in.
As a beginner, I would definitely recommend following any labeling instructions as you get your feet wet, then you can begin to break the rules from there.

Home

›
Car Polish
› Best Car Polish