Best Car Waxes:

The ONE thing you aren't thinking about
Finding the best car waxes within the overly saturated market that exists today will be like trying to hit a moving target; every time you think you have the cross-hairs set, the target moves on you!
Any trip down the car care aisle will make your eyes roll back in frustration at all the choices available!
"What good is the best car wax if that wax never makes it onto your car?"

What I am describing here is as much about the user experience, as it is about the characteristics of the wax you have decided is the best car wax.

With so many voices screaming for your hard earned dollars through brightly colored packaging and strategic labeling, it is a difficult decision!
My goal is to help weave your way through this overly-saturated area of car care by educating you to become part of a select group of people called the informed, and to specifically educate you based on my experience as a professional as well as let you know what I do in my own world.
Best Car Waxes and the Endless Hype!
"Darren, I am frustrated by the endless hype and countless choices. Can you help me narrow it down to a few of the top rated car waxes that are easy to use and delver exceptional results?"

YES! I can do that...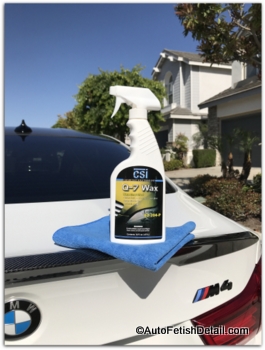 But first things first.

As a rule, wax is for (2) specific purposes:
Protection

Visual enhancement



Often people will become overly fixated on only one of those key points and forget about a very big part of the equation which is the user experience.
After all:

"What good is finding the best car wax if the experience of using that wax completely SUCKS!"
Let's say you have found the best car wax ever made (whatever "best" means to you). But now you go to wax your car and find that the best wax you have chosen completely SUCKs as far as the user experience goes.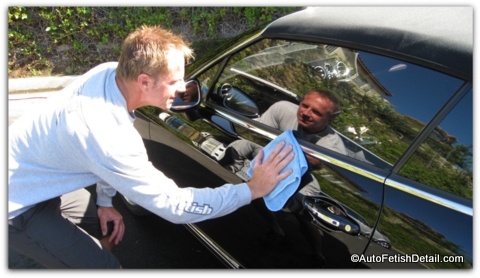 Now the greatest wax in the world is completely worthless because you have found the user experience so miserable. Now the only purpose this so-called "best car wax" serves is to take up space on your garage shelf and collect dust.
I am certain you already have plenty of those so-called best car waxes. Now you want something that truly represents the winning balance of all factors:
"Performance AND user experience!"

So I don't care how "great" that car wax is; if it never makes it onto your cars paint... it is worthless!!
"Don't underestimate the value of an exceptional user experience in picking out the best car wax."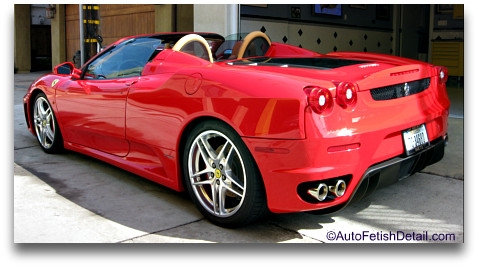 My top picks in car waxes listed below all present what I consider the winning balance in features:
Reasonably priced
Picks from all the different car wax versions: paste, liquid, and spray
Protection from the elements of weather
Performance in visual enhancement
Great user experience!
All are easily available (can someone say Amazon!)

Ultimately a persons pick from the best car waxes will be based on not just the standard requirements most of us accept, but will be a personal preference based on type of wax: paste, liquid, or spray. And for this reason I have laid out my top picks of car waxes that offer something of each version.
Darren's Professional Tip:
Often people don't fully understand the fact that wax is not going to fix flaws and blemishes in your cars paint, but simply help to cover and conceal them. For optimum results, I suggest you polish the paint on your car first.
...and yes, you really can perform high level polishing with my tips at car polishing for beginners.

All the waxes below promise to perform and deliver exceptional results regardless of product you choose. With that said I will add these important points: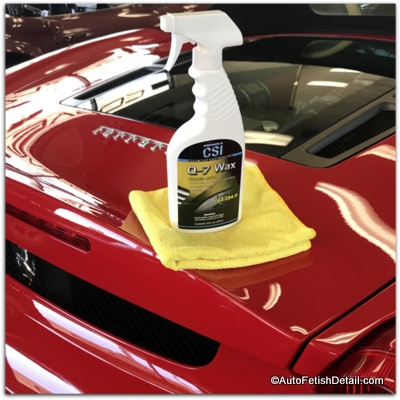 Every person comes to the table with varying levels of experience in car care. Some people have a highly trained and highly critical eye, while others don't. This leaves room for the endless opinions and recommendations when it comes to the best car waxes. 

I have yet to find any wax (spray, liquid, or paste) that can finish to what I consider flawless results. It's just the nature of any of the countless car waxes and sealants. But with that said, any of the wax recommendations on this page are all waxes that I believe deliver above average results.

Within my career as a professional detailer, I have learned that when I am looking to achieve the highest level of visual results, I am going to follow any wax application/removal with a quality spray/quick detailer. If you are a perfectionist like myself and especially if you are working on a dark/black colored car, I highly recommend you get a gloss enhancer/spray detailer to use after you have completed your wax application. At the following link you can see and read about all my spray detailer/wax recommendations.

Simply follow the labeling instructions on any wax products below. As a rule, apply your choice from the best car waxes recommendations every 1-4 months. The more time your car spends in the sun, and the longer you go in between car washings will mean you should wax your car more often, not less often.

If you are a true beginner or have never heard of decontaminating your car paint or using detailing clay, then you will need to get yourself a clay bar kit and do this first. Many people underestimate how this will affect every step of the process: the finished results, the ease of application, and the removal.

---
"What Would Darren Do"
(WWDD)
Many of my long term followers don't have the time or desire to read all the information I put together to educate. Often a guy (or girl) simply wants to know what product I would pick or which method I would follow. So I call these sections the "What would Darren do" and put them at the beginning of my specific product recommendations if you are one such person.
And before I even answer with a specific answer as to what is consider the best car waxes; I will always say that the wax you are willing to use more often not less often is what I also consider among the best car waxes.

Best Car Wax: My sure thing!
The ease of a spray wax ( I prefer spray waxes in most cases)
Non-staining formulation (Won't stain black trim and is actually recommended to use on black trim to maintain the health and beauty of black trim just like the product does for your car paint. This is the very product that first introduced me to a car wax that doesn't leave a white, chalky residue and won't stain black trim. I never would have thought it even possible.)
Can be used in direct sunlight on hot paint. (Once again; never thought this would even be possible but it is. Virtually ever wax product will say "For best results, use on a clean, cool surface" and this product is no exception. But I also know that extreme temperatures of heat or cold affects anything to do with chemistry. So I understand manufacturers putting this on their labeling. With that said I have used this product almost exclusively for the past 10 years in direct sunlight on warm to hot paint.)
No hyped-up marketing or packaging of this product. (most waxes claim to have UV inhibitors or UV blockers. I have yet to see or read a single scientific study that can prove this claim. And yet virtually every wax product makes the claim. I accept as a professional with enough knowledge of chemistry and formulations that no wax will have the ability to filter out UV rays as labeling would imply. So I appreciate when a company doesn't follow the competition and make claims that cannot be substantiated.)
Body shop safe (The entire CSI line of products-ClearCoat Solutions Inc.) was designed and formulated as a true commercial/professional grade product line. This means it must be usable within the body shop environment.

Contains actual carnauba wax. (Due to it's formulation of actual carnauba wax, there will be slight separation of the product. When using the Q-7 wax make sure to shake well before use)

Darren's Tip: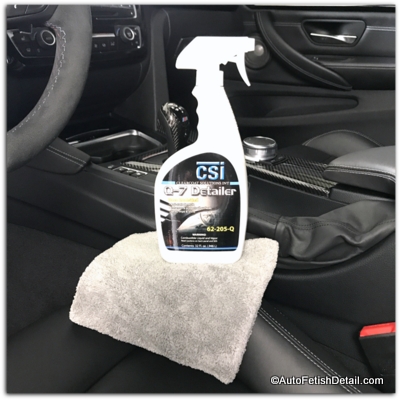 Professional experience has taught me that very few car waxes (regardless of type: liquid, spray, or paste) have the ability to finish with flawless results when it comes to a black or other dark colored cars. I say that with the understanding that my critical eye is highly developed after decades as a detailer.
So when it comes to working on a dark or black colored car, I know that if I want to take the final results to the highest level of visual perfection as possible, I am going to apply a gloss enhancer/detail spray after I have finished with my wax application and removal; regardless of my choice in a wax or sealant.
For this reason I am including my top rated gloss enhancer I recommend if you are a perfectionist like myself, and are working on any dark colored car. (yes, it will also work on any colored car)



CSI Q-7 Detailer Quart 62-205-Q
Perfect as a finish product for use after your wax application/removal
Perfect as a stand alone gloss enhancer that will also help extend the life of your base coat of wax
Safe and effective on any exterior material or surface
Safe for virtually any interior material or surface: plastics, vinyls, leather, etc. (Not for use on sued or sued-like materials, carpeting, etc.)

Can be used in direct sunlight on hot paint
Can actually be used on canvass convertible tops as a cleaner/enhancer

Best Car Waxes:

Paste Waxes
My professional recommendations for the top rated paste waxes are listed below. I have narrowed it down to my top 3 favorites. Paste waxes are known for the ability to cover and conceal paint blemishes better than other types of waxes. (with this being said, it would be hard to find a person with a developed and trained eye that could actually determine the difference between an application of a spray, liquid, or paste wax. For most people the choice becomes more about cost and ease of use. Paste waxes as a rule will always require more effort and time to apply and remove)
Many people believe that as a rule, paste waxes will outlast any of the liquid or spray waxes. This debate is endless and will never go away. For this reason I default to the Q-7 spray wax as my top pick as the best car wax due to its quality formulation and ease of use. For me there is nothing I like better than a freshly waxed car and I am willing to put in the time and effort on my black cars on almost a weekly basis. For this reason protection becomes much less a priority and ease of use, and visual performance rise to the top of my needs in a car wax product)
Meguiar's Ultimate Paste Wax



Meguiar's G18211 Ultimate Paste Wax - 11 oz.
If you want to keep your life ultra simple, you could really stop here with this product from Meguiar's. I used this car wax for years until I discovered the Q-7 wax above.
Meguiar's is a well known brand and many of you will default to this product simply due to its familiarity with most people as a brand. This formulation is non-staining, won't haze to a chalky residue and can be finessed to be used in direct sunlight, on hot paint.

P21S Paste Wax
I was introduced to the P21S paste wax by a fellow detailer out of Texas. He went on and on about how great this wax was. I thought to myself; "Oh great, yet another great wax!" (sarcasm) All this industry needs is yet another great car wax. But due to his persistence, I am so glad I decided to get some and test it out myself.

This wax is non-staining, won't create a chalky residue, and can be finessed to be used in direct sunlight on hot paint.

This is a better wax that the traditional waxes of what I call retail grade like the Meguiar's above, but some of you may be dissuaded due to the higher cost. I personally am a huge fan!
Pinnacle Signature Series II



Pinnacle Signature Series II Carnauba Paste Wax
Designed to exceed the standards of the most discriminating enthusiast and collector, this paste wax from Pinnacle is the premier of premier waxes! While other lesser paste waxes will stain black trim pieces, this version from Pinnacle has been master formulated into a non-staining paste. For the perfectionist who demands the ultimate in a premium paste wax. Ideally suited for waxing black cars combined with the overall premium experience! (yes, you can in fact spend even more on a concourse grade or premium grade paste wax. Most any car wax product past this price point and quality level will be lost on most people due to their inexperience.)

Best Car Waxes:

Liquid Waxes
There are many that might believe that a paste wax is the "best" wax period, but simply don't have the time and energy to apply a quality paste wax as often as they know they should.
For this reason many will reach for a quality liquid or spray wax instead and accept that maybe their pick in a liquid or spray wax won't last as long, but at least the wax will make it from the bottle onto their car.



Meguiar's G18216 Ultimate Liquid Wax - 16 oz.
Well known and trusted brand of car wax products
Easier to apply than the paste version
Same hybrid technology of their paste wax
Non-staining formulation

Excellent reviews


Griot's Garage 11171 Best of Show Wax - 16 oz.
100% carnauba based formulation
Silicone free
Excellent depth and clarity


Chemical Guys WAC_201_16 Butter Wet Wax (16 oz)
100% carnauba based formulation
Improved formulation for easier application
Deep, wet look to any paint surface
Best Car Waxes Summary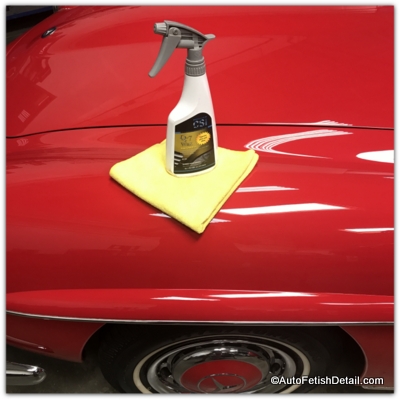 I realized I have thrown a lot at you with my best car waxes review. And for that reason I know many people will become overwhelmed as they work through all the options of this page. It is also for that reason I add my "What Would Darren DO" at the top of my recommendations for those of you who simply want to keep things really simple.

If you have made it this far you can use the following bullet point list to add additional helpful tips:




Remember to use detailing clay prior to any application of these paste waxes; see

clay bar kits

for help in picking out a quality clay bar.

Apply chosen wax according to manufacturers' instructions.




It is important to remember that choosing one of these top rated auto waxes is important, but no car wax in the world is going to fix paint that is in very poor condition unless you polish first. With modern day car buffers it is possible for even a true beginner to polish paint to professional level standards which you can see this link for:

Car paint polishing for beginners



I hope you have learned a thing or two along the way in this best car waxes review. When presented with this much information on a simple topic of best car waxes it is easy to feel a sense of overwhelming anxiety! I get the it!
My goal is to structure the pages for both those that want a simple and straight forward answer, as well as those that like a comprehensive review.
 I wish you much success regardless of which way you lean!
Sincerely,


---