Car Paint Sealant
sealant is not wax; wax is not sealant

Trying to find the best car paint sealant is like trying to hit a moving target in the dark! It is an area full of bad information that is continuously spread around from one misinformed person to another.
Not to put the entire blame onto the misinformed public, but we are forever at the mercy of marketing and advertising that has one agenda only; to sell product!
Whether you are looking for the best rated car wax, or the best car paint sealant, unless you know the difference between these two very distinctly different products, you will be making misinformed decisions. I want you to become part of a select group of people called; the informed!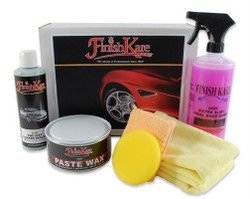 Question and Answers
Is there really a difference between sealant and wax?
Just what makes a sealant a sealant?
I heard that carnauba is the top rated car wax to use.
I heard that you have to use a special clear coat safe wax.
Let me take you through a question and answer session that will leave you a much more informed decision maker so that you will get the desired results that you are looking for when it comes to the beauty and protection that is possible with the right car paint sealant.
Q. Is there really a difference between a car wax and a car paint sealer?

A. Yes. Was that simple enough for you? But that hardly answers your real question does it? What we really want is to know the actual difference between a wax and a sealer.

Q. So what is the difference between a wax and sealer?

A. Wax products will have some form of a natural wax product contained as part of the ingredient list which may include, but not limited to carnauba, bees wax, etc. Sealers will be made using synthetic ingredients. To add to an already confusing area of car paint care, people as well as the industry itself forever interchanges terms like polish, wax, and sealants. Unless you are part of the informed, and you read package labeling carefully, it is often hard to know what you are getting.

Q. I heard that carnauba wax is the best auto wax to use.

A. Let me do my best to explain how this works. Best of anything will be a person to person judgement call based on what there goal is. For example, do you want the best visual enhancement of your cars paint, do you want the "best" in protection, or does "best" mean the easiest to use for you? Unfortunately, we have to pick and choose as the technology does not exist in which a single product comes with every possible benefit. Remember, we have already noted the difference between wax and car paint sealant.There are many types of waxes used to make car waxes, eg. bees wax, carnauba yellow, carnauba white, etc. Most often car wax products will use carnauba wax as the main wax ingredient since this form of wax is marketed as the hardest of all wax forms. The misleading part of this is the fact that carnauba wax is rock hard in its natural state, and is completely unusable. It must be refined with other ingredients such as petroleum distillates, etc. to make usable. So when a manufacturer is labeling a car wax product as 100% natural, or 100% pure carnauba, they are referring to the purity of the carnauba wax used within the product, versus the overall content of product as a whole.

Q. What would be the reason to use a sealer over a wax?

A. Sealers are the place to go for ultimate in durability and protection. Sealers contain polymer technology at its best, and are the result of advances in chemical engineering. These products last the longest, are usually easier to use, and add a slippery and slick feel to your paint that is unlike that of natural carnauba car waxes.

Q. What are the best uses for sealers?

A. Sealers are perfect for people looking to wax or seal their cars less often, rather than more often. Also ideal for those large to do items such as water craft and RV applications where most people are looking to have the longest lasting protection due to the conditions these large items must endure, and for the basic fact that they are large and make frequency of wax applications unlikely.

Q. What are the draw backs to using car paint sealant over carnauba waxes?

A. While a car paint sealer is the ultimate in protection and durability, you will compromise on visual results normally only attainable through the use of a natural paste carnauba car wax. Paste waxes have always been associated with the ultimate in depth creation and glossing for paint.
We Understand the Differences Darren, But What Do You Recommend?
I am glad I got you to ask, as I have strong opinions that are based on (2) specific reasons:
I know what works from professional experience.
Actual products I use professionally myself.
I will also add that what I recommend are not the only products that work, but simply a way for me to simplify this area of car care for you, rather than bury you with so many choices you will be stricken with anxiety! So use any of the secure links below and get some of the exact products I use professionally to deliver superior results to an overly entitled and finicky group of people called my customers!
The Best Car Wax
Paste Wax for the Base Coat
I will start with one of my all time favorites when it comes to a quality paste wax. While you could spend hundreds of dollars on a single tub of wax, not only is this unrealistic for most, but also unnecessary! This quality paste wax will be a perfect foundation of looks and protection.
Meguiars Ultimate Paste Wax
Contains the winning combination of benefits.
Extremely easy to use.
Superior end visual results.
Formulated with polymer technology that will outlast any natural based carnauba paste wax.
Can be used in direct sunlight on hot paint.
Very economical.
Ideal for any dark colored car.
Use every 3-6 months depending on the living conditions of your car.
Spray Wax Simplicity
Spray waxes are the result of advanced chemical engineering. Probably the most significance of these new age wonders is the ability to wax everything; paint, glass, chrome, and even black trim pieces. Now you can have the ease of a spray wax, with the time saving ability to wax everything on your car.
Meguiars Ultimate Quik Wax
Use as a stand alone wax, or as a wax extender to any base coat of wax.
So easy to use, you may have found a replacement to any quick spray detailer.
So easy to use you find you are willing to wax more often.
Can be used in direct sunlight on hot paint.
Another of my all-time favorites.
Will not stain black trim pieces and actually enhances trim pieces like a dressing, but not greasy and less shine.
A must have for any dark colored car.
I use weekly on my own black cars.
Professional Car Paint Sealant
Please Note: The following products from the Meguiar's Mirror Glaze professional line is professional grade products, which means you will not be able to find at a local retail outlet. So don't leave here thinking you can purchase from a local store in your area.
Liquid Polymer Technology
As we have learned, liquid polymers represent the ultimate in protection and durability. The bonds created by synthetic polymers are much stronger than the chemical bonds created by natural wax based products. There is a slight compromise on visual results when using on dark colored paint. While you can get the best of both worlds with the Ultimate Paste Wax above, liquid polymer sealants are the highest levels of protection available. These liquid polymer sealants are ideal for large to do items such as boats, RV's, and planes, but still completely acceptable for cars if you decide on that route.
Meguiars #21 Synthetic Sealant 2.0
The ultimate in durability and protection.
Very user friendly.
Ideal for those large to do items such as boats, RV's, and planes.
The same over-priced, poly-seal sold as add-ons at car dealerships.
The perfect base coat application.
Use every 4-9 months depending on the specifics of your world.
Professional Spray Car Paint Sealant
If you are going with the use of the liquid polymers, then I recommend the use of a polymer spray detailer that is ideally suited for use with the liquid polymer, and excellent as a car paint sealant extender.
Meguiars Mirror Glaze #135 Synthetic Spray Detailer
Ideal as a sealant extender and spray detailer.
Ideally suited for use over existing polymer base coats.
Perfect for use on boats, RV's, and planes.
Ideal to keep on hand during boat trips on the water.
Very user friendly.
Car Paint Sealant Tips from Darren
If you are sickly dealing with any medium to dark colored car paint, I would recommend the Meguiar's Ultimate Paste wax and spray wax combo. Use the paste as a base coat every 3-6 months, and use the Ultimate Spray Wax as a wax extender, and any other time you want that fresh car waxed look. I personally use every week on my black cars as it is just that easy and looks that great; SERIOUSLY!
If you are dealing with a boat, plan, RV, or light colored car, then I would go with the liquid polymer #21 as a base coat application. Use every 4-9 months depending on the conditions of your world. Use the spray polymer sealant any time you are motivated after washing, to create that fresh wax feel and look whether we are talking boat, RV, or plane. So easy to use, you might surprise yourself how often you are willing to wax; or seal in this case.
Car Paint Sealant Summary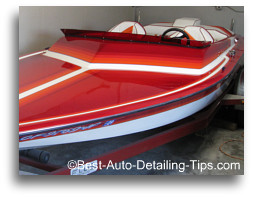 As you can see, your search for a car paint sealant is generally over-simplified to the point where most do not understand exactly what they are looking for. Now that you understand the difference between a car paint sealant and a natural car wax, you can go out and make informed decisions; much better than the misinformed decisions we often make! And as a professional, it is note worthy to know that professionally, I keep every form of wax and sealant product available so that I may respond to the specifics of the moment; including those moments when I am out of time and energy, and I still insist on creating that fresh waxed look and feel. Now with my professional car paint sealant tips, you are an informed and armed person ready to produce greater results, no matter what life throws your way!
Home | About | About This Site | Privacy Policy | Contact Me
Back to Auto Paint Detailing from Car Paint Sealant
Back to Best Auto Detailing Tips Home