Cyclo Polisher Review
Helping you make an informed decision!


For many people, the Cyclo Polisher will represent the winning combination of benefits when shopping for the top pick of automotive polishers. Whether you are a weekend warrior looking to work on your own car, or a professional detailer looking to take it to the next level, finding the best rated car polisher can be a frustrating process.
Generally any car buffer review will be more about selling you something, rather than helping you become an informed consumer first. Many guys think they are making an informed decision only to find out later that it was a decision made with limited information.

Cyclo Polisher Review

The unique design of the Cyclo Polisher is meant to duplicate the exact process of your hands when applying car polish or wax. Due to the hyped-up fear many associate with car buffers and swirl marks, this Cyclo Polisher for many represent the perfect solution to this common problem.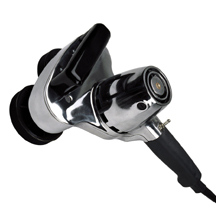 The only dual head polisher on the market
VES; vibration elimination system
An ideal choice for any true beginner as this is a slow speed orbital, not a high speed rotary
Why Choose the Cyclo Buffer

Every choice in life will represent finding the winning combination of benefits over compromises; also referred to as a cost/benefits analysis. Use the checklist below to assess the possible benefits to you:
Built to last for home or professional use.
Orbital type polisher used for true beginners, or for that last margin of perfection only a hand-full of professional paint finishers could even perform.
Not my personal choice as the top pick of car buffers when choosing a random orbital buffer.
Cyclo Orbital Polisher FREE BONUS
why the cyclo may not be the best choice

Unless you already have experience with car polishers and car buffers, it is often hard to assess what you will need in the short term as well as the long term. The following list will lay out some drawbacks to choosing the Cyclo car buffer as your top pick:
(2) polish pads to have to clean, change, and replace
Bulky design
Antiquated aesthetics
Darren's Professional Tips: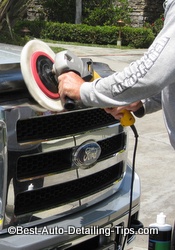 Any long term subscriber to my website knows I have a definite opinion when it comes to my top pick of car polishers. Due to the lower RPM speeds of the newest rotary car polishers, I believe that a quality rotary polisher represents the winning combination for these specific reasons:
Wider range of uses due to wider range of speeds.
Wider range of uses due to ability to use both wool and foam polishing pads.

Lower start speeds ideally suited to true beginners; 600 RPM's

Lower operating speeds for seasoned professionals who like to finish polish at lower speeds; 600 RPM's
Unfortunately many people are misinformed by all the hype associated with high-speed buffers and therefore shy away from the benefits these buffers represent. Due to lower start and operating speeds of the newest rotary buffers, these represent what I consider to be the best car polisher for beginners to experts, from car polishing to boat polishing.
---
---
Home | About | About This Site | Privacy Policy | Contact Me
Best Detailing Tips Home

›
Auto Polishers
›
Cyclo Polisher Review