The Flex Polisher
Can the newcomer stand against the best!


The Flex polisher represents the latest from the world of automotive polishers and looks to compete against some solid contenders in the competitive world of car buffers. This top rated car buffer has gotten rave reviews from both professionals and weekend warriors. The Flex buffer is a German made tool that represents (2) unique selling propositions that separate it from the crowd; German made quality and light weight construction. Many car enthusiasts as well as detail professionals want to know how the Flex measures up against its competitors when shopping for the top pick in car buffers.
Flex Buffer Reviews:
Flex PE14-2-150

Rotary Polisher


Flex L3403 VRG

Lightweight Rotary Polisher

Most people don't have the luxury of sampling all the various car polishers on the market firsthand, so follow the review and see if one of these buffers from Flex represents the best value for you.
Flex PE14-2-150 full-size: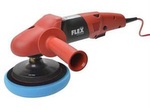 This rotary polisher from Flex is built using all the quality we have come to expect from Flex.

German engineering
Light weight construction; 5.6 lbs. compared to 6.5-6.6 lbs. of competitors

Professional grade car polisher
Ergonomically friendly design
600-21 RPM speed settings
Slow start accelerator switch
Overload protection
Restart protection
Ideal for any beginner with 600 RPM start speed
True professional grade for any seasoned car polisher
A bit pricey compared to competition
Darren's Professional Tip:
Flex full-size rotary polisher
You can't go wrong with this offering from Flex. While the lightweight Flex polisher below might seem like an obvious choice, many people will want the full-size version of this quality polisher from Flex. I personally prefer the full size version as I do most of my heavy duty polishing with full sized 9 inch pads, and don't mind the full size polisher when using smaller pads. If you are a person that has to have the best and believe you generally get what you pay for, then it is hard to beat this car buffer from Flex. Also ideal for any true newbie with the ultra-low start speed.
Flex L3403 VRG Lightweight: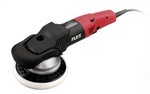 Just like the full-size rotary polisher, this version from Flex takes all the professional grade build quality and engineers it into lightweight for maximum control and comfort.
Same quality as full-size Flex from above
1100-3700 RPM
Not recommended for the beginner due to higher start speed
Lightweight at 5 lbs.
Slow start accelerator switch
Overload protection
Restart protection
A bit pricey
Some prefer the reduced size, some do not
Darren's Professional Tip:
Flex full-size rotary polisher
Once again, it might seem an obvious choice to go with the lightweight version of this Flex Polisher, but some guys will prefer the full size version. And when you consider that both Flex polishers already represent lighter weight buffers compared to the competition, it is hard to go wrong with either choice. Aside from the size difference, the other variable to consider is the slow RPM speed availability with the full size version. Professionally I prefer a car polisher with a slower RPM speed setting as I do all my finish polishing at slower RPM speeds of 600-800 RPM's.

Get Your Flex Polisher
Use the secure links below to get your professional grade polishers from Flex now!

FLEX L3403 VRG Lightweight Rotary Polisher FREE BONUS
FLEX PE14-2-150 Rotary Polisher FREE BONUS!
Home | About | About This Site | Privacy Policy | Contact Me
Best Detailing Tips Home

›
Auto Polishers
›
Flex Polisher