The Flex Polisher
Can the newcomer stand against the best!


The Flex polisher represents the latest from the world of automotive polishers and looks to compete against some solid contenders in the competitive world of car buffers. This top rated car buffer has gotten rave reviews from both professionals and weekend warriors.
The Flex buffer is a German made tool that represents a few unique selling propositions that separate it from the crowd:
German made quality.
Most of their polishers are lighter in weight against the competition.
Have a wider variety of polishers compared to some of the other brands.
"Darren, this entire subject of car buffers and polishers has me so confused. Could you reduce it down to the ridiculously simple for me?"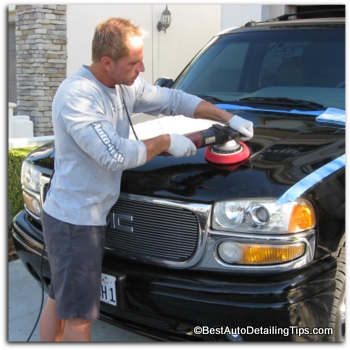 A dual-action (DA), or random orbital is the best place to start for any beginner.

Random orbitals (a quality one) are as safe as safe can get when it comes to car polishing.

Random orbitals will not produce the heat and friction that a rotary (high-speed) buffer can produce.

In the right hands, a rotary polisher will allow a person to "cut to the chase" with the heavy lifting of paint correction/car polishing, and still finish to perfection with a swirl free finish.

A random orbital is safer and more user friendly as a rule, but will take longer to get to the finished results as compared to a rotary. (trade-off's...everything in life has them)
Why Not Choose A Flex Polisher?
I am going to start with the "why not?" over the "why you should". And this reason is due to the fact that this Flex car polisher is unique in that it is what is considered a forced rotation dual action polisher, which is different than a random, dual action polisher.
It can get confusing quickly, but it is a very important difference that has more to do with the user experience than it does with actual results. Most of my visitors to this site are true beginners or come with little experience. And for this reason it is important to know that as a beginner, I want you to have the best experience at the beginner so you are not turned off by the polishing process due to choosing the wrong equipment.
I believe you have to take the user experience as an equal part of the picture. Many companies and guys will talk about the "best", and will send you chasing review after reviewing determining what exactly is the best. I am of the opinion that this particular car polisher from Flex is not the most ideal choice for beginners. And this is simply due to the forced rotation of both the spinning and the vibrating motion of the polishing head. While this machine is still much easier to master than the high-speed rotary polisher, it is still more difficult than a top rated random orbital car polisher.
If you are a begiiner and have been sitting on the fence long enough and want to finally get your feet wet, I recommend you choose one of the polishing kits at this car paint restoration page.
Why choose a flex car polisher?

As I have stated and as you have likely already begun to learn, the are so many choices when it comes to car polishers. So before I get into the different types of polishers offered by Flex, let me establish why Flex polishers are so highly rated and reveared by both enthusiasts and professionals like myself:

German engineering.

German build quality.

Car polishers lighter in weight than other brands.

Considered the Mercedes of car polishers.

Have a more extensive line-up of buffers than some of the competitors. (rotary, dual-action, forced rotation random orbital)
Flex Polishers:

You have choices
Positive Drive (forced rotation) Dual Action Buffer:

Called dual-action (DA) because the polishing head both spins and oscillates. (rotary polishers spin on a single axis)

Considered the "safer" choice for beginners, but also used by most professionals.




Produce a swirl free (hologram free) finish due to the unique dual-action of the polishing head.




Positive drive is different than most other dual-action (DA) buffers in that the spinning and vibrating (many people in the industry consider the other action as oscillating rather than vibrating) are gear driven and will continue to both spin and vibrate regardless of pressure you put upon the buffer.

Random orbital buffers are still dual-action, but are not positive drive buffers. When enough pressure is put upon the buffer during use, it will cause the spinning to stop and only vibration will continue. (This is what makes a random orbital even "more" safer than this positive drive, dual-action Flex polisher)




Most professionals will both start with a dual-action and remain using one, and never learn how to use a rotary polisher. And most people prefer a random orbital over a positive drive version as the random orbital is easier to work with. (generally people will choose easier over effective or efficient. Because the random orbital 'dual-action' buffer is the easiest of all car polishers to use, it allows even absolute beginners to immediately start polishing their car. In most ways, this is the good news. (See

Car Polishing

for my personal and professional recommendation if you are a true beginner and you want a very simple solution)



"Darren, if you are saying that a positive drive dual-action buffer like this one from Flex is 'harder' to control, then why would anyone ever want one?"
The very reason the positive drive, dual action Flex polisher is so highly regarded as the ultimate in car polishing is the very reason it is not the most popular: it is simply a little more difficult to use when compared to a random orbital like virtually every other dual action buffer on the market. But with that said....

"The Flex polisher is more difficult to use, but allows for the ultimate in control."
The positive drive means that regardless of pressure, regardless of angle, regardless of the surface you are working on, you are guaranteed to have complete control over the moment.

A random orbital is definitely easier to use, but you will lose a certain amount of control.



When you are polishing any car, you will be challenged by many angles and nuances of the car. No car is going to be completely flat and straight. While using a random orbital, you will trade-off one benefit at the expense of another. It is a difficult decision for any beginner to make.
"Darren, if you were in my shoes, what would be your choice?"
Glad you asked since the industry will offer you endless opinions and endless options. For this reason I suggest you go to my "Car Polishing for Beginners" where I lay out my top pick for any beginner to intermediate level car polishing.
the flex polisher



Flex XC3401VRG Positive-Drive Rotary-Orbital Polisher
Considered by many professionals as the ultimate in engineering, quality, and control.




You will not go wrong if you did decide on one of these Flex polishers. Obviously not your only choice, but a good choice.



flex complete Polishing Kit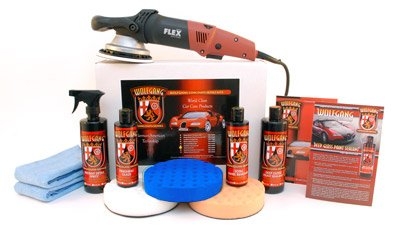 The power of professional grade power tool.

Quality German engineering.

Complete kit that will save you time and money by getting everything to get you that show-car shine you are after.

As safe as safe can get.

For those who are looking to take car polishing to a true craft.


Wolfgang FLEX XC3401 Concours Polishing Kit
I hope this Flex polisher review has helped you formulate conclusions based on enhanced information. I also hope that you are now in a position to make a more informed decision when it comes to choosing a quality car polisher whether this be a Flex polisher or a different brand of car polisher.
Sincerely,


---