Restore Car Paint:

How a True Beginner Can Get Professional Results

If it hasn't happened already, learning to restore car paint will produce and endless stream of chatter from a limitless list of online resources. And here you are facing the challenges of figuring out if what I am about to tell you is worth a darn!

In today's world of the internet, information overload will likely have most of you frustrated at best, and misinformed at worst!
Restoring your car paint and the best way to go about this will produce almost as many opinions as there are people you are willing to ask. As a professional detailer with over 25+ years of experience, I am not a washed up detailer who has sold his soul to some big name manufacturer that is about to attempt to shove my biased opinion down your throat.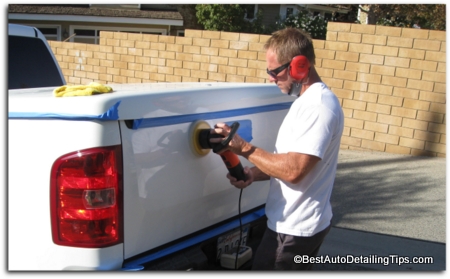 Welcome to the New Age of Technology

Likely in your search to find the best way to restore your car paint you have come across what feels like an endless stream of opinions.
And I am willing to bet that you are frustrated and confused at best; and misinformed with bad information at worst:
You can't do it yourself.
You have to do it by hand.
Never use a buffer on your car paint.
You can only restore your car paint with a buffer, but never attempt this yourself.
Blah, blah, blah, blah, blah!!
"Within today's world of the Internet, most of you will find yourselves drowning in a sea of endless chatter and opinions. Every time you ask, you get a different opinion. You are literally frozen with anxiety looking for a solution that is both reasonable and doable."
You are not alone!
And the really good news is that not only has the industry responded with superior products, but professional grade tools that a true beginner can use for the first time and have the ability to produce professional grade results!
How to Restore Car Paint:

Simple. Smart. Serious
Believe it or not, you really can have a fighting chance of getting both the products and tools to restore car paint. Have the ability to restore the shine and luster to your aging car and do it as a true beginner, and do it without breaking the bank!
Welcome to the age of technology!
The Car Polisher:

Meguiar's MT300 Pro Power DA Polisher
(Clicking on the picture or text link below will open a separate window into Amazon to get yours now)


Meguiar's MT300 Pro Power DA Polisher
From true beginner to experienced professional.
As safe as safe can get to polish cars and take your car from ordinary to extraordinary.

Get professional results straight out of the box.
Likely the last and only polisher most of you will ever need or get.
Countless positive reviews.

Sure you can spend more on a car buffer and perhaps feel more like a "professional", but I can promise you that you really can keep it simple and this car polisher will take you farther than most of you will ever expect or require.
Complete Car Polishing Kit:
Meguiar's DA Micro-Fiber Correction System

(Clicking on the picture or text link below will open a separate window into Amazon to get yours now)


Meguiar's DMCKIT6 DA Microfiber Correction System Kit
Comes with everything need to use with your Meguiar's MT300 DA polisher from above.
2 Micro-fiber cutting pads/discs
2 Micro-fiber finishing pads/discs
6 inch backing plate.
Correction compound.
Finishing wax.
Meguiar's black apron.
Darren's Professional Tips: Back when I started my career as a professional detailer I struggled to find information. Today you will have the exact opposite problem and will struggle to filter through the vast sea of opinions to restore car paint like a pro.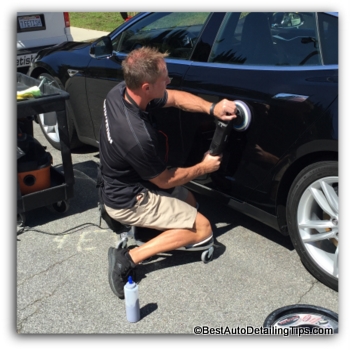 Many of you will literally be frozen with anxiety and never pull the trigger and never get any closer to restoring the paint on your car to the head turning shine that is possible....even for a beginner like yourself.
Despite the hundreds and hundreds of dollars you could spend if you were to listen to the endless so-called experts who speak from very limited real world experience, I am here to tell you that this buffer and polishing kit is not only an ideal place to start, but will likely be the last polisher you will ever need.
You really don't have to over-think it. I know the industry wants to separate you from as much of your money as possible, but I simply want to show you how to get the results you are looking for; and do so sooner not later!
And even though this kit comes with a finishing polish/wax, you may want to check out my top rated picks in the best car wax once you have restored your car paint back to life as ongoing maintenance.

Sincerely,

Home | About | About This Site | Privacy Policy | Contact Me
Home Page

>>
How To Section
>
Restore Car Paint