"How to Sell Used Car"

Let's get your car sold sooner, not later!

Let the Expert lay out some "How To Sell Used Car" tips that will help you get that car of yours sold! Most of the time when someone is trying to sell their used car, they don't take into consideration the opposite side of the equation; the buyer!
By putting yourself in the shoes of the buyer, you will be arming yourself with a better understanding of delivering upon what the buyer is looking for, which only means more money in your pocket, with less time involved! The competition is out there, and unless you do things to separate you and your car from the crowd, you will be stuck holding on to your used car longer than you want.
The Over-Simplification

Whether you are selling yourself, your home, or your car, most people don't understand the different steps of the process. Many people make the casual assumption that you simply take some pictures, post the ad, and your car is sold; not so! You not only need to accept the multiple steps, but you need to maximize your efforts with each step.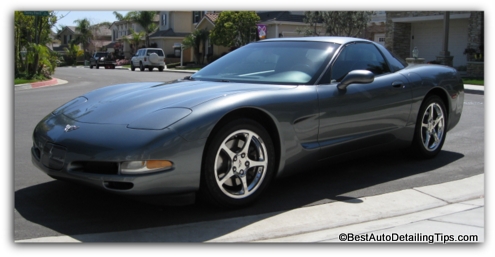 Add curb appeal to your car.

Write a compelling ad to get those calls.
Make that sale!
"Most people grossly underestimate just how much presentation is really is king."
Presentation Really is KING

How to sell used car will require you to understand the buying process of people; yourself included. This means you need to understand that we buy with emotion, and justify with intellect. This is why creating that first positive emotional response is critical when you find yourself in the "sell my used car" position!

Tips on How to Sell Used Car
What we want is to create as much "curb appeal" as possible. This is the same thing they do when selling houses, and it's the same thing most people do when trolling for a new date with the opposite sex! And yet when it comes to selling our cars, we overlook this very critical point of the process. Just as you wouldn't show up to a first date without looking your best, you don't want to show your used car without it looking its best.
You need to remember one critical part of this car selling process...Emotion!
Specific How to Sell Used Car Tips
This is the "bare minimum, I have to do all of the following, if I ever have a chance in hell of selling my used car" list of requirements!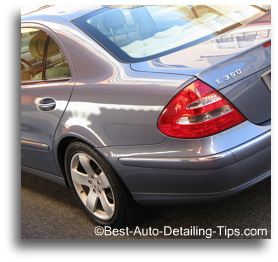 Wash car
Vacuum car
Remove all junk from car
Clean windows inside and out
The "I Really Would Like to Sell My Car" list
After completing the list from above, do following:
Clay bar and wax your car-This page outlines the exact steps to make your paint smooth and shiny
Clean wheels.
Dress the tires with tire dressing.
Apply tire dressing into the wheel wells.(this will make your wheel wells look nice and black.)
Remove any form of stickers/parking tags/etc. from anywhere on your car;inside or out. (People don't want your identity enhancements; remember, this is hopefully going to be their car soon.)
The "I Really Have to Sell My Car" list
Do all the previous how to sell used car tips, and these additional tips that will really help you get the "details" right, and add some true positive emotional response: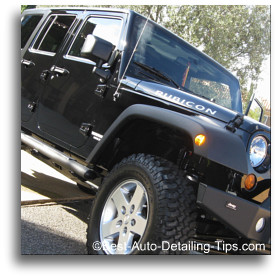 Steam clean or degrease your engine.
Use some rubbing compound or aggressive polish to buff off any bumper scuffs, door ding marks, misc. markings on your paint. (either do this before you wax, or touch up with your wax after doing this additional step.)
Have a professional paintless dent remover remove all those annoying dings in the sides of your car.
Get some touch-up paint and fill in the major chips on the front end of your car-you will think this is pointless and tedious work, but trust me on this, it will make an overall difference when you stand back.
Use a mixture of Simple Green and water, along with a scrub brush to scrub the the cars interior. (all the door panels, carpeting, floor mats, and even your leather if you have it. Yes, Simple Green is safe for all those materials.)
Use "Fabreze" fabric freshener liberally in the inside of your car; nobody wants a car to smell like the last person that owned it. Get the Fabreze brand freshener that has the antimicrobial ingredients in it. They make different versions, so read the label.
If your seat or seats are really bad, consider some "cheap" seat covers.
If your dash has some major cracks, buy a dash cover.
Overview of How to Sell Used Car Tips Report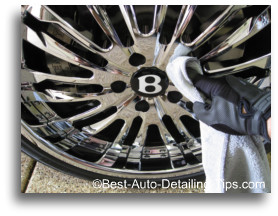 Remember, we are talking about emotion here and we want to create "curb appeal". Don't underestimate what this time and effort on your part will do. You might just find you will rekindle that romance you once had with your car once you see just how far some TLC goes!
Professionally, I have many customers within my auto detailing business hire me to detail their cars before they sell their used car. They pay me $250-$350 to add this "curb appeal" prior to listing it for sale.
Don't underestimate any of these steps for when you combine them all, it will make a dramatic difference in "presentation".
And, now that you have spent all that time applying these auto detailing tips, make sure you show it off when the people come to look at it:
Show the clean engine.
Have them feel your smooth and waxed paint.
Help them feel the love and devotion you have put into your car.
Help them feel the emotion and become attached to the idea of owning your baby!
Additional How to Sell Used Car Resources
Do you live in the OC area of California and don't want to do this yourself, then you can go to Auto Fetish Detail and hire the job out to the professional.
Make sure you check out and subscribe to my YouTube video channel as I continually upload more and more tutorial videos that are taken straight from my world as a professional detailer at Auto Fetish Detail. You can subscribe with my YouTube icon just below!
Sincerely,

Home | About | About This Site | Privacy Policy | Contact Me
Home

>
How to Detail a Car
>> How to Sell Used Car