Tire Cleaners and Dressings:

Understanding the difference

Multi-purpose products are always a great find. But using tire cleaners and dressings as a multi-purpose strategy is not one I recommend personally or professionally.
Perhaps in the short term it will seem easier and appear to be the winning combination, but unless you are trying to short-cut your way through life and car care, I don't recommend an all-in-one tire cleaner and dressing. If you are looking to reduce your world down to that level, you might as well go in search of home made dressing for tires...which I also don't recommend.

Separating Tire Cleaners from Tire Dressings

While many of us may be familiar with cleaner car waxes that are designed to "clean" while leaving a layer of protection in the form of a wax, the industry has applied this same thinking to tire cleaners and dressings.
I have always wondered how the product knows when it is supposed to be cleaning versus dressing. Just like a cleaner wax; when is the product cleaning versus waxing as you are using it. And for this reason (despite it representing a convenience) I recommend keeping these tasks as separate steps in the detailing process.

Cleaning Your Tires
If you are new to the world of car care or detailing, you might find it a rude awakening during certain parts of the process where you realize you will go through disturbing amounts of cleaners:
Cleaning car wheels
Cleaning car tires
For this reason I am a fan of using economical products that won't drain your bank account just so you can enjoy a clean car. I am also a fan of finding products that can serve multiple purposes of the detail process.
A quality all-purpose of multi-purpose cleaner is the perfect example of this. Whether you are cleaning your tires (the tire sidewalls is what we are referring to when we address the subject of tire cleaners and dressings) or cleaning your car wheels, you can use the same product.
And since tire side walls sit right next to your car wheels, it is virtually impossible to keep them truly separate anyways.



Simple Green 19128 Crystal Industrial Cleaner/Degreaser, 1 Gallon Bottle
Not only a great all-purpose cleaner, but a concentrate so you can custom dilute based on your needs
Welcome to the world of non-toxic all-purpose cleaners
I can use this for both cleaning the wheels and cleaning the tire sidewall
Darren's Note: I have tried the countless tire and wheel cleaners the industry of auto detailing produces as dedicated products. When you experience how much product you go through when it comes to tire cleaning and wheel cleaning, you will quickly come to the conclusion that most of the retail products the car care world would have you buy, becomes very unrealistic as you will realize how much product these mundane tasks can consume.
My Cleaning Tips: Since I am a fan of this quality concentrate along with the fact that it is also safe for my health and safe for the environment, this is my go-to multi-purpose cleaner.
You don't have to overthink the dilution ratio when you mix it up regardless of your cleaning chore:
My general cleaning solution is 4 parts water to 1 part Simple Green concentrate mixed in your choice of spray bottle
I can use this dilution for both cleaning the tire sidewalls and the wheels at the same time.

If you want to see my dedicated page to cleaning your car wheels that includes all my specialty brushes, go to car wheel cleaner.

Tire Dressings:

Not all dressings are created equal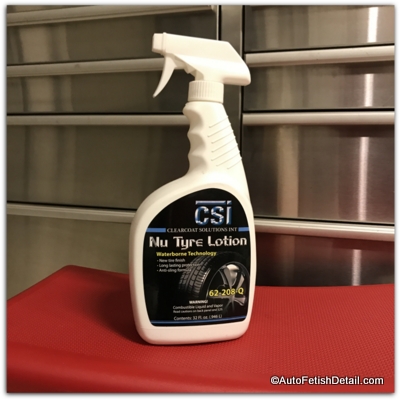 While there are products labeled as both "tire cleaners and dressings" that are intended to be a multi-purpose product, I am not a fan of these.  I professionally recommend you keeping these tasks as separate jobs of car care and detailing.
Tires are subject to excessive levels of dirt that a dual-purpose/multi-purpose tire cleaners and dressings cannot adequately deal with over the long term.

I have simplified the tire and wheel cleaning process above by showing you a multi-purpose cleaner that is very economical and very safe.

And for this reason, I will keep the remainder of this page dedicated to tire dressing suggestions and helping you find what I consider my first choice in a tire dressing as well as my secondary choices. I am also going to make my "super simple" tire dressing recommendation.

They will all perform with professional grade results, and you can decide which one represents the best value for you based on size and cost.

Best Water Based Tire Dressing

While I have been a big advocate of using water based tire dressings for many years, it seems the industry has responded and the concept has began to catch on to mainstream car care and detailing.
"Darren, why do I even need to be concerned with a water-based tire dressing versus any other type of tire dressing?"
Glad you asked!  

Why choose a water-based tire dressing?
You want to be able to clean the old dressing off before you reapply a new coating of tire dressing.

You can dilute the tire dressing down with tap water for other detailing jobs like engine detailing, interiors, wheel wells.
Which Tire Would You Prefer on Your Car?

Darren's Professional Tips:
I prefer a classic to shiny sidewall when choosing a tire dressing.

There are tire dressings that dry completely and do not allow dirt and dust to accumulate and stick to your tire's sidewall due to a tire dressing that has been formulated with heavy solvents and silicone. (with that said; regardless of the tire dressing you choose, the tire sidewall will still get dirty like every other part of your car)

I stay away from the clear, ultra glossy tire dressings as these are typically loaded up with silicone's and heavy solvents that make them very resistant to removal. Generally these are retail products. These hyped up tire dressings remain tacky and allow dirt and dust to accumulate to a high degree. The fact that these high gloss formulations require solvents and added silicone's to make them super glossy also makes them super tacky.
I choose a quality tire dressing that is water based, but is also water-resistant. I want the ability to remove the old layer of dressing using a quality multi-purpose cleaner like the Simple Green above, each and every time I reapply a new layer of tire dressing.

"The picture below is what happens over time as your tire builds-up dirt and brake dust."

"Darren, I'm a bit confused! You preach using a water-based tire dressing, but how can a water-based dressing also be water-resistant?"
Glad you asked!
Think of it like latex paint. Back in the day we only had oil based paints. Because of the harmful chemicals used in these oil based products, the industry responded by developing water based products that are safe for people and the environment. The car care industry has responded in-like, just as virtually every other industry.

Just like water-based latex paint; it goes on wet then dries to form a very good barrier that is completely dry to the touch. The same holds true for many water based waxes, sealants, and tire dressings.
Hopefully you are beginning to more fully realize when it comes to tire cleaners and dressings why I prefer to keep these jobs as separate tasks of detailing.

Tire Cleaners and Dressings:

What Would Darren Do (WWDD)
Many of my long term followers don't want to know all the specifics of a given subject; they simply want to know what I would do or what I would use. Now that you know I don't recommend dual-purpose tire cleaners and dressings, I can tell you what I would do:

Often asked by my long term followers who simply trust my recommendations, I am going to lay out what I choose and do at a professional level:
I use a separate tire cleaner to clean the tire sidewall each and every time before I apply a new coat of my top pick in a tire dressing.
I use only a water based tire dressing (see below) as I want the ability to clean the side wall off of any old dressing along with any accumulated dirt.

I apply the water based dressing each time for a fresh, dirt free coating for visual enhancement and protection.

I use my favorite tire dressing applicator that is the best I have ever used (see below)


CSI Nu Tyre Lotion Quart 62-208-Q
Darren's Recommendations: If you are looking for a high-gloss, extra shiny side wall appearance, then the Nu Tyre Lotion will not be for you. If are looking for a tire dressing made with true quality ingredients that produces a classic shine without the cheesy, hyper-shine of heavy solvent based dressings, then the CSI Nu Tyre Lotion is your pick.
You can also finesse the Nu Tyre Lotion to create a custom shine that works for you.
Apply a single coat using my recommended applicator on a clean, dry side wall.
Apply additional coats to create additional shine.
You can always spray Nu Tyre Lotion directly to tire sidewall, remove any over spray from wheels and let sit for ten minutes. After 10 minutes apply a traditional follow-up coat to create a truly uniform appearance.



Kraft Tool PL600L General Purpose Large Turtle Back Cellulose Sponge Box

Chemical Guys VRP and
Meguiar's Hyper-Dressing:

Vinyl, Rubber, Plastic
Choose to shop Amazon:




Chemical Guys TVD_107_16 V.R.P. Vinyl, Rubber, and Plastic Super Shine Dressing (16 oz)
Water base.
Great shine without overly glossy.
Won't sling onto your car paint.
Professional grade.
Can also be diluted down with water.
Comes in smaller size if you are just beginning.



Meguiar's D17001 Hyper Dressing - 1 Gallon
Water base.
Great shine without being overly glossy.
Won't sling tire dressing onto the side of your car.
Professional grade tire dressing.
Can be diluted down with water and used for any of your dressing needs. Wheel wells, interiors, tires, exterior trim, etc.
Tire Cleaners and Dressings:

The simpler Approach
As I said at the top, I would be offering what I call my super-simple approach to a top rated tire dressing.



Adam's Silica Infused VRT Combo Vinyl, Rubber, Tire & Trim Dressing - Durable UV Protection and Water Repellent - Leaves a Crisp Freshly Detailed Look - Dress Tires or Trim Without Worry of Slinging
Perfect for the driveway detailer or car enthusiast who doesn't need a 5 year supply of tire dressing.

Will perform to professional level results despite this being packaged and labeled as an enthusiast level.
I have used this in my professional world and promise you will love it! (I still love it to this day!)

Tire Cleaners and Dressings Summary

You are now part of a select group of people known as the informed and educated. With that said, I will add a few closing comments and take you a little deeper down the rabbit hole of all things related to tire dressings.
Things that even so-called professional detailers don't even know:
All tires have a shelf-life regardless of the tread life. This means you may have a tire 5 years old that still has more than half the tread life left but begins to crack on the side walls.
Just like everything else in life, not all tires are created equal. So choosing the best or shiniest tire dressing will largely be effected by the tire itself, not by any tire cleaners and dressings you happen to choose.
I view tire dressings as temporary and sacrificial barriers of visual enhancement. I know I want to be able to clean the old dressing and dirt off each time I detail or wash my car, so I accept I am not looking for a once-a-year tire dressing application.

Since I understand that tires have a shelf life of approximately 4-7 years, I know that as  rule I am going to wear my tires out so I do not concern myself with the endless marketing manufacturers use to sell their products with claims about UV inhibitors.
I also don't concern myself with claims about tires fading; this is more about slick marketing than any actual valid point of concern.
Tire Dressing Applicators

Just when you thought we were done with tire cleaners and dressings! Let's not forget about tire dressing applicators:

Popular Dressing Applicator


Chemical Guys ACC_3002 Durafoam Contoured Large Tire Dressing Applicator Pad (Pack of 2)
Ideal for use with any tire dressing you happen to choose.
Sharp edge for precision application.
Washable and reusable.

Applicator Darren Uses Professionally


Kraft Tool PL600L General Purpose Large Turtle Back Cellulose Sponge Box
I cut in half for the perfect balance between a thick end and a sharp edge for details.
By cutting in half, you are getting 2 for the price of 1.
I get mine wet and wring out each and every time before I apply dressing to sponge.
Lasts a very long time.
The one I use and prefer professionally.


Self-Cleaning Squeeze Bottles

The Chemical Guys VRP is a very thick consistency, and for this reason, I prefer to use these self-cleaning squeeze bottles to dispense from. Other tire cleaners and dressings can be used with traditional sprayers.



Meguiars 16 Oz. Self Cleaning Dispenser Bottle 3 Pack
Ideal for use with any thick tire dressing.
I do not like spraying tire dressing as a rule from traditional sprayers as it gets dressing over-spray onto your freshly detailed car; this will prevent that.
Also very useful for any of your detailing products where the original container simply sucks (many of them do). From liquid polishes, to liquid waxes, to dressings.

Best Tire Dressing Applicator:

Video Tutorial

Pay It Forward:
Tire Cleaners and Dressings

At this point you should have much better understanding on the subject of tire cleaners and dressings.

I also hope that I have helped you become an informed car owner and consumer! Now go out and share what you have learned!
Seriously!
Share this page to your favorite social media site and help me by paying this forward!
Sincerely,


---