Does the Perfect Detailing Vacuum Really Exist?


"Darren, I am confused about buying the right detailing vacuum. I see these other guys with mongo-sized vacuums and think that maybe I need the same; can you help?"

I am surprised how often I am asked about finding the right vacuum for detailing. Whether a person is detailing their own cars or looking to start out in the business, it is an area that is often over-thought, but is actually an area of detailing that can be more simple than all the online "gurus" might suggest.
Experience has taught me that much of the problem exists in understanding the role of the proper detailing vacuum versus what many want to confuse with carpet extractors.

---
The Winning Combination:

4 gallon Ridgid Vacuum


Ridgid WD4070 4 Gallon Portable Vacuum
Won't break the bank.

Wet or dry capabilities.

Perfect for home or professional use.

Rolling detail vacuum makes for easier mobility when working.

Back tray area doubles as small trash can. (Or a can holder for my Monster drink as I am working)



Darren's Professional Tips: Most guys think they need to go level 10 when it comes to choosing the right vacuum for detailing. I have found this simply to be unnecessary. Not only will you spend more on a larger vacuum, but it will also become an added burden to not only haul the vacuum around if you plan on being mobile, but working with it will also become problematic.


Choosing a Better Detailing Vacuum Hose



RIDGID VT2534 6-Piece Auto Detailing Vacuum Hose Accessory Kit for 1 1/4 Inch RIDGID Vacuums
A perfect kit made specifically for the Ridgid detailing vacuum.
This kit is unique due to a very unique crevice tool that has a flexible shaft. You will not fully appreciate the capability of this until you are suddenly faced with a very tight crevice in your car that will require a flexible crevice tool like this.
More expensive than the Mr. Nozzle kit below, but comes with more accessories and the unique crevice tool.
True professional grade over the standard hose that comes with the Ridgid vacuum.


Mr. Nozzle M-100-DB Wet/Dry Vac Tool Kit
True professional grade equipment.

Much more durable than the stock vacuum hose that comes with the vacuum itself.

Good equipment makes your life easier and better.

Worth every penny.

Plugs right into your Ridgid vacuum.

Is less expensive than the Ridgid vacuum accesory kit above, but has less accessories. (most notably; the lacking of a crevice tool)

Darren's Professional Tips: The stock vacuum hose and accessories that come with the Ridgid detail vacuum will certainly get the job done (but honestly, suck), but just like every where else in life, the right tool (or accessory in this case) can really make a huge difference. This hose will make your new Ridgid vacuum a dream to work with and far exceed the performance of the stock pieces that come with the vacuum only.
Don't Forget the Vacuum Crevice Tool



Crevice Tool Slim 10 7/8" X 1.5"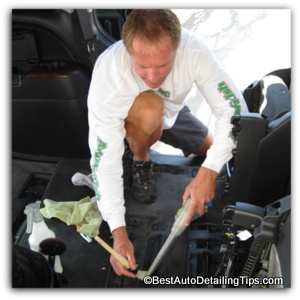 The actual crevice tool I use professionally.
Will literally last you years. (I have used this single crevice tool for years in the professional world)
Made of hard rubber/plastic; very durable material without feeling cheap.
Can be sanded down easily if the tip gets a jagged edge to prevent any damage to the interior of your car if ever required.

Fits right into the end of either vacuum kit above.
This additional crevice tool will seem redundant if you get the Ridgid vacuum hose kit, but this crevice tool is shorter and far easier to wortk with than the longer, flexible crevice tool that comes with the Ridgid kit. You will definitely want this shorter crevice tool as it will be the tool you will vacuum with 95% of the time. (just trust me on this and you can thank me later)

Darren's Tip: As I have stated; the stock Ridgid detailing vacuum will come with the necessary hose and attachments to fulfill most of your vacuuming needs while detailing a car, but the stock hose and accessories are far from perfect and certainly not what I would label as professional duty. If you are on a very tight budget then I get it; you may not have a choice. But don't underestimate the user experience. If the user experience of the stock hose really does suck (and it does), then you will be working that much harder, with more frustration, doing a job that is already labor intensive. I want to prevent this from happening to you.

---
Home

›
Car Detailing Equipment
› Detailing Vacuum