Best Car Polish
The Expert is here to help!

"Darren, I just want shiny paint! I feel like I am chasing my tail from one opinion to the next. I just want products that are simple to use and deliver great results but everyone has a different opinion!"
Your quest for the best car polish will likely drive most of you mad!
You don't have to be a car fanatic to want clean, shiny, and polished paint. Some of us simply want to maintain the value of our cars and understand that polishing and waxing are a requirement.
There is also many of us looking to enhance the look and beauty of our car paint which leads us to the frustrating search for the best auto polish!
Chances are you already have a garage shelf full of different car polishes; most of which probably claimed to be "the best car polish" when you bought them. Yet there they sit, collecting dust on your garage shelf and here you are looking for something that will actually work!
The Good News and the Bad News

Yep, I said it...
The very fact that in today's world of advanced engineering and chemical formulation there are almost endless choices when it comes to finding a top rated car polish.
But this also happens to be the biggest problem and you will be part of that problem. It usually plays out something like this:
You want your car paint to look better than it does now.

You go looking for some car polish.

You are buried with endless choices and countless car polish reviews.

You finally pick one and it works.....

But then you hear of another one; so you try it.


Then you read about a new one and you try that.
"Most of you will become your own worst enemy; seduced by one car polish after another, dressed up in slick packaging and marketing. As guys obsessed with shine, we can't help ourselves."
Do You Really Want to Shop...
or do you really just want a shiny car?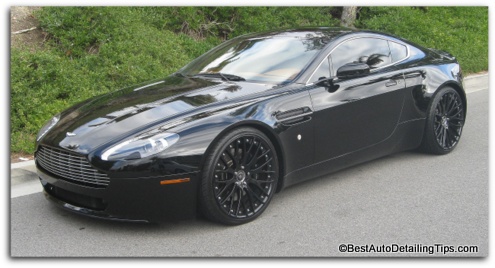 "Let me help you find the best car polish based on a simplified approach and taken from my 25+ years of professional experience"
(Don't believe me? See my professional detail site here)
---

Polishing Your Car By Hand

While there are many people who advise against ever touching your car with a buffer of any kind, these people simply don't know what they are talking about.
As a rule, due to the amazing new products and polishers on the market today, the only reason I recommend polishing a car by hand is for the following:
You're just not that committed to the time and energy to use a car buffer.
You only have small sections or areas of your car that need just a little "help".
You don't have the money to invest in a quality car buffer and need an alternative.
Since any cleaning and polishing of your paint will need to be finished by laying a coat of wax or sealant, all these kits contain a finish wax or sealant.

If you answer yes to any of the following, then let me recommend the following kit:
---
Wolfgang Deep Gloss Concours Kit



Wolfgang Deep Gloss Paint Sealant Total Concours Kit
Complete kit that can be used by hand.
From car washing, paint decontamination, polishing, and sealing.
---

Professional Grade Car Polishes:

There really is a difference between what is often referred to as enthusiast grade, and professional grade.
But don't let the word professional scare you away if you are a beginner. The irony is that professional grade car polish not only delivers better performance, but delivers a much better and easier user experience than what you will find on any auto parts store shelf.
Menzerna Car Polishes
(When using the links below to shop from Amazon, it is not necessary to keep opening a new shopping cart. Simply open a single cart by using any of the links within this website, and then copy any additional items into the first shopping cart. Any shopping you do helps support the efforts of this site; so thank you!)



Menzerna Fast Gloss 400 Compound (Quart)
My "go to" heavy duty compound for aggressive paint correction.
Can be used with any type of machine and pad set-up. (yes, can also be used by hand)
Can be used in direct sunlight despite what label instructions indicate. (see video below)
Long working time.
Low dusting.
Remove anything from major paint defects to wet sanding marks.


Menzerna Power Finish 2500 Compound (Quart)
My "go to" finish polish.
Can be used with any buffer and pad combo. (can also be used by hand)
It is labeled as a compound which suggests it is very aggressive. Just know that I use this with a DA buffer and finishing foam pad for a truly swirl free finish; even black cars.

As a rule, this is what I will use to remove any holograms/buffer tracks left when I do heavy duty cutting/compounding with a rotary polisher and wool pad.
Long working time.
Low dusting.
Can be used in direct sunlight despite what label instructions indicate.
Darren's Note: Despite what the industry would have you believe; you do not need 20 different compounds and polishes.
With these two polishes, along with different buffers and pads, I can perform to any level of paint enhancement and correction the job calls for. (See video below)
"You can sit and read endless reviews and still not be any closer to polishing your car than you are now. Accept that as you progress in technique and experience you will not be able to resist the temptation to buy and test more and more car polishes. And one day in the future you will walk out in your garage and realize you have enough products to fill a small store!"
Pick one or pick both. (You can actually force more aggressive performance out of PF2500 polish by using more aggressive pads, buffers, speed, pressure if you are forced to choose only one)

Start with the compound for more neglected car paint.
Start with the polish (It is labeled as a compound) for light polishing.
Now your car is ready for a top rated car wax.
Before you use any of the polishes/compound, it is critical to start by decontaminating your car paint first, and I mean FIRST!
---

All-in-One Car Polishing System
For those still stricken with fear, non-commitment, or simply looking to keep things ultra simple!


There's not an area of life these days that has not been dramatically improved through the advances of technology, manufacturing, and chemical engineering...
The world of surface car care is no exception!

The kit from Meguiar's below is the only car polishing kit that many of you will ever need!
Between this quality, entry-level DA car polisher and the micro-fiber polishing kit from Meguiar's, it is a perfect fit for many beginners who are still "testing the waters" before they commit to more expensive tools and products.
(Trust me; I totally get it!)
Meguiar's Micro-Fiber Correction System



Meguiar's DMCKIT5 DA Microfiber Correction System Kit


Meguiar's MT300 Pro Power DA Polisher
So easy, any beginner can produce professional looking results with your very first time.

Everything you need to restore shine and luster to your car paint while removing surface imperfections.
You will seriously amaze yourself at the results YOU are able to produce!
A true game changer for the driveway detailer or complete beginner!
The last car polishing system you will likely ever need....until you can't stand it any longer and you have to go shopping for the next shiny new toy.

Taking Your Car Polishing to the Next Level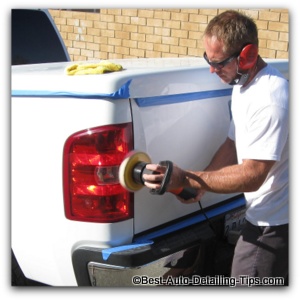 As I stated above, the DA micro-fiber polishing kit from Meguiar's easily makes the list of best car polishes and will be the exact kit many of you will ever need.
With that said, if you are planning on going to the next level of what is called paint correction in the industry, you will eventually have to cross over into the world of professional rotary or dual-action (DA) car polishers.

 I recommend you see my sections on car buffers and car polishers for a more in depth review of rotary car buffers and polishers to help you make the right choice. In fact I have even simplified the decision process with my car polishing buying made simple.

Car Polishing video

Watch below as I use these exact car polishes in direct sunlight, on hot paint, to bring this black Mercedes to a level 9.5 in shine and perfection.
Home | About | About This Site | Privacy Policy | Contact Me
Best Detailing Tips Home

›
Car Polish
›
Best Car Polish