ArmorAll Wipes:

Your quick fix to life's dirt!
Could ArmorAll Wipes possibly be the 9th wonder of the world?
Hardly. But do not dismiss these handy wipes so easily.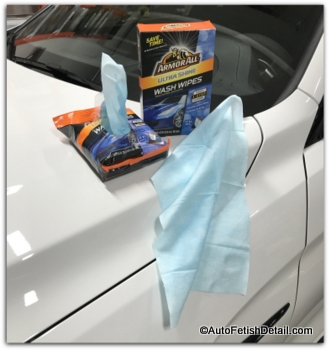 Keeping your car clean is work. ArmorAll wash wipes are a simple fix that most people completely underestimate. If you truly accept that regardless of your passing for clean and detailed car, it still remains as work. And work is called work for a reason; it's work!
If you also accept that most of us have a high distaste for work in general, then anything that adds to the work that is part of every area of life is only going to make that work more work, not less work.
The harder anything becomes, the easier it is to find excuses not to do it. We are looking for easier, not harder!
---
ArmorAll Wipes:

Simple as simple can get


Armor All Car Wash Wipes - Interior Cleaner for Cars & Truck & Motorcycle, Ultra Shine, 12 Count, 18240
Perfect for basic cleaning and maintenance
Labeled as a wash wipe, but every bit as effective and useful for the interior of your car
Subtle, pleasant scent
No harsh chemicals
Safe for all surfaces inside and out
ArmorAll Wipes
The Verdict
---
Your car requires far more attention than you likely realize. Any task that you don't make as simple as possible, will be one more task that will be that much easier to find excuses not to do.
While Armor All has many versions of these wipes, all dedicated to specific jobs of cleaning and maintenance, I have found that using the basic ArmorAll wipes that are intended for washing, can in fact be used for all forms of cleaning on the interior and exterior of your car.
Using ArmorAll Wipes for Exterior Cleaning
While most hard-core car enthusiasts would never touch there car paint with one of the cleaning wipes, the reality is that I found them to be much more effective and safer than I imagined when I ordered them.
Not intended to clean away months of accumulated dirt, they really did a very nice job at simply wiping up accumulated dust and leaving a clean surface.
The oversized wipes go a long way when compared to the traditional cleaning wipes you are likely accustomed to.
Car paint
Wheels
Windows
Bug removal
Tree sap
Bird droppings
If the material of your car can get dirty, you can pretty much get it clean with these wipes so long as you maintain realistic expectations. The ArmorAll wipes are never going to replace the the performance of dedicated products and tools used traditional to wash your car, wax your car, or detail your car in general.
But this is what I mean by realistic expectations. The benefit of these cleaning wipes is to basically spot clean just about everything on the inside and outside of your car to keep it looking good between more traditional cleanings.
Darren's Tips: While Armor sells a dedicated Window Wipes version, these can also be used to clean your car windows if you simply follow up immediately with a dry, micro fiber cloth. The ArmorAll wipes will remove the dirt itself, and then following up with a micro fiber cloth will remove the water marks left behind by the wipes.
This is certainly not the most ideal or preferred method for cleaning car windows, but once again we are looking for super-simple and super easy with these use of these wipes.

Using ArmorAll Wipes to Clean Car Interior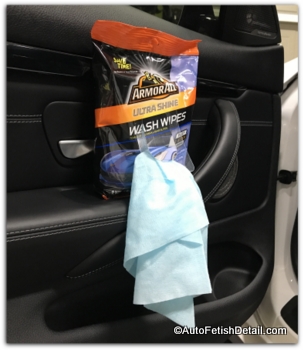 As noted above, Armor All does make cleaning wipes dedicated to the many tasks of cleaning your car. But you can really simplify your life by just using these wipes for all types of cleaning jobs.
Formulated without harsh chemicals, I found these wipes particularly useful for basic dusting and touch-ups inside my cars. The subtle fragrance and mild solution is very friendly to your cars interior without leaving any unwanted odor or shiny residue.
Dashboard
Steering wheel
Seats

Upholstery of all kinds: leather, vinyl, velour, fabric
Floor mats
Control areas
Darren's Tips: Literally any material you wanted to dust or spot clean, you could use the ArmorAll wipes to wipe and scrub for great results. So long as you aren't expecting miracles!
These will never replace traditional car interior cleaning or detailing products and methods, but they are so handy and easy!  Now you can keep your car fresh and touched-up so it never gets out of hand in between your more dedicated efforts of cleaning and detailing.
I am more impressed by these for interior use than exterior use. But every situation is different and you will have different needs and wants than I do as a car owner.
But I find them incredibly handy to keep in my car at all times for the unexpected and unwanted moments of life.
I wish you much success in your detailing efforts and hope that this article brings greater understanding to a very trivial topic that you may be rethinking by this point.
Sincerely,
Darren Priest

---