The Best Automotive Polisher

The Simplified Approach and Why You are Your Biggest Obstacle
Choosing the best automotive polisher will be a frustrating and difficult task for most of you; and the reality is that you are your biggest obstacle and you don't know it!
Searching for the top rated auto buffer on the market will produce almost as many opinions as there are people you are willing to ask. As a professional detailer I find that in answering people's questions, very few so-called experts actually apply context to the question so you can actually make an informed decision. The fact that you came here looking for an automotive polisher tells me that likely you are a beginner and therefore lack even enough experience to ask the right questions!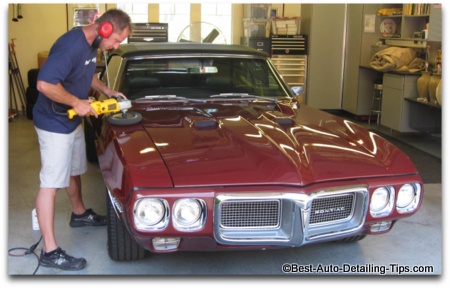 "Darren, I have wanted to learn how to use a car buffer for the longest time. I am so confused by all the opinions and don't know how or where to begin!"
You Will Be Your worst Enemy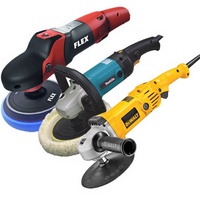 Just like many of us and a common problem within any industry, when you have decided you want to learn how to polish a car and go searching for a top rated automotive polisher, you instantly want "the best".
But looking for the best car polisher is what will trip you up to begin with, and prevent you from getting what you really want. So ask yourself the following questions:
Why exactly have you come looking for in an automotive polisher?

Do you really want to learn how to polish your car or do you really want to consume hours of your time reading one review after another?

Perhaps what you really want is a highly polished car, done by yourself, and you would like it sooner rather than later!
Auto Buffer Quick Review

There are (2) basic car polishers:
Orbital buffer; also called a DA (which stands for dual action). Orbitals also come in (2) versions: random orbital and forced rotation.




Rotary buffer; also called a high-speed buffer
For the purpose of getting you what you want sooner than later, we are going to discuss random orbital car buffers. There are specific reasons that me and virtually every other professional prefer and recommend these types of car polishers.

Why Choose a D/A Polisher?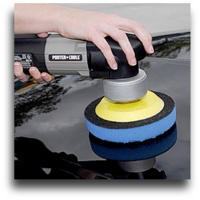 DA (dual-action) Orbital, Random Orbital:
It doesn't matter what you call them, they are the safest, most user friendly car polishers whether you are a car polishing virgin, or a seasoned detailing veteran. These types of automotive polishers are unique in that the polishing head spins, while vibrating. This is why they are also called DA for dual action.
This is a subject that can get confusing very quickly due to the many terms and the misuse of the many terms. For example, many people will refer to the moving polishing head as both spinning and oscillating. This is a subtle difference in movement, but when you add both the big differences and subtle differences in desciptive words, it is not wonder this industry is filled with so much confusion!

The best way to imagine this concept is to think of the rotation of the earth and sun:
The earth spins on an axis (spinning. It gives us the 24 hour day)

The earth rotates around the sun at the same time. (vibration. It's was gives us the calendar year. 365 days to rotate around the sun)

The idea is to replicate the hand application of polishing or waxing. When applying wax or polish by hand, generally people have been taught to rub in circular motions, while at the same time your arm is also moving your hand around. The idea is to eliminate the dangers of car polishing most commonly associated with what is called the high-speed polisher. (rotary polisher)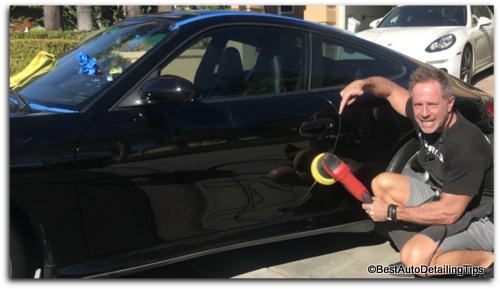 Here I am testing one of the many different automotive polishers on the market. Performing some high-end paint correction on this Porsche Carrera.
Random orbital polishers were developed for some very specific reasons:
Safe as safe can be.
Allows a beginner to use a machine polisher to achieve professional results safely. (we are talking swirl free polishing)

Duplicates hand polishing.
Eliminates holograms that are specific and unique problems caused by rotary polishers.  While rotary polishers are amazingly powerful polishers needed for very specific jobs that require heavy duty compounding, the vast majority of people never need one or have even touched one.

Top Rated Automotive Polishers

The Dual Action (DA)
The good news is that the industry has responded by making every part of the equation easier then ever. From the polisher, to the pads, to the polishes.
Now a true beginner can polish their own car and produce professional level results right out of the box! Not only can you produce professional results, but create an award winning shine completely free of any swirl marks often associated with using car polishers.


Griot's Garage 11620Z Orbital Correcting and Wax Kit
Complete paint correction kit to restore your dull, faded, oxidized car paint.
Restore depth and shine to your car paint.
As easy and straight forward as you will ever get.
Darren's Tip: The majority of you could literally stop right here with this car polishing kit from Griot's Garage. Not only does this kit contain everything to create an amazing shine, but it represents both the perfect starting point, but also the stopping point for many car enthusiasts, driveway detailers, or soon to be professional detailers.


Automotive Polisher

Professional Grade
Even though the car polishing kit above is what I consider the winning balance between performance, cost, and user experience, there are a few other top rated automotive polishers that can take you to the next level of performance and user experience if you are willing to pay the added cost.
Darren's Tip: I don't mean to sound like a broken record, but having been in your exact shoes so may times, I know the struggle of picking out the "perfect" tool the first time around. And while I said the kit above is where most of you CAN stop, it doesn't necessarily mean you WANT to stop, or HAVE to stop there.
The polishers below will definitely "feel" more professional. (and by feel I mean in the form of better ergonomics and overall user experience)
The polishers below will also "look" more professional. (While this is purely subjective, it is in fact a key point to consider for many guys. If you are a subscriber to my YouTube channel, one of the many principles I teach to start-up detailers is the "power of presentation". This means you make sure you look the part of a professional at every level regardless of your level of expertise.)
As a rule, guys are like women when it comes to power tools: we can never have enough! With that said, I always offer these additional words of advice:
You can literally drive yourself into a frenzy reading one review after another when shopping for the "perfect" automotive polisher.
If you are on a tight budget, or a little unsure as to your commitment on polishing your car long term, then simply stick with the Griot's polisher above. (I promise you; it will produce the results you want)
If you catch the bug and become a serious detailing addict, you will never limit yourself to a single car polisher! And for this reason you simply need to accept this fact. And in accepting that fact, you will hopefully realize that until you start somewhere, you will continue to chase your tail reading one review after another.
If you are a perfectionist or elitist in how you shop (this simply means you want and can afford the best of anything) for what is called durable goods (as opposed to consumable goods), then you will most likely want one of the car polishing kits below.



TORQ BUF501X 10FX Random Orbital Polisher Kit (Polisher + 9 Items)
Top rated car polisher.
Enthusiast/Professional grade.
Make your life super simple; this is an all-in-one purchase. (polisher, backing plate, pads, and even polishes)
Likely the last car polisher you will ever need.
Will perform to professional standards with included polishing pads and polishes.
You will be amazed at the results you are able to produce! (seriously!!!)
The trade-off with this kit versus the one above is that you will need to purchase some form of clay bar kit to decontaminate your paint prior to polishing it.
This polisher is also more expensive, but also has a more professional look and feel to it. (once again; trade-off's)
Automotive Buffer:
The (almost) ultimate kit




Griots Garage BOSS G21 Long-Throw Orbital Polisher Deluxe Kit
How do you like the "almost" part?!
It seems everywhere in life you are trying to find the perfect combination. But there is always going to be trade-off's no matter what.
The trade-off with this kit is you will still need some form of detailing clay to decontaminate your paint with, prior to performing any polishing, paint correction, or even waxing. Don't underestimate this part of the process. So this kit is very comprehensive, but still lacks that one critical part of the process.
A true professional grade automotive buffer.
Comes with true, professional grade compounds and polishes, and even a paint sealant (sealant is simply a different type of "wax". Think of sealants as synthetic motor oil versus conventional motor oils)
Unlike the other Griot's car buffer kit above, this kit has micro-fiber cloths that you will also need. (we are once again back to the infamous trade-off moment)
Also comes with an interface plate many professionals like using when polishing.
Don't forget about the really cool Griot's Garage, custom bag!
If you do in fact have the additional money, this car polishing kit from Griot's would be my pick for a top rated automotive polisher that represents the winning balance of all variables: performance, user experience, professionalism, cost, and just as important, a phenomenal warranty and a company that actually stand behind their warranties.

Darren's Tips: Many of you might be here simply "looking" to get another car polisher to replace your current one. Often I have found that when this is the case, many times it is the type of polish being used that is more the problem. If this might be you then I suggest you look at the following polishes that are now available to anyone.
The Ceram-X is truly the place to start if you are looking to do medium to heavy duty paint correction wile still being able to use a single product to polish down to a swirl free finish.
The D-1 Enhancer would be for the complete beginner who simply wants to do basic defect removal and produce amazing results.

Ceram-X Polish



CSI Ceram-X Polish Quart 62-203-Q
Not a compound, but a polish.
Made with highly refined abrasive technology.
The only polish required for 99.9% of all jobs on any type of paint and/or clear coat (fresh paint, fully cured paint, hard or soft clears, ceramic or non-ceramic clears)

D1 Enhancer



CSI D1 Polish/Enhancer Quart 62-209-Q
A finer grade of polish
Only needed for the extreme perfectionist
For use on dark or black cars by a person with a highly developed eye

Any of the automotive polishers above will work as they will all have the ability to deliver professional results. Like anywhere in life you tend to get what you pay for (The Ceram-X and D1 Enhancer are also towards the higher end of pricing) and these car polishers are no exception.
More money equals higher performance along with a better, overall user experience!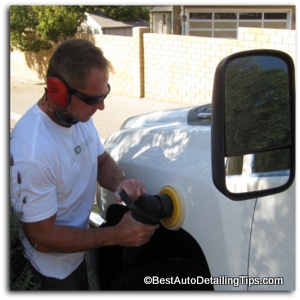 I will also add that shopping for an automotive polisher from one of those cheap supply stores whether it be online or not, will be hugely disappointing. If you think you can get a quality car polisher for $35-$65 you are sorely mistaken and I promise you will be disappointed when compared to the quality of these automotive polishers and paint correction kits.

So what are you waiting for?

Best Detailing Tips Home

›
Auto Detailing Tips
› Automotive Polisher