Best Automotive Polisher:

Car Polishing for Beginners
Any search for the best automotive polisher will deliver up a mind-numbing amount of options!
Unlike myself when I started out as a complete beginner to the world of auto detailing, you are living in the information age. But too much of a good thing can prove an overwhelming proposition as a beginner to the world of polishing your car.

If you truly are a beginner, then chances are you will not have enough information nor experience to be asking the right questions on your quest to find the best kind of auto polisher.
Automotive Polisher

Helping you ask the right questions
What are the different types of polishers
What polisher is best for beginners
What polisher do I recommend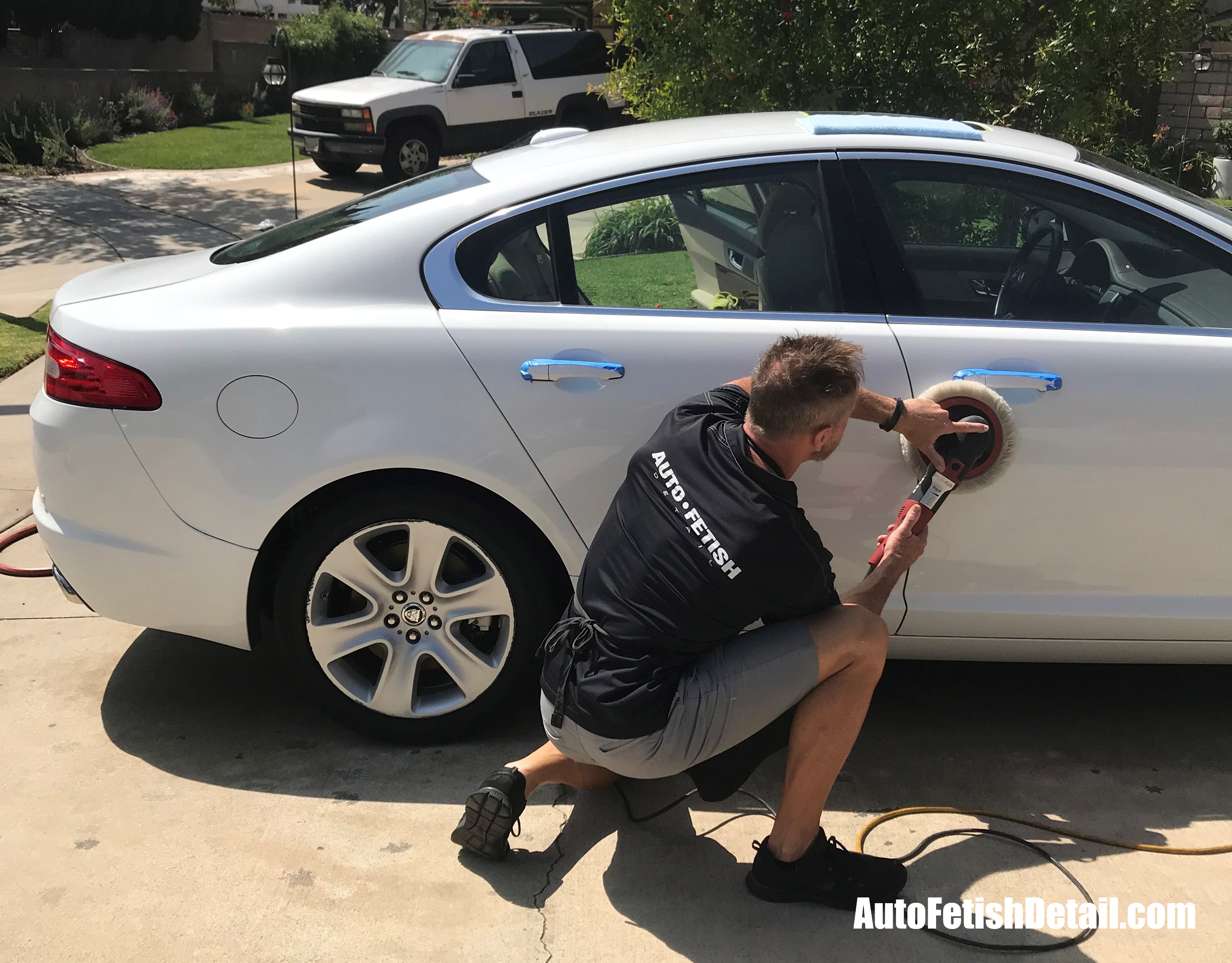 The world of car polishers, car buffers, and machine polishers is a complicated search as you will quickly find out. Before you can find the best polisher as a beginner, you should become an informed car owner first.
If you believe that informed people make better decisions, then you will want to follow along as I start at the beginning and work up from there.
Car Polisher vs. Car Buffer
The world of detailing and cosmetic car care is a world of its own language, terms, and jargon. Different terms are used to describe the same thing.
Not only is there a wide range of terms that all mean the same thing, you will have many people use this wide range of terms completely incorrectly.
Confusion, confusion, and more confusion!

The point being is that as a beginner, you will find yourself frustrated and confused very quickly.
Buffer and polisher is the same thing: any type of machine polisher
This can be an electric machine or a pneumatic (air powered) machine
This can be a cordless (battery) or a corded machine
This could be a rotary, dual-action (DA), random orbital, forced rotation, gear driven, etc., etc.
Darren's Note: Just as you might call your car a "car", someone might call it an "automobile". Just as people will say car buffer, the next person might say car polisher.
As a rule, there are many people that generally use a specific term based on the "type" of machine they are talking about.
Here are some of the many examples:
Rotary polisher
Dual-action orbital buffer
Car polisher
Car buffer
Gear-driven orbital polisher
Random orbital car buffer
Automotive polisher
Automotive buffer
Auto polisher
Auto buffer
Literally anything goes! What you need to understand is there is no universal accepted rule that determines the difference between a car polisher and a car buffer.
They are the same thing.
Different Types of Machine Polishers
Now that we have the difference between a polisher and a buffer out of the way, let's go deeper into understanding the various types of machine polishers available before we get into the exact polisher I recommend as a beginner.
Darren's Note: Today is a world rapidly adopting anything battery powered. When it comes to the world of car polishing, the term corded or cordless are the default terms. And any type of machine polisher will have both versions available.

Rotary: Machine polisher that has a buffing head that spins on a single axis point. Spins in one direction only. Can also be called a high-speed buffer or a variable speed polisher.
Dual-Action: This refers to a machine polisher that has two movements to the polishing head. One movement spins, while the secondary movement vibrates/oscillates. Dual-actions come in two varieties: random orbital and forced rotation (see below)

DA: This stands for dual-action and will often be used alone, or in conjunction with random-orbital
Random-orbital: This type of machine polisher has two movements to the polishing head. The reason this is called random is due to the fact that one of the movements is free-floating while the secondary movement is gear driven. The free-floating movement makes it random in movement.
Forced Rotation Dual-Action: this is a machine polisher that has both movements controlled by gear driven design. This means that regardless of pressure applied to the polishing head during polishing, both movements continue as opposed to a random-orbital dual action polisher where only one of the movements will continue when too much pressure is applied tot he polishing head during polishing.
Best Automotive Polisher for Beginners:

What Would Darren Do (WWDD)
Without hesitation I will say that a dual-action, random-orbital polisher is the best automotive polisher for any beginner. The good news is that if you stick with car polishing and become adept at this skill, you do not have to necessarily buy a new auto polisher moving forward.
This means that the automotive polisher you start with as a beginner, can be the same polisher you remain with as you develop your skills.
Let me lay out the merits of this type of car polisher that you will enjoy as a beginner:
The dual-action, random-orbital is the safest polisher of any type
Since the "spinning" action of this polisher is free-floating, if too much pressure is applied during polishing, the spinning movement stops and only the vibrating will continue
This "randomness" of the spinning means this automotive polisher as safe as safe can get
Darren's Note: To make a distinction, the dual-action, random-orbital car polisher is the most common type of polisher on the market. Most polishers will be engineered like this. Any other type of polisher will be labeled distinctly different from this.



Adam's Swirl Killer 15mm Car Polisher - Buffer Polisher Dual Action Machine | Use W/Car Polish, Polishing Compound, or Car Scratch Remover | Detailing Car Wash Clay Bar Ceramic Coating
15mm Dual-action, random orbital polisher
Professional grade with entry level price
The fist and last automotive polisher you would ever need
Darren's Note: The reality is that you will want to polish your car less-often, not more often. Understanding clear coat and the polishing process will lead anyone to this conclusion.
This simply means that it might not make sense to burn through a ton of cash on a car polisher if you accept that you will be spending limited time behind it.
The good news is that despite the fact that you could spend twice the money for a "professional grade" machine as per the industry, this one will deliver true professional results despite the more modest price.

15mm vs. 21 mm Dual-Action Polisher:

Short-throw vs. Long-throw polisher
Once you start shopping for a dual-action (DA) automotive polisher you will soon notice a choice between 15mm and 21 mm polishers.
This measurement is based on the metric system and defines a 15 or 21 millimeter "throw". The "throw" measurement is the size of the vibration movement of the polishing head.
Some guys prefer the larger "throw" as it covers a larger area of paint real-estate when compared to the short "throw" of the 15mm.
I have found that most beginners take a little more comfort due to beginner anxiety by opting for the shorter throw version of these polishers. For this reason I recommend the shorter throw of the 15mm.
Best Automotive Polisher Meets Best Car Polish
I am of the opinion that finding the best car polish as a beginner is just as important as learning which car polisher is best for beginners.

After all, you do want shiny paint, right?
I find the winning balance when choosing a top rated car polish to include the following:

Ceram-X Car Polish



CSI Ceram-X Car Polish 62-203-Quart - Single Product Polish (SPP) Superior Single Polish Replaces The Countless compounds/Polishes You Think You Need
Not a compound, but a polish
Made with highly refined abrasive technology
The only polish required for 99.9% of all jobs on any type of paint and/or clear coat (fresh paint, fully cured paint, hard or soft clears, ceramic or non-ceramic clears)
For use by hand, any type of machine buffer, any type of polishing pad
Body shop safe
D1 Polish Enhancer



CSI D1 Polish/Enhancer Quart 62-209-Quart car Polish Developed to take polishing to 4K Results in Clarity, Depth, and Gloss.
A finer grade of polish
Only needed for the extreme perfectionist
For use on dark or black cars by a person with a highly developed eye
Can be used independently if you are a hobbyist or car owner looking for slight paint defect removal and gloss enhancer
For use by hand, any type of machine buffer, and type of polishing pad
Body shop safe
Darren's Note: The 2 car polishes above are the only car polishes you will ever need. In fact, you could literally get away with only using the Ceram-X car polish. I only add the D1 Polish Enhancer for those among you that already know you want to attack this at a level 10 and have an extremely critical eye.
The Ceram-X was truly formulated to be what is called a Single Polish Product. Unlike virtually every other compound or polish on the market that is made with diminishing abrasive technology, requiring the use of multiple compounds and polishes, the Ceram-X is made with highly refined, uniform abrasives.
This means that you can now perform the most aggressive form of paint correction (or basic paint polishing for the true beginner) down to a swirl free finish with just a single polish.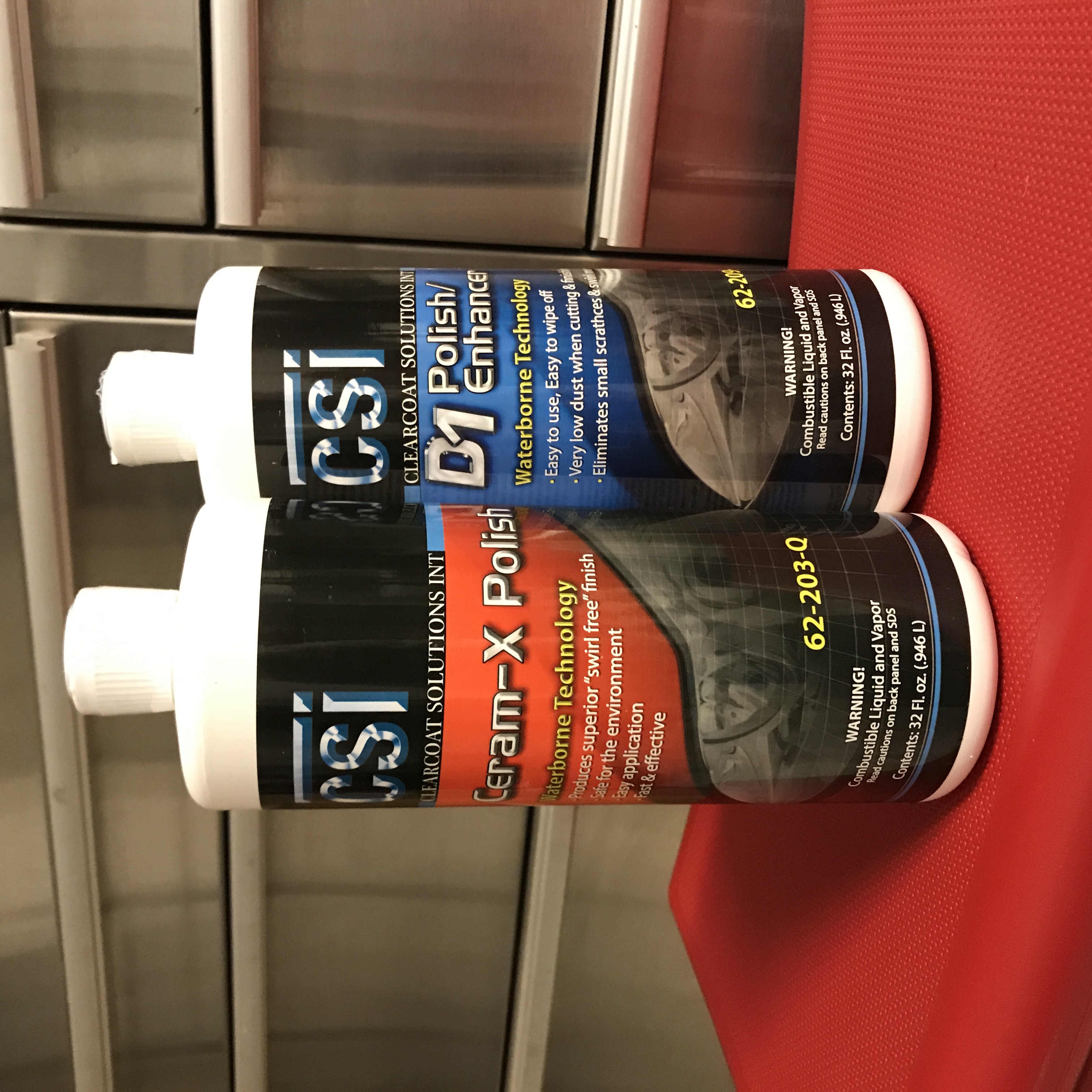 Automotive Polisher Summary
If you have made it this far then you can now call yourself a member of a select group of car owners known as the "informed". People willing to take the time to become informed so you can make informed decisions
I hope I have helped in this process and you can now take your next step to polishing your car so you can have better shine, rather than less-than-better shine!
Sincerely,


---