The Best Auto Polish
Are you asking the right question(s)?

Asking what the best auto polish is will get you as many answers as there are people! This represents both the good and the bad news.
Driven by the need of the manufacturers to sell you more and more "stuff", the cosmetic car care industry has done much to bury you with endless choices in car polish and every other area of car care. Ask anybody the difference between waxing their car and polishing their car and you will have only begun to witness how much confusion exists in this industry.

Welcome to the World of Information Overload!


Back when I started as a professional detailer, information was hard to come by and usually meant a face to face conversation...as well as some immediate ability to verify the source from which you were seeking information.

Today's world is a world of endless information all at a touch of a screen or a computer mouse. And with the Internet also comes the ability of virtually anyone with the most basic of skills to create a platform by which to speak and spread their endless opinions.
But as consumers and the seekers of reliable information, how to you verify the source? Visit any car or detailing forum and see if after spending any length of time in search of the best car polish, if you don't come away being more confused and frustrated than ever before!
"So Darren... it sounds like you understand my frustration, but what can you do to help?"
Hopefully a lot!

First Things First

I believe that informed people make better decisions. With that said, I know my audience is very diverse with people coming in with many questions, experience, and information. So in order to help you get more of what you are likely looking for, let me start out by defining the subject of "best auto polish" into two basic questions.
Polishing by hand.
Polishing by machine.
Because people will generally search using rather ambiguous search terms, it is often hard to know exactly what people are looking for. So experience has to be my leader in many of these topics. And because of that, I know that often I simply need to begin by asking people who come asking:
"Are you looking to polish your car by hand, or machine"
The funny thing is that despite what the industry may have lead you to believe, it really doesn't matter. Any polish can be used by hand or machine. You simply adjust to the conditions and requirements of the moment. It really is that simple. And just to be clear; I am talking about the actual polishes, not whether you choose to polish by hand or machine.
There is a very big difference!

If you really are here looking to polish your car or truck by hand, you seriously need to consider getting yourself a quality automotive polisher. (seriously! polishers today are as safe and easy as safe and easy can get!)

The more important question these days is just what kinds of polishes do you need, and how many different grades/levels of polishes do you need? That is where the industry really has you by the shorts! This is also where you will get endless opinions.

Darren's Top Pick of Auto Polish

My detailing cart set up with some of the many car polishers and car polishes I use and test.
Whether I am in search of the best auto polish or the best car wax, it is always going to be about finding the winning combination of benefits, along with the least amount of drawbacks.
So my top pick as the best rated car polish is based on the following:
The car polishes I actually use professionally.
Can they actually produce the results I need.
Are they easy to use.
Can I adapt them to any type of car.
Can I adapt them to any type of weather circumstances.
Are they available to beginners and professionals alike.

And based on that checklist I have my top pick in auto polishes listed below, broken down into categories based on you and your world:
Best All-in-One Car Polish

This is where I am going to add some additional confusion to a topic that already has many guys frustrated to begin with. But with that said, these All-in-one (AIO) car polishes are pretty darn amazing. You can attribute this to advances in chemical engineering. There is not an area of your life that has not been dramatically improved due to modern day technology of every kind.
Polishing your car is no exception, just as the actual car polishes are no exception.


Menzerna CGW One-Step Polish 3in1, 32 oz.
One of my personal favorite brands of car polishes.
This is actually labeled as a 3-in-1 car polish versus an All-in-One. (same thing)
The efficiency of these products is amazing in the ability to actually perform three jobs within a single product.
For anyone who seriously wants to keep things super simple, or soon to be professional looking to be very profitable in the ability to save lots of time.


HD Speed All In One Polish/Wax - 32 oz. | Clear Coat Car Polish and Wax in One | Paint Protection, Swirl Correction | Perfect for Auto Detailing & Restoration | Gel Coat Friendly
Another one of my favorites.
Excellent reviews within Amazon.
An excellent way to achieve professional results and to keep things super simple.
Whether you are a driveway detailer, enthusiast, or soon to be professional.
Dedicated Car Polishes:
Top Rated Auto Polishes





Menzerna Power Finish & Super Finish Bundle
Top rated car polishes from one of my favorite brands.

This kit comes with two levels of polishes along with a synthetic sealant to use as the final step after polishing.
Definitely makes my list for best auto polish.
This kit would be all that 99% of you would ever need moving forward.



Chemical Guys GAP_VKIT_101 V36 Optical Grade Cutting Polish and V38 Final Polish (16 oz) (2 Items)
Top rated car polishes.
The two polishes that will get 99% of you as far as you will ever need.
You don't have to over-think modern day car polishes, and these two will work perfectly for light duty to heavy duty.
Darren's Professional Tips: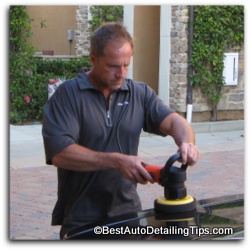 I used to use Meguair's 105 and 205 from their professional line of products. In fact I used those two polishes for years....until I was introduced to some of the other car polishes out in the market and have never looked back.
Technology has improved every industry and every product; car polishes are no exception and by no means are these the only quality, professional grade car polishes out there. And if you enjoy the endless search for the best auto polish then you are welcome to continue your quest.
With that said I will try to become a voice of reason in a very noisy world:
Darren's Final Words on Best Auto Polish

Like most areas of auto detailing, you can spin out of control trying to read every review and opinion regarding the best auto polish. The problem is you will get a different answer every time you ask. If you enjoy research and working yourself into a frenzy being overwhelmed by a sea of opinions, most of which suck, then by all means have at it. But if you are simply looking to cut to the chase and find something that works, then follow my suggestions.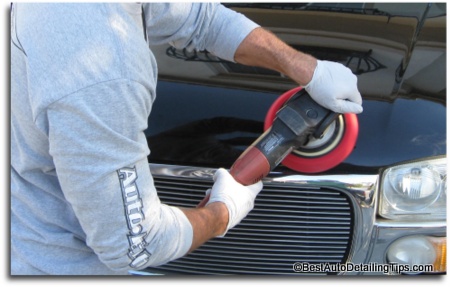 With that said, by no means does this represent the only choice as the best auto polish, as we are surrounded by many quality choices these days.
"Perhaps the question comes down to whether you want to spend more time on research or more time polishing your car."
And don't forget to check out my YouTube channel and help spread the word to any of your favorite social media sites!
Thank you in advance-


---
Home

›
Car Polish
›
Best Auto Polish