Cleaning Leather Car Seats
Fact vs. Fiction

Cleaning leather car seats is one of the most commonly asked questions as a professional auto detailer. Due to misleading advertising and an over-abundance of bad information, most people are frozen with anxiety when it comes to what proper care and cleaning of your car leather really includes.
Professional experience has also shown that most people want to skip the basics of proper car leather cleaning and jump straight into leather conditioning and protecting. Many people also maintain the false opinion that they can magically transform bad leather into good leather if they simply apply enough of the "right" car leather conditioner.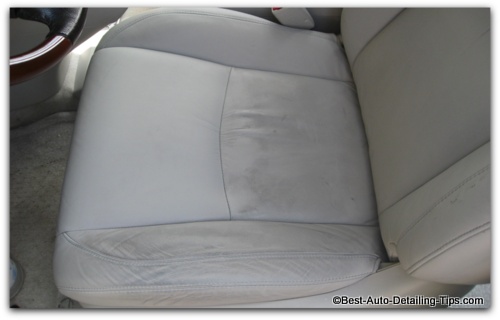 Pictured: This shot above is taken during the car leather cleaning process of this Lexus RX. You can see the before and after difference that is possible when using the right leather cleaner along with the right techniques.
"Darren, those are dramatic results, how come I find myself constantly frustrated by any leather cleaner I have ever used?"
Because you are using the wrong leather cleaners.

Your techniques are ineffective.

You are operating under outdated and bad information.
Understanding the Nature of the Beast

Life rewards those that can produce results. Good intentions and wishful thinking will get you very little towards the results you seek. Unfortunately much of the information that dominate the world of car leather cleaners and conditioners is outdated at best, and completely wrong at worst!
For this reason it is important to not only start with the basic understanding of what I refer to as the nature of the beast, but to build upon that beginning foundation of information to become an educated and informed consumer and car owner.
"Due to endless hype and misinformation, cleaning and conditioning car leather is a beast!"

It is important to understand that the car leather of today is not the car leathers of yesterday. I suggest you start at my car leather care page and build a solid foundation of insight into the world of modern day car leathers. This link will open up a new window so that you may return here and work your way towards the next critical step of cleaning leather car seats based on real world experience.
Regardless of what you think or have been taught, one of he most critical things you need to know is that car leather found in virtually any car built today, regardless of cost, is what is called coated leather.
This means the car leather has been coated with a clear protective coating.This also means that when you are cleaning leather car seats or conditioning your leather seating, you are working on a synthetic coating, not the natural leather you think you are touching.
While you might find this frustrating at first, the reality is that the care and maintenance of your leather car seats is easier than ever!
Why Most of You are Frustrated with the Results when cleaning leather car seats

I can bet why most of you are here and it involves either one or both of the following:
You have car leather and it is dirty.

You have tried other leather cleaners and are disappointed with the results.

You read and hear endless opinions that seem to all lead you to different conclusion.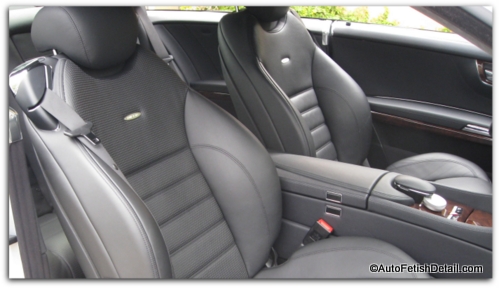 Occasionally I get someone here who has just purchased a new car; this could be brand new, or just a used car that is new to them and it has leather seating or leather car upholstery.
Regardless of your exact situation, we need to lay out the specifics of frustration that you have either experienced first hand, or will soon experience if you follow the advice of mainstream opinion.
"Most dedicated car leather cleaners sold within the detailing world will prove less than effective on anything other than already clean leather"
Dedicated cleaners made for cleaning leather car seats as a rule will prove ineffective and frustrating on anything but the "cleanest" of dirt. (How is that for a contradiction: clean dirt?)
Most of the blame can be assigned to a hyped-up industry that is bent on doing one thing:
Separating you from as much of your money as possible!

"The industry has you believing that car leather is an overly sensitive and fragile material that requires special cleaners and conditioners"
While this may hold true to other industries that use leather to make their products, the automotive industry is the exception to this rule.
The single biggest thing you need to know is that car leather is coated with a clear protective coating.
This means you are cleaning and conditioning car leather that is a natural material coated by a synthetic coating. If you think you are going to find that magic leather conditioner and rub and message it into your car leather to transform your car leather into leather that is as soft and supple as a baby's butt, you will be sorely disappointed.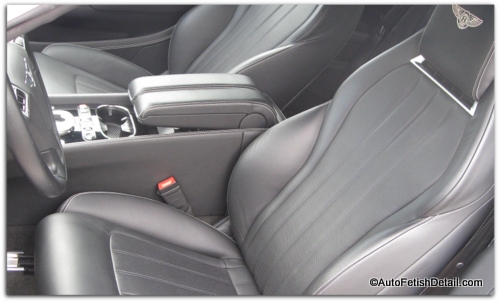 Because the detail industry like most industries operate in the CYA mode (cover your ass), along with a society that is filled with a bunch of ambulance chasing attorney's, the industry has to formulate car leather cleaners that have been "watered-down" to the point of being completely ineffective on anything but the cleanest of dirt.
Yes, that sounds like an oxymoron, but unless you car has anything more than the slightest of dirt, virtually any "off-the-shelf" car leather cleaners will FAIL!

Cleaning Leather Car Seats:

Operating under new rules and new understanding
Now that you know when cleaning leather car seats you are no longer working on a natural material, but a synthetic coating, there are new options that has allowed me as a professional to become more efficient and more profitable, that can also prove the same for you:

Cleaners that are more effective while being more economical
Conditioners that are counter to the industry but offer more versatility
Darren's Note: I am going to lay out the very products I use at a professional level that many of you may instinctively want to dismiss at first. But if you stay with me here I promise I will begin to open your eyes to a reality that can prove to be much more simple, effective, and economical for you.



Simple Green 13005CT Industrial Cleaner and Degreaser, Concentrated, 127.8 Fl Oz, Pack of 1
A very effective, versatile, and safe all-purpose cleaner that comes as a concentrate

Throw away all your over-priced, dedicated car leather cleaners and switch to a product you can custom blend to suit your needs and save you money
Not just effective at cleaning leather car seats but shampooing all the upholstery within your car
Safe as a car leather cleaner and safe for you as the user
My "perfect" dilution ratio whether I am shampooing the carpeting or cleaning leather car seats is a 10:1 dilution ratio


Commercial-Grade Non-Abrasive White Cleaning Pad 5 Pack By Mop Mob. Large, Multi-Purpose 10 in x 4 1/2 in Scouring Pad Fits Universal Holders. Great For Scrubbing Sinks, Tile, Windows and Fine China
My "go-to" non-abrasive scrub pads I find ideally suited for cleaning leather car upholstery
Perfectly suited for use by hand to form and mold around the curves and seams of your leather car seats as you clean them
Spray your cleaning solution directly onto your leather seating or directly onto one of these scrub pads
Also ideally suited to clean virtually any of the non-porous materials within your cars interior: door panels, seat backs, dashboard, door sills, etc.


Rubbermaid Professional Plus Scrub Brush, Scrubbing Brush (FGG23712)
I bust out one of these scrub brushes when cleaning leather car seats that have a thick or deep texture to them (this allows the individual bristles to get down into the nuances of the heavy texture)
You might think this shocking to use a scrub brush like this to clean leather car seats, but not only do you remain in control (you go easy at first to check results and to build your confidence) but you will quickly realize your car leather is much more durable than you may have been lead to believe


Kirkland Signature Ultra High Pile Premium Microfiber Towels (36-Pack)
Micro fiber cloths are my "go-to" cloth for all detailing tasks
These are the exact micro fiber detailing cloths I use professionally
The exact cloths I use for 80% of all my detailing work
More absorbent, softer, and won't leave lint like other types of cloths
Cleaning Leather Car Seats:

What's next....
At this point you will likely want to know what I recommend to use on your car leather to finish and condition.
I have answers for that also...



CSI Q-7 Detailer Quart 62-205-Q
One of the most versatile detailers I have ever used and officially my "go-to" detailer as a professional
Not only perfectly suited as a gloss enhancer for your car paint, but an interior detailer to clean/dust your cars interior when used regularly.
Perfect as a follow up when cleaning leather car seats
Particularly useful when cleaning black leather car seats that can often look uneven in appearance after cleaning your car leather
Yes; I actually can and do use this spray wax on car leather (remember we are dealing with car leather that has a synthetic clear coating on it)
Can be used just as I recommended the Q-7 Detailer just above for light dusting/cleaning of not just your car leather but all the non-porous materials within your car
If you accept that your car paint clear coat needs protection, then waxing your car leather and other plastic components of your cars interior should also make sense to you
This will create a more visually enhanced appearance to your cars interior over that of the Q-7 Detailer
Spray onto micro-fiber cloth and wipe down your interior materials after cleaning for a uniform appearance and a layer of protection/conditioning
Creates a different surface tension than the Q-7 Detailer which means your car leather will fell differently if you use this rather than the Q-7 Detailer. It is neither a good or bad difference; but simply a different feel


CSI Nu Tyre Lotion Quart 62-208-Q
For use when you want to condition your leather after cleaning leather car seats and want some shine injected into the moment
Creates added luster and shine if you like some shine without over-shine
Dries to the touch so none of that greasy/oily effect often common with other traditional car leather conditioners
Also my favorite tire dressing since it dries to the touch and there is no annoying tire sling
Can be used regularly to keep your car leather looking its best, but I recommend cleaning your leather car seats a few times a year so you are not just applying more and more of this dressing over dirt
Cleaning Car Leather Seats:

Additional tricks
Many cars whether they have are true leather, or vinyl made to look like leather, will have perforated leather seats. Cleaning these tiny perfs in the leather seating can represent a challenge if you are really trying to nail the details.
Use the following tools perfectly suited to handle this situation if you are faced with this problem.



Tepe Angle Brush Mixed Sample Pack (6 Brushes Per Pack)
Perfectly suited to clean the individual perforations when cleaning leather car seats
Safe and effective
Yes; can be very time consuming if you have dirt or spills in many of the perforations
Handy handle version you might find more user friendly than the ones below

Disposable interdental cleaning brushes perfect for perforated seating materials
Easy to hold and use, but you may prefer the handle version type of the ones above


GUM Stimulator 1 Each (Pack of 4)
Made with a pointed rubber tip
You may also find these tools useful for perforated car leather seats or other delicate crevices when detailing the inside of your car
Cleaning leather Car Seats:

For the overly cautious
If you consider yourself overly cautious and have a healthy amount of anxiety about using my techniques from above, you might lean towards one of the following brushes that are more gentle and softer when cleaning leather car seats of your own car.
Just known everything comes with trade-off's and you might find these brushes TOO soft and gentle if you have car leather with a healthy layer of dirt.



Chemical Guys ACC_S95 Long Bristle Horse Hair Leather Cleaning Brush, , 1 Pack
Without the use of some form of scrub brush, you will never clean leather car seat with acceptable results unless of course your car leather isn't really dirty to begin with.
Most people think car leather is a very delicate and fragile. Trust me, your car leather can be scrubbed very aggressively with either of these brushes. If in doubt, simply go easy and work your way into it.
I prefer the bigger brush from Chemical Guys for that simple reason; it is bigger and you will appreciate using a bigger brush.


TAKAVU Leather & Textile Cleaning Brush, Durable Soft Nylon Bristles, Free Detailing Brush, Unique Concave Design Wood Handle for Car Interior Seat Carpet Upholstery Couch Furniture Boots Shoes
This is a smaller, more mild brush than the one above.
Too small for me personally, but for anyone cleaning leather car seats for the first time are usually rather timid and will likely appreciate this brush in particular.
As safe as safe is going to get.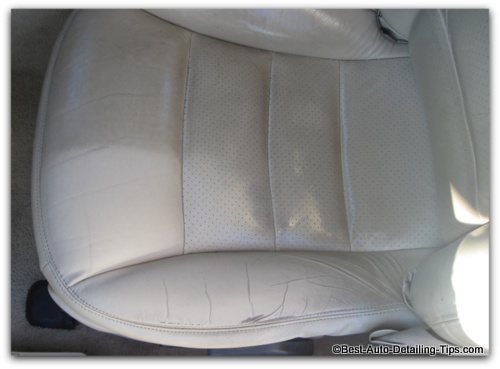 Pictured Above: This shot is taken from a 10 year old Corvette in which the leather upholstery had never been touched...as if I had to point that out! As you can see, the leather is extremely dirty. With the right product and right techniques, the results can be very dramatic as can be seen!

For this type of dirt on your car leather, you will likely need to increase the strength of your cleaning solution. You will also need to accept that you will have to do repeated cleanings as you will not be able to clean a leather car seat this dirty in a single application/cleaning.
Cleaning Leather Car Seats:

Darren's Take-Away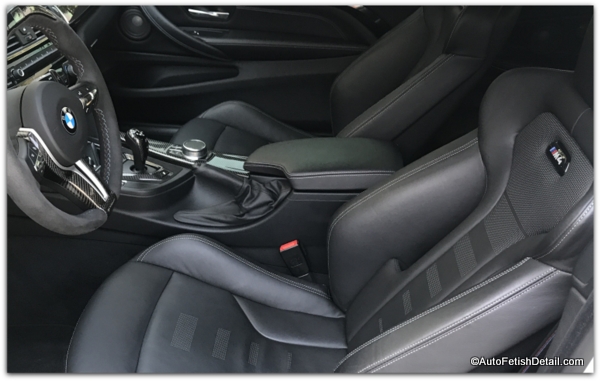 Modern day car leather is much more durable than most people realize.
Virtually all car leather from entry level to high-end luxury cars have been coated with a clear protective layer; this layer is what you are actually cleaning. (cleaning leather car seats should actually be called cleaning a clear coating)

Virtually any "off-the-shelf" leather cleaner will prove ineffective in cleaning car leather seats other than the cleanest of dirt. (There's that oxymoron again!)
Using these non-traditional products and tools should provide you with better results than what you have experienced in the past

Yes, a gallon of the Simple Green concentrate might seem over-kill for most "driveway detailers", but because the product is so versatile, you will welcome the "too much of a good thing" in this case.
Cleaning leather car seats is not brain surgery; start easy and figure out what your particular situation requires for the results you are after! This means you don't have to attack your leather seats going in hot, but can test and experiment until you reach your comfort point and desire results
If you have made it this far into this page, consider yourself among the elite! When it comes to cleaning leather car seats you now know more than the majority of "professional detailers" you will come across.
I hope I have helped.
Sincerely,
Darren Priest

---
---
Cleaning Leather Car Seats