DeWalt Buffer Review
Why this could be the one for you


The DeWalt Buffer represents one of the industry's top picks of high-speed car buffers and polishers. I personally rank it as one of my top picks when it comes to professional grade car polishers.
For many people the choice can be a difficult one if you lack industry experience, and helping you understand the differences in order to make an informed decision will be the ultimate goal of this DeWalt polisher review. The industry is continually coming out with more and more quality car buffers; which in my opinion represents both the good news and the bad news. Follow along as I lay out important deciding factors anyone should consider before buying.
Rotary vs. Random Orbital
Before you can decide on the top rated car buffer for yourself, many people will be unsure in deciding between the rotary (high-speed) buffer and the random orbital car buffer.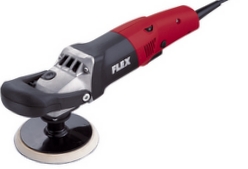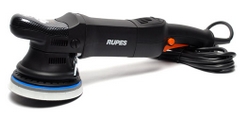 My simple answer is that most of you will likely be happier with the winning balance of a top-rated random orbital. If you are unsure as to which car polisher is the right choice for you and your world, see my Car Buffers Review: picking the best buffer for yourself.
"What most people don't realize is that nothing will match the speed of a quality rotary car polisher when it comes to buffing. Getting from point A to point B cannot be matched with any DA buffer regardless of what you have read or heard for heavy duty buffing to fine polishing."
The DeWalt Buffer:

The winning balance of performance and price!


DEWALT Buffer/Polisher, Variable Speed, Soft Start, 7-Inch/9-Inch (DWP849X)
One of my top picks of rotary car buffers.
Heavy duty capabilities.
Wide spread of uses; cars, boats, RV's. etc.
Can be used with both foam and wool pads.
Swirl free finish is very possible with the very low operating speed set at 600 RPM's.
Now ideal for any true beginner looking for unlimited potential of polishing tasks.
Built to last and perform in the professional world.
Unlike old school high-speed car polishers, these newer models start at a very low 600 RPM speed.

Before the introduction of DA biuffers and the fanfare these car buffers receive, deciding between a car buffer was limited to deciding between brands only, not the different types of car buffers.
DeWalt Buffer Alternative

Being in the world of professional auto detailing for over 3 decades, I started my detailing career long before dual action, random orbital car polishers existed like the one's of today.
I went through various rotary polishers before landing on the Dewalt as my "go-to" car buffer.
Until....



Milwaukee 2738-22P M18 Fuel 7" Variable Speed Polisher Kit w/Pads
The dawn of a new era is upon us and gaining more and more momentum. It is called the age of cordless. It seems that everything is going to battery powered operation and "unleashing" from the cord.
Until you try a cordless power tool, it is hard to realize how much time and effort goes into managing a power cord for practical as well as safety reasons.
My newest "go-to" when it comes to a rotary car buffer
Quality built through and through
Has more power than I ever need regardless of the type of polishing required in the moment (car, boat, RV)
I have owned and been using one over 3 years now and was officially hire by Milwaukee to showcase this at the massive tool expo held each year in Orlando, Florida. (since then I have not had a single problem or complaint with  this amazing buffer)

The DeWalt Buffer Tips from Darren:

Whether you use the DeWalt of the Milwaukee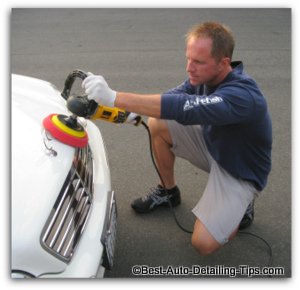 The auto body and collision repair world is dominated by rotary buffers due to their speed. Nothing can out-perform the efficiency of a rotary polisher, and no dual-action car buffer is going to meet the demands of the auto body and collision repair industry.
The world of detailing is a different animal dominated by a different mind-set. The constraints of business are very different between the two worlds despite both worlds needing to polish car paint.

If you plan on reaching the top level of all forms of polishing and the ability to work on anything from car, boat, or RV, you are going to have to step up to a rotary
But I get it...
There is still a lot of fear associated with these rotary, high-speed car polishers. And the DeWalt buffer is one of them. The industry has responded by making these polishers not only variable speed, but have a very low operating speed that can be set to 600 RPM's.
If you are unfamiliar with high-speed car polishers; this is incredibly low. And what this means specifically is a few key points:
Any beginner can now get a rotary polisher and start off safely and slowly (literally) by setting the polisher to 600 RPM's.
Since the DeWalt Buffer can be dialed down and set to such a low speed, you can now do what is called finish polishing, or "jeweling"....or simply start slowly as you gain confidence at the beginning if you are an actual beginner. (the Milwaukee also has a very low starting speed)

This ultra low operating speed allows for a truly hologram and swirl free finish if you also adjust down the polishing pad to a foam pad, along with a finishing polish.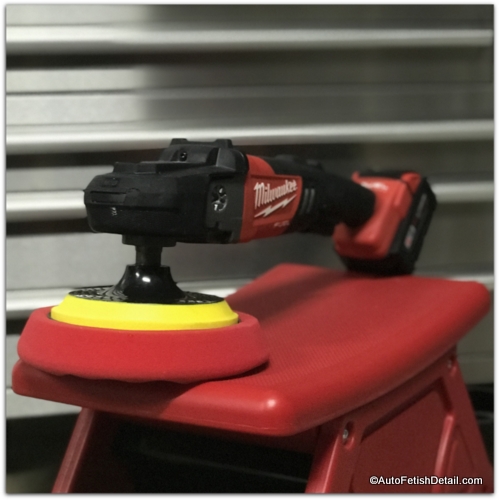 Darren's Tips: Despite what might appear like I have just talked you into a DeWalt polisher, I still feel that most guys starting out will ultimately want a top rated orbital (Dual action) car buffer as their first experience in car polishing. For this reason I still recommend most beginners choose form one of my top rated random orbital car buffers.
Not to add confusion to you, but having taught and trained so many guys over my career, it is a theme that continues to reveal itself. And ultimately if you stick with car polishing for any length of time, you will not be able to help yourself and will continue to buy additional car buffers.
And if you go onto developing your own car detailing business, then speed will become a big factor and nothing but a rotary polisher has the ability to "cut to the chase" like a rotary buffer can!

Paying It Forward

Now that you have become one of the minority in this world called the informed, do me a favor and pay this page forward to any of your forums, social media, or Facebook groups.
I thank you in advance,


---