How to Clean a Car

real answers, no hype
How to clean a car will deliver up a mind numbing amount of results when doing a search on the Internet.
From the growing number of "YouTube Detailers", (guys who talk the talk but have never walked the walk) to articles written by non-professionals who simply repeat bad information from other non-professionals.
It is a vicious cycle you will find yourself entering out of your simple need and desire of how to clean your own car.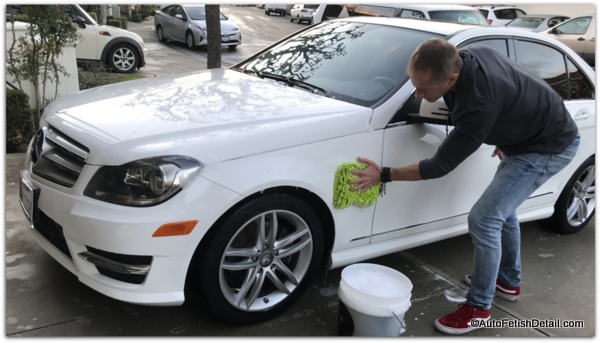 While this website is filled with pages dedicated to very specific areas of detailing and cleaning, this page will be dedicated to helping you clean the exterior of your car.
I will take my 30-plus years of professional experience and deliver usable information based on the following:
How to clean your car with less products
How to clean your car with better techniques
How to get better results with less effort
How to Clean A Car:
Darren's best car cleaning hacks

While many people find spending a half-day on the weekend washing their car as a form of therapy, most people find that washing their car is a necessary evil.
While most people would agree that driving a clean car is much more fun than driving a dirty car, the reality is that washing your car is still effort. And the more effort this represents, the more reasons you will find in order to avoid cleaning your car.


Car Washing Kit:

Car cleaning hack #1
One of the best ways to clean your car is sourcing the products you need from a single kit. Not only can a kit provide superior products, but will save you time and aggravation.
You likely wouldn't be reading this if you already knew the best way to wash your car, and settled into the best routine on washing your car. The "right" car washing kit will give you the exact products you need, while saving you time and money in the process.



Chemical Guys HOL133 Best Detailing Bucket Kit (5 Items), 16. Fluid_Ounces
Excellent car wash shampoo
Exact car wash mitt I use professionally
Dirt trap insert for safer washing
Darren's Tips: I love this kit! Ideal for any beginner looking to get results now, not after weeks of searching for the best car wash soap, or the best way to wash a car.
I find that so many people are using inferior car washing mitts to wash their car and this kit delivers a much safer way to wash your car between the mitt and the dirt trap insert.

Car Drying Cloth:

Car cleaning hack #2
I am amazed at how many people I still see using household bath towels to dry their cars. I realize this is a very convenient way to dry a car, but it is also a sure way to put unwanted scratches and abrasions into your car paint.
100% cotton towels feel good on your skin, but are one of the major reasons your car has what is called the "spider-webbing" effect. Your paint will look like it has a circular pattern of endless spider ebbs on it.


Meguiar's X2000 Water Magnet Microfiber Drying Towel, 1 Pack
Superior cloth for drying your car
As safe as safe can get
More absorbent than a cotton towel

No more lint
Darren's Tip: If you only decided to follow one of my car cleaning hacks, it would be this single suggestion. Using bath towels to dry your car is not only a terrible idea, but delivers a user experience that is adding additional work to your efforts.
Once you try one of these micro-fiber drying cloths, I promise you will never go back to a traditional bath towel! And the added benefit will be the end to the annoying lint you should be frustrated with.
Cleaning Car Windows

Car cleaning hack #3
Very few things deliver more frustration to people than trying to clean car windows. Streak free windows are about using the right product, the right tools, and the right technique.
I have a page dedicated to my secret hack to perfectly clean car windows. At that page I show you a way to clean your car windows in a way that you never have experienced.
If you aren't chasing perfection in how you clean your car windows then you can keep it simple with the following recommendations.

Ready-to-Use Glass Cleaner



Meguiar's G8224 Perfect Clarity Glass Cleaner, 24 Fluid Ounces
As simple as simple can get
Ready to use car window cleaner
For anyone looking for simple, not perfect
Darren's Tips: I like this window cleaner, but I am not in love with it. Only because I know there is a superior way to achieve perfectly clean car windows with another product that you can see at my clean car windows link.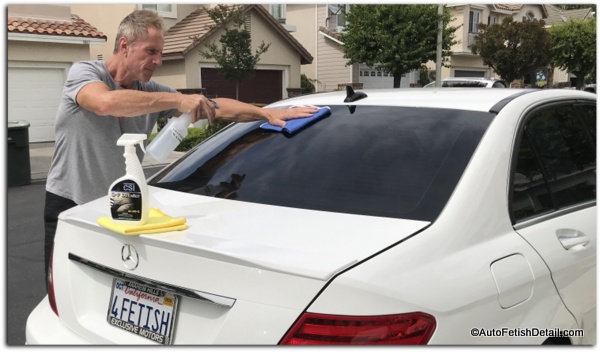 Here you can see me using my secret trick to perfectly clean cr windows using the Q-7 Detailer to do the initial cleaning, followed up with distilled water and a waffle weave micro-fiber cloth

Waffle Weave Micro-fiber Cloth



The Rag Company (2-Pack) 16 in. x 24 in. Waffle-Weave 370gsm Microfiber Detailing, Window/Glass and Drying Towels - LINT-Free, Streak-Free
What I consider the best window cleaning cloth
Far superior to other types of cloths made with other types of materials
I fold twice and use one side for initial wiping, and flip over to dry side for final buffing
Darren's Tips: Once again, this is one of my top tips when learning how to clean a car is by using a waffle weave micro-fiber cloth for all your window cleaning.
Windows are a constant aggravation for even seasoned detailers, so there is no surprise that driveway detailers find constant frustration with cleaning car windows.
Regardless of the window cleaning technique and product you choose, you definitely need to switch to a waffel weave micro-fiber cloth when cleaning your car windows.
How to Clean a Car Tips

If you have made it this far then you will have likely picked up a few new tricks on how to clean a car. But I have a few additional tips and tricks I would like to leave you before we bring this page to and end:
Working in a shaded area will make your car cleaning efforts easier regardless of products and techniques
Consistency is KING! Allowing your car to collect excessive amounts of dirt is going to overwhelm you and will give you a growing excuse not to wash your car

It is better to perform a less-then-perfect wash job, then to allow excessive amount of dirt to build-up
Rinsing your car off with using tap water and your garden hose will cause more harm than good in most cases. Hard water spots will be a natural consequence for this lazy mans car wash which is a worse problem than the dirt itself
Washing your car with the window cleaning squeegee at the gas station is not a good alternative to a dedicated car wash
If you cannot find a shaded area to clean your car in, then break your car won into smaller sections and complete the entire process based on how big of an area you think you can manage in direct sun so as to avoid water spotting
If you do get water spots on your car, you can mix a solution of vinegar and water (1 part vinegar to 4 parts water) and use to remove water spots. You can make the solution stronger if need be. After you use the vinegar solution, you can follow up with the Q-7 Detailer if you get some of that, or use your clean wash mitt to wipe will quickly following a wipe with the drying cloth.
I generally break a car in half horizontally. The lower half being the dirtier half of any car. I wash the upper half first, then wash the lower half last. This allows me to clean away the heavier dirt from my car before I move the more visible upper half of my car where scratching and spider webbing would be more noticeable. I do the full washing of my car, wetting the entire car as need to prevent drying and water spotting before I do a final rinse of entire car, then proceeding into the drying off.
Regardless of whether you are working in the sun or shade, I also dry the upper half of my car first before moving to the lower half of my car.

How to Clean a Car Summary
If you have made it this far you have a high level of concentration and dedication to you and the beauty of your car. Most people remain unwilling to take the time to learn the proper way of how to clean a car and then become frustrated due to poor results.
I hope you are able to produce better results and have a better user experiencing cleaning your car with my car cleaning tricks.
I wish you much success!
Sincerely,
Darren Priest