303 Aerospace Protectant

303 Aerospace protectant still remains an obscure product despite its superior performance and the fact that it has been around a very long time. I was first introduced to 303 products by one of my RV customers who remains a huge fan to this day...
...until I showed him a better way.

While I still consider the 303 Aerospace Protectant a good product, I have also learned it still has some limitations that as a professional detailer has left me going back to my origins of a different product that I consider more of my "sure thing".



303 (30306) Aerospace Protectant, UV Protectant for Boats and Patio Furniture, 32 fl. Oz(package may vary)
What Would Darren Do (WWDD)
I am often asked my my long term followers simply what I would do or what I would use.
They don't want to know all the reasons why necessarily of why I choose a particular product, they have just come to trust my judgement and want to cut to the chase.
For this reason they simply often ask me what I use.

303 Aerospace Protectant was my go-to product for a period of time when it came to detailing RV's.
RV's represent many types of materials and the 303 Aerospace Protectant was a very versatile product.
Tire dressing
A/C covers
Skylights
Black vinyl awnings
After a few episodes of some unwanted results, I found myself abandoning the 303 product and switching back to my "sure thing"



CSI Nu Tyre Lotion Quart 62-208-Q
True waterborne technology (this means unlike many other products that use heavy solvents as the "carrier", this product uses water as the carrier to suspend the needed chemicals and ingredients that you want on the material you are treating, without the use of heavy solvents/oils/etc.

Ideal for tires (dries to the touch and will not sling)
Ideal for restoring and maintaining many of the roof-top components on your RV
Darren's Tips: Any place you would use a dressing, you can use the Nu Tyre Lotion by CSI. I have come to love the performance of this product along with the versatility of this product. Unlike the 303 Product that seems to not dry completely to the touch, or the heavy greasy feel and appearance of the Armor All product that is so iconic when it comes to cosmetic car care, I simply prefer the Nu Tyre Lotion.

The above pictures are taken from different RV's but illustrate the numerous roof-top components you will deal with as an RV owner that the Nu Tyre Lotion can help maintain and preserve the materials.
The obvious use for he CSI Nu Tyre Lotion is for use on tire sidewalls, but due to the products versatility, it has so any other uses as I have outlined above.

Whether you are dressing the sidewalls of your massive RV or the sidewalls of your performance car tires matters not, the Nu Tyre Lotion dries to the touch, does not leave a greasy residue, and promises not to produce any of that unwanted tire dressing sling.
Darren's Favorite Dressing Applicator


Kraft Tool PL600L General Purpose Large Turtle Back Cellulose Sponge Box
My favorite dressing applicator
Cut directly in-half so you now have two applicators for the cost of one
Use damp (simply wet with tap water, wring out, and apply dressing to applicator sponge)
I simply wash-out applicator using tap water, wring out, and let air dry each time (the sponge will generally become hard after you have used a few times. Simply get wet each time and the sponge will last for a very long time)
The wedge tip makes for reaching into tight areas, while the sponge face can be used for very tall side wall tires or large areas to be dressed
303 Aerospace Protectant versus Armor-All

It would be hard to find a person over the age of 15 who has not at least heard of Armor-All products. Most people associate Armor-All with tire dressing. And just like most companies, Armor-All continues to add more and more products to their line up. Due to its brand recognition, Armor-All is a natural starting point when people want to make a comparison between tire dressings, interior dressings, and protectants.
With hat said, since you came here looking for the 303 Aerospace Protectant, I thought I would do a comparison between the 303 product and the iconic Armor-All product.

A leader with a proven track record of protectants that performs beter than the Armor All product

A shorter history than that of ArmorAll (303 began in 1980)
A company that has many products that deal with all types of materials in the maintenance and prevention of premature aging.

After extensive "real-world" testing, has become one of my recommended products that I tested in the real world.

To me, the one and only choice if you are debating between ArmorAll and 303 aerospace protectant. (but not my ultimate choice)

One of the most versatile products you will find with its ability to deal with so many materials, on both interior and exterior.





If you make judgements based on "age" or seniority, then ArmorAll wins.
One of the most trusted names (largely based on seniority once again)
Also a product with a notorious history of cracking things (dashboards, tires, etc.)
If you prefer the shiny and greasy effect in your cars interior.
"One of my favorite products ever" said no professional detailer...EVER!!



Darren's Professional Tips:
Let me bullet point all the highlights of the 303 Aerospace Protectant:
Professional grade product for professional results.
One of my tried and tested professional grade products.

Versatility with the ability to use on so many materials, on so many types of cars, boats, RV's, etc.
Not a glorified Band-Aid like ArmorAll that is going to be superficial at best.
Treatment and protectant for all hard plastics, black trim, clear polycarbonate, treated leathers, dashboards, etc., etc., etc.
The list seems almost endless once you start using this product and realize all the many materials used in manufacturing of boats, cars, and RV's.
Darren's Note: All the above uses are the very uses that the CSI Nu Tyre Lotion can be used for. I simply prefer the CSI Nu Tyre Lotion when doing a direct comparison to the 303 Aerospace Protectant.
303 Aerospace Protectant

Darren's Disclaimer:

The description and recommendations below are intended specifically for the 303 Aerospace Protectant and do not apply to the Nu Tyre Lotion. The 303 Aerospace Protectant is unique in this way as it can be used on materials (see below) that traditional dressings like the Nu Tyre Lotion are not intended for (regardless of how good the dressing you have chosen is)

Cars:

---
Interior:

Leather
Vinyl
Rubber door gaskets
Plastics
Dashboard

Exterior:

Tires
Black trim

NOT intended for glass, paint, chrome
NOT intended for fabric/canvass convertible tops (for my recommendations on treating canvass convertible tops, see my auto upholstery protector where you can find the 303 fabric guard.
Ideal for vinyl convertible tops. (if you are uncertain, check with car dealership/manufacturer)

Darren's Tips: The Bentley pictured above represents a perfect example of a car that has just about every type of material possible. When you start dissecting this example, you can start to appreciate the many uses of a quality dressing.

Boats:

---
Interior:

Upholstery
Dashboard
Plastic cup holders




Exterior:

Tires of trailer
The actual fiberglass boat itself: hull, decking, etc. (this will go completely counter to everything most boat owners have heard or come to believe. This is not to suggest that you can't remain using wax or sealants on your boat as you likely have been, just know this product is suitable as a replacement for traditional waxes and sealants. What most people don't realize is that gel coat (fibergalss) is porous unlike car paint. (even though you have likely heard so-called experts talk about the pores of your cars paint. It is a topic that is endlessly debated.) The key factor is that gel coat is in fact a porous material and means that 303 Protectant is able to penetrate "into" the material. This may seem a complete contradiction since boats float on water and does not allow water to penetrate through the hull. This is where chemistry and molecular/nano science enter the picture, and most people simply do not understand the greater understanding of these subjects.
Eisenglass (a glorified name for clear PVC) This material is typically used to make the clear "plastic" enclosures on power boats, fishing boats, yachts, electric boats, etc. The eisenglass (PVC) is simply  the very thick, clear plastic used to created the semi-flexible window/door enclosures.  In many ways this PVC is similar to gel coat in that it is "porous" to a degree, while being water tight, but the 303 protectant can penetrate the top layer to add protection against premature aging. (The 303 aerospace protectant shown on this page is intended for use on the clear plastic part of the eisenglass, not for the fabric that the eisenglass is typically sewn to. For the fabric material of these window/door enclosures, you would need to see the 303 fabric guard located on auto upholstery protector.

For boat covers, canvas materials, carpeting,  that are more like traditional fabrics, please refer to auto upholstery protector for my review and recommendations in using 303 fabric guard to treat these porous materials.
Darren's Tips: The electric boat shown here is a perfect example highlighting the many uses of all 303 Products that could be used in cleaning and protecting the many materials of this boat. From the gel coat hull, eisenglass and fabric enclosure, vinyl upholstery, carpeting, fabric roof materials, etc.
---
RV's

Interior:

Leather
vinyl
synthetic leather
plastic
rubber gaskets on appliances
clear or tinted


Exterior:

Tires
Rubber door gaskets of exterior storage compartments
Virtually all roofs (the only exception I have found is on limited RV's with pre-painted white metal roofs. This is rare and represents the exception. Airstream trailers have these types of metal, white pre-painted roofs.) The typical roofs for most RV's are white gel coat, rubberized membrane, or textured fiberglass, of which all those roof materials would benefit from this product.
Roof top accessories such as, but not limited to: solar panels, satellite dishes, TV antennas, sky lights, A/C covers, plastic exhaust vents, etc.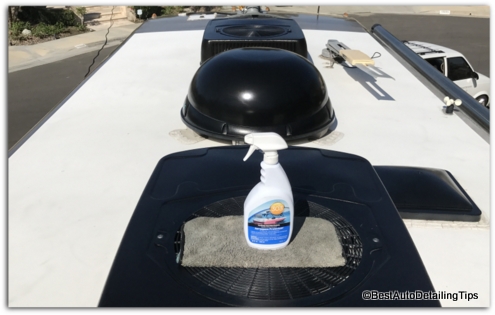 303 Aerospace Protectant Review:

If you have made it this far I imagine you are beginning to sense the "love" I have for the 303 Aerospace Protectant; along with their other products that can be found at the links I have also included on this page.
I hope that you have not only learned a thing or two, but now have a professional grade product you can now test for yourself in your own world, on your own "toys"!
Sincerely,


---