Adams Polish

Professional Grade or Enthusiast Grade
Adams polish is more than just a car polish, it is a complete line of car care products aimed directly at any car owner or car enthusiast. But the question I have for you, which is in response to the many times I am asked:
"Is Adam's Polishes true professional grade, or simply another hyped-up product line trying to be that!"
While I cannot say I have tried all of the many products made by Adam's, I have yet to be disappointed by any.
Determining whether a product can deliver professional grade results is often more about how the product is being used, rather then the actual merits or capabilities of the product.
Let us take a "deep dive" into Adams Polish. After all, some of you may have come here specifically looking for one of the polishes made by Adam's, or maybe you are here looking to investigate some of the many other products made by Adam's Polishes.

Adams Polish:

Starting with the essentials
Adam's has a cult following of fans with a fervor like no other! With high quality products and equipment, there is little to wonder about the wide popularity of this product line.
The unique scents and colors of many of the Adam's products adds an appeal that seems to draw in even more car enthusiasts and professional detailers.



Adam's Complete 2 Bucket Car Wash Kit
The perfect two-bucket wash system
Everything you need to for professional grade results
Quality products and quality equipment
Darren's Tips: I love the Adams Polish wash kit! If you are looking to perform like a pro, then the 2-bucket wash method is the way to go. Each bucket is a high quality 5-gallon bucket that come with professional screw lid tops.
The drying towel is a waffle weave micro-fiber towel that will make drying your car so much nicer than using your home bath towel, along with a much better car drying experience. I am amazed at how many people fail at this one critical part of the car wash experience.
This drying towel doesn't just push the water around, it also won't put in micro-scratching or leave lint like your bath towel will!
After you are finished washing your car, use the detail spray that comes with the kit to add a level of gloss for that just waxed look in a fraction of the time of traditional car waxing. Use the detail spray as often as you like to extend the time in between regular car washings, or directly after to give your car that extra head-turning pop!

What Would Darren Do: As much as I love this kit, I will tell you how a professional like myself takes it to the next level with the wash mitts just below.



The Rag Company (2-Pack Premium Soft Microfiber Chenille Knobby Scratch-Free, LINT-Free Wash Mitts, One Royal Blue and One Lime Green
My favorite wash mitts
The micro-fiber wash mitts are the safest wash mitts I have ever used
I love having two color coded wash mitts: one reserved for washing the lower half of the car, the other for upper half of car.

Darren's Tips: I have been using not just the 2-bucket wash system, but the 2-wash mitt system for a very long time. With 2 colors of wash mitts, reserving each color for specific car washing duties allows a higher level of dirt containment.

Having these wash mitts in separate colors allows me to assign one color for "dirtier" wash duties, and the other for the more delicate and more visible areas of my car.
I break my cars in half: the upper half (less dirty) and the lower half (more dirty). Just like using a 2-bucket wash method to control transfer of the dirt from geting introduced back onto your car during washing, the 2-wash mitt system allows you to further control dirt.

Adams Polish

Life gets dirty, act accordingly!
Washing and waxing are necessary, but your paint needs more
Quality clay bar to decontaminate your car paint
Clay bar can decontaminate your car many times, or for many cars

Darren's Tips: Despite the clay bar being part of the professional world of detailing for decades, it still amazes me how many people who have either never heard of detailing clay or have never use it to decontaminate their car.
Your paint should feel like waxed glass when properly done. Air pollution contains many particles that have the ability to bond directly to your car paint. Traditional washing and waxing will not remove these bonded paint contaminants.
Only through the use of detailing clay can you deliver the ultra smooth, slick as glass finish to your cars paint. Until you have experienced this first hand, it is an experience that words fall short in communicating!
I have customers upon feeling their paint decontaminated for the first time, have a seriously hard time keeping their hands off their car! If you have never experienced the end result of a quality car wash, followed by decontaminating, followed by a coat of premium car wax then you my friend, are in for a real treat!
Perfect combination of durability and ease
Use Adam's Buttery Wax as your initial base coat every few months and the spray wax as a maintenance wax to use after each wash or as frequently as you are willing
Darren's Tips: I am often asked what is the best car wax? My simple answer is the wax that makes it onto your car more often, not less often. With this kit, you not only get a quality car wax that is super easy to use that will establish your initial foundation, but you have the spray wax to use as a wax extender.
Both products are super easy and it allows you to get what you really want rather than one endless Internet search after another, filtering through the endless noise in the attempt to find the "best car wax".
Trust me when I say that you will be enticed by the next best car wax for as long as you own cars. So I recommend a person to just get started so your car can get the protection it needs, then you can spend time buying, testing, and trying the next shiny object the industry will endlessly throw your way.

Adams Polish:

Adam's Car Polishing Kit
In the event you came here simply looking for Adams Polish, and by polish I mean just that. Adam's not only makes some very effective polishes, but has a complete car polishing kits.
I am always a fan of kits or bundles. this makes your life easier by getting everything you need in a single kit, but saves time and money!

Car polishing kit that is ideal for the beginner, but can be used by professionals
Heavy duty compound and a light duty polish
2 different polishing pads
One great random orbital car polisher
Darren's Tips: You can drive yourself mad reading endless reviews on not just the best car polish, but the best car polisher. Adams polish is more than just a polish line, but a very diverse line-up of detail products that can accommodate all levels of interest or skills.
This kit can be used by the first timer, to seasoned professional. The beauty of random orbitals is their versatility. As safe as safe can be for first timers, but have the power for experienced professionals. Speed dial settings allow you to remain in full control.
With the different grades of Adams polish and compound, along with the different pads, you can customize your car polishing based on your comfort level of experience and the needs of your car. Some cars need heavy duty polishing, and some cars need a light polish to restore some additional depth and shine.
This Adams polish kit is as versatile as you will get!
Adams Polish Summary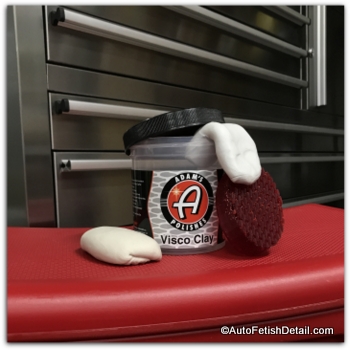 If you have made it this far down the page you deserve a badge of honor! Very few people in a world of instant gratification have the mental focus required to go in for a "deep dive" into any given subject.
Due to the Internet, we are in an era of information overload!
Endless voices from so-called experts and wanna-be YouTube Detailers. Now anyone with an opinion (and who doesn't have an opinion?!) has countess free platfors in which to parade their opinion around for the world to see, and for you to be either informed by, or confused by.
The problem now becomes a problem of getting information, but verifying information.
My goal is to deliver information that took me 30-plus years to gather, and deliver it in a way that will help you get better results, and do so easier and simpler than ever before.
Thank you inn advance, and I wish you much success in your detailing efforts regardless of your opinion on Adams Polish!
Sincerely,
Darren Priest
---