The Perfect Auto Detailing Cart:

Profitability through Efficiency
I live by a business model that has allowed me to become increasingly profitable year after year, and this auto detailing cart is one of the endless ways in which I do this.
As a rule, the key ingredient to being efficient is by being organized. Within my mobile auto detailing business I break down every process into compartments. And when I say compartments, I mean this both literally and figuratively speaking.
From my container that houses all my polishes, compounds, and polish pads, to my bucket jockey that houses all my interior cleaning tools and chemicals, everything is neatly contained in a neat, organized manner!
Darren's Auto Detailing Cart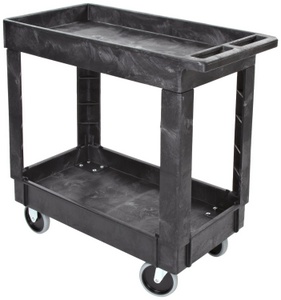 Admittedly, it has only been recently that I have actually taken the time to search out what I consider to be an excellent choice in a car detailing carts and upon doing so have come to a few conclusions.
The Pros:
Stack all your tools, products, equipment on this rolling cart.
Keeps all necessary products at your finger tips as needed while you are working.
Heavy duty to handle heavy loads.
Heavy duty build quality including heavy duty rollers/casters.
This is one step towards becoming more organized, to make you more efficient, which makes you more profitable.
Wish I had sought this out years ago!
The Cons:
Requires one more piece of equipment to carry.
May not be an option in your mobile detail business due to space constraints of your car, van, or truck.
Need to take steps to keep cart from rolling on uneven ground.
Get Your Car Detailing Cart Now:
Become more Efficient; Become more Profitable!


Rubbermaid Commercial Utility Cart, Lipped Shelves, Medium, Black, 5" Non-Marking Swivel Casters, 500 lb Capacity (FG9T6600BLA)
The cart I use professionally.
Durable, rugged, and effective.
Professional grade, professional quality.
Makes me irritated I didn't get one from the beginning!
Makes me look that much more professional.



Adam's Standard Detailing Cart - Custom Mobile Rolling Utility Detailing Tool Cart Organizer For Garage DIY Home Projects - Extra Storage Shelving For Mechanics & Detailers During Repairs Car Wash/Wax
A detail cart designed specifically for the detail industry
Added shelf, along with compartments for better organization of your detailing equipment and products
A detail cart from an iconic name in the world of cosmetic car care and auto detailing
Darren's Car Detailing Cart in Action

Since I operate a mobile detail business and therefore am limited to the constraints of my rolling detail operation (called a Chevy Astro Van), I carry this detail cart every where I go, but simply configure it in the moment based on the job I am doing.
So below are pictures of two of the main ways I set my cart up to make me more efficient in the moment.

Interior Detailing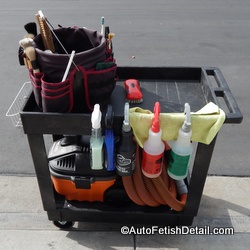 Paint Correction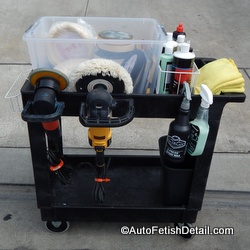 Like What You See?

I spend endless hours writing and building the pages of this site to help people just like yourself learn from my decades of experience within the world of professional auto detailing.
You can help me out by spreading the word through the endless forms of communication available in today's modern world.
Don't forget to follow me on my YouTube channel and subscribe to my series of detailing tutorials I am constantly producing to compliment the pages of this website.
Sincerely,


---