Best Boat Wax


What you really need to know



You want the best boat wax like any other boat owner. But experience has taught me that many boat owners don't understand the real nature of gel coat and fiberglass when trying to wax their boats.
Very few boats exist in the world that can simply be washed and waxed. Virtually any boat, despite how shiny it may appear, will have some degree of oxidation to it. This doesn't mean you have to go into panic mode, it just means I need to help you choose the right wax for your boat.

"Boats are not cars!"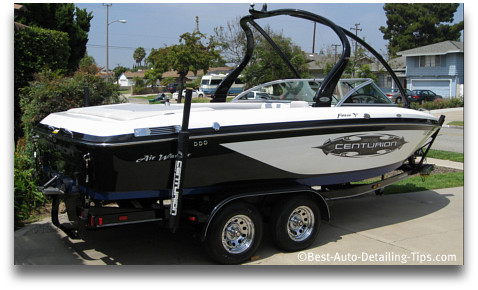 Cars have clear coat as the final layer of paint that filters out damaging UV rays.
Boats are made with gel coat and have no clear coat to protect from oxidizing.
Boats will oxidize immediately when exposed to the elements of weather and sun.
Gel coat is a muli-part mixture that is laid over the fiberglass sheeting. While gel coat is a very durable material, it is very prone to oxidizing. (ever noticed how the majority of boats are either all white, or mostly white? This is to hide the oxidation that will naturally occur)
Unless your boat is literally brand new, or has been stored indoors, and you have also been very diligent and consistent with the maintenance of the gel coat, there will be some level of oxidation. Most people don't think their boat is that bad as a boat can still look very shiny and still have some oxidation to it. 

Best Boat Wax:

Time to Assess First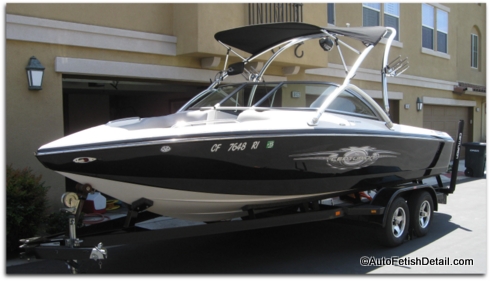 To make things simple, I can break down boats into 3 categories. You can decide where your boat fits in.
Brand new boat that you take delivery of straight from production (this means it was not built months ago and has been sitting outdoors on a dealers lot exposed to the sun)
Your current boat, or the one you may have just purchased is a few years old, but still looks pretty good and pretty shiny from a casual observation. (you might see slight areas of oxidation when really scrutinizing your boat in different lighting)
You know your boat has plenty of oxidation. The hull may have a water line, some bumper scuffs, dock scuffs, or obvious chalky and dull gel coat. (if this is your situation, I highly recommend you accept that removing the oxidation by hand, even with an aggressive compound is not going to be realistic for even the most determined and dedicated of you. For results that are both professional grade as well as permanent, you will need to see my page on fiberglass boat restoration.)

Best Boat Wax for Brand New Boats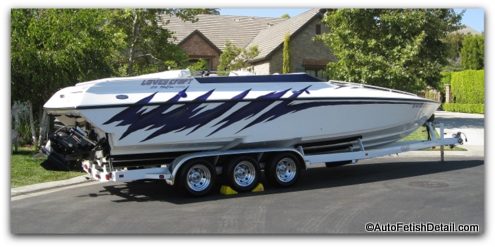 Darren's Professional Tips: regardless of what type of boat you have and regardless of the color, due to the size of your boat I am a big fan of finding boat wax that is easier to use, not harder to use.
Often we become so obsessed with finding the best boat wax that we forget about the user experience which includes the application and removal of the boat wax you have chosen.
So my recommendation of the best boat wax is the winning balance between durability, and ease of use. I want a boat wax that is as easy as possible to use so that I am willing to wax my boat more often, not less often.
The best boat wax in the world will do you no good if you are overwhelmed by the thought of waxing your boat due the fact that the darned boat wax is so hard to apply and/or remove!!

If you have a boat that is literally brand new or you are certain there is no oxidation on the boat, then you can choose among the top rated boat waxes from below.
If your boat falls into one of the other categories, then you need to see my page on fiberglass boat restoration.

Meguiar's Flagship Premium Marine Wax




Meguiar's M63 Flagship Premium Marine Paste Wax, 11 oz
The trusted name of Meguiar's.
Premium grade boat wax with "chemical" cleaners formulated into this marine wax.
Easy to use formula with polymer technology for lasting protection.
Adds additional gloss and depth while having the ability to remove light oxidation. (emphasis on light)
Helps protect against damaging UV rays.
3M Marine Ultra Performance




3M 09030 Marine Ultra Performance Paste Wax
3M represents a trusted name in so many areas.

Once again, for those dedicated to a quality paste wax for their boat.
Collonite Fleet Wax #885




Collinite Paste Fleetwax 12 Oz 885
Heavy duty paste wax from a trusted and well established manufacturer.

Designed for marine and aeronautical use specifically.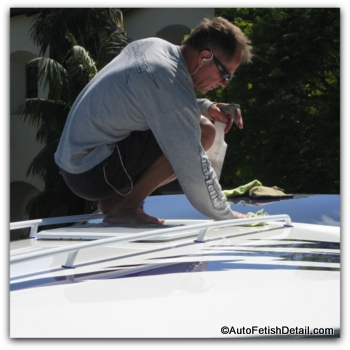 Darren's Note: Let me apply some logic to what can feel like a daunting task to any long term boat owner. Boats are not easy to take care simply due to the fact that they are big! Some bigger than others and regardless of the size of your boat, it's going to be a lot of work. For this reason I will often break a boat down into sections and simply accept that I will start with the most vulnerable areas first so I know those areas are taken care of if life gets in the way and I find I am unable to finish the remainder of the boat like I had expected.
You can clean small areas individually and then wax these areas individually rather than attempting to wash and wax your entire boat in a single day. A wash bucket, wash mitt, and a micro fiber cloth will allow you to simply wipe down an individual section one at a time and then tackle your boat section by section.
If you embrace this strategy you might find your boat gets wax far more often!
Best Boat Wax for Most Boats

Most of you reading this will likely fall into this second or third category of boat ownership. This means your boat will have some form of oxidation on it and you will need to polish your boat first, before applying your choice in boat wax.
If you are unsure as to how much oxidation your boat has then I recommend you simply default to9 the least invasive plan of finding a quality boat compound/polish and polish your boat first, then apply your choice of wax.
The good news is that the boat compound and polish I recommend is so versatile that it can be used by hand if you have no professional boat buffer, or it can be used with a polisher or buffer of any kind if you need to be more aggressive moving forward.



CSI Rip Cut Compound Quart 62-M200-Q
The exact compound I use professionally for any boat.
The exact compound I would recommend virtually any boat owner to start with.
Effectively removes mild to wild levels of gel coat/fiberglass oxidation.
Can be used by hand or machine.
Can be used in direct sunlight.
Darren's Professional Tips: Working on boats is so different than working on car paint. Boats have no protective clear coat like car paint does. This represents both the good news and the bad news.
The Good News: Boats are made with gel coat (the top layer you will be compounding, polishing, or waxing). Gel coat is a very tough and durable material that makes it hard to do any actual damage to the material if you are a beginner and are worried about "damaging" your boat with some new product you have never used before.
It also means that if you have never used a power buffer before, boats are actually a great way to get your feet wet as the material is so much more forgiving than that of clear coat/car paint.

The Bad News: Since boats have no protective clear coat like car paint, the gel coat/fiberglass will immediately begin to oxidize once it leaves the assembly line or manufacturing facility. Even boats that are kept indoors will begin to oxidize just being exposed to air. It also means that in order to produce any actual and lasting results, you will have to be far more aggressive with your choice and use of boat compounds and polishes. For this very reason I recommend compounding or polishing your boat with a boat buffer and skip trying to polish your boat by hand.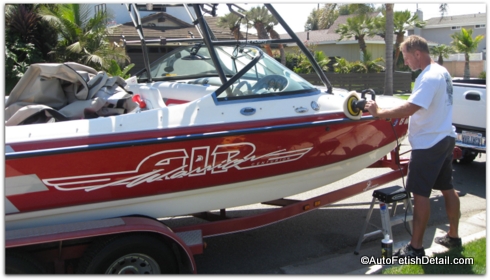 Your Reality: Everyone's situation is unique. Likely you want your boat to look shinier than it currently does and accept that it needs wax. But since most boats have some level of oxidation, most of you will need to polish your boat first, before making an attempt to wax your boat.
Since life makes it difficult to wax your boat under the best of circumstances, most guys don't want to take the time to shop for the best boat buffer, figure out the learning curve, only to then wax their boat.
For this reason many of you will simply want to polish the "bad" areas of your boat when forced to do so, and attempt to do this by hand.
I totally get it!
And for this reason the compound and polish above will be ideal as they both represent such versatility in their ability to use by hand or machine.
This means you can get either the compound or polish (or both) and polish-out the areas of your boat you have determined need some extra attention. Then you can apply the wax after you have polished the needed areas.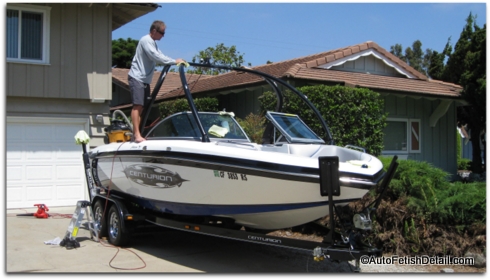 If you plan on trying to compound or polish your boat by hand before you apply your choice as the best boat wax, I recommend you break your boat down into bite-size areas that are more manageable.
It is easy to become overwhelmed at the idea of trying to was, polish, and wax your boat all in one go. break it down into smaller, manageable sections and simply work your way through until you have finished.
Remember that polishing your boat by hand will be easier in some ways, but require far more elbow grease than if you were doing it with machine. You may have to compound each section multiple times before you feel the area is ready for some boat wax. Just accept this as part of the journey at the beginning and it will help you become less frustrated as you get into the project.
Also note that you control the level of results you find acceptable. If you aren't able to achieve the desired results than you either need to step up to a machine in the form of a boat buffer, or you need to lower your expectations. Your hand will never be able to duplicate the speed, friction, and consistency that a power buffer can do.
Just know that this compound by CSI is as good as it gets and what I consider a sure thing after testing countless other boat compounds and polishes over the last few decades of professional detailing.
One of the big problems with little to no experience is the inability to know if you expectations from a product are appropriate or unrealistic. This means you might find yourself chasing after one boat compound/polish after another expecting these compounds or polishes to perform at levels that simply are not realistic.
---
Best Boat Wax: WWDD

(What Would Darren Do)
Ironically, the best boat wax for me is also what I consider the best car wax for most people. What works to protect and visually enhance car paint is also the same ingredients that can perform on gel coat and fiberglass.
If you took the time to read my intro regarding the best boat wax you will know by now that one of the most important things I consider when choosing the best wax for boats or cars is a wax that has a great user experience.
The following wax is what I consider the winning balance regardless of automotive or marine use:


CSI Marine Wax Quart 62-M204-Q
My winning balance for boat wax
True water-borne technology
Can be used on all surfaces
Can be used in direct sunlight, on hot surfaces (ideal for waxing your boat mid-summer in direct sunlight!)
Non-staining formulation - won't stain any black plastic trim pieces (not for use on porous fabrics)
Ideal for waxing any plexiglass, or clear plastic/flexible boat partitions
Actual carnauba wax formulation.




Pay "Best Boat Wax" It Forward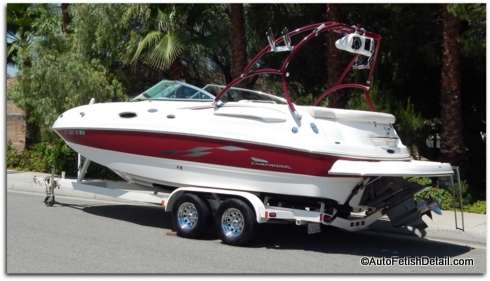 Darren's Tips: If you are new to boat ownership, working on a gel coat or fiberglass boat (gel coat is officially the top material you are working on but many people refer to boats as fiberglass, even though fiberglass itself only exists as part of the underlying material) will be a very new experience for you. If you boat is brand new or in excellent condition, waxing your boat with your choice in the best boat wax is not going to be nearly as shocking as a boat with mild to heavy oxidation.
Any of the products above will perform for you so long as your expectations are not unrealistic. And I have found most boat owners are not looking for perfection when it comes to their boats if they are doing it themselves. Finding the best boat wax to me is as much about understanding the nature of gel coat/fiberglass as it is actually finding a top rated "best boat wax".
Use the checklist to help your boat waxing efforts: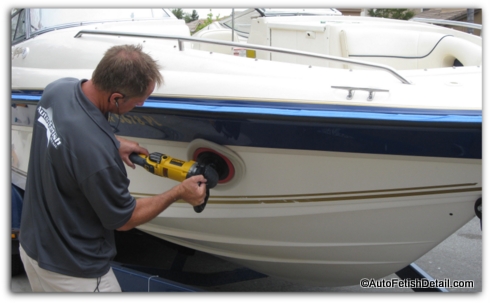 You don't have to tackle your entire boat in a single attempt. (this alone can be very daunting based on the size and condition of your boat. There are many ways to break the process up into manageable pieces. You can wash it one day, polish it the next, then use the best boat wax the next. You can polish and wax sections at a time and work your way through the entire boat based on your stamina)

Since the term light or heavy oxidation is completely subjective, your unique situation will be just that: unique. This means that what you consider light oxidation may still require you to go over each section multiple times with the recommended compound and polish until you achieve acceptable results)

Not all areas of the boat will oxidize at the same rate. This means you will come across areas that will require you to go over them 3-5 times in order to achieve desired results. This is the trade-off of not using a rotary polisher to perform what could more appropriately be called fiberglass boat restoration. 
I recommend using a damp, micro-fiber cloth to use when compounding or polishing your boat. (don't keep the cloth so damp as to leave water spots as you work. Wring it out as tightly as you can before applying the compound or polish, then proceed to rub very hard. Even if you consider your boat to be in excellent condition, you can use very heavy handed application. Keep your hand as flat as possible as you are working)

There is endless debate as to applying/removing wax in a circular or back and forth pattern. This is just part of the hype that is within this industry. Gel coat is especially tough so you really don't have to worry. Do whatever motion your arms can tolerate to get the results you want. (compounding and polishing by hand is different as there are abrasives to compounds and polishes. If you are polishing your boat by hand, you simply need to finesse each section in whatever option you choose to achieve acceptable results)


If you have a colored boat and you are strong enough, you can wear a pattern on the surface that might be visible. Simply reduce the pressure and finesse the way you rub so as to achieve desired results. 

For any truly determined soul, I recommend at a minimum of using the recommended polish (only if you have decided your boat has no obvious oxidation) before you apply your selection as the best boat wax. This will restore added shine and depth, along with preparing the surface to receive the boat wax better than not polishing your boat first. 

If you decide that the CSI Marine wax is your choice as the best boat wax, simply spray one section at a time with the wax, rub in with a micro-fiber cloth, then buff off with a separate, clean micro-fiber cloth.

Thank you for visiting Best Boat Wax review. I bet you know of at least one other person who would benefit from the information I have taken so much time to produce, so please post this to your FB or Twitter account and help me spread the word! Or just send them the link and pay it forward in that manner. I have made it super easy to spread the word with my "Socialize It" button box at the very bottom of this page.
Sincerely,


---