Best Boat Wax
The best wax for your boat may not be a wax at all!

Finding the best boat wax will be like trying to hit a moving target for most of you! In a vast sea of endless opinions combined with an industry that is less than transparent, finding a quality marine wax for your boat will prove to be a frustrating and confusing chore for any boat owner.
The problem is that very few boats exist in the world that can simply be washed and waxed due to the nature of the fiberglass/gelcoat material that boats are constructed with. Unlike modern day car paints that have a clear coat as the top layer of paint; boats don't.  As I have said many times before:
"Boats are not cars!"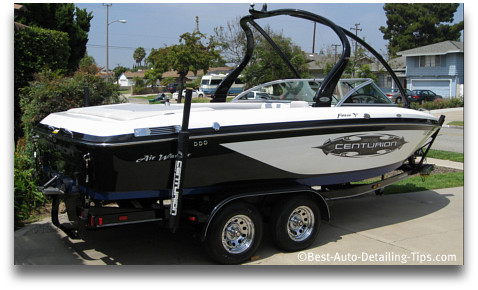 Cars have clear coat as the final layer of paint that filters out damaging UV rays.
Boats are made with gel coat and have no clear coat to protect from oxidizing.
Boats will oxidize immediately when exposed to the elements of weather and sun.
Gel coat is a muli-part mixture that is laid over the fiberglass sheeting. While gel coat is a very durable material, it is very prone to oxidizing. (ever noticed how the majority of boats are either all white, or mostly white? This is to hide the oxidation that will naturally occur)
Unless your boat is literally brand new, or has been stored indoors, and you have also been very diligent and consistent with the maintenance of the gel coat, there will be some level of oxidation. Most people don't think their boat is that bad; but it doesn't have to be that bad. Once there is any form or level of oxidation, you will not be able to simply go out and wash and wax your boat.
Best Boat Wax:
Understanding the nature of the Beast

"Sounds really dramatic Darren! Are you calling my boat a beast?"
Trust me when I say, "YES!" It really is a beast and very few boat owners understand how temperamental gel coat is until they have worked on it first hand themselves. And likely this is the very reason you are here as you are frustrated with your results, or you think that there is some magic marine grade wax that will solve your problems.
"The problem is your lack of understanding of what you are up against in trying to simply wax your boat."

You simply do not understand how easily and quickly your boat will oxidize. Or maybe you are among the few that exist in the world and are looking to prevent this from happening in the first place. If that is you then hats off to you as you are among the extreme minority of boat owners. And in your case, finding the best boat wax will be as simple as finding the best car wax. (sarcasm!)

But don't hate; as I will help you figure this out regardless of your situation based on my decades of experience. As I have been detailing boats as long as I have been detailing cars.
Helping You Find the Best Boat Wax:
Simplifying a frustrating subject!




Meguiar's M6332 Flagship Premium Marine Wax - 32 oz.
The trusted name of Meguiar's.
Premium grade boat wax with "chemical" cleaners formulated into this marine wax.
Easy to use formula with polymer technology for lasting protection.
Adds additional gloss and depth while having the ability to remove light oxidation. (emphasis on light)
Helps protect against damaging UV rays.
Can I use car wax on my boat?
Yes! But with that said, most boats are not currently in the condition to simply wash and wax your boat. Unless it is brand new and in pristine condition, the gelcoat on your boat will have some form of oxidation on it and will require the use of products that have some form of chemical or abrasive cleaners/polishes to them.
What exactly do you mean when you say most boats are not in a condition to be waxed?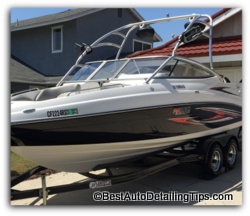 This is true. The reality is that cars are hard enough to keep clean and most cars are relatively small compared to boats. Due to the size of boats means that not only do they not get the consistent cleaning and detailing they actually require, but most people are forced to keep them outdoors where they are assaulted daily by weather conditions. For this reason, even boats that many people would consider in good condition, have some form of oxidation on them and therefore traditional car waxes, boat waxes, marine waxes, sealants, etc. will not work when trying to apply them to your oxidized boat or RV.
So what should I do about waxing my boat if it has some oxidation on it?
You will need to shop for either a dedicated boat polish, or a One-step boat wax with cleaner; simply shopping for the best boat wax will not be the appropriate course of action if some oxidation is present. These types of one-step waxes allow you to remove light oxidation while leaving a layer of protection.

So if I can use car wax on my boat, would you recommend buying a separate and dedicated boat wax?
Yes. Sine gelcoat (which is the top layer of material of you boat despite that many people refer to the material as fiberglass) is not only different than car paint, it is also not finished with a layer of clear coat like cars are. Clear coat is what gives car paint actual UV protection from the sun. So professionally I would recommend choosing a quality marine wax or simply labeled as a boat wax. Since RV's and boat are often constructed using the same gelcoat/fiberglass material, these specialty waxes will often be labeled as RV and marine grade wax.
I am a little confused between the differences of marine sealants and boat waxes, can you explain?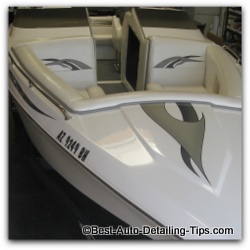 Whether we are talking about cars, boats, rv's, or airplanes; the difference between waxes and sealants can be simplified by the difference in ingredients. As a rule, any product that is made using mostly or entirely of synthetic ingredients, will be labeled as a sealant and will be in liquid form. Most products today represent a combination of both synthetic and natural wax ingredients. But ultimately the way a product is labeled is not always entirely correct and is in the hands of the manufacturer; which means you will always be required to read product labeling in order to determine what you are getting.
So which do think is better; shopping for the best boat wax or the best boat sealant?
Hard to say. I am not a chemical engineer and just like you I am limited to what is told by the manufacturers. I have read endless studies and reports and I find compelling evidence to suggest that due to the nature of gelcaot/fiberglass boats, that a synthetic sealant will offer the better alternative for protection. Since most people are looking to wax their boats as little as possible, it would make sense to find a product that will last the longest. And since gelcoat/fiberglass is very porous unlike that of clear coat car paint, it also stands to reason that we need to think differently than we would when trying to find the best wax for your car.
---
Best Boat Waxes:
Carnauba Paste Boat Wax

Some people simply believe that the ultimate, and therefore the best boat wax is a paste wax. These dedicated followers seem to be made up of what we might label as veteran boat owners. For those of you out there who follow this line of thinking, I am listing my recommendations when it comes to the best in paste wax for your boat:
Darren's Professional Tip:
If your boat has any form of oxidation to it (virtually every boat will unless it is kept in-doors and in pristine condition), I recommend you shop among the many cleaner waxes available that offer a one-step cleaning and protecting solution. If you are looking to take your boat to the highest level possible and consider yourself an industrious person, I recommend seeing how the industry has responded with professional grade polishers and boat polishes that can produce professional results from even true beginners. You can find that at fiberglass boat restoration kits.
---
Meguiar's Flagship Premium Marine Wax


Meguiar's is a trusted name with a long history of quality products.

For those committed to using a quality paste wax.
---
3M Marine Ultra Performance


3M represents a trusted name in so many areas.

Once again, for those dedicated to a quality paste wax for their boat.
---
Collonite Fleet Wax #885


Heavy duty paste wax from a long time manufacturer.

Designed for marine and aeronautical use specifically.
---

Best Boat Sealants:
synthetic sealants
Due to the porous nature of gelcoat, I am a believer in synthetic sealants over natural carnauba based boat waxes. As I have stated, most boat owners are looking for ways to wax less often, not more.
With that said, a liquid synthetic sealant is your ticket to durability and protection against the elements your boat will be up against. Any of the liquid sealants below will offer this unique level of protection I believe cannot be had when it comes to carnauba based boat waxes that might be advertised as the best boat wax.

Darren's Note:
If your boat has any form of oxidation to it (virtually every boat will unless it is kept in doors and in pristine condition), I recommend you shop amongst the many cleaner waxes available that offer a one-step cleaning and protecting solution. If you know your boat has moderate to heavy levels fo oxidation and are looking to take it to the next level, then instead of shopping for the best boat wax, I recommend you get a fiberglass boat restoration kit that includes truly professional grade equipment and products.
---
GelCoat Labs All Surface Marine Sealant

---
Marine 31 GelCoat Carnauba and Sealant

Hybrid blend using both synthetic and natural ingredients.

From a company that specializes in the marine industry only.
---
Meguiar's Flagship Premium Cleaner Wax

---

Pay It Forward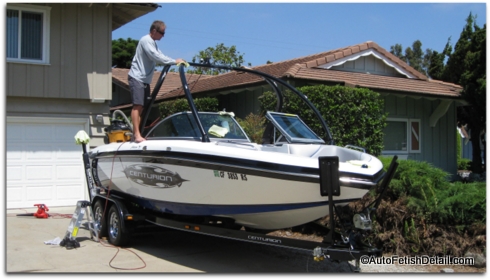 Thank you for visiting Best Boat Wax review. I bet you know of at least one other person who would benefit from the information I have taken so much time to produce, so please post this to your FB or Twitter account and help me spread the word! Or just send them the link and pay it forward in that manner. I have made it super easy to spread the word with my "Socialize It" button box at the very bottom of this page.
Home

>>
How to Detail A Car
> Best Boat Wax