Fiberglass Boat Restoration
Now Even Beginners Can Have Success!


Back before the current boat polishers were introduced, fiberglass boat restoration was a task left only to professionals with years of experience.
Now with improvements to both tools and products, it is possible for beginners to achieve results that were commonly reserved for veteran boat and car detailers. From boat polishers with lower operating speeds, compounds and polishes that are formulated to be much more user friendly, now a boat owner like yourself with beginner DIY skills has a fighting chance to perform professional level results when it comes to restoring oxidized fiberglass or gel coat.
Fiberglass Boat Restoration:

Helping you to have a fighting chance!
Like every other area of life, the industry (in this case: auto detailing or boat detailing industry) would bury you with information that is ultimately trying to separate you from as much of your money a possible.
I have come to realize that most boat owners recognize when their boat has begun to oxidize or is already oxidized. At this point many boat owners like yourself go in search of the best ways to perform fiberglass boat restoration.
As a boat owner you basically have 3 choices:
Do absolutely nothing
Pay someone like myself a "boat" load of money to do it
Or do it yourself
"With advances in equipment and products, you as a boat owner can have a fighting chance when it comes to removing the oxidation from your boat. I am here to show you what actually works."
Fiberglass Boat Restoration:

Breaking it Down
When it comes to removing oxidation from a boat with lasting results, a rotary (high-speed) polisher is one of the necessary requirements. While there are entry level steps to restore your fiberglass boat by using a boat cleaner wax and trying to rub out the oxidation by hand, if you are looking for professional grade results that last, a high-speed polisher is really your only chance.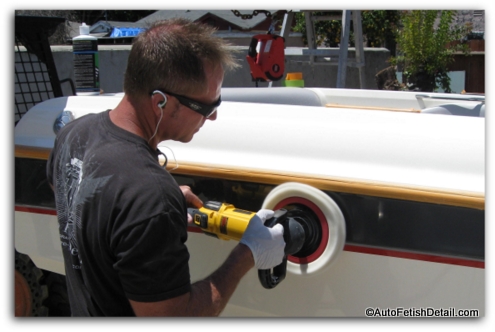 One thing I have learned along the way in my professional career is that virtually every boat owner severely underestimates what is required to actually remove the oxidation from a boat. Most boat owners think that a lot of rubbing with some top rated boat cleaner wax is going to be the fix.
While this will have the ability to make a visual difference, in most cases the results will not last and are simply insufficient for what is actually required to make a lasting difference.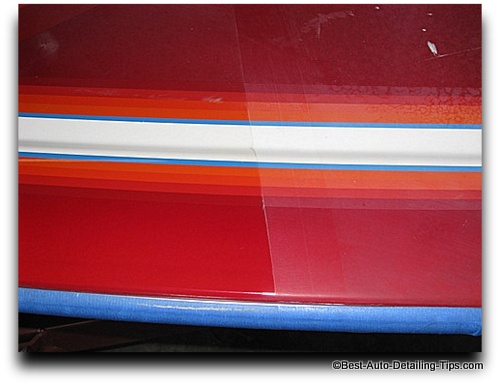 Which side wold you rather have your boat look like? This is a before and after shot after the gel coat was restored to original shine and luster using a high-speed buffer. I taped off the section at the right so it would go untouched during the restoration process that I did on the section on left. The rub-rail is still covered with blue painters tape I recommend for protection during the process. You would never get these kinds of results simply rubbing your boat out by hand!

Restoring Fiberglass Boat:

Your bare minimum plan for success!


FLEX (PE 14-2 150) POLISHFLEX Compact Variable Speed Rotary Car Polisher
The Mercedes of rotary polisher; German engineering at its best.
If you demand only the best, then this is it!
Suitable for any of your polishing needs for auto, boat, RV.
My first choice in rotary polishers whether I am polishing on a car, boat, or RV.
Quieter and lighter than the DeWalt below.
More expensive than any of the other options. (not a requirement, just my personal preference)

The picture shows the buffer without a backing plate; that will be covered further down the page



DEWALT DWP849X 7-Inch/9-Inch Variable Speed Polisher with Soft Start
A true workhorse at a very affordable price
One of the buffers I use professionally (I have many, many buffers due to my continuous reviewing that I do)

Not quite the precision engineering of the Flex buffer, but still completely capable
All the winning features of any of the buffers


Makita 9237C 10 Amp 7-Inch Variable Speed Polisher/Sander for detailing and polishing
Another workhorse at a very affordable price
Also one of my favorites when it comes to fiberglass boat restoration

All the features of any of the other buffers on this page
Best Fiberglass Boat Restoration Compound
As a professional with decades of experience detailing boats and restoring the fiberglass or gel coat on boats it would be hard for me to decide which part of the equation is the most critical between using the right type of polisher versus my choice in rubbing compounds.
Darren's Note: When I say the "right type of polisher", I am referring to a rotary versus a dual-action/random orbital buffer. There are many people that will tell you you can use a dual action buffer on a boat; which you can. The problem is that fiberglass/gel coat is such a tough and durable material that oxidizes easily, that using a dual action/random orbital buffer will definitely be easier to use, but they simply cannot produce the required friction, pressure, and speed required to have lasting and professional results when it comes to polishing oxidized gel coat/fiberglass. 
I know that the right compound can make or break you just like using the right type of buffer. The only compounds and polishes I recommend and use when I am working professional to perform fiberglass boat restoration is the products from CSI.



CSI Rip Cut Compound Quart 62-M200-Q
I have tested so many different boat compounds and polishes; I always come back to this brand
Excellent user experience that also performs to the highest level of demands
Water based formulation can be used in direct sunlight
Capable of removing 1000 grit sanding marks
Will remove heavy duty boat oxidation and finish to a haze free surface
Best Boat Wax
After you have performed your fiberglass boat restoration, you will naturally be faced with a quest to find the best boat wax for your fiberglass boat.
"The best marine wax will be the wax that makes it onto your boat more often rather than less often"
What I mean by this is this: you can go on an endless search for what is considered the best boat wax. But if that marine wax is difficult to use, you will quickly learn that that best marine wax that was intended for your fiberglass boat ends up collecting dust on the shelf of your garage or located in some hidden compartment of your boat.
For this reason I tell people that the best wax for your boat will be the wax you are willing to use more often.
And when it comes to fiberglass boat restoration, the last thing you want to have to do is go through all those polishing steps. And regardless of what you read or hear, no wax in the world is going to prevent your boat from oxidizing.
A quality boat or marine wax will help prevent the premature aging or oxidation process of your boat, you need to keep in mind that while fiberglass/gel coat is a very strong, durable material, it is also very prone to oxidizing very quickly and easily.
And for this reason I offer up what I consider the best marine wax here:



CSI Marine Wax Quart 62-M204-Q
As easy can get when it comes to waxing your fiberglass boat
Can be used in direct sunlight
True waterborne technology (this means that purified water is the true "carrier" of the ingredients; not just the fact that water is part of the formulation. This means as the water evaporates from the formulation when you use it, the active ingredients remain as they should)

Formulated for marine use
Safe for all materials on your boat: fiberglass, gel coat, painted boats, stainless steel components, plexiglass, etc.
Darren's Tips: One thing I have learned is that most boat owners do not understand just how quickly and easily your boat will oxidized (even boats kept in indoor storage) and underestimate how important it is to keep wax on your bat. And how important it is to apply this wax on a very frequent and consistent basis. You literally could NOT wax your boat too frequently or to often or too much!!
Additional Gel Coat Restoration Tools

Along with the required boat polishers and my recommended compound and polish, you will definitely need the following tools and equipment.



CSI 62-305 Buffing Pad Backing Plate
These backing plates fit universally on any of the buffers above
Special backing plate that is part of the direct-fit placement system used by CSI
Use with any hook and loop (Velcro) polishing pads; but specifically made to fit precisely within the CSI wool pads below
If you are serious about fiberglass boat restoration you are going to need more than a single wool pad that each of these kits come with.

These are the type of wool cutting pads I prefer and exactly the kind of cutting pad you will need first when doing fiberglass boat restoration.
These pads are made specifically to be used with the CSI backing plate as part of their direct placement pad system (No more mis-aligned pads)

I have tried other "wool" pads that are blends, but find they do not perform as well as these 100% wool pads.

If you are cheap, you can force your way through your entire boat with a single wool pad to remove the initial oxidation, but don't underestimate how nice a brand new pad will outperform an overly used wool pad.

Only you will decide when you need to change the pads out. Much of this depends on whether you use the pad washer or the spur to keep your pad clean in between compound applications.

I actually use both the pad washer and the spur.

After compounding a 2' x 2' section of your boat, I take the polishing pad to the pad washer, then I use the spur to remove any extra water and to further separate and loosen the wool fibers.



Polishing and Buffing Pad Cleaner, Spur Tool for Revitalizing Polisher Compound Pads and Bonnets by Canopus
You will need this to clean the wool pad

I use this after every 2' x 2' section of polishing I do. Simply hold the polisher against your leg and press the spur into the pad as the buffer is spinning.
Releases the build-up of polish and gel coat oxidation.
Keeps wool pad fibers separated during use.
Will help your pads last longer

---


Grit Guard Universal Pad Washer
I am a huge fan of this wondrous tool.
Was skeptical at first, but then I tried it!
Keeps the pad damp with water which helps in the actual polishing.
Can also be used dry if somehow you prefer to keep a dry polishing pad. As a rule, I prefer to use a damp polish pad regardless of the pad material, eg. wool, foam, micro-fiber.
Expensive tool, but if you are serious about results and understand exactly how the right (or wrong) tool can make or break your world.
Very useful when using wool cutting pads to remove excess wool fibers and used compound/polishes; especially useful on any brand new pad to remove the excess wool fibers before first use.

Darren's Professional Tips for Fiberglass boat Restoration

The picture at the right showing my 16 year old son using a high-speed buffer for the first time as he polishes the fender of the boat trailer. These buffers are so much more user friendly than previous generation polishers.

Darren's Extra Tips for Success:
It is common for people to make a comparison between car paint and working on gelcoat/fiberglass; fiberglass boat restoration will be far more aggressive and time consuming.

Gelcoat/fiberglass is a very tough and durable material that is able to handle far more friction, heat, and aggressiveness than car paints.
If you have ever polished on your car before, restoring gel coat or fiberglass will require far more product, pressure, and speeds for true professional results when it comes to heavy layers of oxidation.
Use common blue painters tape to mask off any areas to protect from the buffer pad and sling from polish.
For heavy levels of oxidation, it will not be uncommon for me to go over the same section 2-3 times before desired results are achieved.
I use an RPM range between 1200-1500 RPM's when polishing on boats. Many guys will go as high as 1800-2100 RPM's.
I apply approximately 10-15 pounds of pressure onto the buffer as I am working. (this is my best guess. The point is I apply substantial pressure as compared to that of car paint)
If the oxidation is heavy; expect to go back over each section with multiple applications of compound.

I apply the compound to the center of the pad rather than directly onto the boat. I use about a quarter (American quarter) size of compound for each section. This is usually enough to polish a 2 x 2 foot section of your fiberglass boat restoration area.