Random Orbital Buffer

Simplifying the decision process

As a rule when the subject of car buffers comes up, the random orbital buffer is widely accepted as the type of buffer being discussed or referred to.
Also known as DA or dual-action buffers, these important tools of the trade have long been referred to as the ultimate in safe car polishing for any true beginner. While I largely agree with this rule, it has changed due to the newly designed automotive polishers with super-low start speeds that make the high-speed polishers as safe as any random orbital buffer. If you are on the fence as to what to do, where to go, and which type of car buffer to buy, you are not alone and you have indeed come to the right place!
"Darren, I find myself chasing my tail trying to figure out the best car buffer for me. The many car forums are filled with endless opinions and I can't seem to make a decision!"
You are not alone!
Trust me when I say choosing the best random orbital buffer is not an easy choice for most people; far too many opinions from too many people. Never mind an industry that is constantly adding more and more choices to an already complicated subject.
Which Type of Person Are You:

Let me help you find the perfect random orbital buffer
Let me apologize in advance, but I am going to reduce you down to one of two possible groups of people:
Those who want a simple, direct answer based on professional experience so you can get down to business of polishing your car and then get on with your life.
Those that really like to sink their teeth into greater depths of understanding before making a decision.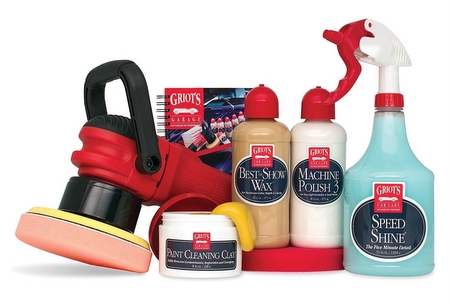 Group 1:
Keeping it ultra simple


---


Griot's Garage 11620Z Orbital Correcting and Wax Kit
One of the actual random orbital polishers I use professionally.
A kit that contains everything 95% of you will ever need to polish your own car.
Kit even includes detailing clay to decontaminate your paint prior to polishing. (an important step often skipped by many people)
"Griot's Garage has been putting out professional and enthusiast grade tools and products for decades. Not only can I guarantee that this will be the perfect car polisher for any beginner and is as safe as safe can get, but will likely be the last car polisher you will ever need."

Darren's Professional Tips: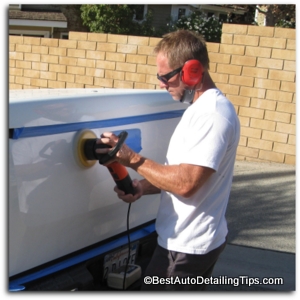 Today is a world of information overload. And most of you are not equipped to deal with so much information, never mind the slick marketing and advertising that goes with it. The fact that you are so interested in taking your car's appearance to the next level by choosing a top rated car polisher makes you even more susceptible to the seductive nature of slick marketing and advertising!
For this reason I have reduced this difficult decision process into this simple all-inclusive kit from Griot's, along with the fact that it is the actual car polisher I use professionally.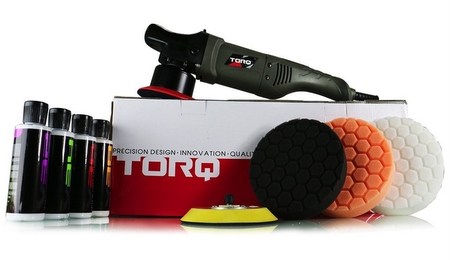 Group 2:

Taking it to the Next level
---


TORQ BUF501X 10FX Random Orbital Polisher Kit (Polisher + 9 Items)
Taking it to the next level with the Torq  DA buffer. (DA stands for dual action. Random orbital polishers are the most common type of dual action polishers)

Top pick of many professionals
The power to do serious paint correction as well as fine finish work
Truly the last random orbital buffer you will ever need if you decide to go with this model.

From absolute beginner to seasoned paint correction specialist.

A tool that will outlast most of you
Darren's Professional Tips:
The torq car polisher in many ways represents the perfect balance betwen performance and cost. You will definitely get better performance from the Torq over that of the Griot's, but you will also get a better user experience.  Unlike some of the other offerings with random orbital buffers, you won't be over-paying for a "name brand" polisher that has a premium due to the "clout" that some of the other polishers can add a surcharge for. This kit contains everything needed to polish your car to a level that will make you the envy of the neighborhood! (you will still need to shop a clay bar kit to decontaminate your paint prior to any polishing for maximum results).
The huge amount of rave reviews on Amazon should be compelling enough for you when choosing the Torq random orbital buffer!

Pay It Forward!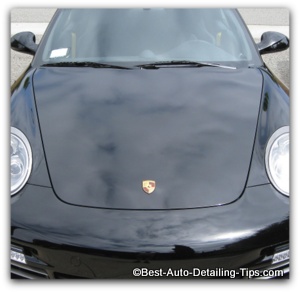 Thank you for visiting random orbital buffer review!
I bet you know of at least one other person who could benefit from the information I have taken the time to lay out here on the pages of this website. This could be your family, friends, car forum, car club, or any of your social networks you are part of. Spreading the word helps me just as I have hopefully helped you!
Thank you in advance!
Sincerely,


---
Best Detailing Tips Home

›
Auto Buffers
› Random Orbital Buffer